Driving games have gripped gamers and racing fans since the early 80's with the release of Pole Position in video arcades. This led to the development of more realistic driving games that pinnacled to the revolutionary Gran Turismo video game for Sony's Playstation in 1998. Touted by Sony as the "Real Driving Simulator," Gran Turismo provided gamers young and old a way to satisfy their craving for racing and performance in a digital world.
Text by Richard Fong // Photos by Patrick Lauder
---
From Player to Production
Matt Tomczek just got his driver's license when the first Gran Turismo came out for Playstation. He reminisced, "After building and racing JDM-only AWD cars in Gran Turismo, I've wanted to own one. Watching the World Rally Championship fueled this love for AWD even more." At the time, he drove a Honda Civic, which he built for car shows in his hometown of Milwaukee, Wisconsin. Graduation soon led to work, which eventually landed him in Oakland, California as a Technical Project Manager at Sony Playstation. Tomczek was living the proverbial dream, inspired as a youth by Gran Turismo and now working for the very company that produced the game. However, this move forced him to streamline his world, taking only the essentials for a fresh start in Northern California. Once Tomczek arrived, he decided to commute on a motorcycle to work until he had the chance to get fully settled in.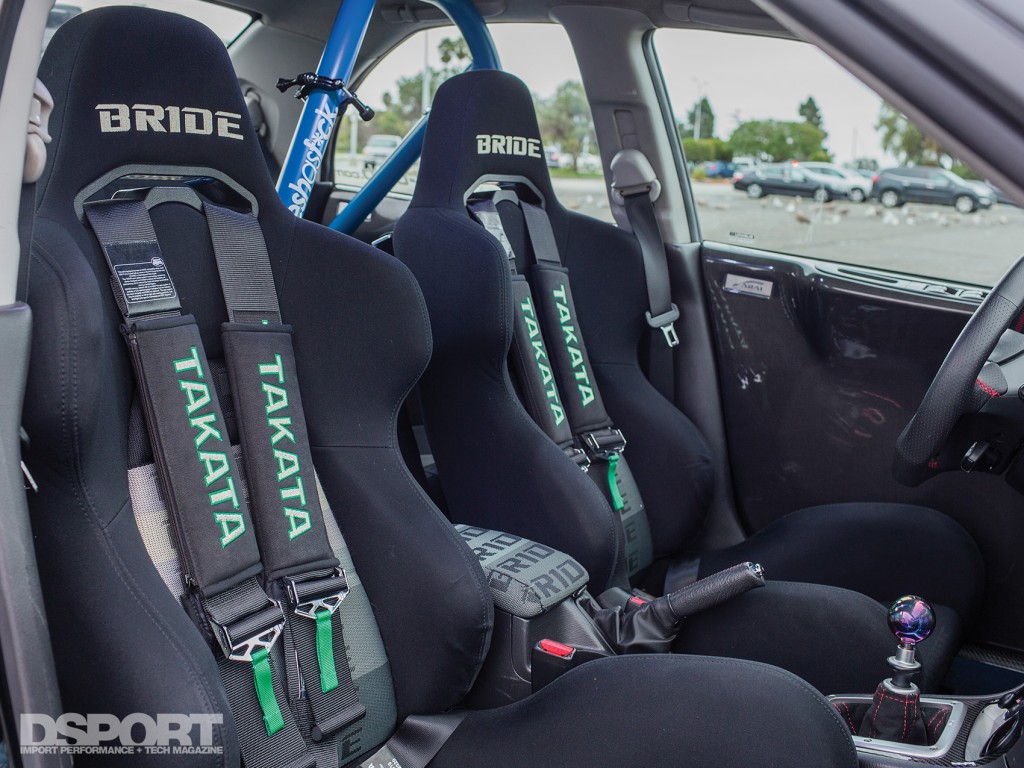 From 1WD to 4WD
Tomczek enjoyed the moderate west coast weather, relying exclusively on a sportbike as his means of transportation. But it was finally time to look for a car to enjoy. He reasoned, "Riding was great when the weather was nice, but it was far from convenient when the weather was adverse. I started shopping for a car to be a daily driver that I could enjoy year round. Since I also planned to drive up to Lake Tahoe to
go snowboarding, my new vehicle needed to be all wheel drive. Fulfilling one of my personal goals, I decided to purchase this GDB Subaru STI brand new in April 2007."
Making a WRC Dream a Reality
In Tomczek's eyes, the STI's strongest features are its symmetrical all-wheel drive system and the six-speed transmission. He also appreciated the STI's premium features like the intercooler sprayer, driver controlled center differential and its track/rally proven pedigree. Within months, the daily-driven Subie started to showcase fresh modifications, as if Tomczek was having Gran Turismo flashbacks. He started with some of the most basic of modifications, including an exhaust and a new set of wheels and tires. A few years later, the modifications began again, leading to another set of wheels, adjustable coil-over suspension and the conversion to E85 fuel. Power bumped up to 350 horsepower and 410 lb-ft torque, making the commute all the more fun. He soon started to expand his driving repertoire with cone dodging and road courses, attending local SCCA autocross events and HPDE track events.
WRC Dreams Delayed
Unfortunately, the STI's EJ257 engine suffered from broken ring lands in cylinders one and four only a few months later, forcing an engine build. Tomczek had the engine fortified with aftermarket forged internals and a larger turbocharger. Once back on its wheels, the STI delivered 422 horsepower and 457 lb-ft torque to the wheels. This improved setup made tracking the STI even more fun, but lasted just over a year before the factory cylinders cracked, sending the STI back to the shop for another engine overhaul.