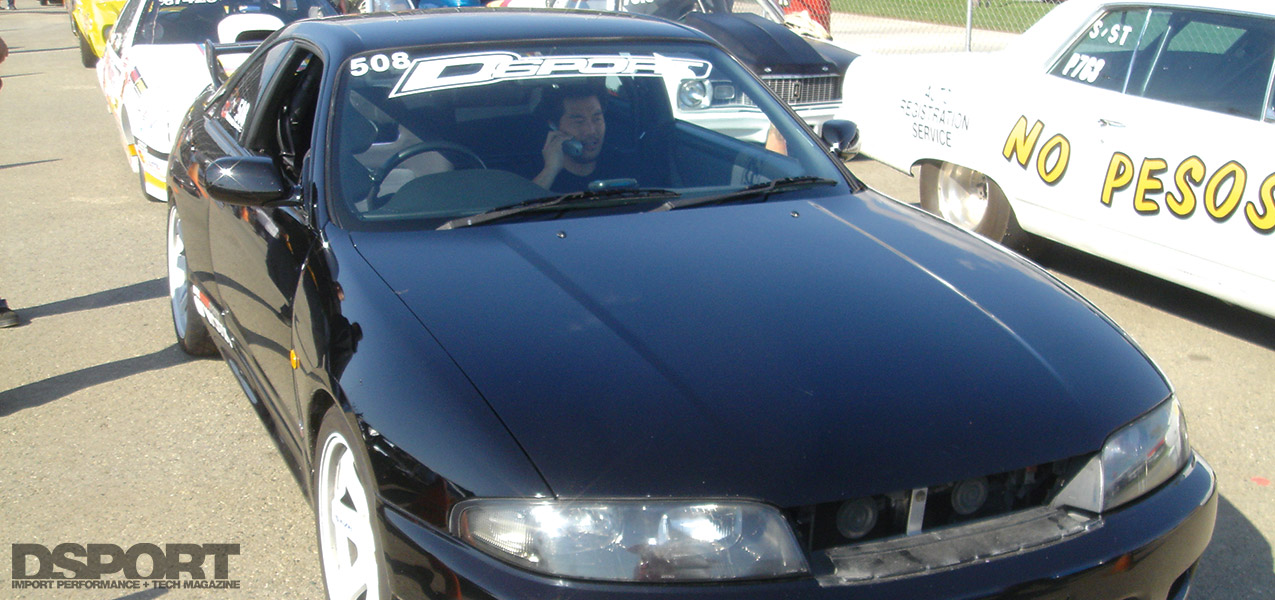 "Should have…could have…would have…" Our most recent trip to the strip with our Project GT-R proved to be full of both trials and tribulations. While many questions were answered, a number of new questions and concerns surfaced.
Text & Photos by Michael Ferrara
---
Persistence Pays
The original plan was to head out to California Dragway in Fontana for their season opening Street-Legal event on Saturday, January 22nd. We arrived at 8:30am and waited for about an hour before we were informed that all 400 tech cards had already been sold.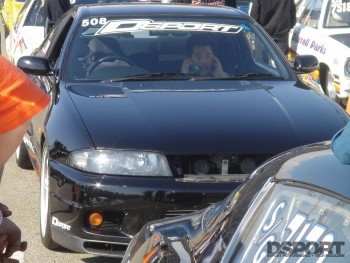 The following Monday we place a call to California Dragway to see if there was any chance that we could make some passes at one of the upcoming events. We would be informed that the next weekend was only open to Super Street, Super Comp and Super Eliminator index class racing. This type of racing uses a fixed index like 10.90, 9.90 or 8.90 and all cars in the class run heads up on this dial. Desperate to make some passes and gather some data, we decided to pay our $90 annual dues to join the Super Street (10.90 index) club so that we could attend these events throughout the year. While we were the one and only import vehicle in competition, we were surprised at how friendly all of the other racers were to us. We were the only car to drive to the event and compete. Every other car came on a trailer.
The Good News
During the week before our trip to the dragstrip, we found even more power on blended 94-octane unleaded pump gas after a slight increase in boost pressure. Now power checked in at 690 all-wheel horsepower with the Power FC regulating intake manifold boost to 1.75 kg/cm2 (25 psi). This power was quickly validated on our trip to the strip. Whereas our previous trap speed was 120mph, now the Nissan was rocketing to terminal velocities as high as 133.7mph. This was accomplished despite the fact that the Skyline was tipping the scales at 3,650 pounds (full tank of gas, plus driver, etc.).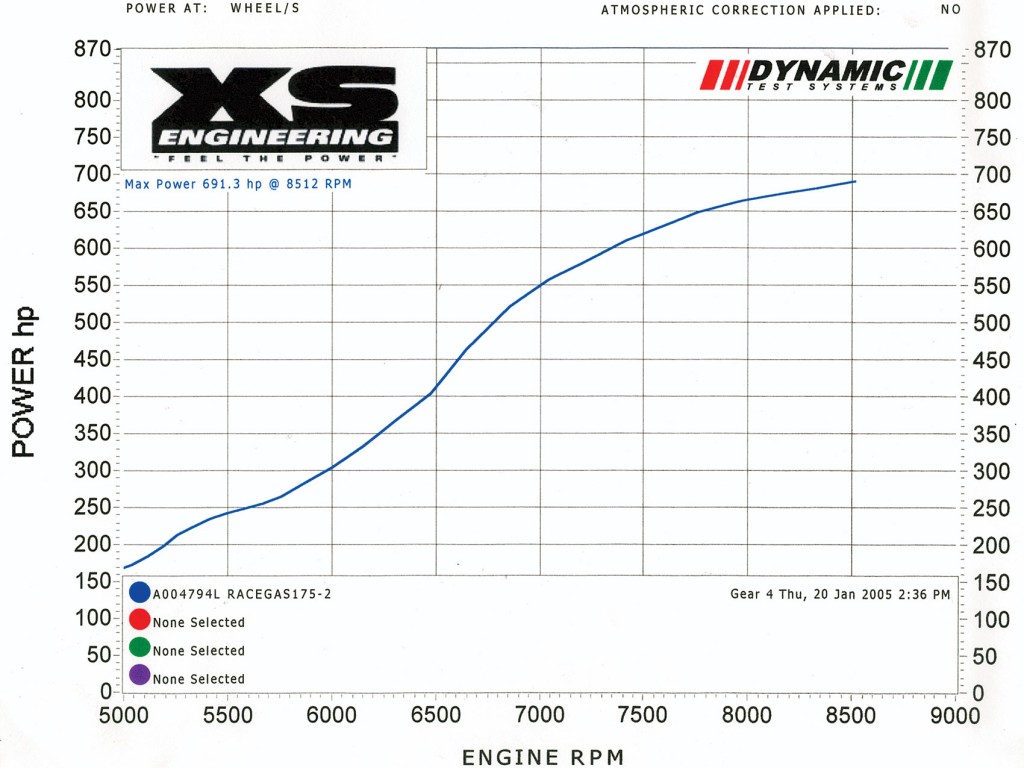 A total of five passes were made during this visit to the strip. All passes were completed without any mechanical failures. Launches were made at 9100rpm and all shifts were full throttle. Once again, the stock short block RB26DETT proved worthy of its name "Race Bred." About the only mishap was a power steering belt that came off on one pass when we took too long to grab the next gear. Fortunately, the belt stayed in tact and in the engine compartment. Using the bump-the- starter/bicycle chain trick, we were able to get the belt back on without using any tools.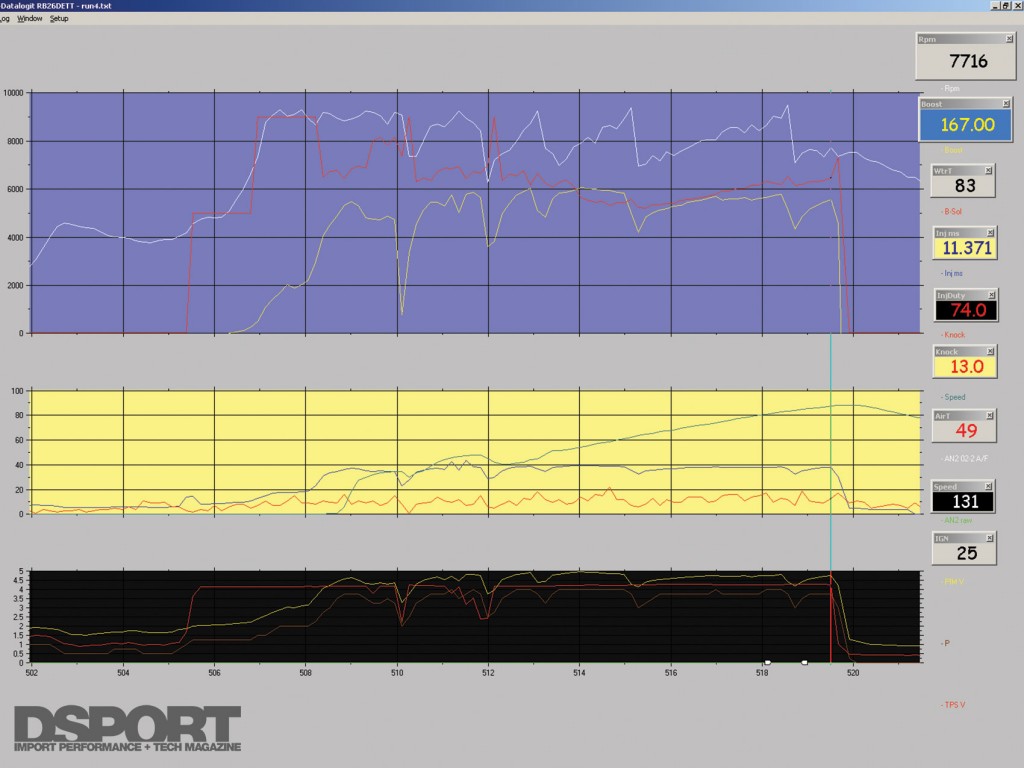 With trap speeds in the 133.7mph range, elapsed times should have been in the 10.1- to 10.5-second range. Unfortunately, the actual elapsed times would be about a second off, with the best pass checking in at 11.25.
Slip, Slide and Away
Our elapsed times were way off the mark primarily due to excessive wheelspin. Launching the car at 9100rpm with 20psi of boost pressure overwhelmed the quartet of 265/35/ZR18 BFGoodrich g-Force T/A KD tires. Instead of the 1.80- second 60-foot times that we were getting with less power on an 8000rpm launch, now 1.92-seconds was the best that could be coaxed. Why didn't we try a lower launch rpm or a lower boost pressure at launch? The answer is simple, we couldn't. Currently, the Nissan is not setup with a two-step rev limiter or any type of anti-lag system. If the car is launched anywhere but on the rev limiter under boost, the engine will bog. Of course, there are two ways to address this issue. One way would be to add a two-step rev-limiter or anti-lag system to gain more control over the launch parameters. The other solution would be to increase the traction to the point where we could hook up better coming out of the hole at 9100rpm and 20psi.
Another problem encountered was that our Nissan pulled to the left as it spun the wheels. Since the vehicle has already been corner balanced, we expect that the culprit for this ailment to be an alignment issue. Armed with our Tru-Line laser alignment system we hope to correct this problem before our next trek to the strip.