When Kia released the Stinger GT, they proved that they had the ability to build a capable GT platform to run, or even run away, from the best of them. Carrying a base price of just $40K, the Stinger GT out accelerated nearly every other mid-size premium sport sedan. An insane value, the Stinger GT pulled past a competitive group filled with sedans sporting a base price that was $15,000-to-$30,000 higher. While the Stinger GT was a home run for Kia, the market for mid-size premium sport sedans isn't that large. As such, few people have had the opportunity to experience what a Kia GT vehicle could do. Automotive journalists raved about the Stinger GT, but without an existing Kia GT enthusiast fan base sales haven't been off the charts. Only those smart enough to recognize the value and brave enough to take a chance on Kia's first GT performance endeavor have benefited. Enter the 2020 Forte GT. This premium sport compact sedan starts at a base price of just $22,290 to give a much broader audience a chance to sample the Kia GT experience. After exploring what this platform offers out of the box, we will give you a preview of the plans for the DSPORT Project Forte presented by Harman Kardon.
By Bassem Girgis and Michael Ferrara // Photos by Kia Motors America
DSPORT Issue #213
---

Surprise, Surprise
All of us have gone to school with someone that didn't make much of an impression to anyone. Years go by and then we find that person on social media. The skinny kid that becomes the body builder, the quiet girl that becomes a supermodel and the class clown that becomes the CEO of a major corporation. When you aren't following someone all the time, there's always a good chance a big surprise lies in the future. The same can be said about the Kia Forte. Since 2008, we all have probably driven a Kia Forte whether we've owned it or rented it. A good car that simply never stood out from the crowd. With the 2020 Kia Forte GT, that impression may soon change.

It's Alive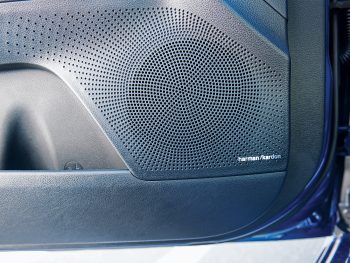 The 2020 Forte GT brings a new 1.6-liter turbocharged engine to the party. The Borg Warner twin-scroll turbocharger with electronic wastegate helps this four-cylinder deliver 201 horsepower and 195 lb-ft of torque with quick boost response and a broad  torque curve. The interior is sporty, with a flat-bottom steering wheel and a small "GT" logo on the lower portion. Acceleration won't bore you whether you select the seven-speed dual-clutch automatic transmission or 6-speed manual. However, the 6-speed manual is our hands-down preference. It's more fun plus the Harman Kardon 360 watt sound system is standard.  With the automatic transmission, gears can be manually selected using the paddle-shifters or the transmission shifter. Putting the auto trans selector into manual mode automatically puts the car in Sport mode when activated. When you let off the throttle at a higher RPM, the transmission doesn't up-shift. Instead, it keeps you at the high RPM to give you instant response as you exit the turns. The engine/transmission collaboration makes for a fun, semi-responsive drive.

On the Road
Driving the Forte GT on the streets is pleasant. Steering could be a little more precise. If you feel too much steering feedback, that's because your Lane Assist is on and the Forte just wants to keep you going straight. Suspension is stiff enough for road use, allowing you to tackle corners with confidence. It's not punishing, however. While the older Forte had a twist-beam rear end, the Forte GT gets a multi-link independent rear. If you decide to track your Forte GT, aftermarket coilovers and some chassis bracing may offer the additional stiffness needed for track use. The front brakes get 12-inch rotors, and stopping in time should not be an issue. Overall, the 2020 Kia Forte GT offers enough acceleration for road use, well-rounded suspension, and decent stopping power. It's definitely a competitor to the segment leading Civic Si. In fact, we took both to the drag strip to find that they ran neck to neck.
TYLER'S OPINION

Let's just say I didn't jump for joy when I was handed the keys to the Kia Forte GT. My first thoughts were, "Wow, this thing is going to be slow. Do I really have to drive this?" My only experience with anything Kia is watching former Los Angeles Clipper Blake Griffin dunking over one in the slam dunk contest. Let's just say I had the lowest expectations for this car.

To my surprise, power wise it actually almost felt on par with my 2019 Honda Civic Si. Could this actually be a Kia? I'm extremely eager to see what the aftermarket industry has in store for this platform. With a few bolt-ons and a tune, it could definitely awaken some additional power and make it right up there with the Civic Si. In the sports mode, I noticed more throttle response and the steering input tighten up which enabled me to take corners with ease.

While exploring the interior, I was slightly annoyed that the seats felt more comfortable than mine. The seats also had a heated and cooling function. I thought that was only an option in luxury vehicles. Not to mention the Harman Kardon sound system was far superior to the one found in my Honda. I even noticed that in reverse the radio automatically lowered the volume to make sure you heard if anybody is behind you. I was a little discouraged that it was missing a third pedal, I believe that would have made the car even more enjoyable. Hopefully they let me drive the manual Forte GT soon.

If I would have known this car was that enjoyable, it would have definitely been a contender before I purchased my Civic Si. It's everything I was looking for in a car, Four-doors, turbocharged, affordable, good on gas and fun to drive. Note to self, never judge a book by its cover. You might be missing out on a hidden gem.

Quality Assurance
Interior quality is quite impressive in the Forte GT. Although I haven't been in a Kia in numerous years (aside from the Stinger GT). The seats have enough bolstering to keep you in place, with more than enough stitching to give you the sports-car-feel. Some parts around the interior could use higher-quality material, like the window switches, the hard-plastic dashboard, and a few other things. However, the majority of the existing parts feel much more refined than most Kia cars I've driven in the past. The Harman Kardon sound system is standard in the manual option, and based on the sound quality, it's worth the additional cost for the automatic trim.
DSPORT Project Forte by Harman Kardon
Out of the box, the Kia Forte GT is a strong competitor to the Civic Si. While the Forte GT delivers solid performance as delivered, many sport compact owners purchase a vehicle based on its level of aftermarket support. Being that Kia's GT line is so new to the market, it lacks the aftermarket support of many of its competitors. When our friends at Harman Kardon asked us to build a 2020 Kia Forte GT as a project vehicle, we had to come up with a project goal. Since an unmodified Forte GT is a solid competitor to the Civic Si, the question became could we make the Forte GT beat the Civic Type R. With an unlimited budget anything could be done. So we had to set some parameters. The benchmark would be acceleration performance and the original proposed budget was to do it under the $7K mark (to keep the vehicle plus performance total budget around $30K). Somewhere along the way, this proposed budget kept getting reduced. First $5K, then $4K and now $3,500. Can a Forte GT beat a Civic Type-R in a drag race with only $3,500 in performance upgrades? It sounds pretty impossible, but that's what should make this build quite interesting. Along the way, we will also put some budget into looks, handling and braking while showing the results of some light tuning upgrades. Stay tuned.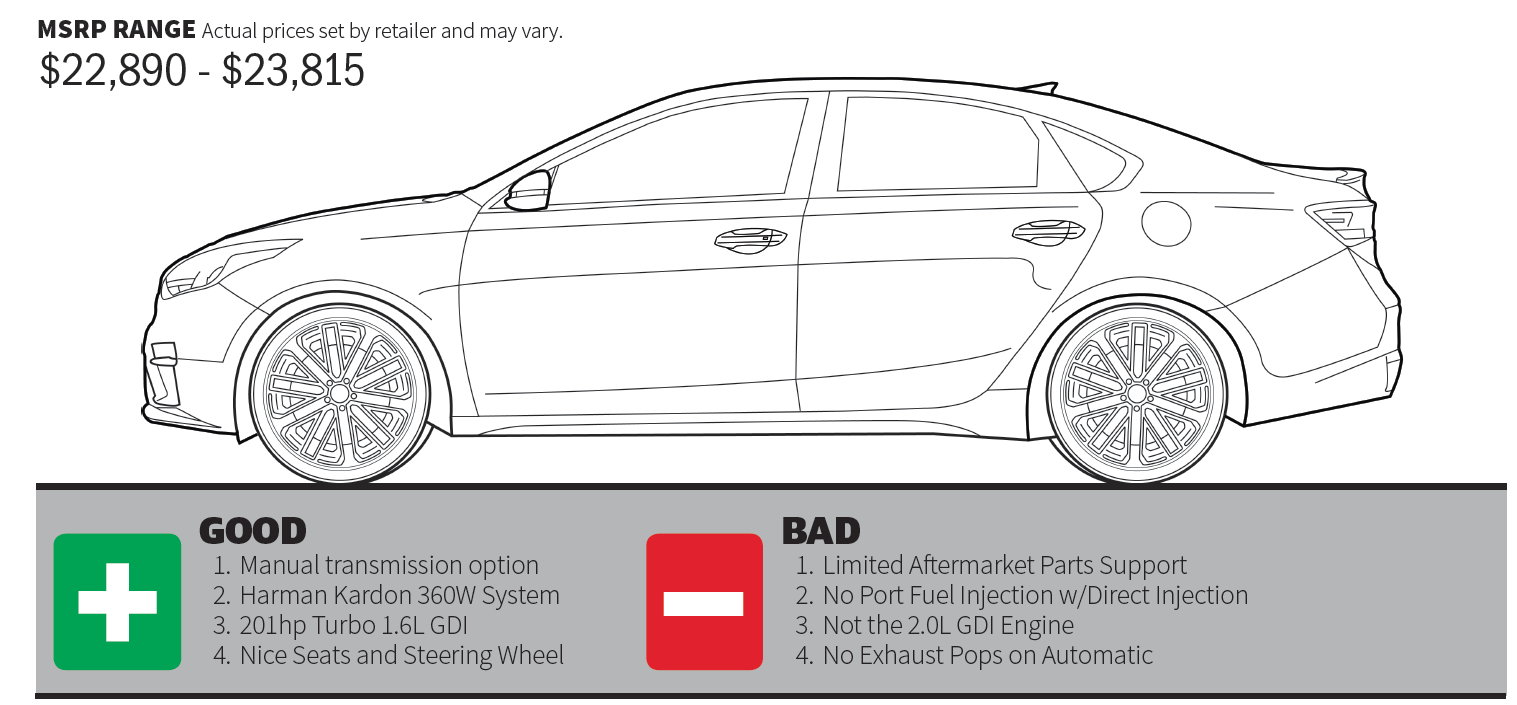 SPEC SHEET
| VEHICLE | |
| --- | --- |
| Year / Make / Model: | 2020 Kia Forte GT |
| MSRP: | $22,890 |
| Driveline Layout: | Front Engine / Front Wheel Drive |
| Vehicle Weight: | 2,989 lbs. |
| Fuel Capacity:: | 14.0 gallons |
| EPA Fuel Economy:: | 25/32/28 MPG (City, Hwy, Combined) |
| Warranty | 5 yr/60,000 mi basic, 10 yr/100,000 mi powertrain |
| ENGINE | |
| --- | --- |
| Engine Design: | 1.6 I-4, turbocharged Gasoline Direct Injection (GDI) |
| Displacement (cc): | 1,591 cc |
| Bore & Stroke (mm): | 77.0 x 85.4 |
| Compression Ratio: | 10.0:1 |
| Peak Horsepower (@ RPM):: | 201 hp @ 6,000 rpm |
| Peak Torque (@RPM):: | 195 lb.-ft. @ 1,500-4,500 rpm |
| Redline: | 6,500 RPM |
| Fuel Delivery System: | Gasoline Direct Injection |
CHASSIS/DRIVELINE
Suspension (Front)::
McPherson Strut
Suspension (Rear):
Multi-Link
Shock Absorbers:
Twintube
Transmission:
6-speed manual
Transmission Gearing::
First 3.308:1, Second 1.962:1, Third 1.323:1, Fourth 1.024:1,
Fifth 0.825: 1, Sixth 0.702:1, Reverse 3.583:1
Final Drive:
4.467:1
Differential:
Wheels (Width & Size): 7.5J x 18 aluminum alloys
Tires:
P225/40R18
Brakes front/rear:
12.0 in. Ventilated disc / 10.3 in. Solid disc
Steering:
Rack and Pinion / Electric motor
Turning circle, curb to curb (ft.):
34.8 ft.
Length / Width / Height (in):
182.7" / 70.9" / 56.5"
Wheelbase (in):
106.3"
INTERIOR
Headroom front/rear (in):
38.8" / 37.5"
Legroom front/rear (in):
42.2" / 36.7"
Seating Capacity:
5
Steering Wheel:
Leather-wrapped steering wheel with a fl at bottom
Instrumentation:
Analog gauges with tachometer, 8" driver information display
Audio/Video/Navigation:
Harman Kardon® Premium Audio system with 320 watt, 8 speakers
and Clari-Fi technology
Connectivity:
Android Auto, Apple CarPlay, USB input and Bluetooth
| EXTERIOR | |
| --- | --- |
| Lighting: | LED projection headlights, LED tail lights, Daytime running LED |
| Aero: | Integrated trunk spoiler and front-bumper spoiler |
| Exhaust: | sport tuned dual exhaust |