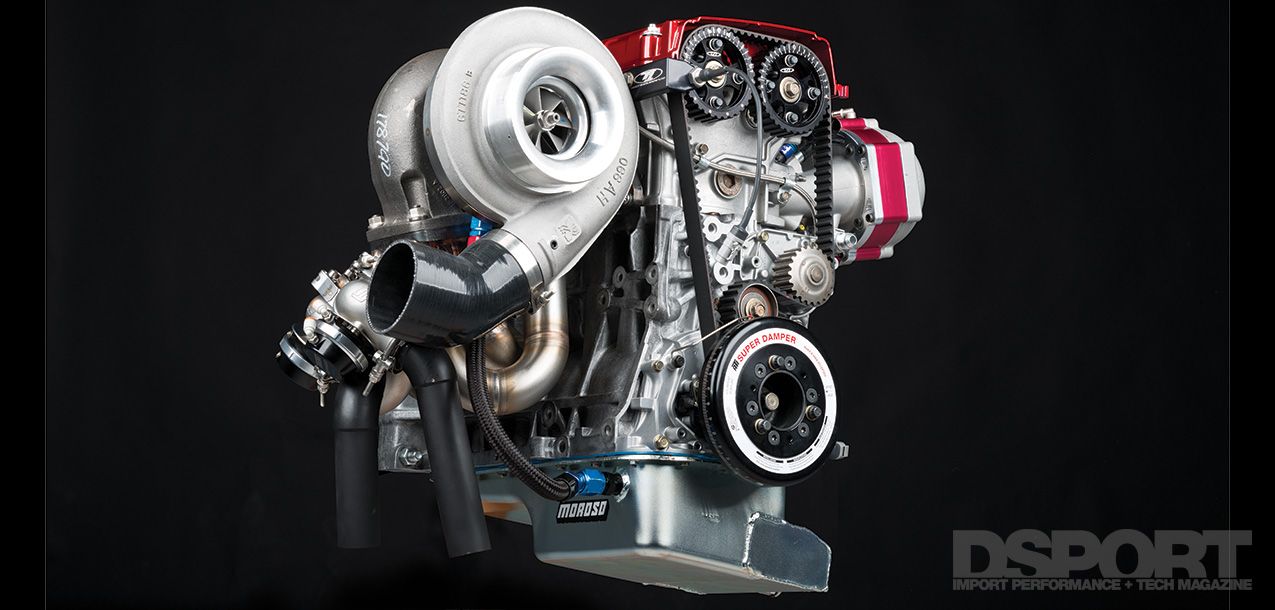 Simon and Garfunkel, Ike and Tina Turner, Sonny and Cher, Cheech and Chong, Madonna and Sean Penn, Miley and Liam, J.Lo and Diddy, Justin and Britney.
These were all famous couples that all made headlines, yet eventually split. The same can now be said for DSPORT and the FAME Civic. Call it creative differences or whatever you like, both sides will be focusing on their solo careers going forward. Fortunately, fans of DSPORT's engineering approach to exploring the outer limits of Honda B-series power capabilities won't be left out in the cold. Instead, we'll be heating it up with the completion of our 2.0-liter B-series development, before we explore the limits of boosted performance with our 2.1-liter B-series solution.
Text by Michael Ferrara // Photos by Jun Chen, Richard Fong and Rommel Estrada
---
THE GOOD TIMES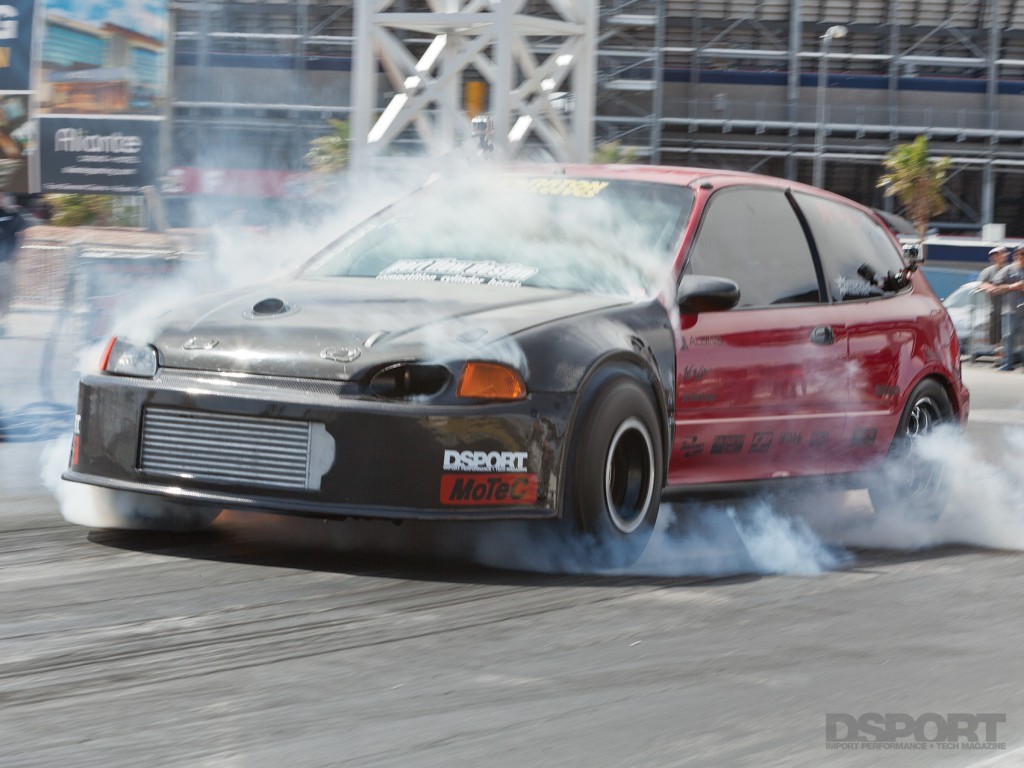 With our performance combination, we nailed our power target on our first dyno tuning session. By taking an engineering approach and having a familiarity with the performance manufacturers that could deliver, we didn't end up with a bunch of parts that weren't up to the call. Instead, we used technologies that could also be used on the street. Steel rods instead of aluminum, a single fuel pump instead of twins and a broad power curve, made our B-series the envy of all turbo 2.0 liters. Of course, we did encounter challenges along the way. Considering that we produced in excess of seven times the power that the Honda B18C engine originally produced, you have to expect that we would go beyond the limits of what current technology could support.
THE CHALLENGES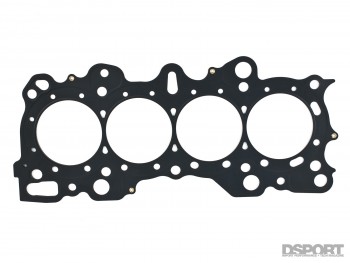 One of the original challenges that we faced with the project centered upon a finding a proper solution to maintaining a head gasket seal at the extremely elevated power levels. This was a problem faced by many high horsepower B-series Hondas for many years. As a result, many B-series engines were built incorporating stressinducing stepped decks. We found a better solution. A combination of precision machining of the head and block surfaces (surface ground or lapped to an Ra of 20), a stopper type head gasket (from JE Pistons) and some super-alloy CA625+ head studs from ARP proved to be able to hold up to power levels approaching 1,100 wheel horsepower without issue. Of course, torquing the head studs to 95- 100 lb-ft did create other issues.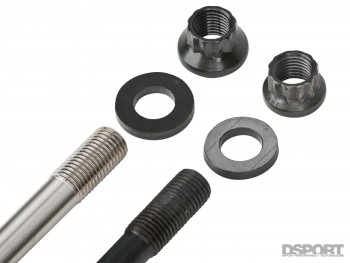 The high clamping forces keeping the head in place at extreme cylinder pressure also caused a loss of valve sealing in the cylinder head in cylinder one. The extreme strain from the increased head clamping would distort the valve seats. While the problem would lessen as the engine would heat cycle and have time to wear in, the amount of leakage past the valves was considerable when a new engine would be tested on the engine stand. There was also another issue that surfaced with regard to the high torque rating for the CA625+ head studs. After an engine was overrevved to 16,000RPM, a crack developed in one engine block around the head stud boss. Was it the harmonics and stresses encountered at 16,000RPM that initiated the crack or was it the result of excessive strain from the high head torque values? While we'll never be able to answer that question, we did find a procedure involving the use of "angle torque" head stud tightening technique that is superior at equalizing the clamping load and stress across all of the head studs. Look for more on this in an upcoming tech story. [pullquote]… A DEFECTIVE ROD BOLT… LED TO THE DEMISE OF THE ORIGINAL REPLACEMENT ENGINE[/pullquote]In addition to head sealing challenges, the early-production DART engine block was plagued with oiling issues. Ultimately, we shelved the DART block and simply fitted a B-series block with a set of Darton sleeves. The oiling issue was then a thing of the past. We also had the misfortune of being unlucky enough to get a defective rod bolt, which led to the demise of the original replacement engine. There was also the under-tightened cam gear that wiped out all eight new exhaust valves while dyno tuning.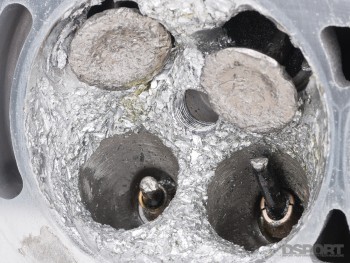 Overrevving, overrevving and loose bolts. We have yet to find a way to keep a B-series together at 16,000RPM. Missed shifts resulted in two B-series engines being revved into utter destruction. Ultimately, the last failure of the B-series was the result of a FAME Civic crew team member failing to properly torque the flywheel and damper on the engine. While it's understandable that mistakes can and will happen, it was unfortunate that we weren't in a position to have enough control over the project to avoid these issues. Going forward, we'll be dealing with the headaches directly as we'll be building our own vehicle to test the B-series development.
B-SERIES STRENGTHS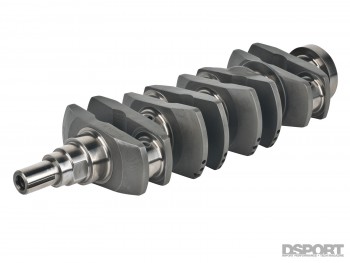 The factory Honda LS crankshaft is capable of handling the 1000+whp levels that can be generated with a proper PRO FWD class limit 72mm turbo setup. However, finding a used LS crankshaft that is straight and has all of the journals in pristine condition is no easy task. By the time you purchase a used crankshaft, get it straightened, regrind the journals and then have to deal with the limited number of bearing options, you'll wish that you instead simply purchased a quality aftermarket 89mm stroke crankshaft. We had great results with the SCAT 4340 forged steel crankshafts finding them all to be straight as an arrow and in spec on all of the journals. Considering that a new SCAT 89mm B-series standard weight crank can be had for less than $600, we highly recommend avoiding the headache of used cranks and making the investment into a new SCAT crank, if you are building a boosted B-series.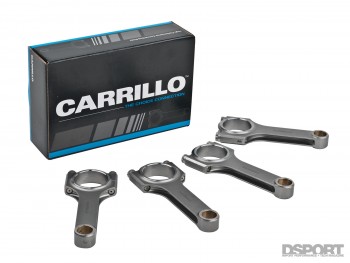 We were also fortunate enough to put together our performance combination entirely from off-the-shelf parts. From the Carrillo rods to the CP Pistons and Web Cams, none of these hard parts were custom spec'd. This was also true of the Supertech valvetrain, Full-Race turbo manifold, BorgWarner turbo system, MoTeC engine management, Fuel Injector Clinic injectors, Skunk2 intake manifold, Tilton clutch, Albins gearset, The Driveshaft Shop axles, Wavetrac limited-slip differential, Weld wheels and M&H slicks. Nearly every part used was an off the shelf item thus far.
THE FUTURE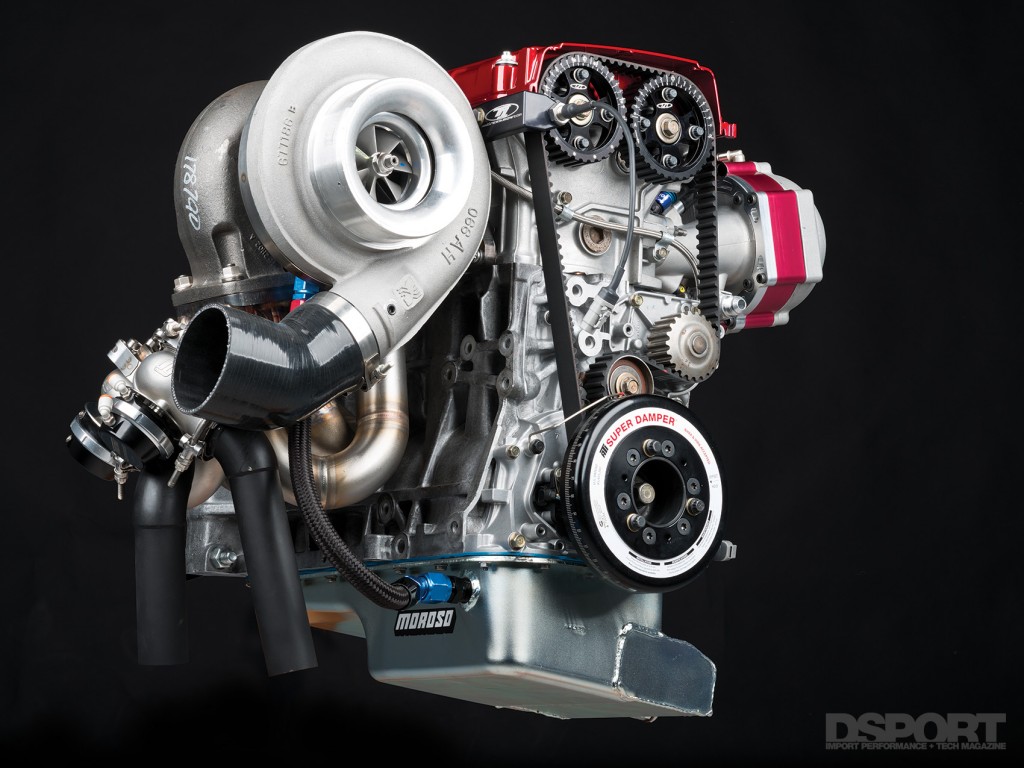 Adding the RMC V40 4-axis CNC engine machine center is going to allow us to do extended testing on sleeving solutions for the B-series engines. While we never encountered a sleeve related issue, it never hurts to foster development. Speaking of development, we are currently building a couple B-series that we'll have ready for our DSPORT drag Honda build. While we've already spent a fortune for fame, history is always written by the victors and we don't plan on losing.