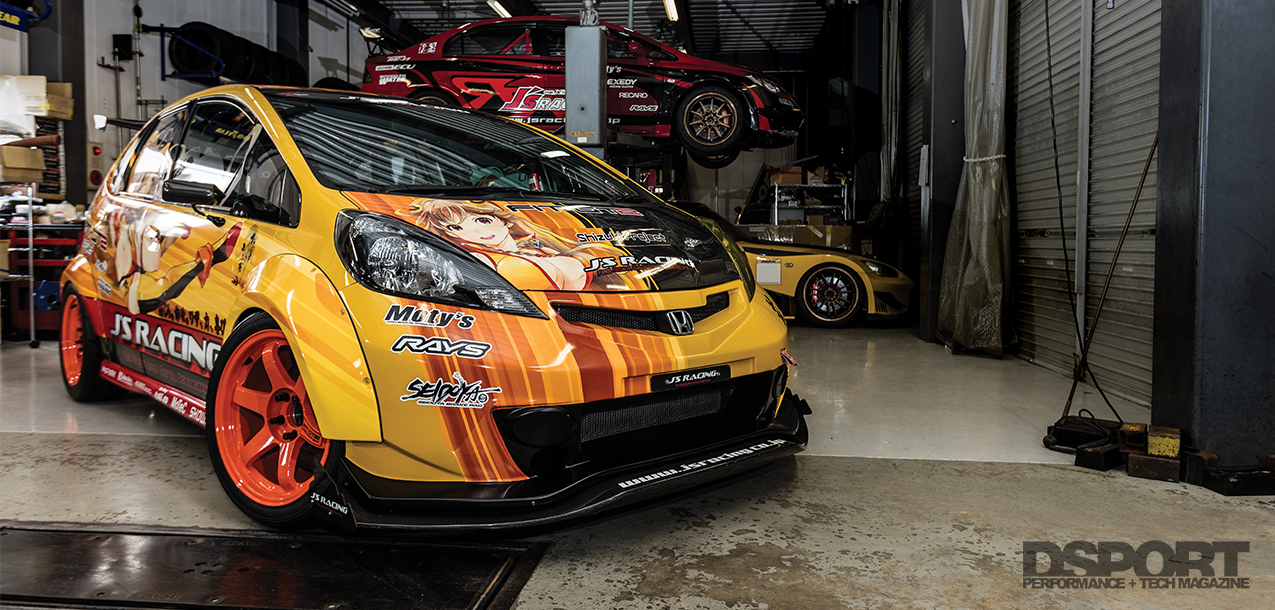 If it has wheels, it can be raced.
The world of racing is no longer just reserved for the fastest vehicles. Spec classes designed for specific platforms pits drivers and teams against the clock and each other, regardless of the vehicle type. Even so, it's hard to imagine the practical and modestly powered Honda Fit as a racecar. After all, the GE8 Fit's 1.5-liter L15A7 engine makes all of 118 horsepower and 107 lb-ft torque. However, its broad popularity among consumers and its use in Super Taikyu class ST-5 make for a compelling argument that it should not be a wonder at all.
Text by Richard Fong // Photos by Richard Fong and Nat Insumran
---

Honda Heroes
For J's Racing, a prominent Honda tuning specialist in Osaka, Japan, the Fit has been a successful platform to build and track. J's Racing built a GD Fit in 2007, dubbing it the Fit GT1. This gutted and caged, wide-fendered machine featured a high-compression K24 engine complete with camshafts, a ported cylinder head, a complete valve train upgrade and individual throttle bodies. This vehicle ran a 1'00"459 lap time at Tsukuba Circuit, an impressive achievement for a five-door sub-compact car.

Wish List
Like its GT wide body S2000s, J's Racing's Fit GT1 had garnered some fans over the years. Emulation is a great form of flattery, and the GT1 racecar inspired one of J's Racing's customers to commission the build up of his own Fit racecar. Since the knowledge and experience drawn upon for this build comes from a successful racing project, the customer anticipated results to be very predictable. This project soon evolved into a collaborative effort that became J's Racing's demo car at the 2016 Tokyo Auto Salon.

Shizuki Project Fit GT2
J's Racing wanted to do something eye catching with this Fit for the Auto Salon by changing up its livery. A popular trend in Japan is "Itasya", which is the incorporation of anime graphics on a tuning car. J's Racing was introduced to some of the artists that produce a Japanese anime series that is rising in popularity called Grimgar. Artist Emiko Hosoi and Editorial Supervisor Ryousuke Nakai worked with J's Racing to create a character exclusively for this Fit named Shizuki Sakagami. This effort came to be known as the J's Racing Shizuki Project Fit GT2.
Replicated Racer
The Fit chassis build started by gutting and caging the interior. A Recaro RS-G race bucket seat positions the driver within the protective latticework of the 12-point cage. A MoTeC C125 dash logger positioned in the factory dash relays vehicle data, while steering input is conveyed by way of a suede-wrapped J's Racing XR Type-F steering wheel. At the back of the cabin, an ATL fuel cell is secured within the spare tire well. Moving on to the exterior, a set of CRUX adjustable coilover suspension drops the Fit chassis over a set of Volk Racing TE37 wheels mounted with Advan A050M race rubber. To contain the aggressively-offset wheel and tire package, a complete J's Racing custom GT Fender Kit adds girth to the Fit profile. In addition, a complement of J's Racing carbon-fiber pieces help to reduce weight while lending to the aerodynamics. Polycarbonate windows further help with the weight loss, as the Fit now tips the scales at only 2,095 lbs. With all the exterior pieces in place, the Shizuki Sakagami vinyl graphics could be applied to the exterior.

Fit Type R
A properly dialed in chassis can certainly help to get an underpowered car around a track, but even a competitive underdog could use a few extra ponies under the hood. To improve the output of the Fit GT2, J's Racing originally planned to bolt-on upgrades to the SOHC L15A7 engine. But this plan was scrapped shortly after, as it would be too costly to extract the desired horsepower from the 1.5-liter single cam engine. The L15 and its five-speed transmission were pulled from their home to make room for new tenants, a K20A engine and six-speed box donated by a FD2 Civic Type R. The K20A was enhanced with a J's Racing Tsuchinoko carbon fiber intake chamber to facilitate air induction, while a custom 70mm exhaust directs spent gasses to the back of the chassis. With a MoTeC M400 engine management in command of the engine, the Fit generated 261ps (257hp) and 26kgm (188 lb-ft) torque. By comparison to the stock L15A7, this is more than twice the horsepower along with an additional 81 lb-ft of torque.

At the Salon
Once the tuning was finished, J's Racing shipped the Fit to the Makuhari Messe, where it debuted at the Tokyo Auto Salon alongside one of J's Racing's GT wide-body S2000 booth cars. For the fans of itasya, the Fit drew praise and attention throughout the event. It was a dream come true for the car's owner to see his J's Racing Fit GT parked in the booth space.

Fit GT2, Part 2
While reaching this stage of the build and debuting at Auto Salon were significant milestones, the GT2 is about to enter the next phase of its evolution. According to J's Racing's executive director, Hisaaki Murakami, the Shizuki Project Fit GT2 is about to gain a lot more horsepower by way of a built, high compression K24 engine. This engine will feature a ported cylinder head, complete with new valve train and higher-life camsshafts. Induction will come by way of a quartet of TODA Racing individual throttle bodies. Murakami stated that once tuned with the MoTeC M400, output should easily eclipse the 300 horsepower mark. The torque at the crankshaft will transfer to the wheels by way of a stronger clutch and a sequential transmission. We can hardly wait to see the next chapter of this story completed.
---
SPEC SHEET
| VEHICLE | |
| --- | --- |
| Year / Make / Model: | 2012 Honda Fit |
| Chassis Code: | GE8 |
| Competition Class: | Super Taikyu ST-5 |
| Vehicle Weight: | 2,095 lbs. |
| Redline RPM: | 7,900 RPM |
| Fuel: | 100-octane |
| ENGINE | |
| --- | --- |
| Engine Code: | K20A (FD2-R Civic Type R) |
| Displacement (cc): | 1,998cc |
| Bore & Stroke (mm): | 86mm x 86mm |
| Peak Horsepower (@ RPM): | 261 ps @ 8,160 RPM |
| Peak Torque (@ RPM): | 26 kgm @ 5,500 RPM |
| Engine Mounts: | J's Racing Custom Engine Mounts |
| Pistons/Compression Ratio: | 11.7:1 Compression |
| Air Induction System: | J's Racing Tsuchinoko Carbon Fiber Chamber |
| Exhaust Manifold: | Euro-spec Civic Type R FN2 Manifold |
| Exhaust System / Downpipe: | J's Racing Custom 70mm Exhaust System |
| Fuel Cell: | ATL MB108 Fuel Cell |
| Engine Management System: | MoTec M400 |
| Engine Management Tuner: | J's Racing |
| Cooling System: | J's Racing Maxcooling Radiator, Low Temp Thermostat and Silicone Hose Kit |
| Oil System: | J's Racing Custom Oil Pan |
| Performance Electronics: | Deka ETX15 AGM Racing Battery |
| CHASSIS/DRIVELINE | |
| Springs, F&R (Make & Rate): | CRUX Springs, 17kgf/mm, 16kgf/mm |
| Shocks, F&R (Make & Rate): | CRUX Adjustable Dampers, J's Racing Spec |
| Additional Suspension Components: | J's Racing Custom Pillowball Suspension Arms J's Racing Custom 26mm Sway Bar |
| Transmission: | FD2-R 6-Speed Transmission |
| Transmission Gearing: | 3.266:1, 2.130:1, 1.517:1, 1.147:1, 0.921:1, 0.738:1 |
| Final Drive: | 4.7:1 Final Drive Ratio (stock=5.062:1) |
| Clutch / Flywheel: | J's Racing Hyper Single Clutch |
| Differential(s) (Make & Type): | J's Racing 1.5-way LSD |
| Wheels (Make, Size & Offset): | Volk Racing TE37-SL 17×9.5-inch +28 (F), 16×7.5-inch +25 (R) |
| Tires (Make & Size): | Yokohama Advan A050 M 245/40R17 (F), 205/50R16 (R) |
| Brake Calipers (F&R): | J's Racing 6-piston Brake Calipers (F) |
| Brake Rotors (F&R): | J's Racing FCR Slotted Rotors |
| Brake Pads (F&R): | R-Master N1-500 / SP300 Pads |
| Brake Lines: | J's Racing Stainless Steel Braided Lines |
| Etc.: | J's Racing Reinforced Sub Frame J's Racing Brake Bias Adjuster J's Racing |
| INTERIOR | |
| Roll Bar / Cage: | 12-point Roll Cage |
| Seats: | Recaro RS-G Racing Seat J's Racing Low-position Seat Rail |
| Harnesses: | Sabelt 4-point Harnesses |
| Steering Wheel / Quick Release: | J's Racing XR Type-F Suede Steering wheel |
| Gauges: | MoTeC C125 Dash Logger Display |
| Etc.: | J's Racing Blue Gradation Shift Knob |
| EXTERIOR | |
| Front Bumper: | J's Racing GT Bumper |
| Front Lip Spoiler: | J's Racing Carbon Fiber Splitter & Undertray |
| Fenders: | J's Racing Custom GT Fender Kit |
| Hood: | J's Racing Aero Bonnet Type V |
| Rear Diffuser: | J's Racing Carbon Fiber Diffuser |
| Spoiler / Wing: | J's Racing Wet Carbon Fiber Wing |
| Roof: | J's Racing Carbon Fiber |
| Taillights: | Stellar V Clear LED Taillights |
| Mirrors: | Craft Square Racing Mirrors |
| Glass: | J's Racing Full Polycarbonate Windows |
| Paint: | J's Racing Wrap |