High-performance automotive technology and components often times trickle down from motorsports and racing. That technology is then applied to consumers on a mass production scale. Because racing is perceived as the crux of automotive technology, it is often the means by which tuning shops learn more about their tradecraft and validate their abilities in competition. While this is the angle that many shops employ to earn recognition and clout with consumers, others focus directly on the needs of consumers.
Text by Richard Fong // Photos by Richard Fong and Sami Sharaf
---

The People's Tuner
Focusing on the enthusiast's needs separates Hirofumi Asada from the rest. He opened his shop, Original Runduce, in his hometown of Okayama, Japan around 30 years ago. Situated in the Kansai region, where there is a reduced population density and more open roads, Original Runduce's tuning philosophy revolves around streetcar performance with daily driven reliability.

No Need to Brag
Does this philosophy imply that Original Runduce customers are getting less than competitive quality? Absolutely not. Original Runduce does occasionally build demo cars to test products on and off the racetrack. A great example is its latest project, a Toyota GT86, which was featured on the cover of DSPORT Issue 167 (May 2016.) This vehicle went through a variety of configurations over the course of several years to perfect the company's product offerings. Asada put this car to the test at Tsukuba Circuit in December 2014 (1'00"928) and at Fuji International Speedway in January 2015 (1'50"955) to test his product selection and to develop solutions for the ZN6/ZC6 platform. For a streetcar with a full interior, these lap times reflect the function, form and streetability that form the backbone of Asada's versatile tuning philosophy.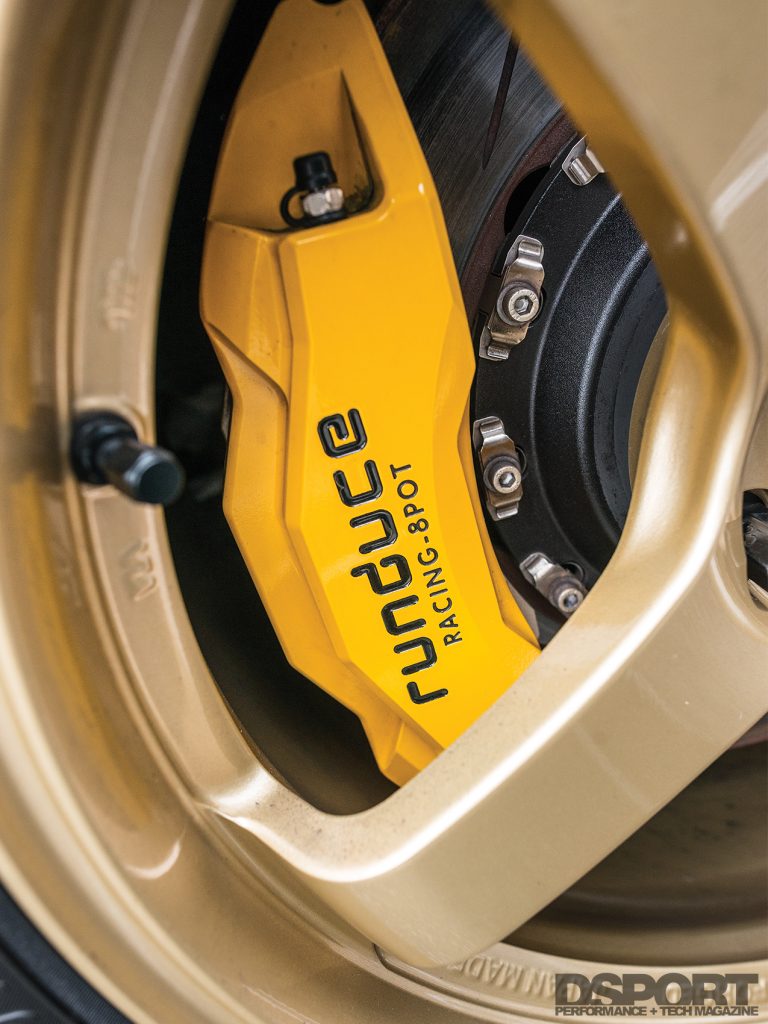 If it Broke, Then Fix it Better
Original Runduce isn't simply a retail shop that bolts parts onto cars. Asada does not hesitate to improve on what's available by developing and offering solutions of his own design. This is especially the case when a particular car does not have specific parts solutions already available. For example, when he began to reach the torque capacity of the Aisin AZ6 transmission in the GT86 demo car, he worked with a manufacturer to design and private label a performance gear set that featured shorter ratios, larger teeth and dog engagement as a direct replacement for the stock gears in the factory transmission housing. Other examples of Asada's development efforts include six- and four-piston big brake kits for a variety of marques, including Subaru, Mitsubishi, Toyota and Nissan to name a few. Product development has expanded to also include European applications, such as a big brake kit for the BMW F82 M4. Original Runduce also offers both street and racing adjustable coilover suspension packages for a number of platforms as well.

One Stop Shop
Original Runduce's facility features a large show room, showcasing a broad range of merchandise ranging from engine internals, wheels, tires and brakes, to seats and in-car entertainment. A pair of desks allows the staff to sit down with clients to discuss their build objectives and to look at their options. The garage features three bays with in-ground scissor lifts, a tire mounting machine, a tire-balancing machine and a Dynapack dynamometer. From basic bolt-ons to full engine assemblies, Asada ensured that he covered all of the bases for his clients.

Applying the StreetTuned Mentality
So what exactly is discussed at the two desks in the showroom? It's during these conversations that Asada takes the opportunity to speak candidly about his customer's build objectives and budgets. Like anyone, Asada can appreciate that sky-high horsepower and top-shelf components for maximum performance is desirable, but not always practical or realistic to the everyday consumer. Asada illustrated his vision for ideal streetcar builds in two of his company's demo cars, a 2008 Nissan GT-R and a 2014 Subaru WRX STI.

Balanced Halo Car
When the R35 GT-R came out in Japan, Asada was quick to embrace the new platform. After all, it was Nissan's halo car and was the latest sportscar to represent Japan. He was also curious about the GT-R's performance potential given that it was a completely new platform. Some might argue that the R35's neutral handling and horsepower output from the factory offer plenty of performance to the daily driver. While this might be true for some consumers, ask any enthusiast able to afford a GT-R and they'll say that the car is so good, that they quickly gain confidence and eventually hunger for more horsepower.

Total Tuning Philosophy
For this 2008 GT-R, Asada illustrated his "Total Tuning" approach, which implements a balance of modifications that help the car to be fast under an array of driving conditions. Since the GT-R starts at 480 horsepower from the factory, it already has a head start on much of the competition. In addition, it takes well to upgrades. Starting at the turbochargers, HKS wastegate actuators replaced the stock units on each turbocharger to help manage boost better. An HKS EVC electronic boost controller was then plumbed in and connected to the new actuators to control boost pressure. Once the high-enthalpy gasses flow through the turbines, they exit to the atmosphere by way of a free-flowing Original Runduce Titanium exhaust system. On the cool side of the turbochargers, Asada swapped in HKS Racing Suction intakes to reduce airflow restriction to the compressor inlets. The compressor discharge ports feed pressurized air into aluminum piping connected to an HKS front-mount intercooler. Once heat exchanges with the core, the compressed air feeds into the factory throttle bodies and into the combustion chambers. Set to 1.3 kg/cm2 (18.5 psi), the GT-R produced a healthy 600 horsepower.

Controlling the Rollers
With more torque being produced, the factory electronically-controlled AWD system (ATTESA E-TS) sometimes sends too much torque to the front wheels, resulting in oversteer. To remedy this condition, Asada installed HKS' solution to the problem, its Active Torque Split Computer (ATSC). The ATSC offers four different torque split curves to combat oversteer and neutralize the GT-R's manners through the turns. An OS Giken Super Lock LSD further manages the torque split between the front wheels to fine tune the handling. The factory suspension was then swapped out in favor of a set of HKS Hyper Max III SPL adjustable coilovers. The Hypermax coilovers add ride height adjustment to the R35, so that the wheel well gaps can be closed over a set of ADVAN Racing GT wheels mounted with Yokohama Advan A08B tires.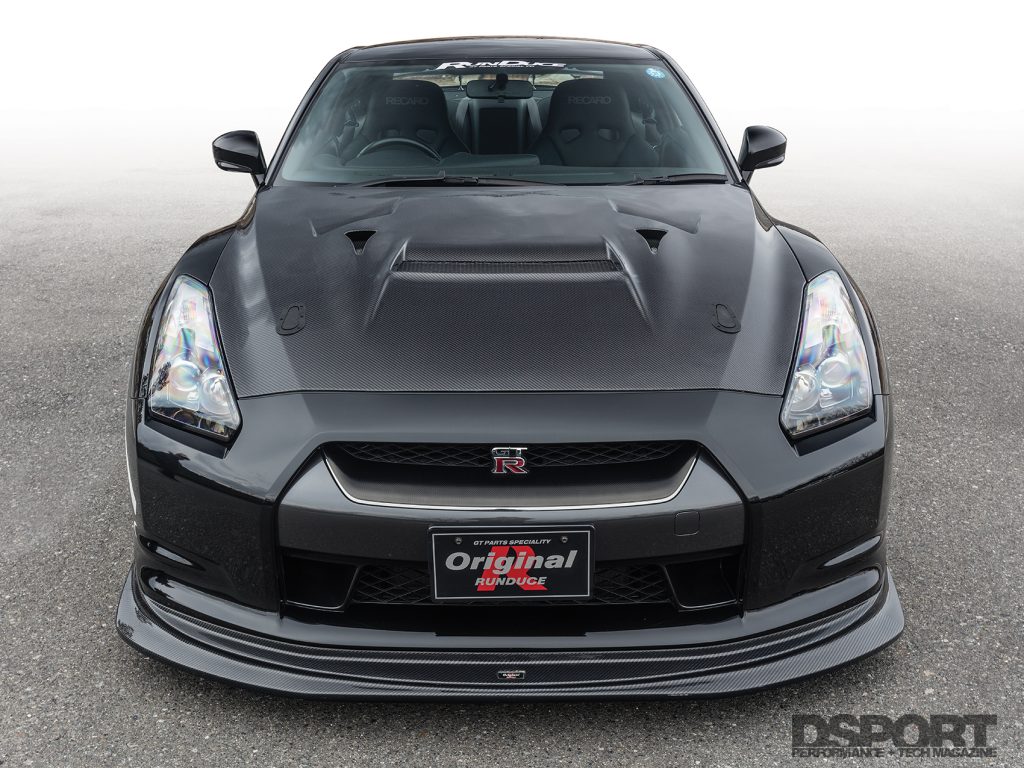 Subtle for Street
To round out the appearance of the GT-R, Asada chose aero components from Varis to complement the R35's bodylines. Keeping with the streetcar focus, the selection of carbon-fiber pieces adds just enough to the appearance to assert aggression without looking like a time attack car that left the track and forgot to go back.
Longing for More
From this experience with the GT-R, Asada notes that taking the performance up just another notch makes the R35 that much more fun to drive. His ideal street GT-R would be more of a Stage 2-type build up, with upgraded engine internals, larger turbochargers and a transmission upgrade. With a target horsepower of around 800 horsepower, this combination stays well within the capabilities of the upgraded components and leaves room for growth too. It would satisfy the streetcar expectations of any enthusiast while still being fun to drive.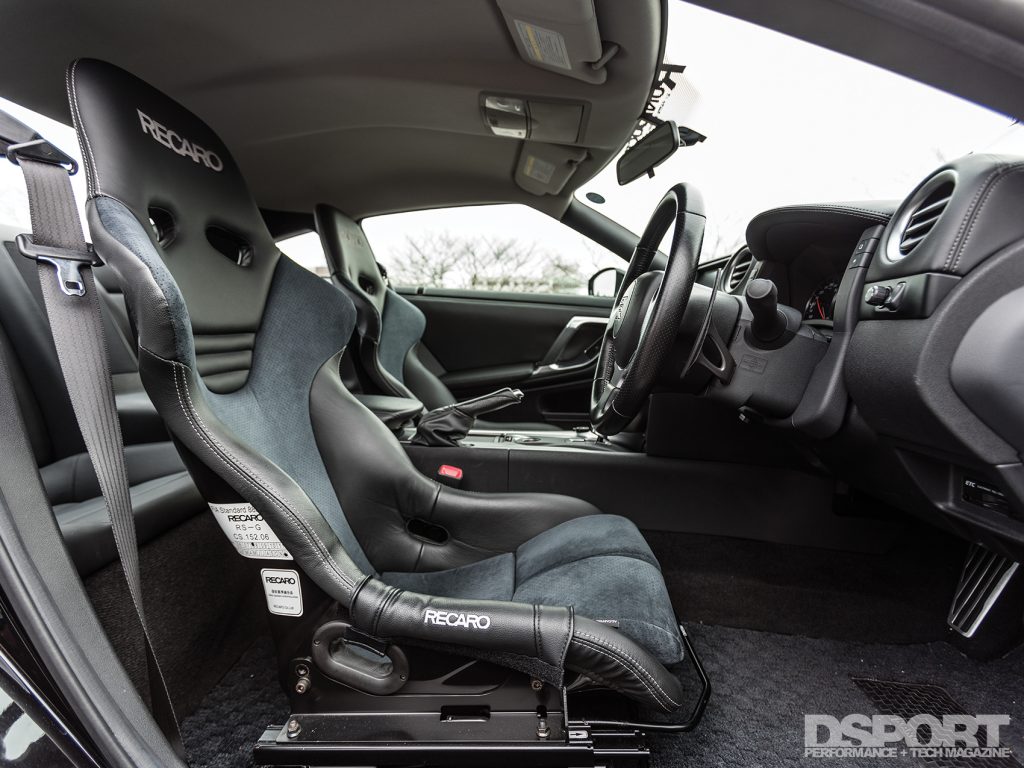 I Spy STI
So what about the enthusiasts that aren't in the market for a halo car? Original Runduce caters to all platforms, and the new WRX STI was an obvious choice to Asada when it was released. What he liked most about this platform was that it was a four-door, turbocharged AWD with a manual transmission. It can be a family car that is both fast and safe, the very makings of a fun streetcar to build up. Plus, Asada is a big fan of the STI's EJ207 engine. When asked what he thought about the new FA20DIT engine in the WRX, he offered a resounding, "EJ207 is way better!" He goes on to explain that the EJ engine is built stronger, can handle greater horsepower output and revs up to 8,000 RPM, making it his favorite of the two.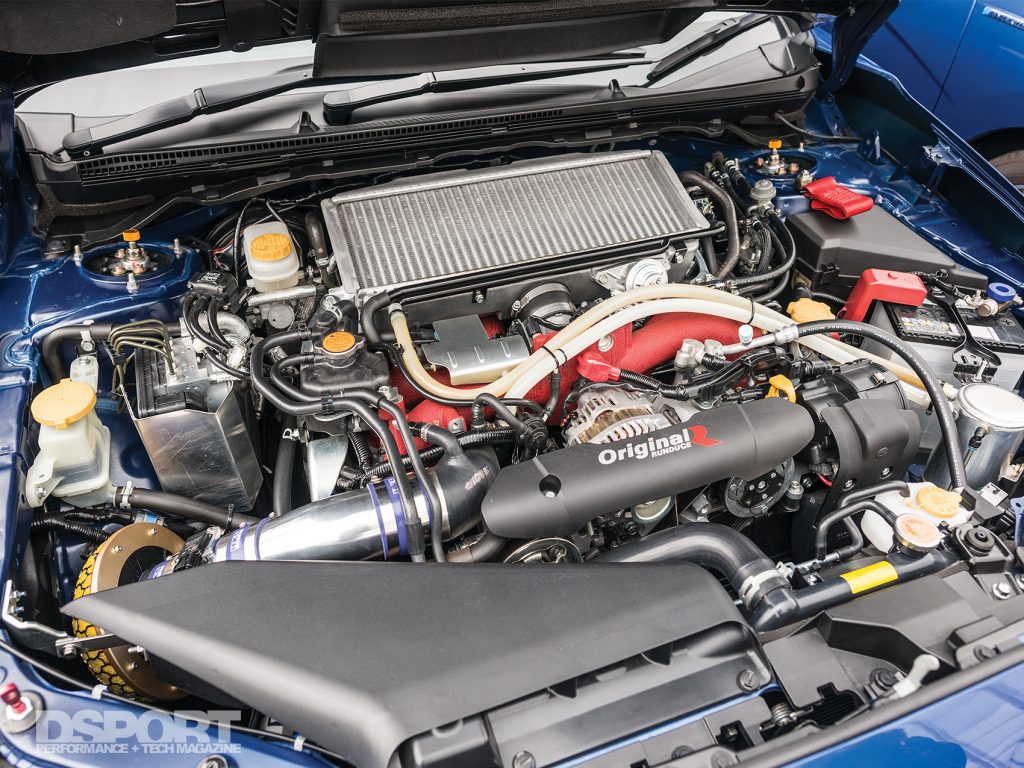 Proven Formulas
Unlike the VAB STI that Subaru exports to the USA, the JDM STI still relies on the 2.0-liter EJ207 engine. Producing around 300 horsepower from the factory, this engine continues to propel the STI, making parts selection straightforward since development has been ongoing for more than fifteen years. Like the GT-R, Asada started with the basic airflow restrictions, swapping out the stock airbox for an HKS Racing Suction kit and the factory exhaust for an HKS Spec L system. An HKS oil cooler helps to keep the oil temperatures in check, especially under hard driving conditions. Using an HKS Flash Editor to calibrate the factory ECU, Original Runduce's in-house tuner, Mr. Oda, made adjustments to the tune, bringing horsepower levels up to 330ps and 47kgm torque. This equates to roughly 325 horsepower and 340 lb-ft torque to the wheels. Once calibrated with the EVC electronic boost control set to 23 psi, output goes up to 380ps or an impressive 375 horsepower.

Balancing the Upgrades

In order to achieve an overall balance, matching up an increase in horsepower with suspension upgrades go hand in hand. Asada equipped the STI with a set of Original Runduce SSD Pro 20-way adjustable race coilovers with external reservoirs to lower the chassis over a set of Advan Racing GT wheels mounted with Yokohama Advan AD08R tires. Cusco sway bars add to enhance the handling traits of the chassis.
Refining Touches
To stand out from a factory STI, Asada once again selected components from Varis to lend to the STI's appearance. A more aggressive bumper, carbon fiber vented hood, side skirts and rear diffuser exude performance without shouting, "look at me!" Inside the cabin, a pair of Recaro RS-G SK2s replace the factory front seats while 4-point Takata harnesses secure the occupants into the race buckets.
Just for Fun
Original Runduce may not primarily focus on racing, but Asada and his staff do enjoy going to the track to run laps. In December 2015, they decide to take the STI out to see how it performed at the home of time attack, Tsukuba Circuit. With pro driver Yasushi Kikuchi at the helm, the STI ran a best lap time of 1'02.752. For comparison, Blitz's more heavily modified STI ran a 59.045 lap time at Tsukuba in December 2014. That is not bad for a streetcar that is still running several stock parts including the factory top-mount intercooler.

The Future of JDM Tuning
Asada has witnessed many changes throughout his more than thirty years of experience in the automotive tuning industry. He notes that the Lancer Evolution, Impreza, 86/BRZ and the new ND Miata are the popular chassis among enthusiasts in Okayama. When asked how the tuning scene looks through his eyes, he notes with anticipation that he is most excited about the new Toyota Supra, Nissan's R36 GT-R and the Honda S2500. While concrete information isn't available for these cars, Asada, like the rest of us, is an enthusiast at heart and has great hope for these new platforms. While shops that race to prove their mettle ride the cutting edge, its nice to see shops that share the enthusiasm of the everyday driver.
---
2008 Nissan GT-R SPEC SHEET
| VEHICLE | |
| --- | --- |
| Year / Make / Model: |  2008 Nissan GT-R |
| Chassis Code: |  CBA-R35 |
| Vehicle Weight: |  1,740 kgs. |
| Peak Boost: |  1.3 kg/cm2 (~18.9 psi) |
| Fuel: |  100 octane |
| ENGINE | |
| --- | --- |
| Engine Code: |  VR38DETT |
| Displacement (cc): |  3,799cc |
| Bore & Stroke (mm): |  95.5mm x 88.4mm |
| Peak Horsepower (@ RPM): |  601 ps @ 6,640 RPM |
| Peak Torque (@ RPM): |  78.9 kgm @ 3,860 RPM |
| Dyno Type: |  Dynapack Dynamometer |
| Air Induction System: |  HKS Racing Suction |
| Exhaust System / Downpipe: |  Original Runduce Titanium Muffler |
| Wastegate: | HKS Upgraded Actuators (x2) |
| Injectors: | HKS Fuel Injector Upgrade (x6) |
| Fuel Delivery: |  HKS Fuel Pump (x2) |
| Engine Management System: |  Factory ECU – Reflashed |
| Engine Management Tuner: |  Asada @ Original Runduce |
| Boost Controller: |  HKS EVC |
| Spark Plugs: |  HKS |
| Performance Electronics: |  HKS VAC / ATSC AWD Controller |
| CHASSIS / DRIVELINE | |
| --- | --- |
| Springs, F&R (Make & Rate): |  20kgf/mm, 16kgf/mm |
| Shocks, F&R (Make & Rate): |  HKS Hyper max III SPL Adjustable |
| Transmission: | HKS DCT Cooler |
| Differential(s) (Make & Type): | OS Giken Super Lock LSD (F) |
| Wheels (Make, Size & Offset): | Advan Racing GT 20×10.5-inch, 20×11-inch (F&R) |
| Tires (Make & Size): | Yokohama Advan AD08R 285/35R20 (F&R) |
| Brake Pads (Front & Rear): | Endless Brake Pads |
| INTERIOR | |
| --- | --- |
| Seats: | Recaro RSG-CL Seats (x2) |
| Harnesses: | Takata 4-point Harnesses |
| EXTERIOR | |
| --- | --- |
| Lip Spoiler, Side Skirts: | Varis Carbon Fiber |
| Hood & Wing:: | Varis Carbon Fiber |
---
2014 Subaru WRX STI SPEC SHEET
| VEHICLE | |
| --- | --- |
| Year / Make / Model: |  2014 Subaru WRX STI |
| Chassis Code: |  VAB |
| Vehicle Weight: | 1,450 kgs. |
| Peak Boost: | 1.6 kg/cm2 |
| Fuel: | 100 octane |
| ENGINE | |
| --- | --- |
| Engine Code: |  EJ207 |
| Displacement (cc): |  1994.5cc |
| Bore & Stroke (mm): |  92mm x 75mm |
| Peak Horsepower (@ RPM): |  330 ps @ 5,980 RPM |
| Peak Torque (@ RPM): |  47 kgm @ 4,210 RPM |
| Dyno Type: |  Dynapack Dynamometer |
| Air Induction System: | HKS Racing Suction |
| Exhaust System / Downpipe: | HKS Spec L Muffler |
| Engine Management System: | HKS Flash Editor |
| Engine Management Tuner: | Oda @ Original Runduce |
| Boost Controller: | HKS EVC |
| Oil System: | HKS Oil Cooler |
| CHASSIS / DRIVELINE | |
| --- | --- |
| Springs, F&R (Make & Rate): |  12kgf/mm, 10kgf/mm |
| Shocks, F&R (Make & Rate): |  Original Runduce SSD Pro 20-way Adjustable |
| Additional Suspension Components: | Cusco Sway Bars |
| Clutch / Flywheel: | HKS LA Clutch |
| Wheels: | Advan Racing GT 18×9.5-inch +45 (F&R) |
| Tires : | Yokohama Advan AD08R 265/35R18 (F&R) |
| Brake Calipers (Front & Rear): | Original Runduce 6-piston Calipers (F&R) |
| Brake Rotors (Front & Rear): | Original Runduce 356mm (F), 330mm (R) |
| Brake Pads (Front & Rear): | Original Runduce Brake Pads |
| INTERIOR | |
| --- | --- |
| Seats: | Recaro RS-G SK2 (x2) |
| Harnesses: | Takata 4-point Harnesses |
| EXTERIOR | |
| --- | --- |
| Full Aero Kit, Diffuser: | Varis |
| Hood & Trunk Lid: | Varis |
---