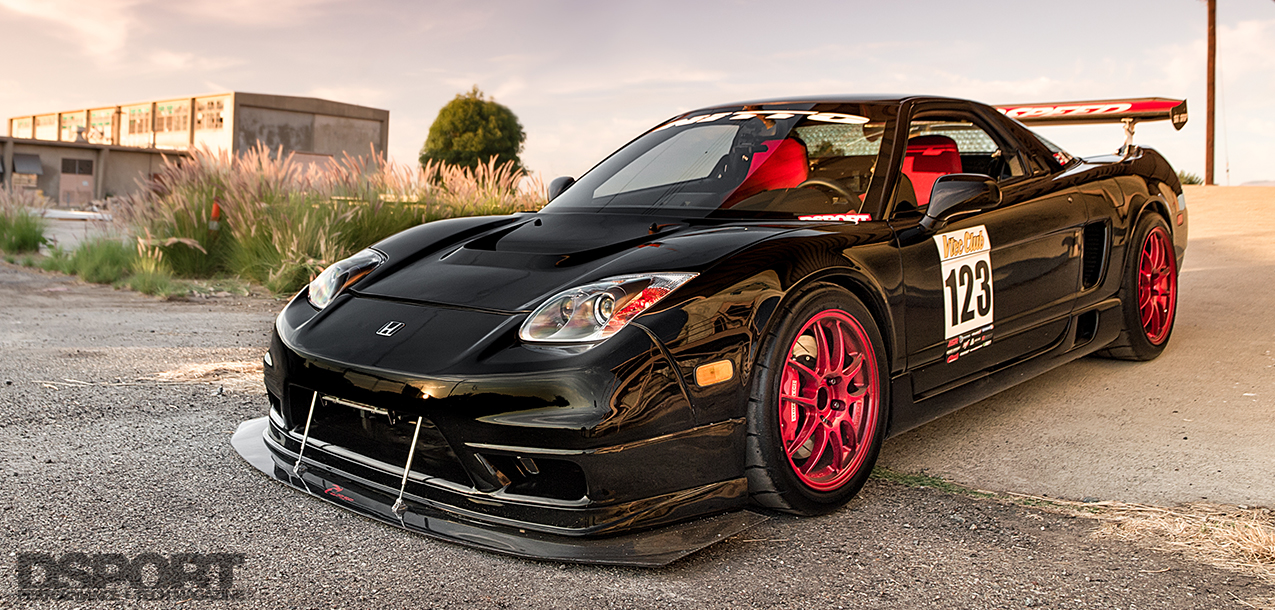 Rebounding from setbacks isn't always easy. For some, the loss of time, the added expense and the frustration make getting back on track enough to throw in the towel. For those that just don't give up, setbacks are mere rest stops on the road to greater achievement.
Text by Richard Fong // Photos by Rob Shaw
---

Honda Head
One such individual is Brandon Cruz, whose automotive experiences have proven his focus and determination to power through problems to achieve his goals. Cruz's first ride was a Honda Civic. Installing basic bolt-on parts, he had a blast driving the little Honda, becoming an instant fan of the marque as he quickly embraced the automotive lifestyle. Later, he upgraded to an Acura RSX. Now a fan of VTEC and horsepower, his interest soon evolved, shifting toward rear-wheel drive platforms. This led to the sale of the RSX and the purchase of an S2000.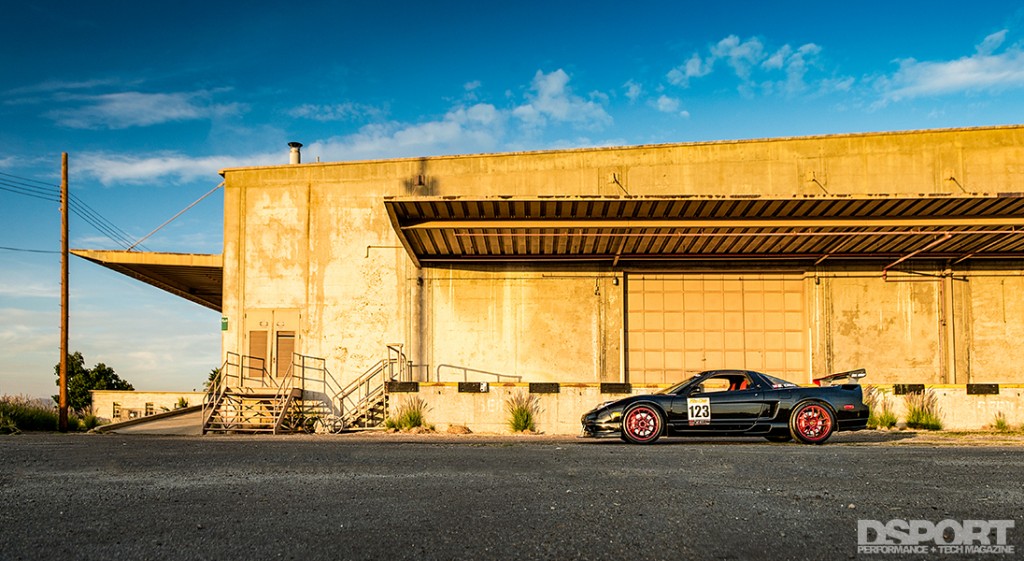 Take it to the Track
Cruz instantly fell in love with rear-wheel drive, which added another dimension to performance driving. He soon started looking for places to safely explore the performance of the S2000. After attending a few local HPDE track days, he was immediately hooked on the road course. While the S2000 is a terrific sportscar and has proven itself very capable on the track, Cruz wanted to raise the stakes once more. Looking again toward the H badge, his next logical step up would be Honda's retired flagship sportscar, the NSX. Cruz explained, "I chose this platform because it has a good power to weight ratio and its mid-engine configuration lends to its excellent balance, which in turn contributes to improved handling. I've always loved Hondas, and what better car than the NSX?"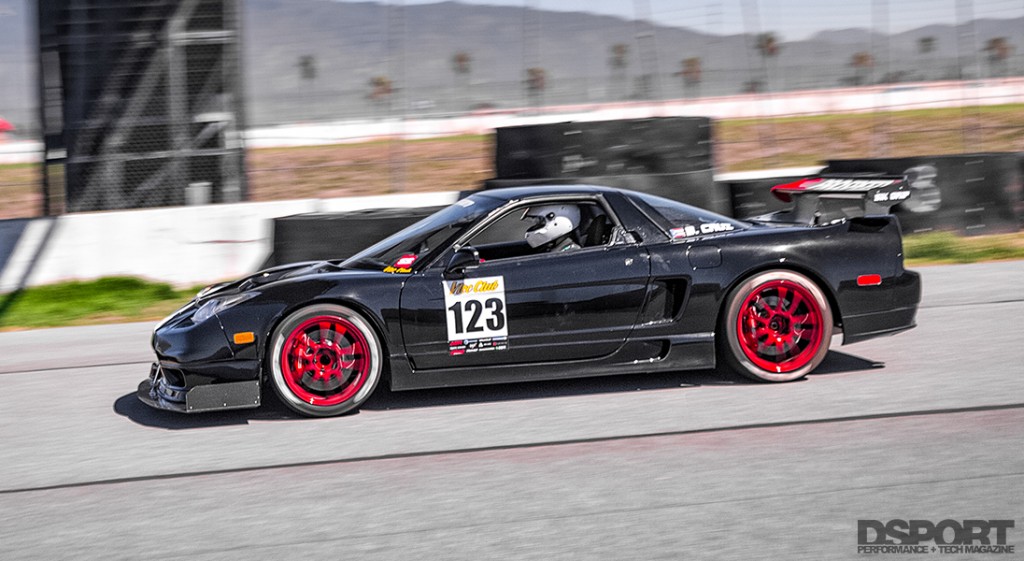 NSX Factor
Spending time with friends that drive the timeless Japanese supercar further inspired him, and in 2012, he finally added an NSX to his own stable. He immediately got to work on his new machine, noting, "A lot of people that own an NSX usually keep them as garage queens. My plan is to drive it often, including the way it was intended, around circuits at full tilt."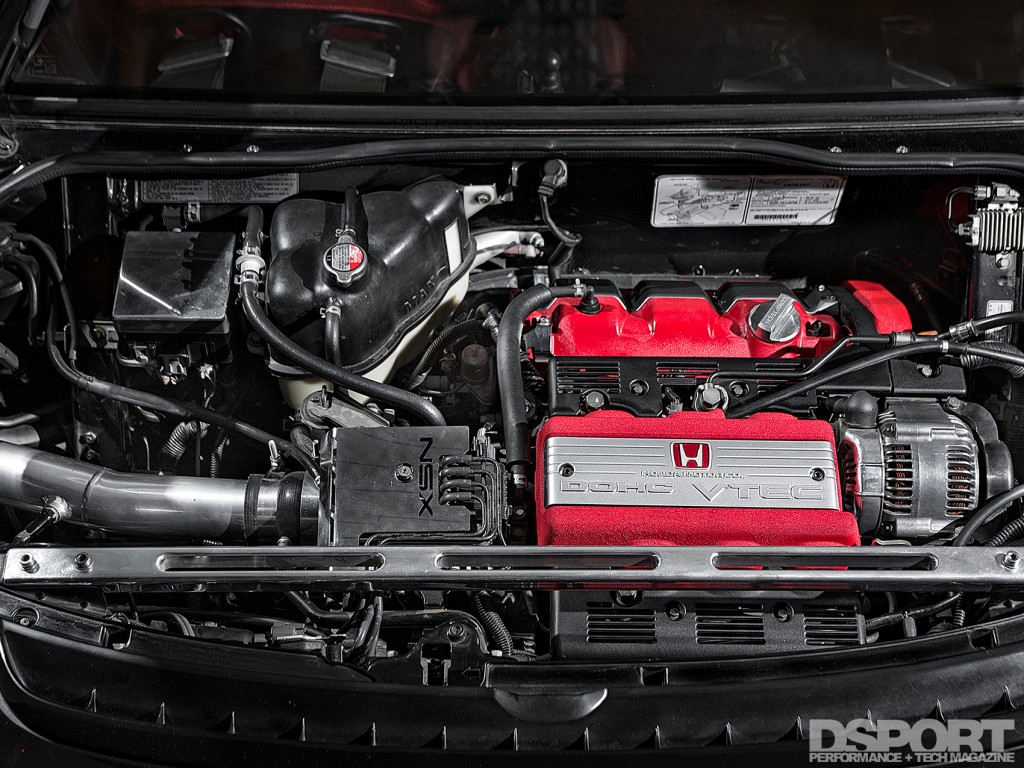 Handling the Basics
Initially, Cruz prepared his NSX with some basic upgrades. Just to stay planted behind the wheel, he upgraded the factory seats with a pair of Recaro Pole position seats. Takata racing harnesses secured with a Cedar Ridge harness bar further ensure that the occupants remain securely in place. After dropping the chassis with lowering springs over stock wheels and stickier tires, he returned to the track to see how his upgrades worked with one another. As a relatively new HPDE driver, he was still learning how to sort out the chassis and how to interpret feedback in order to make adjustments to improve handling. Cruz researched and consulted, only to discover that he would need a more versatile suspension set up if he wanted to dial in the handling. To implement changes to the ride height and the damper settings, he upgraded to a set of KW Suspension V3 adjustable coilovers. In place of the factory sway bars, he installed Dali Racing adjustable sway bars along with a factory NSX-R chassis brace.
Boost it Up
As Cruz got comfortable in the NSX and gained more confidence in its handling, he was ready to start making power to go even faster. He explored the various forced- induction solutions offered for the C30A engine and decided that he wanted to go with a turbocharger system. He chose the single turbo system offered by Prospeed. The kit centers on a Garrett GT3582R turbocharger, fed high enthalpy gasses by way of an equal-length exhaust manifold. Prospeed exhaust plumbing directs the spent gasses through a Burns Stainless muffler to produce a refined exhaust note. On the cool side, aluminum piping joins the compressor outlet to a bar-and-plate intercooler on the way to the engine's intake manifold.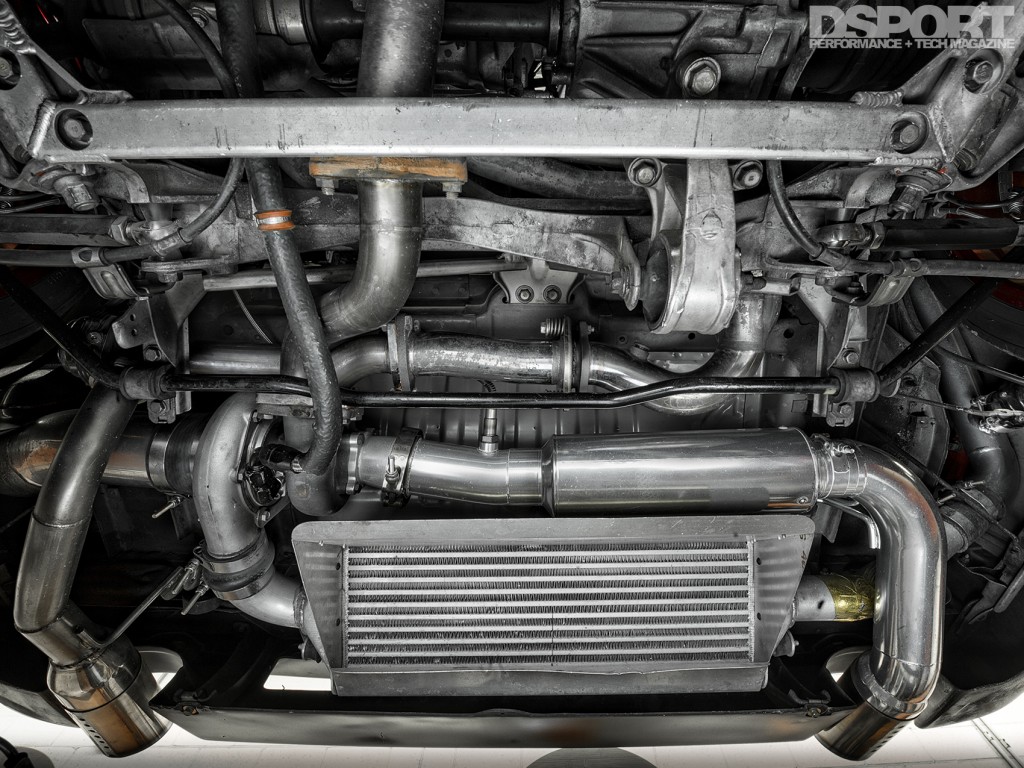 Gas Blast
As the air charge distributes to the intake ports, Bosch 725cc/min injectors spray 91-octane fuel into the cylinders for combustion. A Boomslang Fabrication plug- and-play harness connects the factory wiring harness to an AEM Electronics Infinity engine management system, which regulates the flow of fuel and the ignition timing of the combustion events. Once refined by Bisi Ezerioha at Bisimoto Engineering, the NSX produced 420 horsepower and 330 lb-ft torque to the hubs of a Dynapack chassis dynamometer. Compared to a typical NSX baseline pull of 267 horsepower, this is a 57-percent increase in power over stock.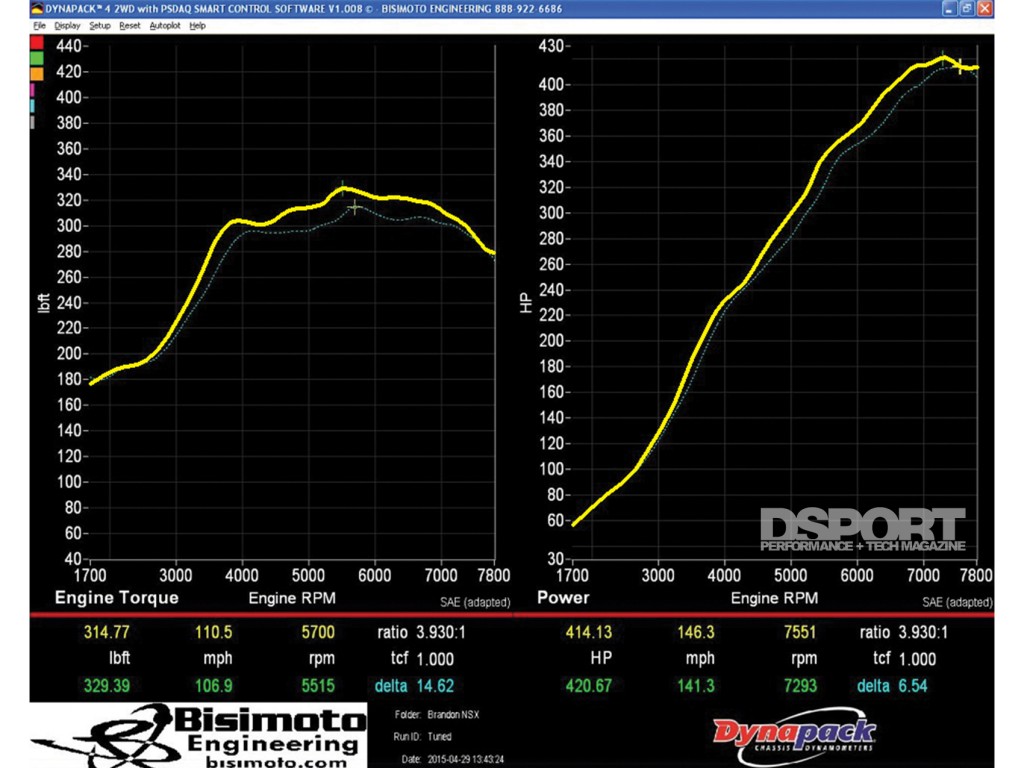 NSX, Rebooted
Putting down over 150 additional horsepower raised the NSX to a higher level of performance and Cruz took advantage of the power to trim down his lap times. But as Mario Andretti once stated, "If everything seems under control, you're just not going fast enough." In an effort to be quicker around the track, Cruz constantly pushed the NSX and himself, soon stepping beyond the limits. An encounter with the wall ensued, and the NSX was a complete loss. Yet Cruz's resolve shown through, as he immediately got back on the search for another NSX. He soon found and purchased this pristine 1991 NA1 in a factory Berlina Black hue with a 2002 exterior facelift already in place.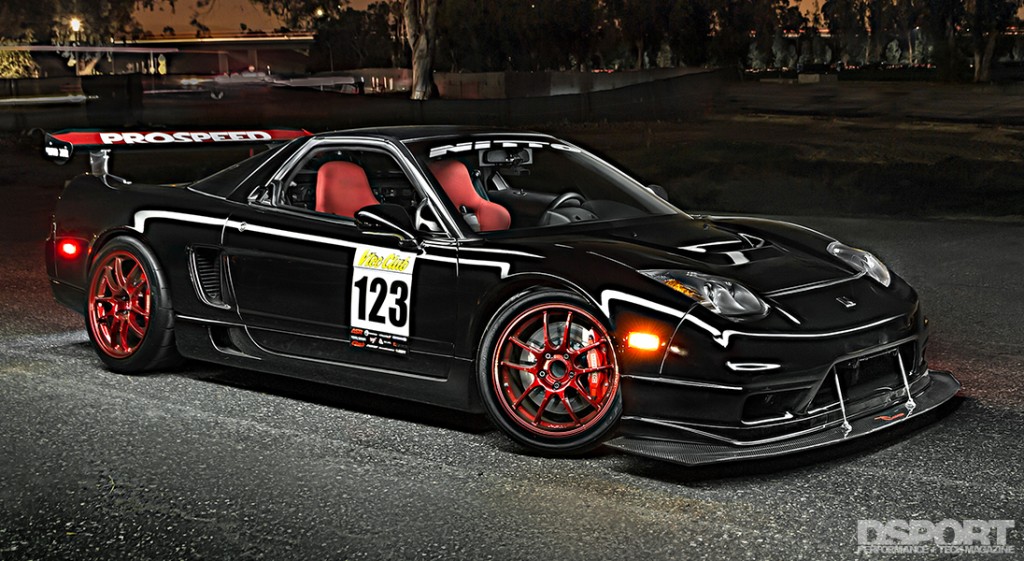 V2 Improvements
After scavenging the salvageable parts from the wrecked chassis and installing them on the new one, Cruz got back in the saddle and onto the track. His experience behind the wheel helped him to further refine the NA1 to his driving style. To reduce oversteer, a smaller diameter sway bar from the Zanardi edition NSX replaced the Dali Racing unit at the rear. He then stiffened the suspension and added more grip with a set of 10kgf/mm and 8kgf/mm (front and rear) Swift Springs. The stiffer suspension presses Enkei PF01 wheels mounted with Nitto NT01 tires to the pavement. To increase the downforce over the sticky NT01s, Cruz added a WASP Composites splitter, Tracy Sports side skirts and a Taitec JGTC carbon-fiber wing. These aerodynamic upgrades worked together to add more traction to the NSX, thus improving its handling. It was at this stage that Cruz could feel the play in his suspension, prompting him to contact Cedar Ridge Fabrication for its full mono-ball suspension kit. Once the kit was installed, Cruz noticed a marked improvement in the way that the NSX handled, stating that it significantly reduced the slop and tightened up the suspension system.
On Track and on Target
Cruz had been recording his lap times in order to monitor his improvements. He started to record his personal best laps at the Streets of Willow (1'24"), Big Willow (1'32"), Auto Club Speedway (1'13"), and Buttonwillow (1'57"). He even placed third in the VTEC Club Unlimited Class Group A presented by Extreme Speed Track events. These lap times give him a continuous target to aim for as he gains more experience and improves behind the wheel. The path Cruz has traveled with the NSX challenged his resolve, but he embraced the experience in order to better himself behind the wheel. He admits, "If I were to repeat the experience, I'd forego buying cheap parts and invest in proper upgrades from the beginning. Otherwise, I am very satisfied with my build. I learned an expensive lesson in the process, and I plan to continue improving my vehicle and myself as a driver by reaching my personal goals with faster times and further upgrades to my NSX." Rebounding from his encounter with the wall put Cruz on the road to achievement, but this journey is far from over.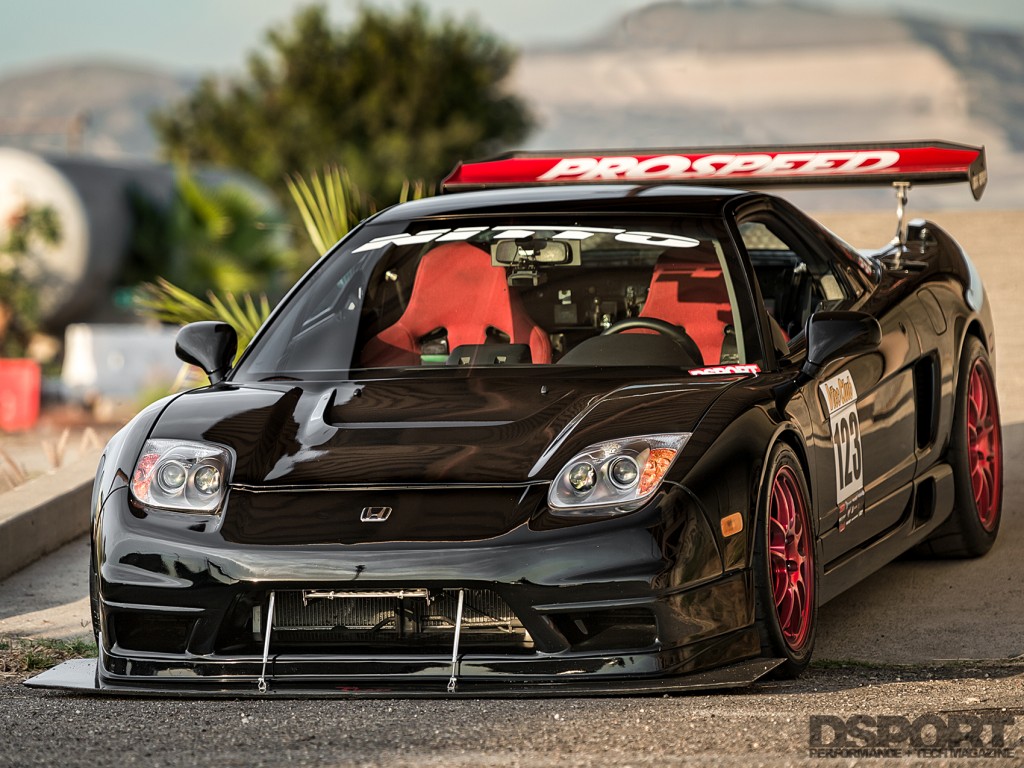 Brandon Cruz would like to thank team Prospeed for all their love and support throughout this adventure.