At first sight, the thought that comes to mind is, "WHAT IN THE WORLD IS THAT?" The enormous and unorthodox plane suspended above the hood of the wide-body Scion tC seems to defy some of the principles of aerodynamics and challenges the mainstream idea of good taste. But there's no denying the accolades, as this tC has set a new Front-wheel drive (FWD) record at practically every track it has visited. As part of Chris Rado's World Racing team, it's no wonder that this platform evolved so quickly.
By Richard Fong // Photos by Michael Ferrara
---
From the 1320 To The Road Course
With the demise of the NHRA Sport Compact series, time attack caught Rado's attention and in 2006. At that time, Rado took a stock tC out to a high- performance driving event (HPDE) track day. After flogging his stock tC on the road course, Rado was reacquainted with the enjoyment of road racing. While known as a professional drag racer, Rado started road-racing rear-wheel drives (RWDs) long before becoming involved with drag racing. Thanks to his established relationship with Scion, Rado got back into road racing as his crew at World Racing began development of the tC for time attack. In its first round of revision, the tC received basic suspension upgrades, eight-inch wide wheels, UHP street tires and a turbo system allowing the engine to produce 300 horsepower. At this basic level, Rado started running faster laps than some of the Corvettes and other large-displacement sportscars on the track. The tC and the 2AZ-FE engine would turn out to have some real potential.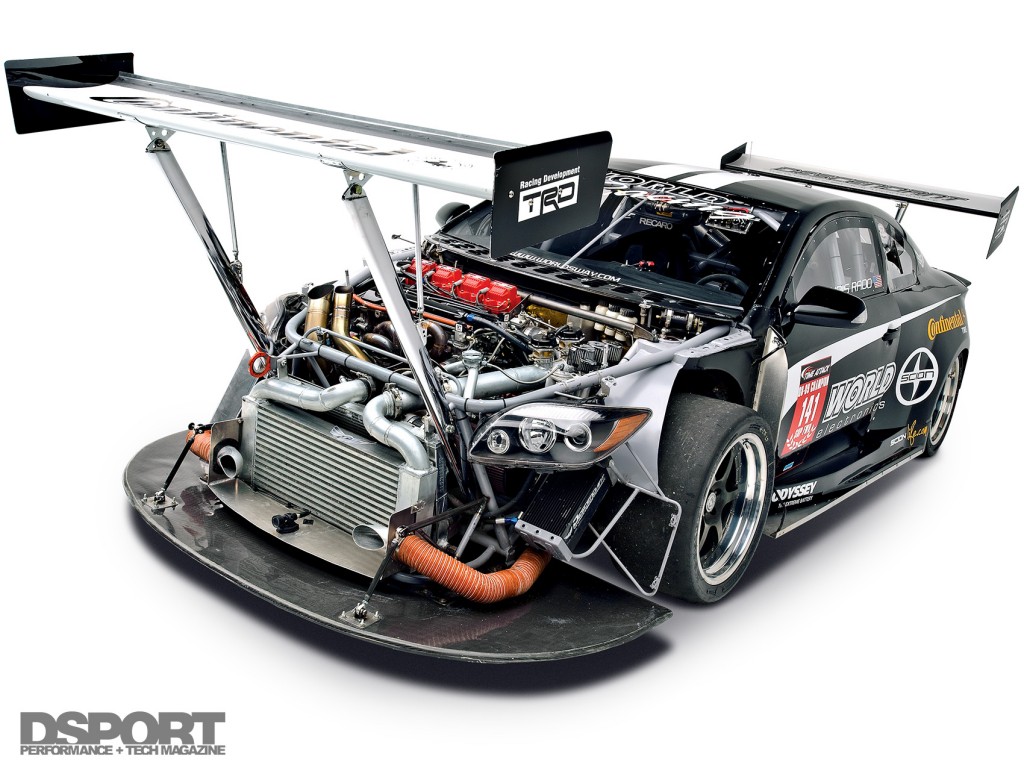 Amazing Mill – Toyota 2AZ-FE
Look Mom, no sleeves! The factory aluminum block and OEM cylinder sleeves have successfully contained the higher cylinder pressures of forced induction. World Racing preps its 2AZ-FE with 9.0:1 compression JE Pistons and BC Brian Crower 4340 billet-steel connecting rods. The cylinder head remains largely untouched and features a complete Ferrea valvetrain actuated by Brian Crower camshafts.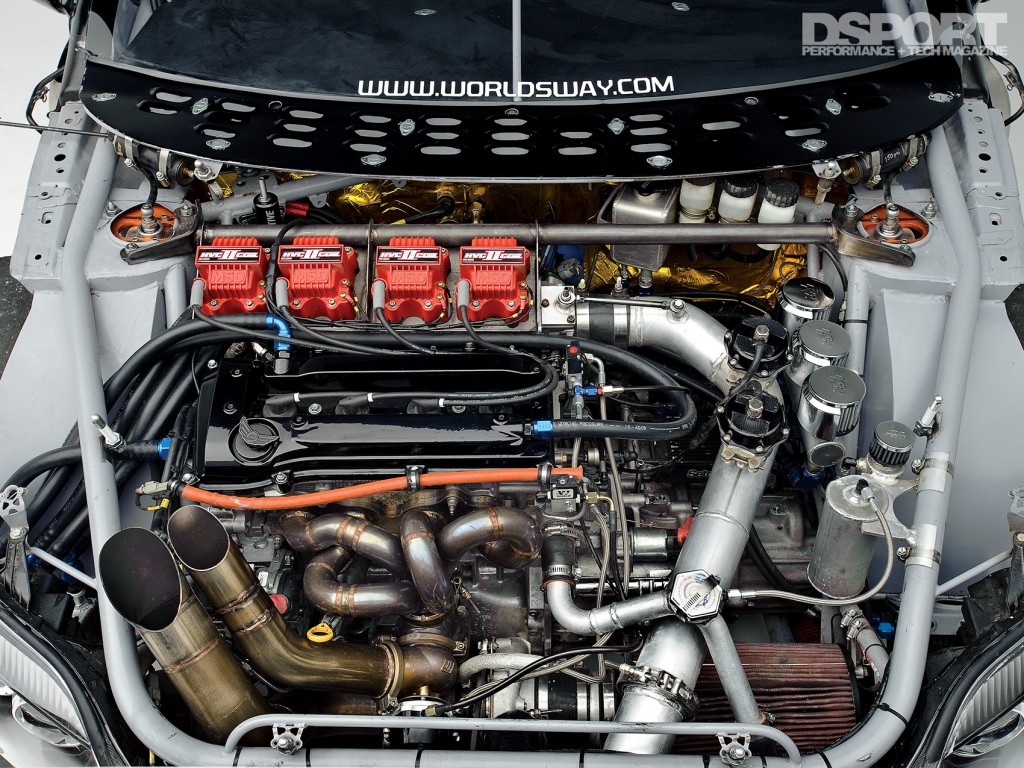 (Left) A Descendant intercooler shares the incoming airflow with a Mishimoto radiator and a pair of cooling ducts that feed the front brakes.
(Right) Penske 8100 dual-adjustable dampers with 1,000 lbf/in springs keep the racing slicks planted to the tarmac.
Gunsights Set On The Corporate-Backed Record
The potential of the tC became apparent and Rado set a new goal for himself. He planned to make the tC the fastest FWD on every track visited, with a particular interest in the FWD record at Buttonwillow Raceway set by a Chevrolet Cobalt SS. The corporate-funded project received the attention of several engineering divisions at General Motors (GM) to ultimately claim the record. So what beef does Rado have with GM? GM's protests against the World Racing tC drag car at various drag races made the Cobalt's Buttonwillow Record an obvious target.