IT'S NO SECRET THAT THE LAST FEW YEARS HAVE
seen a sharp increase of V8 swaps among Formula Drift competitors. Sure, these drivers offer compelling reasons like a broad power band, reliability and more horsepower. However, to the legions of JDM purists, putting an American V8 engine into a Japanese chassis is just blasphemy. Interestingly, some of Formula D's other drivers also share this sentiment. For Formula Drift and DMCC competitor David Briggs he choose a S14 with a built SR23VET.
Text and Photos by Richard Fong
---

Go With What You Know
David's decision was simply to stick with what he knows best. A die hard drifter, he first began drifting in 2008 and has had a love for Nissan's S14 chassis from the start. He explained, "I first became a fan of the sport before becoming a competitor. I grew up watching drifting videos from Japan and then observed drifting for the first time at Irwindale in 2005. I began drifting in 2008 and I've been driving S14's from the beginning. I love the look of the body and it is very well balanced for drifting. The suspension design is simple, yet very effective and easy to set up for competitive drifting. It is for these reasons, along with the fact that my crew at Ardo Vanlian (AV) Fabrication and I have a lot of experience with these cars that I decided to build a new S14 for the 2013 Formula Drift season."

Chassis Games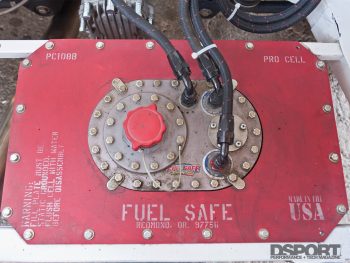 David purchased this 1997 240SX S14 in 2012 and took it straight to AV Fabrication in Quebec, Canada to be prepared from the ground up. The chassis was stripped down and then fortified with a requisite Formula Drift- spec cage. The trunk floor and spare tire well were removed before reinforcements were welded into place. Not only do the reinforcements stiffen the chassis and brace the frame rails, they also serve as a mounting point for the 8-gallon Fuel Safe fuel cell. Positioning the fuel cell in this way helps to improve chassis balance and lowers the center of mass compared to the factory fuel tank.
Four Cylinders, eh?
For the same reasons that his competitors swapped in LS V8s, David sought to achieve the same with his favorite engine of choice, the SR20DET. He could still have been brand faithful with a powerful, six cylinder RB or VQ mill, however the turbocharged SR is what equipped the Japanese S14, which guided his decision. But he needed this engine to be powerful, reliable and capable of delivering a broad powerband in order to be competitive in a field filled with V8s. David turned to one of his sponsors and Nissan specialist, Mark Mazurowski at Mazworx in Florida for a solution.

Enter The VE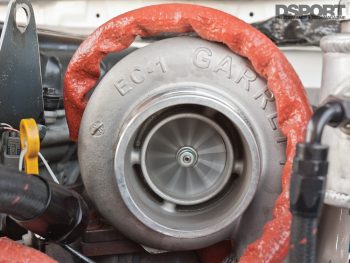 Mazworx built him a strong and reliable SR23VET engine. Keep in mind, this is a hybridized engine. The RWD SR20DET engine was sleeved, overbored and stroked to displace 2,316cc before being matched up to the cylinder head from a FWD SR20VE. Unlike the high and low port heads that come standard on the S13 and S14 RWD SR20 engines, the VE head features larger ports and variable valve timing and lift. This results in even greater volumetric efficiency and subsequently, improved performance. Mazworx further ported the cylinder head and increased the valve diameters for even greater flow before selecting a set of Mazworx-spec Kelford VVL killer camshafts that provide a more aggressive cam profile at all times. Once matched with a Garrett GTX3582R turbocharger, Briggs claimed that the hybrid mill generated 700 horsepower and 560 lb-ft torque to the wheels. David commented, "Formula Drift is extremely competitive. Having the best possible engine under the hood is a must. This engine is both powerful and reliable. Don't let this engine fool you just because it has four cylinders."
S14 Gear Strategy
With a solid powerplant in place, David had plenty of tire-smoking horsepower at his disposal. But in order to make best use of the power at the variety of tracks and conditions he would face throughout the Formula Drift season, a flexible driveline solution was needed. He selected a stout G-Force GSR 4-speed transmission with short ratio gearing to transfer power from the crankshaft to a Winters Performance quick-change rear end. David added, "The Competition Clutch twin disc mated up to the G-Force GSR transmission makes for effortless gearshifts. The Winters rear end allows us to gear the car for any track in minutes, making sure we are always in the powerband of the engine."
Drift Ready Sled
The build was completed just in time for David and his crew to begin the trek from the shop in Laval, Quebec to Long Beach, California. But an experienced crew and a proper game plan ensured a smooth process. "I've been working with AV Fabrication since 2010, and these guys are quite knowledgeable. The build went smoothly from start to finish, and thankfully, there were no real changes to the plans. It helped that we knew exactly what we needed to build exactly the car we wanted," said David.
Rough Start
It's no secret that the Streets of Long Beach is a challenging and unforgiving course, surrounded by K rails and tire barriers. In only his second appearance at Long Beach, David experienced a tough start to the season. He recalled, "I came in a little too deep in the outer clipping zone in front of the judges during practice and made a mess of the rear of the car. Thankfully, the rear clip is built to absorb an impact so repairing the car was quick. We made up for Long Beach at Round 2 in Atlanta, qualifying 24th and finally putting some points up on the board. At this point, the car is performing well, but we are always striving to make improvements." David shared some parting advice for those who aspire to drift, "The key to learning to drift is plenty of practice in a safe environment. Go to open drift days, start with doughnuts around a cone and then move on to figure eights. Learn to control the weight transfer of the car with the throttle." As the team looks forward to the remaining rounds of the season, this career drifter takes aim at the V8 hoards of Formula Drift.