Whether it's computers, phones, tablets, operating systems or music applications, Apple excels in treating its users like idiots but gets away with it by way of clever marketing. It removes control and functionality from its products while branding the changes as features. Thankfully, there are still people wiser than this on both a business and consumer level. In a world where tech companies remove features and jack up prices, AEM Performance Electronics proves that there is still hope. AEM's CD-7 Digital Racing Dash Display give control back to the users, offering one of the most comprehensive feature-sets in the dash and data logging market today.
Text by Cameron Parsons // Photos courtesy of AEM Performance Electronics
DSPORT Issue #177
---
Design Concepts
We've seen the popularity of performance technology in cars skyrocket over the course of the last decade, especially in the realm of electronics. There's no shortage of options for gadgets, ECUs, dashes and data systems, leaving the consumer with the struggle of having to decide what might work best for their specific needs. As for AEM's CD-7, the goals are clear. The brand designed and developed this dash around the needs of racers. Following the "form follows function" mantra, the CD-7 may not earn you extra points at a car show, but it will deliver all the information and functionality you'll need when on track.
Form Factor
As vehicle interior designs become more complex with each new generation, so does the task of modifying and adding components. To this end, the unique designs and moldings of most modern car dashes make it very difficult to fit a dash display behind the steering wheel, especially many of the large 7-inch options. You'd expect the same challenge to come with AEM's CD-7, however, seeing it in person and holding it in your hands will change your mind. The 7-inch display is surrounded by a tough, water-resistant aluminum enclosure that fills out a 7.9 x 5.4 x 3.1-inch area at its widest points. If you don't count the sun visor that hangs above the screen, the main body of the unit is less than an inch thick. Put the pieces together and you have a heavy duty dash display that utilizes a large screen with minimized real estate needed for installation.
The back of the dash provides four threaded holes for mounting with optional spacer studs, as well as the plugs for the main harness and USB connection. The DTM 12-pin connector and right-angle USB extension enable the dash to mount in even tighter quarters without stressing the connectors. On the front side of the dash, seven shift lights and two alarm lights surround the seven-inch screen, with large solid buttons affixed to the left and right sides of the outer bezel. The buttons provide a solid "click" sound and tactile feedback that make navigating menus and flipping through pages simple and intuitive, even with racing gloves on. The CD-7's build quality and exterior design show good signs of the unit's capabilities, but it gets even better when the dash powers on.

The Big Picture
It's a common feature for digital dashes and gauges to feature bright, readable displays in sunlight, but the CD-7 takes it to another level. The full color display allows for adjustable brightness levels, allowing up to 1,000 cd/m2 (candela per square meter). Likely no one will ever use this dash at full brightness. Most will likely prefer to run it as low as 50 to 75-percent of full brightness, even in heavy sunlight. The dash also features a night-mode input, dimming the screen automatically with a given action like a button press or switching on headlights. As for what shows on screen, the CD-7 provides all kinds of options.
The CD-7 allows for numerous pages to be stored in its memories.
"Custom"
vs Custom
In the CD-7, AEM offers one of the most customizable dash displays currently available. This does not simply mean customizable in the sense that you can switch between Imperial and metric units of measurement. The CD-7 allows users to customize nearly every aspect of the display that you can dream up, with the help of AEM's DashDesign software. This is where things get interesting. The level at which you want to customize the display totally depends on how deep you want to dig into the more intricate details of the software.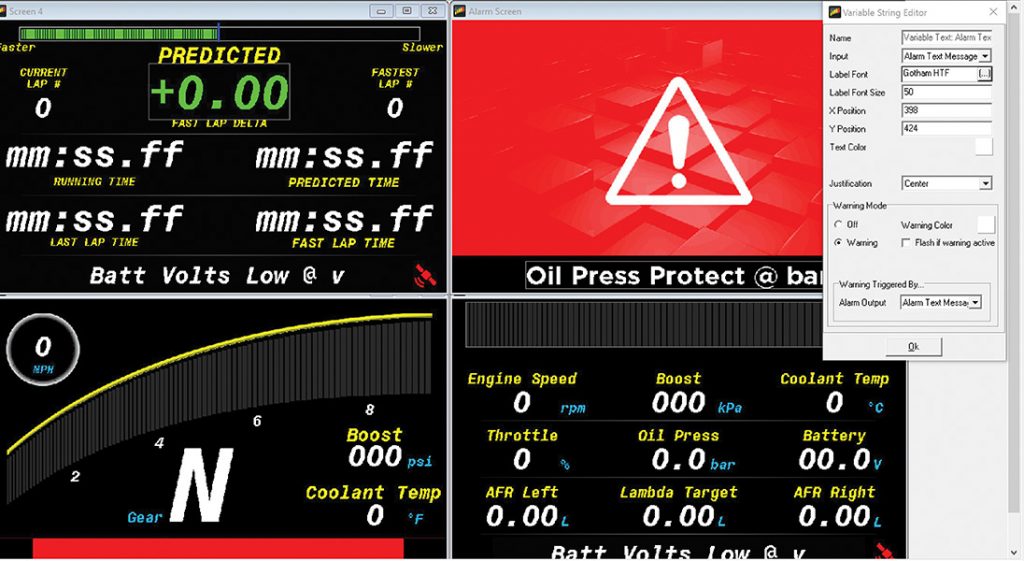 The DashDesign software lets users adjust properties and drag and drop items to make changes to pages and alerts.
AEM includes dozens of premade page layouts and templates, along with more notification icons than anyone could ever ask for. However, if you want to change the looks and arrangement of the screen, it is as simple as clicking and dragging items wherever you please. If you want to customize any single element, like changing a label, font color, number rounding or even the monitored channel itself, simply double click on the item to open its properties and make changes. This means you aren't ever limited to a premade page that displays some channels that you want to see and others that you don't. You can actually delete, add, move or modify any monitored channel.
 Simple button presses on the device or with custom inputs allow users to easily scroll through pages to find exactly what data and layout they are looking for.
Some users may decide that a few tweaks to the screen layout are all the customization that they need. Others will choose to dig deeper and really explore the more powerful features that AEM made available in the CD-7. One of the most impressive features is the use of On-Change screens. For example, no driver is interested in seeing a rolling counter of their current lap time, only the completed lap time and possibly sector times. The On-Change feature provides a solution to this by allowing the lap timer to run in the background without taking any screen space. But if you set up a trigger beacon based on a start/finish line at a GPS coordinate, the screen can change to display the time of your completed lap for a set amount of time, then switch back to the previous screen. This type of functionality extends to other areas as well. The dash carries an internal odometer that you can use to trigger an alert every 5,000 miles to change your oil in the form of an On-Change screen or a text bar anywhere on the display. Beyond the custom notifications, you can make use of AEM's provided icons to display common items like high beam lights, limp mode, door ajar, traction control activity and much more.
If you're interested in designing the look of the display, there's plenty of room for creativity. The CD-7 allows for custom-made images in common file formats to be placed anywhere on screen. This includes dial faces, icons, gauge needles, sweeping RPM bars, outlines, accents or whatever else you can think of. All of this customization culminates to a display that shows any information that you can feed through the CAN stream and internal sensors, in any style that you desire. The same level of functionality goes for the back end, and how the dash interprets the raw data into a readable format.
Memorable Icons

Although designed for motorsports use, AEM supplies familiar, popularly used icons for items like high beams, oil pressure warnings or other cautions. If you decide not to make use of the many included images, the CD-7 also allows for user-made images to fill in for these as well.
Channel Surfing
The CD-7 is designed to receive data through its two CAN bus channels, whether it's from an AEM Infinity ECU or any other brand ECU. This removes the barrier of being forced into an AEM ecosystem, in case users have a preference for a different ECU or don't want to go through the trouble of converting their existing equipment. Either way, as long as the data communicates through CAN, the CD-7 is designed to work with it.
AEM simplifies the setup process by including the functions needed to convert the raw data into calculated formats to display speed, RPM, pressures and temperatures. As for custom sensors or user-defined display options, users can program in their own functions and conversions. This opens up options like adjusting how far a gauge moves in accordance with the raw input, or if text like "Low," "Medium" and "High" should display for different value ranges instead of actual number readouts. As long as you're willing to put the time into learning the nuances of AEM's hardware and software, the CD-7 encourages hardcore users to customize the dash into an individualized perfect data display solution.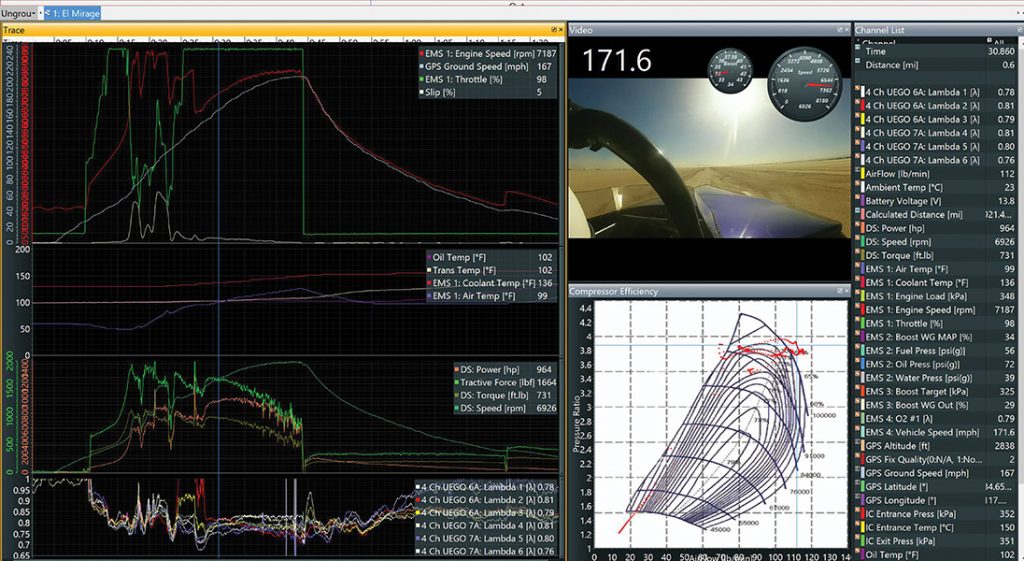 The AEMdata Logging Analysis software provides more than enough options to supply all the data you could ask for.
Save it for Later
This dash is available in four different packages, the CD-7 and CD-7L, both available with or without AEM's Vehicle Dynamics Module (VDM). The CD-7 is a display-only version, while the CD-7L offers data logging capabilities. Whether it's used on the race track, the drag strip or the dyno, the ability to go back and look at data is invaluable. With the CD-7L, this is done through the AEMdata Logging Analysis Software. The software may appear daunting at first, like translating another language, but the layout and user interface is easier to use than you might think. Each window for graphs, data plots, compressor maps, GPS data and videos is customizable for size, colors, scaling and enabling/disabling whatever channels you choose to monitor. This again falls right in line with the CD-7's style of providing the user with the tools necessary to make it their own.

Control Freak
AEM Performance Electronics designed the CD-7 and CD-7L from the racer's perspective, and it shows. Rather than focusing design and aesthetics around what looks best to the unknowing consumer, its appearance and function appeals to the enthusiasts and professionals who plan to wring as much utility out of the dash as possible. Out of the box, the CD-7 includes plenty of presets and templates to get you started as soon as you link it into the CAN bus. For those who desire complete control over the aesthetics and function of the dash, AEM happily encourages you to tweak the settings to your liking. The best part is you get to decide how exactly you want to use it.
Is It Right for Me?

The CD-7 dash display and CD-7L with logging capabilities are all about function. With a starting MSRP of $1,299.00, AEM Performance Electronics offers the unit at a competitive price, especially for the level of functionality and customization available. The CD-7 may not sport all the colors of the rainbow with a thousand flashing lights to make it pretty, but that's not what it's designed for either. This display, especially the logging version paired with the Vehicle Dynamics Module, is made to provide all the data and functions that a driver could ask for. The CD-7, however, is not for the lazy or for those looking to just dress up their interior. It requires CAN access, as no simple OBDII adapter exists as of yet,  and customizing it to your liking can take a while. Once you do spend some time with it and set it up to your liking, you'll struggle to find any dash function that it can't perform.