Insanity is to try something over and over again, expecting a different result. Matt Smith knows a thing or two about insanity, having spent five years trying to run a nine-second quarter mile pass in his EVO VIII. Over the years he invested valuable time, effort and money into the project, and in turn gained unforgettable experiences, lifelong friends and family.
Text by Stanley Yee // Photos by Aaron Eusebi, Richard Fong and Wes Taylor
---

Sky's the Limit
For his latest build, Smith chose Buschur Racing's top-of-the-line 2.4-liter engine kit. Forged connecting rods, pistons and a crankshaft from Manley Performance make up the bottom end, holding together under the stresses of high boost. Lighter and stronger than the factory components, the new rotating assembly allowed the engine to rev much higher, with shifts taking place just before the 9,800 RPM redline. In the head, a pair of Buschur Racing 272 camshafts sit atop a Supertech valvetrain. ARP head and main studs fasten the longblock assembly together.

Wave of Force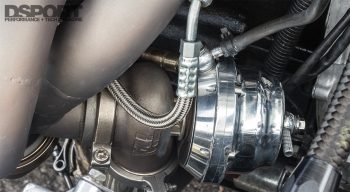 To generate boost pressure for the enlarged engine, a Buschur Racing forward-facing exhaust manifold feeds high enthalpy gasses into a Forced Performance Super 94 turbocharger paired with a 44mm TiAL Sport wastegate. The stock intake manifold and throttle body were ported to improve flow, allowing the 50 psi of boost from the turbo to enter the engine, cooled through a Buschur race intercooler and regulated by a Buschur Racing manual boost controller. A Buschur Racing 3-inch stainless steel exhaust system to routes exhaust gasses from the turbocharger to the atmosphere.
Put the Power Down
Buschur tuned the Mitsubishi Evolution's AEM Series 1 ECU's fuel and timing tables, controlling a set of Fuel Injector Clinic 2,150cc/min injectors. A Buschur Racing Double Pumper fuel system with twin Walbro 255-lph fuel pumps sent E85 from the tank toward the combustion chamber. When strapped down onto Buschur Racing's AWD Mustang dynamometer, Matt's EVO made 776whp at 8,300 RPM and 612lb-ft of torque at 6,000 RPM.

Starting Strong
After Buschur Racing finished Smith's new engine for the evolution, he hit the drag strip to see what the new build could do. Riding on Nitto 555R tires, Smith managed to run a 10.2-second quarter mile at 142 MPH during the first night of testing the EVO. A 9-second pass seemed to be in reach, but a fuel pressure issue sidelined the car, starting what would be a torturous five years of trying to reach his goal.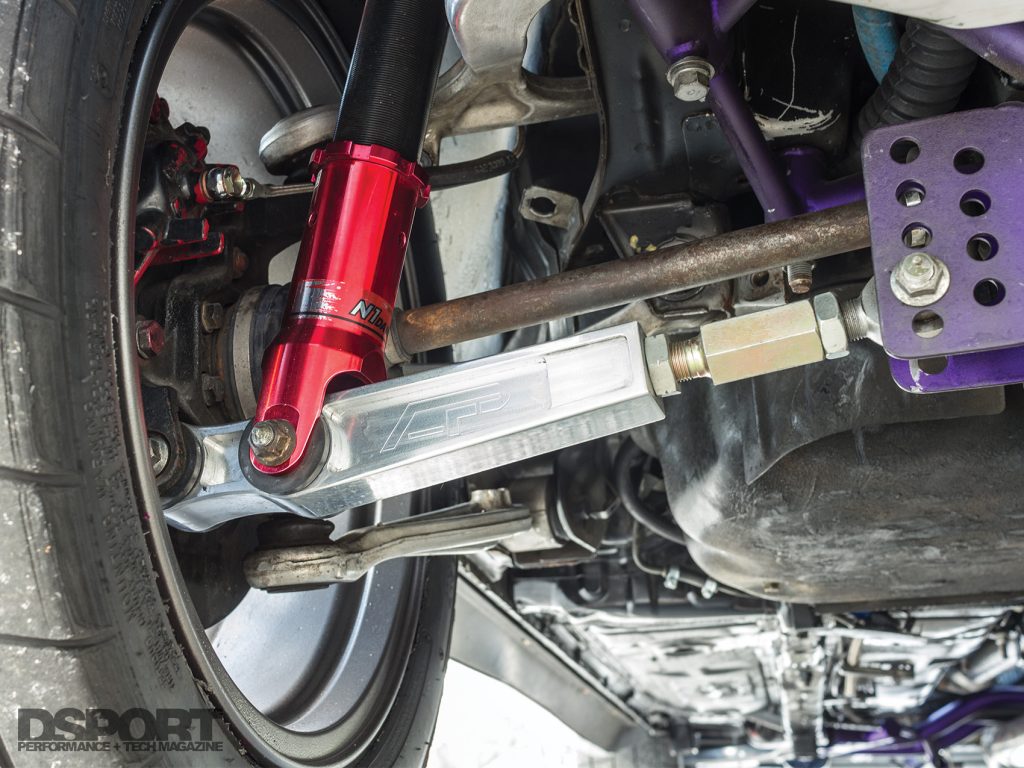 One Step Forward, One Step Back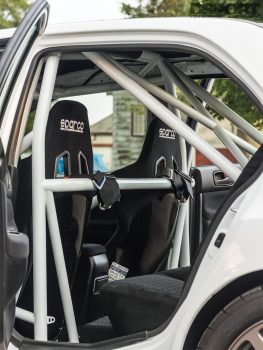 Smith was only a few tenths from breaking through to the nine-second mark, but as always the last stretch proved to be the most difficult. Since he didn't have a roll cage, which was required for running such quick times, Matt faced a crossroad in his build. Straying further away from his original streetcar build, Matt enlisted Gary Reese Chassis to build a 10-point chromoly roll cage. While this cleared his safety requirements, it didn't lead to faster times on track, and the project was not getting any easier for Smith.
Hard Times
Drag racers are all too familiar with broken parts, and Smith's experience is no different. Each engine build has been through Buschur Racing, with whom Smith has developed a close relationship. Progress slowed during engine builds and changes, limiting Smith's seat time, but he continued to push forward even when development of the car was slow. Things hit a low point when the car was involved in a wreck which required a vehicle rebuild, but not even that swayed Smith from his goal.

Dream Come True
Once Smith was able to get the ball rolling again, he was a man on a mission. As it happened, his big breakthrough occurred at the infamous Buschur Shootout. Tired of running the same time and looking to try something new, Smith put his friend behind the wheel, who ran a 10.1-second pass on his first try. With his goal in sight he sent the driver out again and finally broke the 9-second mark. Then Matt jumped behind the wheel and ran a 9.9 second pass himself. An effort five years in the making, Smith's celebration was shared with friends, family and David Buschur, who knew firsthand how much effort went into that single pass. His best run since then was a 9.4-second run at 155 MPH, which took place at the 2015 Buschur Shootout.

Changing Gears
Smith reached his goal of running a 9-second quarter mile pass, but that didn't mean he was done with the car. Limited by his inconsistency with the 5-speed manual transmission, Smith consulted with Buschur, who encountered the same problem and was busy working on a solution. Buschur Racing swapped Smith's 5-speed manual for a 4-speed manually-shifted clutchless unit, the detailed specifications of which have been kept secret. Though still under development, Smith has already seen improvements with the new transmission. The new setup dropped Smith's 1/8 mile time by 0.3 seconds while adding 5 MPH to his trap speed, showing promise for even bigger gains in the ¼ mile. Smith's future goals include improving aero to run ½ mile events, improving his launches and breaking records on drag radial tires.

Going Forward
Even though he's owned the car for over a decade, Smith is far from bored with his EVO. Even after making his 9-second pass after five years of trying, he is still keen to continue progressing forward with the build rather than leave it as-is. With the new transmission already showing real gains in speed and consistency, it looks as though Smith's new goal will be to hit the 8s. From the outside looking in, non-car people must think people like Smith are insane for devoting five years to knock a few tenths off a drag strip time, only to continue further once he reached his goal. For Smith, the build has been justified by the years of excitement, friendship and experiences, all owed to the EVO he bought when it was shiny and new on the showroom floor.
SPEC SHEET
| VEHICLE | |
| --- | --- |
| Year / Make / Model: | 2003 Mitsubishi Evolution VIII |
| Chassis Code: | CT9A |
| Vehicle Weight: | 2,934 lbs |
| Weight Bias (F/R): | 60/40 |
| Launch RPM: | 6,500 RPM |
| Shift RPM: | 9,400 RPM |
| Redline RPM: | 9,800 RPM |
| Peak Boost: | 50 psi |
| Fuel: | E85 |
| ENGINE | |
| --- | --- |
| Engine Code: | 4G64 |
| Displacement (cc): | 2,378.2cc |
| Bore & Stroke (mm): | 87mm x 100mm |
| Peak Horsepower (@ RPM): | 776 whp @ 8,300 RPM |
| Peak Torque (@ RPM): | 612 lb-ft @ 6,000 RPM |
| Dyno Type: | Mustang AWD Dynamometer |
| Engine Builder: | David Buschur |
| Pistons/Compression Ratio: | Manley Pistons, 10.0:1 Compression |
| Connecting Rods / Crank: | Manley Turbo Tuff Rods |
| /strong> | Manley 100mm Stroker Crankshaft |
| Camshafts: | Buschur Racing 272-degree Camshafts |
| Valve / Springs / Retainers: | Supertech Valves, Springs and Retainers |
| Cylinder Head Modifications: | Buschur Racing-Prepped Head |
| Cylinder Head Gasket: | Factory EVO IX Head Gasket |
| Head / Main Studs: | ARP L19 Head Studs |
| Fuel Injectors: | Fuel Injector Clinic 2,150cc/min Injectors (x4) |
| Fuel Delivery System: | Buschur Racing Double Pumper w/ -6AN Line |
| Engine Management System: | AEM EMS Series 1 |
| Engine Management Tuner: | David Buschur |
| Boost Controller: | Buschur Racing Manual |
| Ignition System: | Buschur Racing Coil-On-Plug Ignition |
| Spark Plugs: | NGK |
| Exhaust Manifold: | Buschur Racing Forward Facing Manifold |
| Exhaust System / Downpipe: | Buschur Racing 3-inch Stainless-steel Exhaust |
| Wastegate: | TiAL Sport 44mm |
| Blow-Off Valve: | TiAL Sport |
| Intercooler: | Buschur Racing Race Intercooler |
| Cooling System: | Fluidyne Half Radiator / Electric pump -10AN Lines |
| TURBOCHARGER | |
| --- | --- |
| Turbocharger: | Forced Performance Super 94 |
| Frame: | T3 |
| Compressor Wheel Specs: | 94mm Major, 67.7mm Inducer |
| Turbine Wheel Specs: | 76mm Major, 67mm Exducer |
| Turbine Housing: | .85 A/R |
| CHASSIS/DRIVELINE | |
| --- | --- |
| Springs, F&R (Make & Rate): | Swift Springs |
| Shocks, F&R (Make & Rate): | A'PEXi N1 EXV Dampers |
| Additional Suspension Components: | Straightline Performance K Member & Subframe (R) |
| Transmission: | Clutchless 4-speed Automatic |
| Clutch / Flywheel: | PTC Torque Converter |
| Differential(s) (Make & Type): | Quaife Transfer Case |
| Axles / Driveshaft: | The Driveshaft Shop Axles (R) |
| Wheels (Make, Size & Offset): | Factory 17×8-inch +35 (F+R) |
| Tires (Make & Size): | M&H Drag Radials 245/45R17 (F&R) |
| Brake Rotors (Diameter, F&R): | BR Cross Drilled (F&R) |
| Brake Pads (Front & Rear): | Brake Man Pads (F) / Hawk DTC (R) |
| Brake Lines: | Stainless-steel Braided Lines |
| Etc.: | STM Staging Brake |
| | DG Launch Control |
| INTERIOR | |
| --- | --- |
| Roll Bar / Cage: | Gary Reese Chassis 10-point Chromoly Cage |
| Seats: | Sparco XL |
| | Gary Reese Custom Sliders |
| Harnesses: | RCI 5-point Cam-lock Harness |
| Gauges: | AEM A/F, AEM Boost gauge |
| EXTERIOR | |
| --- | --- |
| Trunk Lid: | Seibon Carbon Fiber |
| Spoiler / Wing: | Masfab Drag Wing |
| Paint: | Custom Bright White Pearl Done by Brad Lawson |
| Etc: | BR Parachute Mount w/ Stroud Parachute |
| | Powder Coating by Exotics Powder Coat |