Car show builds have evolved as much as the automotive industry has in the last two decades. In years past, show cars often had custom interiors with shiny and colorful exteriors and a bone stock driveline. Engine dress up kits followed after. Then came video screens hidden behind just about every opening and enough audio equipment to fill a club with ear-splitting sound pressure levels. While car show scoring and judging criteria still remain somewhat of a mystery, some vehicle owners had stepped up their game to include more than aesthetic improvements to the engine bay. To stand out from the rest, they invested in forced induction systems and performance aero tuning. The trend toward "performance oriented" began to bridge the gap between the show cars and racecars. But these show cars were primarily dyno queens that could not be tracked or raced. They usually weighed too much or the owners did not wish to risk any sort of damage to their investment.
Text by Richard Fong // Photos by Rob Shaw
---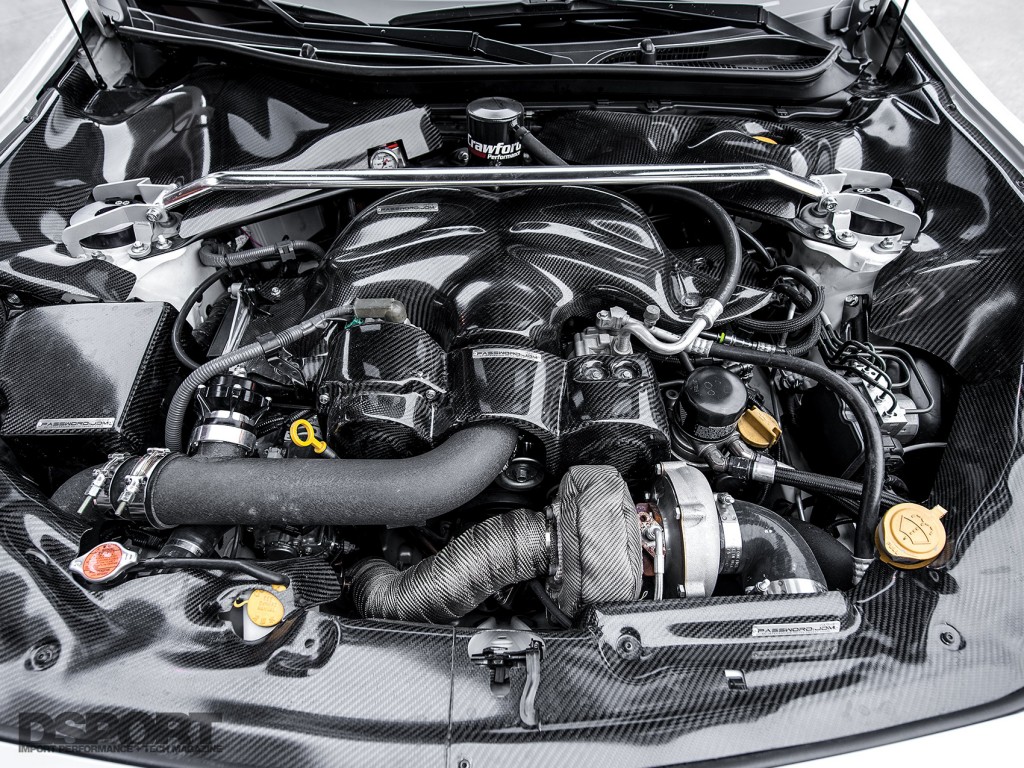 Checked and Balanced
For Patrick Leong, the fusion of genuine performance and a clean, show worthy appearance was the ultimate form of automotive expression. The façade of the show vehicle seemed too pretentious, while gutted out track cars were too uncomfortable, raw and a bit extreme for daily driving. The desire for something in the middle would give him what could be the next trend, a hybridization of go and show. Functional performance would be the top priority and a show car clean appearance would be secondary. "My build focus started as pure performance. But I unexpectedly got into show cars, and once I joined the Team Nemesis crew, I started thinking about shows too, so it had to be aesthetically appealing. But I've got my priorities still in line, my heart will always first be with the performance of a car," he assured us. The question was, which car would he build? He had parted ways with his JZA80 Toyota Supra in 2012 and was anxious to find a replacement. His search ended with the Scion FR-S.
Although Leong was just window-shopping, the FR-S fell into a sweet spot that made it an ideal match for his needs. After a few hours at the dealership, he drove home behind the wheel of a new FR-S. He recalled, "I decided on the Scion FR-S because it was a well- balanced platform built as a great road race car. Toyota's claim to a center of gravity that's lower than a Porsche Cayman and a Nissan GT-R really caught my eye. Add to that the appealing and lightweight body and the decision was easy. The car's aggressive yet simple look was a sight for sore eyes." Although Leong hit some financial hurdles at the beginning, he pulled out of that tailspin and stepped up to a much better situation. The expendable income he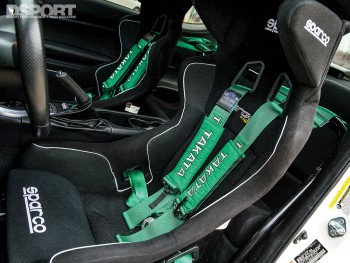 gained funded the build and allowed him to broaden its scope. With the help of friends, Leong did most of the work on the car at home. Whenever he encountered a hurdle he couldn't clear, he turned to Steve Kan at PRT Performance for his expertise to get the build back on track.
Pressurizing Pistons
Delivering on his promise, Leong wasted little time extracting performance from his new FR-S. He started by sourcing a Full Blown Motorsports turbo kit for his stock FA20 engine. A stainless steel, equal length manifold channels the rapidly expanding exhaust gasses into a Precision Turbo & Engine PT5858 turbocharger to generate boost pressure. The compressed air exchanges heat with a front-mount intercooler before flowing into the combustion chambers. To ensure uninterrupted delivery of E85 fuel to the quartet of Injector Dynamics ID1300 injectors, an Integrated Engineering fuel surge tank backed by a Bosch 044 in-line fuel pump supplement the stock fuel system. Using EcuTek software to flash the factory ECU, James Martin at HRI Tuning refined the fuel and ignition tables to produce 447 horsepower to the rollers of a Mustang Dynamometer.
The fuel surge tank sits low in the spare tire well to minimize its impact on the center of gravity, while ensuring that there is no fuel starvation while engaging the turns aggressively.