Working Inside the Wells
Making more than twice the factory wheel horsepower at the push of the throttle prompted upgrades to the driveline. An Exedy twin plate clutch bolted to the crankshaft transfers power to the input shaft of the stock transmission. With the axles turning, Toyo R888 tires mounted to Volk Racing ZE40 wheels claw at the asphalt and get the chassis moving. Optimizing the contact patch of the R888s required a host of Whiteline and Perrin Performance suspension pieces that expand the alignment adjustment range. To lower the chassis and enhance the ZN6's handling, a set of KW Variant 3 adjustable dampers suspended by a set of Swift 12kgf/ mm springs replaced the factory dampers and coils at each corner.
–
No Eye Strain
Not forsaking his secondary objective, Leong shifted his attention to the exterior of the FR-S. Thankfully, he avoided the gaudy and over-the-top exterior enhancements that plague the show scene. Instead, he added subtle ground effects like a Tamon Design lip spoiler, HT Autos' side skirt extensions and a Rocket Bunny V1 diffuser. The body was subtly widened with +20mm Victory Function front fenders and custom pulled rear fenders to accommodate even wider tires. Tom's Racing LED taillights and APR Performance GT3 side mirrors round out the exterior changes for a clean and refined appearance.
–
Stepping Up to Greater Plans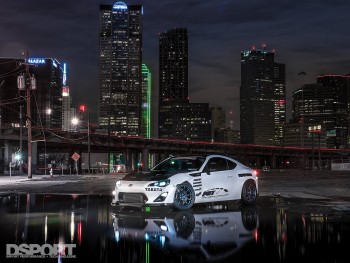 "A lot of people say I've done a lot and they feel my car is almost complete. To me, it's nowhere near done. There are so many aspects to this car that I need to work on," Leong said. At its current output level, the factory FA20 engine is at its limit and likely will not survive for very long. Leong plans to pull the engine and have the rotating assembly upgraded with pistons and rods. To improve the volumetric efficiency of the engine, he wants to upgrade the heads with porting, a valve job and dual valve springs to support a higher redline. There is even talk of twincharging the FA20, adding a supercharger to the mix. Add to this wish list a reupholstered interior and more exterior enhancements and you've got the formula for quite a bit of work ahead. But Leong's passion for performance with style motivates him to continue reaching, blurring the line between race and show.