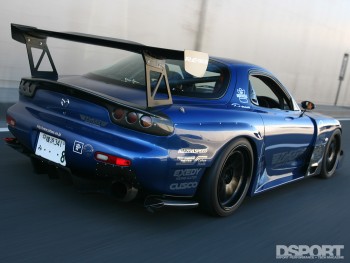 On the driveline side of things, a number of upgrades were implemented to deliver the best possible performance. An Exedy twin-plate clutch handles all the power of the rotary engine and sends it to the special GReddy 6-speed racing gearbox which features straight cut gears and dog engagement for a true, clunky racecar feel. A Cusco two-way LSD splits the power between the rear wheels and uses all of the grip that the sticky Yokohama Advan tires can produce.
Zimax spent a lot of time on the suspension of this car. Their fully-adjustable PCR system was carefully set up to take into account the high speeds this car travels at, as well as allowing for absorption of the bumps, surface changes and expansion-joints of the Wangan. Bushings were all upgraded to MazdaSpeed items and where possible, metal ones were used. Adjustable arms were thrown in for that extra precision and adjustability while the body was braced with a Cusco bolt-in roll cage and some Nagisa Auto fender reinforcements.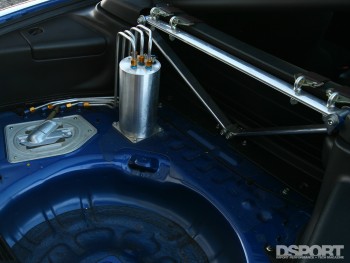 Front and rear strut bars from Okuyama and Cusco further stiffen the body. The RX-7 is not a heavy car, and on top of this it is extremely well balanced. Therefore, the braking system was tuned, but not to unnecessary extremes. The front was fitted with a set of Brembo F50 calipers biting down on slotted, 2-piece RDD rotors. To stabilize the rear end, a set of Version RS calipers clamp down on the stock rotors. Performance Friction pads are used all around as well as steel-braided lines. The master cylinder stopper was replaced with a better performing Feed unit which offers stronger pedal feel and keeps things in check even during hard use.
The interior has not been stripped-out as the exterior's aggressive appearance would suggest. In fact quite the opposite has been done, as there are enough gadgets and additional instrumentation that the FD could be mistaken for a jetfighter's cockpit. The seats were the first to be addressed with a BRIDE Zeta III carbon-kevlar seat replacing the driver's side unit and a BRIDE Ergo II for the passenger side. A Momo Corse steering wheel along with a drilled pedal set gives a more racy feel to the interior. GReddy supplied all of the additional dials which are fitted into two separate clusters, one on top of the central console, the second on the passenger side of the dash. These gauges, together with the high-mounted PowerFC Commander, keep the driver fully informed of engine vitals as he blasts down the Wangan.
For the Wangan battle, every aspect of performance plays an important role in competition. From the engine and suspension to full aero tuning, each of these are necessary components. The well-balanced Zimax RX-7 proves that the "nothing in excess" adage can also be applied to a stellar street performer.