Pro Performers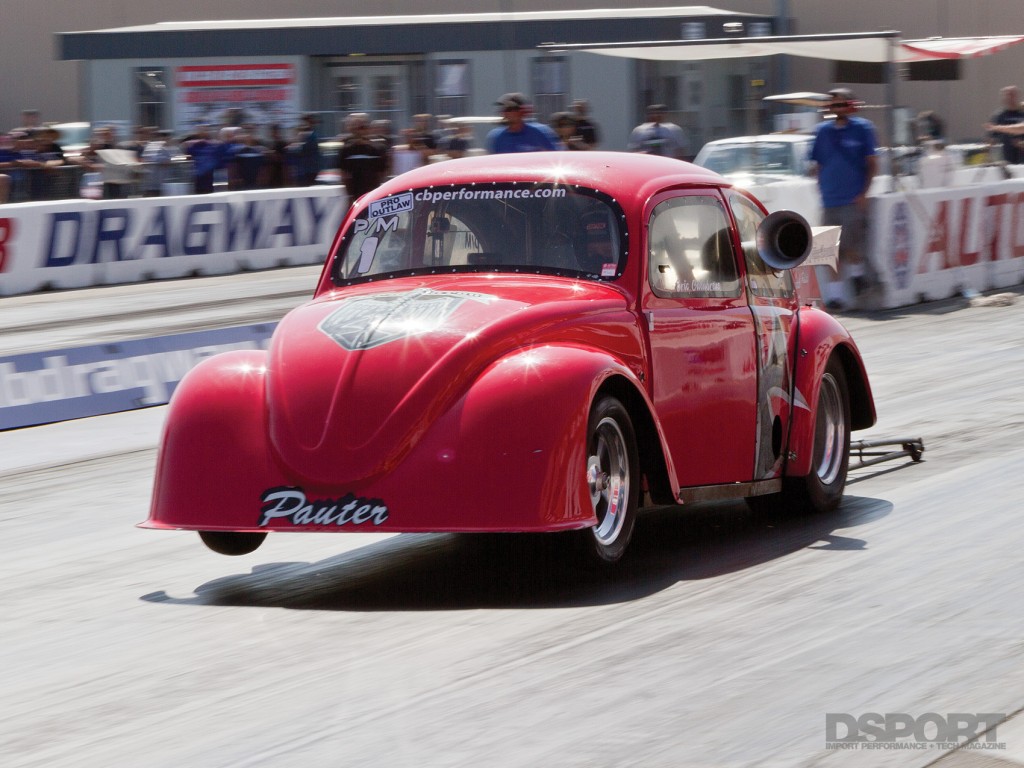 After the invocation and the national anthem, the eliminations began. The Pro Outlaw class continued to deliver the quickest passes through eliminations as Eric Calabrese enjoyed a bye in the first round followed by a win over Jason Ames to land his berth in the finals. Second qualifier Santos Renovales battled his way past Ali Afshar and Tony Loya to face Calabrese in the finals. Calabrese unleashed his quickest pass of the day on Renovales, winning the race with a 7.962-second pass at 179.35 mph.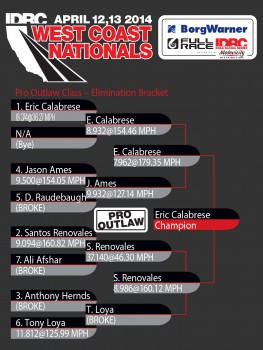 Pro Outlaw Qualifying Positions
Pos
Car#
Driver
Car
Time
MPH
1
1
Eric Calabrese
56 VW Bug
8.036
180.26
2
7164
Santos Renovales
83 Corolla
8.755
160.79
3
157
Anthony Hemds
65 VW bug
9.301
143.16
4
7010
Jason Ames
92 Civic
9.385
162.24
5
150
Daniel Raudebagh
88 CRX
9.719
145.75
6
141
Tony Loya
92 Eclipse GSX
10.675
126.30
7
786H
Ali Afshar
13 WRX
18.405
39.81
Low ET
Top Speed
8.036 sec
180.26 mph
Eric Calabrese
Eric Calabrese
---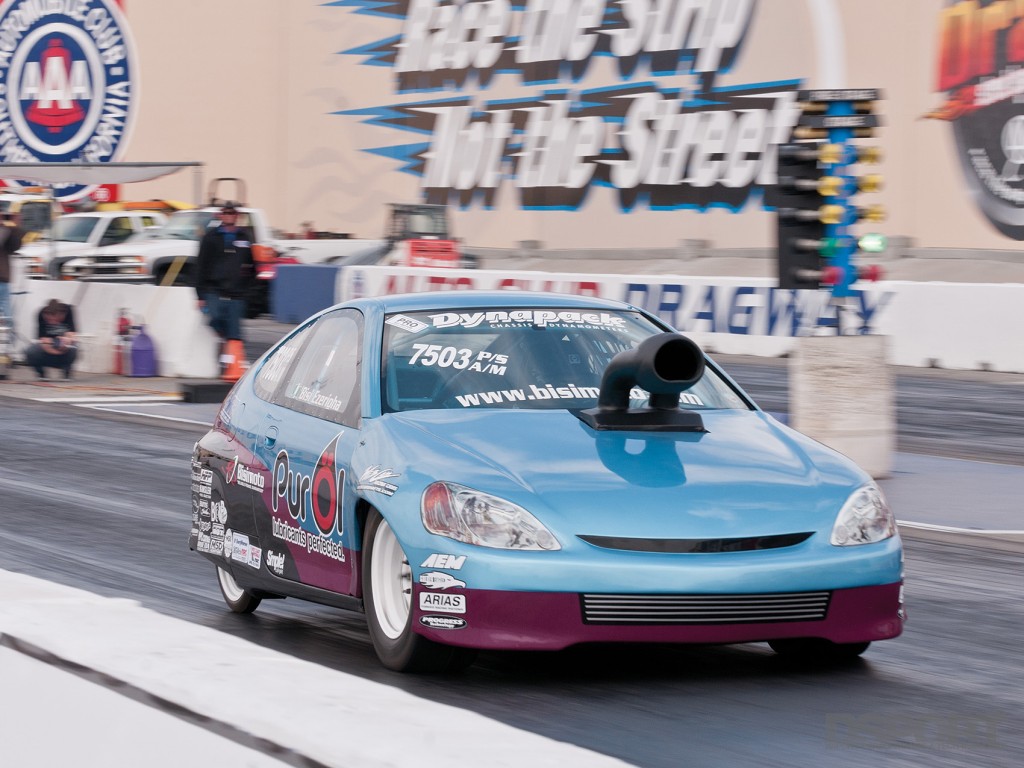 The Pro All-Motor class' humble field of three still put on a great show as Jarrett Lynch's wheelie-popping RX2 ran consistent low ten-second passes throughout the weekend. But even Lynch's best e.t. of 10.193 seconds in the finals was not enough to overtake Bisi Ezerioha, who delivered a race-winning 9.770-second pass to defeat Lynch and capture the win.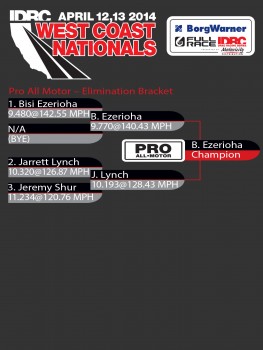 Pro All Motor Qualifying Positions
Pos
Car#
Driver
Car
Time
MPH
1
7503
Bisi Ezerioha
06 Insight
9.379
142.04
2
114
Jarrett Lynch
73 Mazda RX2
10.274
126.41
3
162
Jeremy Shur
95 Civic
11.552
120.41
Low ET
Top Speed
9.379 sec
142.04 mph
Bisi Ezerioha
Bisi Ezerioha
---
A full field prepared for battle in the Turbo by Garrett Pro FWD class, with the consistently-quick Jason Park leading the way. Park qualified on top with a 9.171-second e.t. with Javier Loarca qualifying on his door with a 9.210-second e.t. But the top two would never end up facing each other, as Loarca broke in the second round of eliminations. Park ran consistently in the nines throughout the competition, taking out Scott Oates, Nilu Sadsad and Victor Janer on his way to the finals. Thai Nguyen, who defeated Giovanni Salinas before sliding past a broken Loarca and a broken Aaron Tomosada, stepped into the remaining spot in the finals. But Nguyen could not overcome Park's race winning nine-second pass in the finals.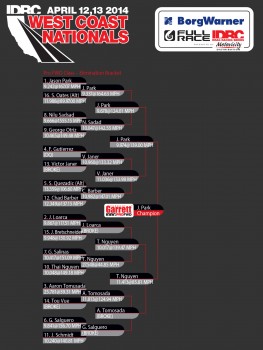 Pro FWD Qualifying Positions
Pos
Car#
Driver
Car
Time
MPH
1
717P
Jason Park
01 Integra
9.171
165.25
2
704
Javier Loarca
92 Civic
9.210
165.56
3
146
Aaron Tomosada
00 Integra
9.303
165.88
4
140
Fabrilio Gutierrez
Civic
9.633
149.07
5
772B
Christopher Limpin
96 Civic
9.638
159.82
6
181
Gustavo Salguero
92 Civic
9.174
158.61
7
756
Giovanni Salinas
84 CRX
9.788
154.79
8
153
Nilu Sadsad
96 Civic
9.979
155.61
9
149
George Ortiz
92 Civic
10.013
152.87
10
151
Thai Nguyen
95 Del Sol
10.048
148.49
11
165
Jarom Schmidt
91 CRX
10.159
140.56
12
7046
Chad Barber
Integra
10.584
141.94
13
1729
Victor Janer
93 Civic
10.589
142.96
14
134
Tou Vue
92 Civic
10.684
145.77
15
7312
Jeremy Bretschneider
96 Civic
11.250
108.00
16
158
Scott Oates
93 Civic
11.988
89.97
Low ET
Top Speed
9.171 sec
171.86 mph
Jason Park
Jason Park