SIDEBAR: TARZAN RETURNS TO THE USA
It was exciting news to hear that the legendary Japanese driver, Eiji "Tarzan" Yamada, would be coming to the IDRC West Coast Nationals to drive the D'Garage Project RH9 R35 GT-R. While most enthusiasts recognize Tarzan for his driving prowess in time attack competition, Super GT, N1 and D1GP, one of his
first appearances in the USA occurred back in 1999. He made exhibition passes in the A'PEXi V-MAX R33 Skyline GT-R at IDRC events, wowing the crowds with scorching passes. His best time slip was an 8.47 at 165 mph. It was great to see him behind the wheel on the drag strip again, which he stated is a motorsport that he really enjoys and wants to see return to mainstream popularity.
---
Pro-Am Slammers
In the other full field, the CP-Carrillo Pro-Am Turbo class, the group suffered a terrible blow as six competitors broke, three were disqualified and one fouled, all in the first round of eliminations. The top qualifier Josue Gonzalez was among the casualties, opening the door for the rest of the field. Two of the broken competitors that advanced, Juan Hernandez and Luis Gomez, got back on the track for the second round against each other. Hernandez prevailed, advancing to the finals when his semi-final opponent Justin Verches broke. Adrian Salcedo had delivered mid ten-second passes but got lucky when his 11.545-second pass was quicker than Mike Escamilla's. Salcedo ran tens for his next two battles, which included his finals victory over Hernandez.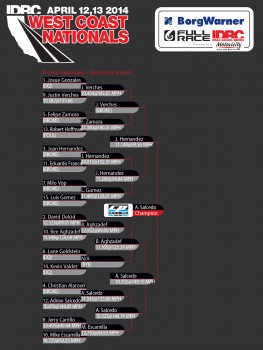 Pro-Am Turbo Qualifying Positions
Pos
Car#
Driver
Car
Time
MPH
1
159
Josue Gonzalez
94 Integra
9.968
145.85
2
127
Francisco Rodriguez
91 CRX
10.103
140.65
3
175
Juan Hernandez
94 Civic
10.180
144.10
4
6618
Cristhian Alarcon
01 Protege
10.250
139.96
5
137
Felipe Zamora
90 Civic
10.267
146.69
6
138
Lane Goldstein
12 MP4-12C
10.428
136.54
7
160
Milo Vop
94 Civic
10.612
147.36
8
205
Jerry Carrillo
91 CRX
10.727
130.08
9
7198
Justin Verches
95 Integra
11.118
117.69
10
164
Bee Aghzadef
92 Civic
11.531
121.98
11
128
Eduardo Franco
93 Del Sol
11.552
122.49
12
209
Adrian Salcedo
95 Civic
11.666
132.01
13
267
Robert Hoffman
00 Civic Si
11.712
96.85
14
201
Kevin Valdez
98 Civic
11.809
117.29
15
219
Luis Gomez
92 Civic
12.145
105.64
16
166
Mike Escamilla
92 Civic
13.019
70.34
Low ET
Top Speed
9.968 sec
156.84 mph
Josue Gonzalez
Daniel Raudebagh
---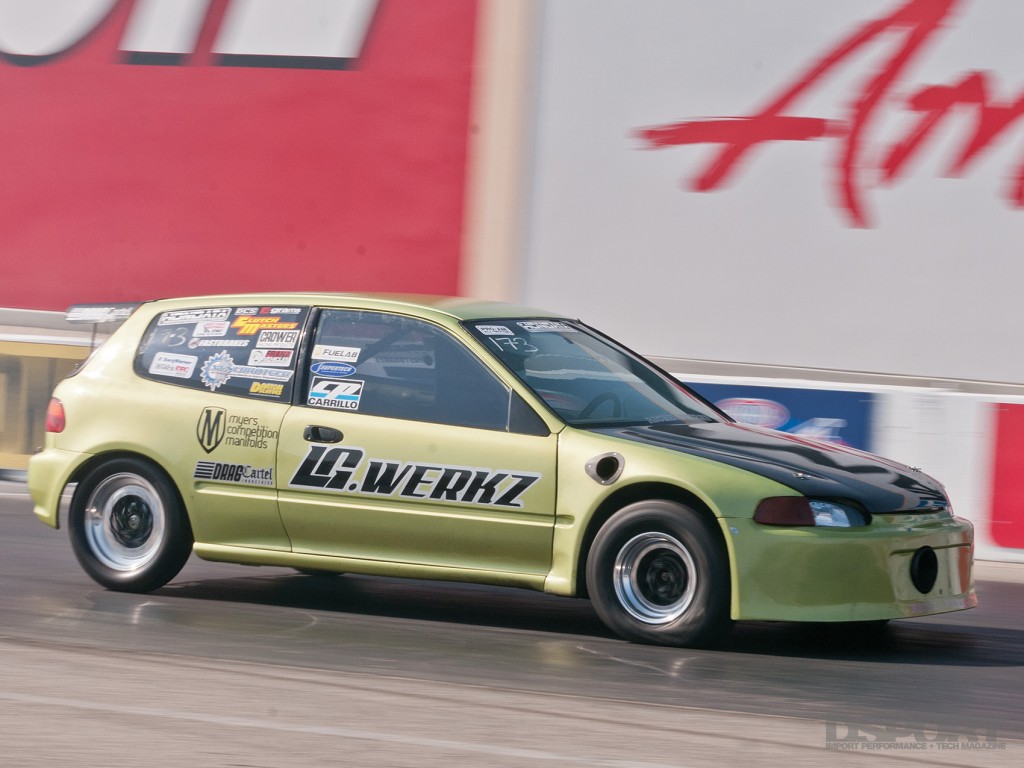 Eight drivers vied for the win in the Pro-Am All Motor class. Unfortunately, three broke in the first round. Art Rodriguez beat Mario Menendez in round two to secure a spot in the final round. Leo G and Marissa Liongson were the only first round pairing to make a pass, with Leo G coming out on top. He then beat Jerry Guzman in the second round to lock in a shot at the finals. Leo G ran his quickest pass against Rodriguez, winning with a 10.314-second time slip.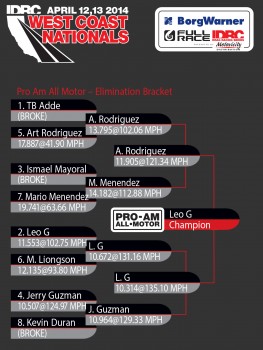 Pro-Am All Motor Qualifying Positions
Pos
Car#
Driver
Car
Time
MPH
1
430
TB Adde
00 Integra
10.153
136.51
2
173
Leo G
93 Civic
10.477
135.09
3
161
Ismael Mayoral
93 Civic
10.787
126.18
4
179
Jerry Guzman
93 Civic
10.879
129.12
5
167
Art Rodriguez
95 Civic
11.092
124.58
6
169
Marissa Liongson
92 Civic
11.105
118.71
7
136
Mario Menendez
88 CRX
11.110
123.41
8
177
Kevin Duran
14.758
66.10
Low ET
Top Speed
10.153 sec
136.51 mph
TB Adde
TB Adde