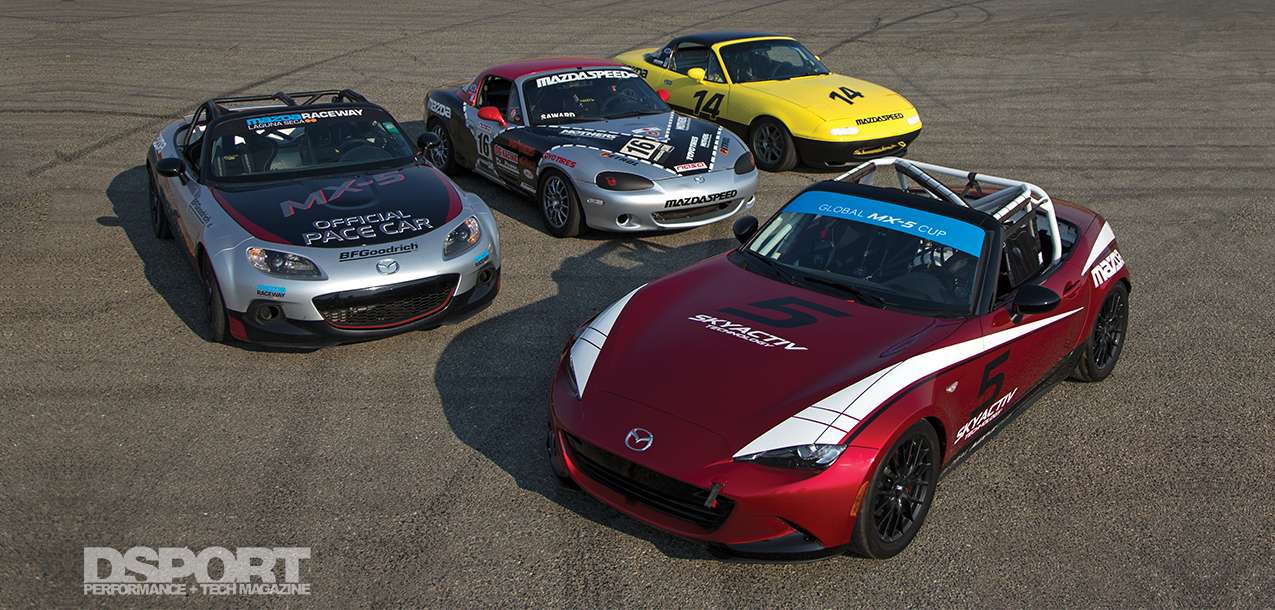 The transition from horse-drawn carriages to thousand-horsepower streetcars didn't take place overnight. Any product of technology and engineering undergoes modifications, updates and a lot of trial and error before the release of the next iteration. Auto manufacturers undergo the same process with every vehicle in their stable, finding ways to improve offerings in the future.
Text by Cameron Parsons // Photos by Alison Merion
---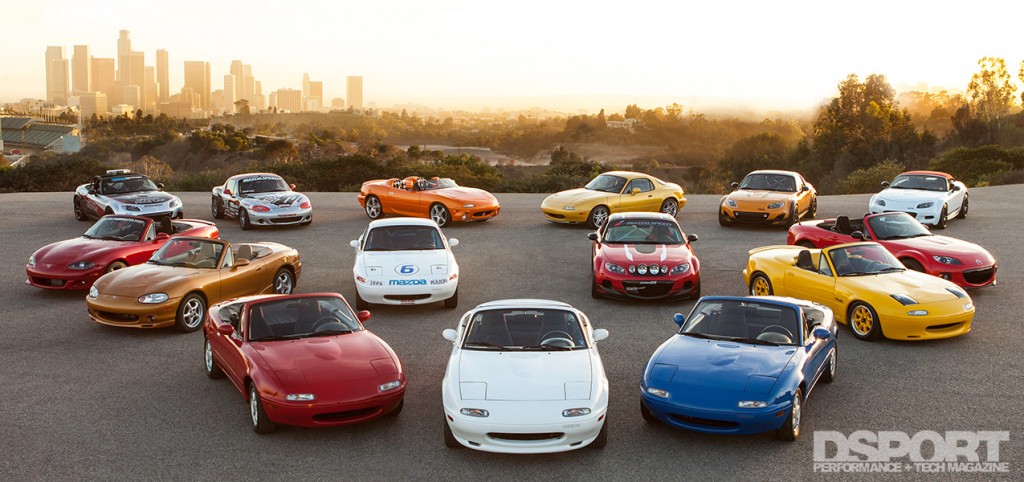 From Streetcar to Racecar
Designed with the classic front-engine, rear-wheel-drive, two-seat configuration, the MX-5's progression into its own racing classification came naturally. Building on the success of the Spec Miata class, which mostly targeted club racers, SCCA introduced a pro racing option on a faster version of the same platform. [pullquote]IN ORDER TO HELP NEW DRIVERS START RACING WHEEL-TO-WHEEL EVEN QUICKER, THE NEW MX-5 CUP CAR WILL SELL DIRECTLY FROM MAZDA, FULLY CAGED AND RACE-READY[/pullquote]Utilizing only mild upgrades in suspension and power, the Mazda MX-5 Cup series provides an affordable means for racers to compete on a national level with opportunities for scholarship and contingency prizes to help them progress in their racing careers. In order to help new drivers start racing wheel-to-wheel even quicker, the new ND generation MX-5 Cup car will sell directly from Mazda, fully caged and race-ready.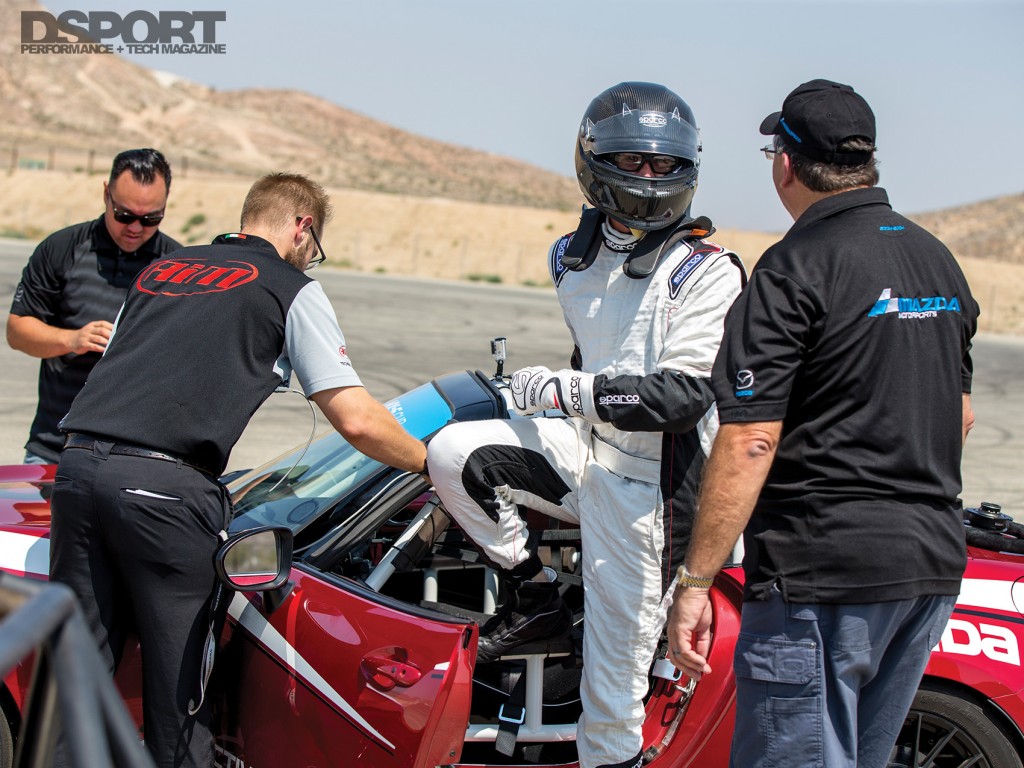 Back-to-back comparisons of four different platforms offered a unique perspective of the progression of the Miata lineage.
A, B, C, 1, 2, 3
Evaluation of the Mazda Miata racecars took place on the Streets of Willow course at Willow Springs International Raceway. This specific course places emphasis on tight, technical corners that challenge any car's handling capabilities. Each MX-5 racecar carried itself around the track with surprisingly different characteristics in feel and driving style.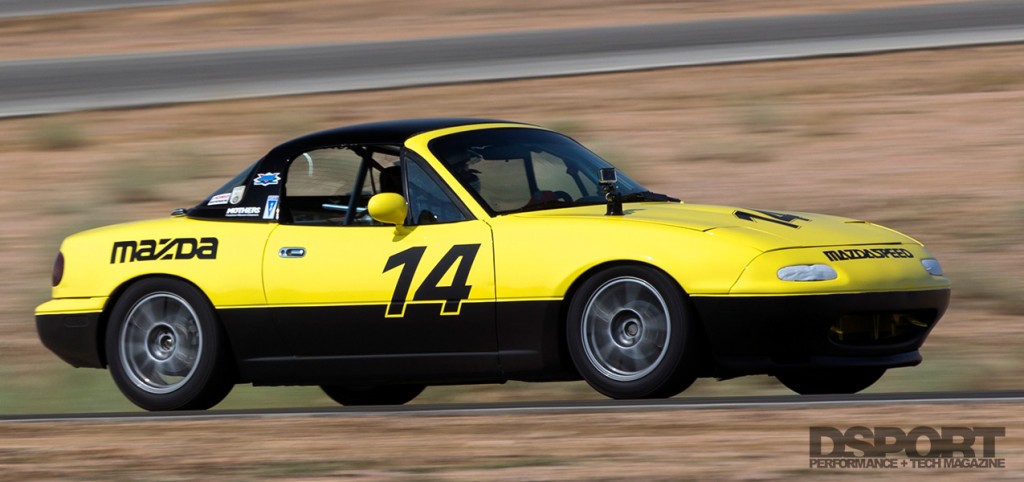 The NA Generation Miata connects driver and track with minimal investment, as such it has become a staple in entry-level racing worldwide.
Starting with the oldest model, produced from 1989 to 1997, the NA provided nothing short of a raw driving experience, mainly due to the absence of electronic assists, power steering or vacuum assist brakes. The NA Spec Miata felt extremely connected to the road, nearly akin to formula cars and other purpose-built racing machines. The remarkably balanced handling and lightweight platform will tempt drivers to push the car harder with every lap, it's that much fun to drive. However, pushing the car too hard could result in severe drops in speed and slower lap times. The little 1.6-liter four-cylinder simply couldn't pull the car out of a slide in any speedy fashion. Strangely enough, the NA's lack of forgiveness for driver error made it even more fun to drive and more motivating to keep putting down laps, working to improve smooth driving technique and lap times with each trip around the track. [pullquote]THE REMARKABLY BALANCED HANDLING AND LIGHTWEIGHT PLATFORM WILL TEMPT DRIVERS TO PUSH THE CAR HARDER WITH EVERY LAP.[/pullquote]
Following the NA Generation, the NB offered a fresh platform for the Spec Miata series. The street model for this generation rolled off the assembly line from 1998 to 2005 and benefited from a more powerful engine, a more rigid chassis and better stopping power. When cranking the wheel into the various tight turns of the track, the car experienced minimal body roll. However, the extra weight compared to the NA model made initial turn-in feel a little delayed. Despite this, the braking capabilities stood out above all else, as stopping distance proved shorter. No matter how late you get on the brakes, chances are there's still room left to brake even later. Never play a game of chicken against an NB MX-5.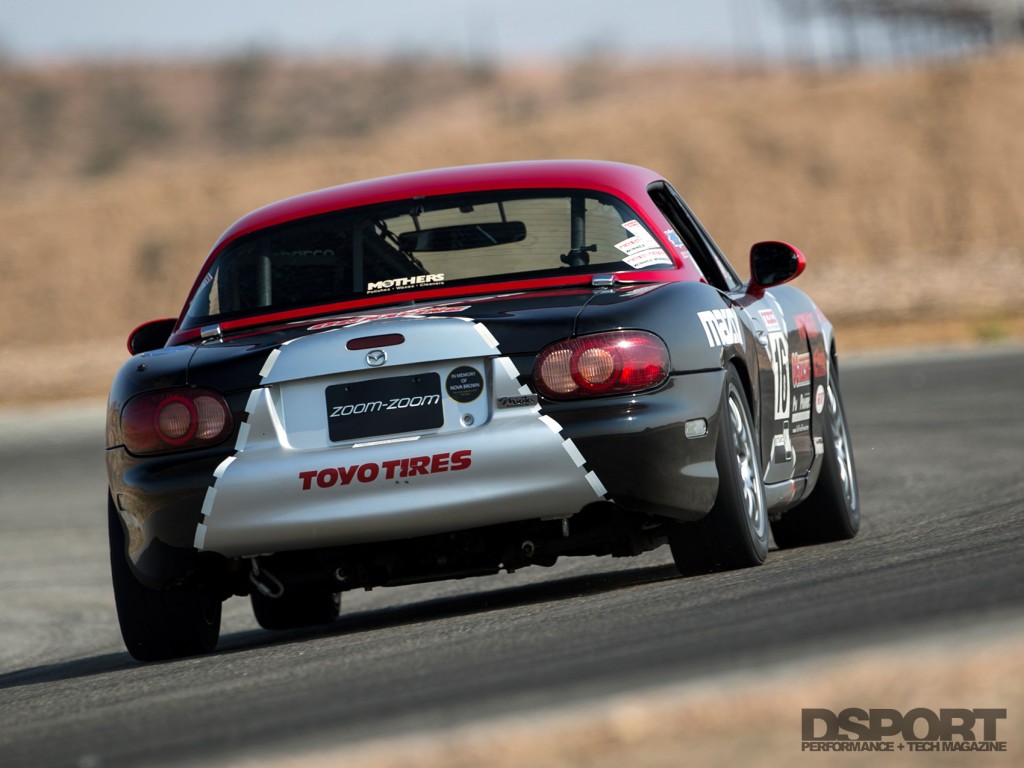 Nearly two decades in production across four generations, the MX-5 holds strongly to the concept of a lightweight, nimble roadster to deliver a fun and satisfying driving experience at a modest price.
The NC generation, produced from 2005 to 2015, brought a big leap in power production and driving technology from the previous model. A beefier 2.0-liter engine complemented the car's performance greatly, especially due to the fact that this model gained only minimal weight compared to the previous generation. This version of Mazda's little roadster introduced power steering and minimal driving aids that, while easily noticeable, do not impede on what the driver asks of the car. Given the tech updates and more powerful engine, this model felt surprisingly similar to the NB, with just a little more satisfaction when stepping on the gas pedal.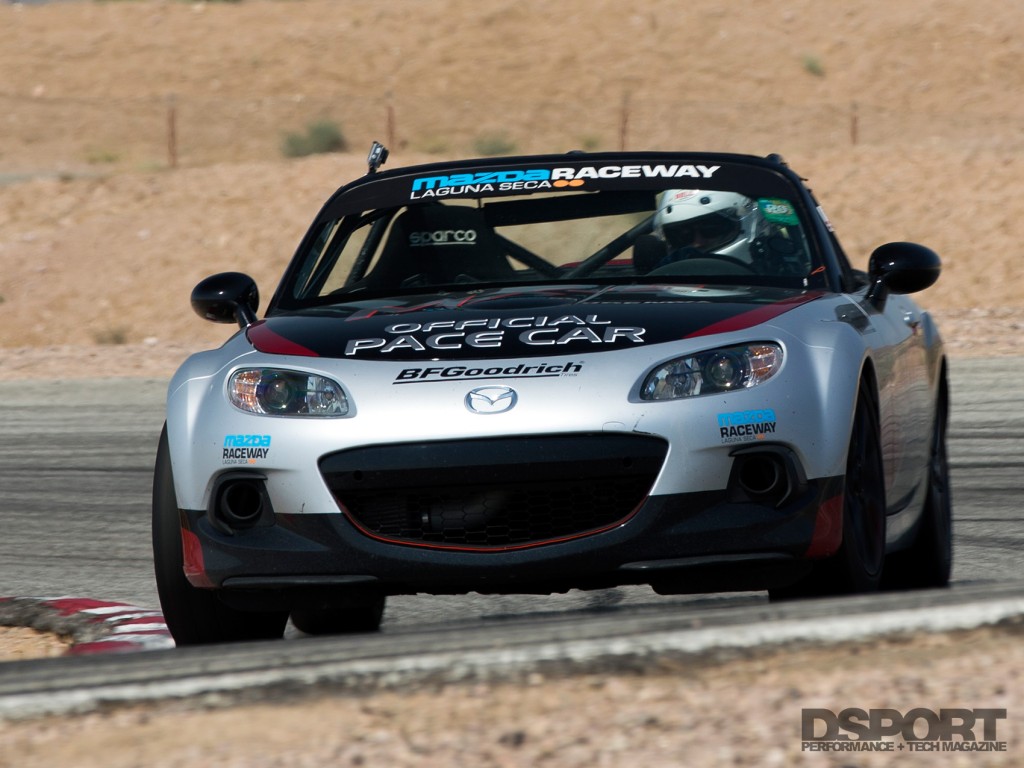 Building on a winning formula of lightweight chassis and raw handling, the NC Generation Miata offered even greater power figures but kept weight low.
ND MX-5 Cup
Each generation MX-5 Miata holds a strong reputation for its front/rear balance and neutral oversteer handling, and the new ND is no different. Small changes add up for better handling, like a more compact differential with smaller gears to reduce weight and rotating mass, a raised roll center to allow for faster turn-in, and even finer details like the move to four-lug wheels for further weight reduction. [pullquote] THE TIGHTLY-GEARED SIX-SPEED MANUAL, PAIRED WITH THE CAR'S LOW WEIGHT AND FANTASTIC POWER BAND MADE FOR A HUGE JUMP IN ACCELERATION.[/pullquote]Requiring minimal input from the driver's seat, the ND MX-5 Cup blasts through corners as if it were on autopilot. The anti-lock braking system carries some enhancements that allow drivers to apply very hard, confident threshold braking. When persuading the car's rotation with just a touch of trail-braking, the ND rewards you with a fantastic rotation that drifts the back end around for as long as you need it to. Not to be mistaken for snap oversteer, the rear end slides in a very gradual and, best of all, predictable manner.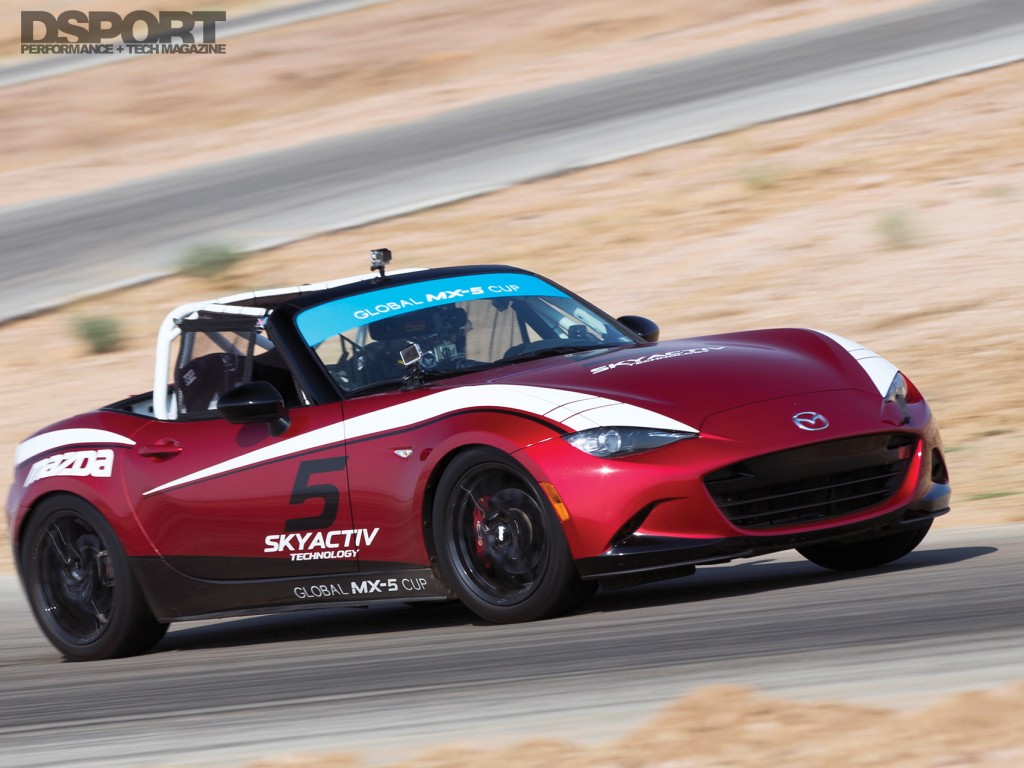 Some have voiced concern regarding the ND MX-5's relatively low power numbers. While the car brings a fun experience to the track, the question of why the power output is lower than the NC remains. That's not to say the car can't accelerate. The tightly-geared six-speed manual, paired with the car's low weight and a fantastic power band made for a huge jump in acceleration. But given Mazda's achievements with its SKYACTIV technology in the racing world, it's difficult not to ask why this 2.0-liter doesn't produce more than 155hp and 148 lb-ft of torque.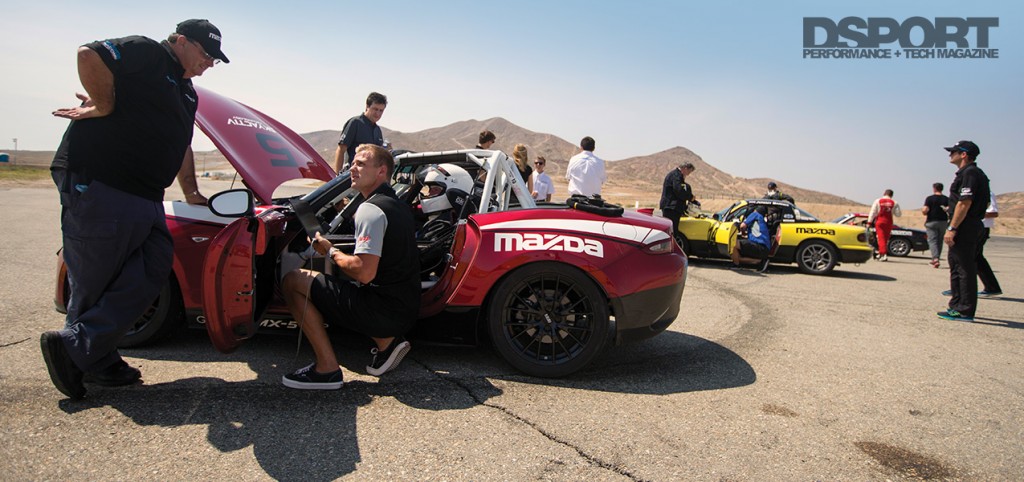 Fun on a Dime
In defense of the car's generally modest power output, MX-5 racing series drivers everywhere pride themselves on momentum driving and the closest wheel- to-wheel racing that many drivers ever experience in a lifetime. Beyond the relatively approachable budgets and running costs, the existing popularity of each generation MX-5 in club racing and pro racing alike ensures no shortage of regions to race with or competitors to pit against in the future. Stay posted this coming year, as Mazda introduces the ND generation to the Global MX-5 Cup series, where multiple series run around the world and will end the season at the historic Mazda Raceway Laguna Seca.
Production Model MX-5 Stats

NA (1990-1997)

Curb weight: ~2,070 lbs Displacement: 1.6L

Horsepower: 115 hp Torque: 100 lb-f

NB (1999-2005)

Curb weight: ~2,350 lbs Displacement: 1.8L

Horsepower: 140 hp Torque: 116 lb-f

NC (2006-2015)

Curb weight: ~2,480 lbs Displacement: 2.0L

Horsepower: 165 hp Torque: 140 lb-f

ND (2016-)

Curb weight: ~2,330 lbs Displacement: 2.0L

Horsepower: 155 hp Torque: 148 lb-f