TOP SECRET AND ITS FOUNDER Mr. Kazuhiko "Smokey" Nagata have earned a reputation for building fast cars and taking them around the world to exploit their capabilities. Smoky's most famous exploit was driving a Supra to 197 MPH on public streets in the U.K. and getting thrown in jail for the effort. Despite the challenges facing Japan's performance tuning community, Smoky and the TOP SECRET staff haven't slowed from building projects that truly stand apart from the crowd.
Text and Photos by Michael Ferrara
---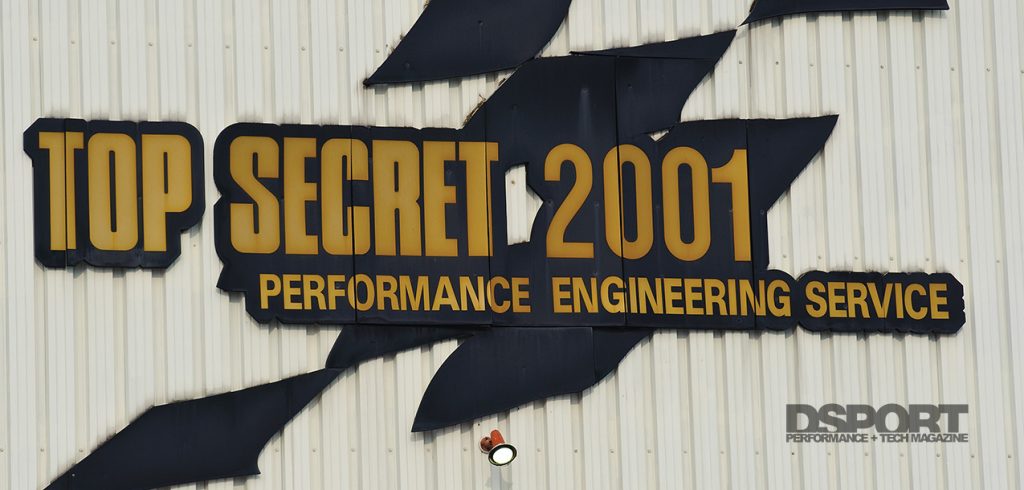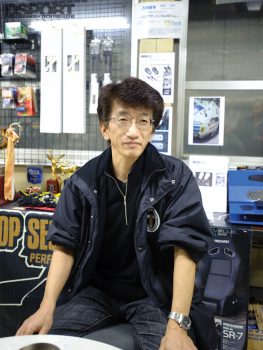 DSPORT: Thank you for taking the time to show us your facility. For those not familiar with the history of TOP SECRET, please explain the story behind the name.
SMOKEY: At one time I was working for another company where my need for extreme tuning could not be satisfied. At night, I'd work on my own and other's project vehicles. These cars were always referred to as "top secret." When I was ready to start my own tuning shop, "TOP SECRET" was the obvious name.
DSPORT: What was your inspiration for TOP SECRET?
SMOKEY: I always believed that the Japanese tuning community could build quicker and faster vehicles. By founding TOP SECRET, I would have the opportunity to build demo and customer cars with my own thoughts and beliefs.
Located about an hour from Tokyo, TOP SECRET is comprised of a massive workshop with a separate showroom. Inside the workshop, a twin-turbo installation, clutch swap and engine upgrade were just a few of the jobs in progress. The V12 Supra was undergoing some fabrication work to accommodate new turbos.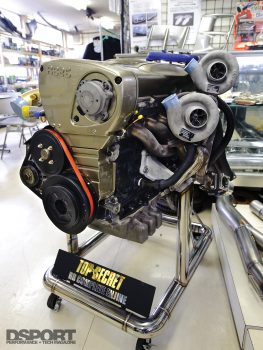 DSPORT: It seems like the bulk of the TOP SECRET project and customer cars are either painted white or gold. Is there significance to either color?
SMOKEY: Not just any TOP SECRET project vehicle is painted gold. Instead, this project must represent the epitome of the TOP SECRET tuning philosophy. Only our best and most accomplished projects receive the gold paint.

DSPORT: What's been TOP SECRET's highest horsepower project?
SMOKEY: We built a 1,200 horsepower R33 GT-R. The ability to make massive power combined with all-wheel-drive make the GT-Rs some of my favorite projects.
DSPORT: TOP SECRET's V12-powered Supra and Twin-Turbo V8 V35 represent some unconventional swaps. Which of these cars do you like better?
SMOKEY: The twin-turbo VK45-powered V35 is one of my favorites. It went 341 KPH (211.9 MPH) on the Autobahn in Germany. Thinking of it now, I think the car could have gone even faster.
DSPORT: Unlike some tuners, you actually drive a number of the demo and project cars. What is the fastest speed you have personally achieved?
SMOKEY: I reached 358 KPH(222.5 MPH) at the Nardo Ring test track in Italy. I was driving the V12-powered Supra. The track is 7.8 miles long and perfectly round with banking. Due to the banking, you don't actually start turning the steering wheel until you exceed 150 MPH.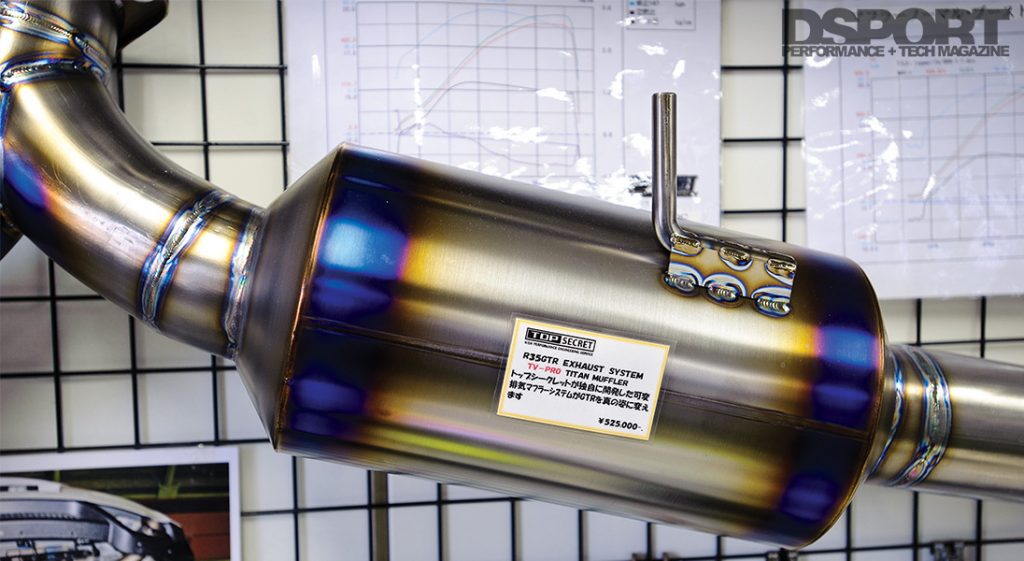 TOP SECRET offers a 90mm titanium exhaust system for the R35 GT-R that's rather unique. The 90mm system splits to dual paths at the exit. One path has flow directed through a 130mm muffler, the other path features a variable valve actuator. The actuator can be adjusted from the driver's seat for silent or deadly operation. Start saving because the cost is about $6,000.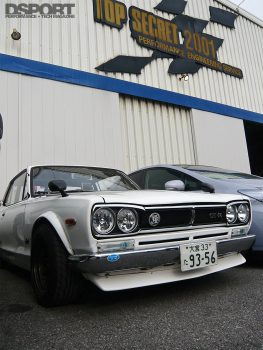 DSPORT: Is there a particular class of vehicle that you enjoy more than others?
SMOKEY: While we have built vehicles for the street, dragstrip, circuit, drifting and top speed, my favorite ones are those that can be enjoyed on the street.
DSPORT: There's been much talk about the shrinking of Japan's performance aftermarket, is it getting better or worse?
SMOKEY: I think that the tuning industry in Japan is finally stabilizing. As long as there are cars, there are going to be car owners that want to go fast. In fact, there are many places around the world that are increasing the demand for performance parts.
DSPORT: Do you have any words for the DSPORT readers and America's import- performance enthusiasts?
SMOKEY: Never stop expressing your thoughts and desires from your tuning experience to the professional tuners and manufacturers. If you believe that a part can be made better, let the manufacturer know or make it yourself and start to sell it. The industry depends on the wants, desires and dreams of the enthusiast to truly build and tune vehicles to new levels.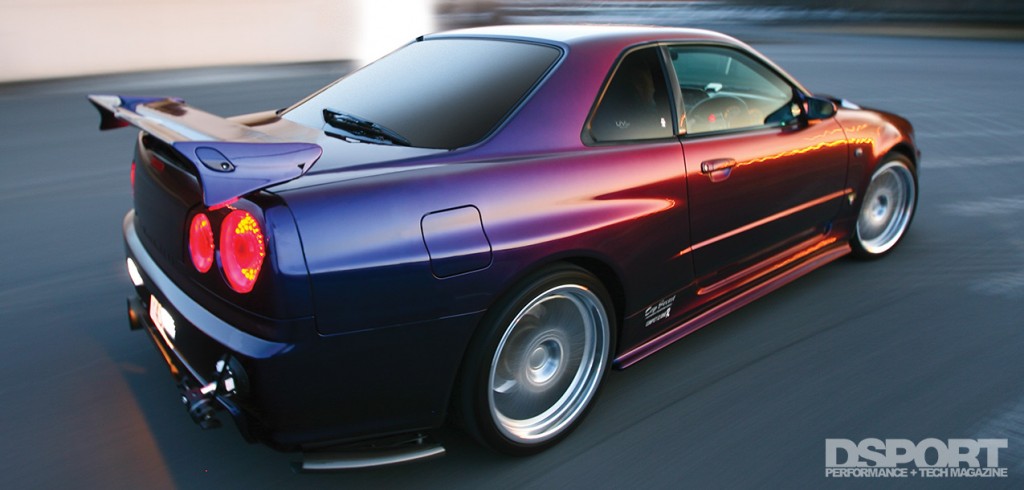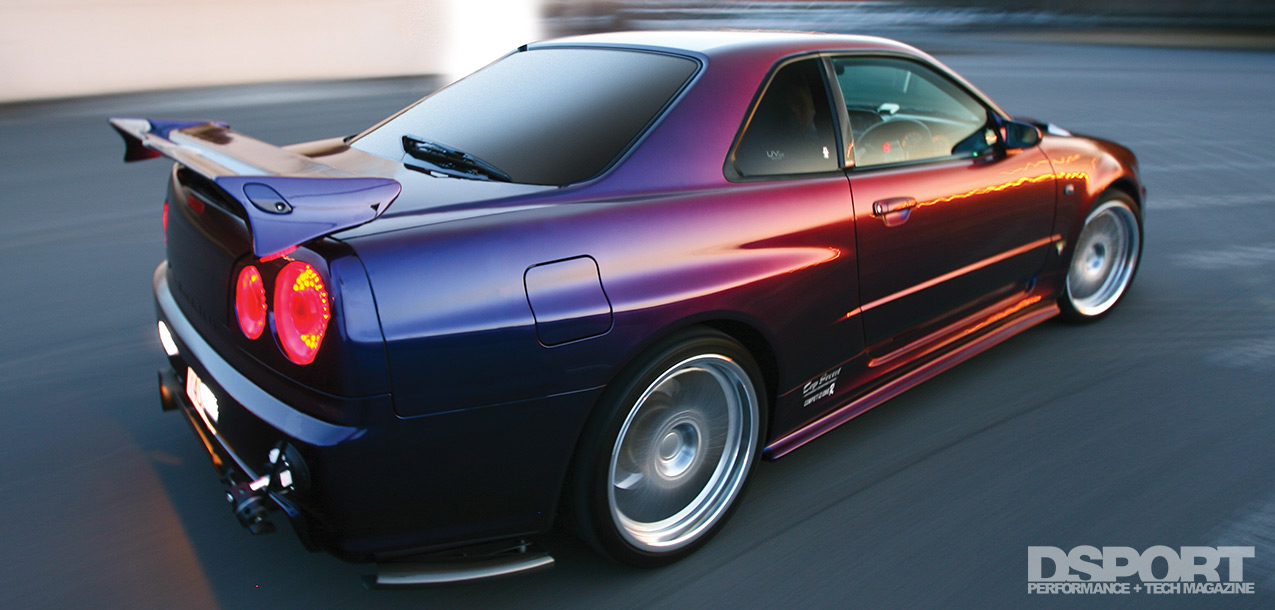 Check out this Top Secret built R34 GT-R daily driver
---