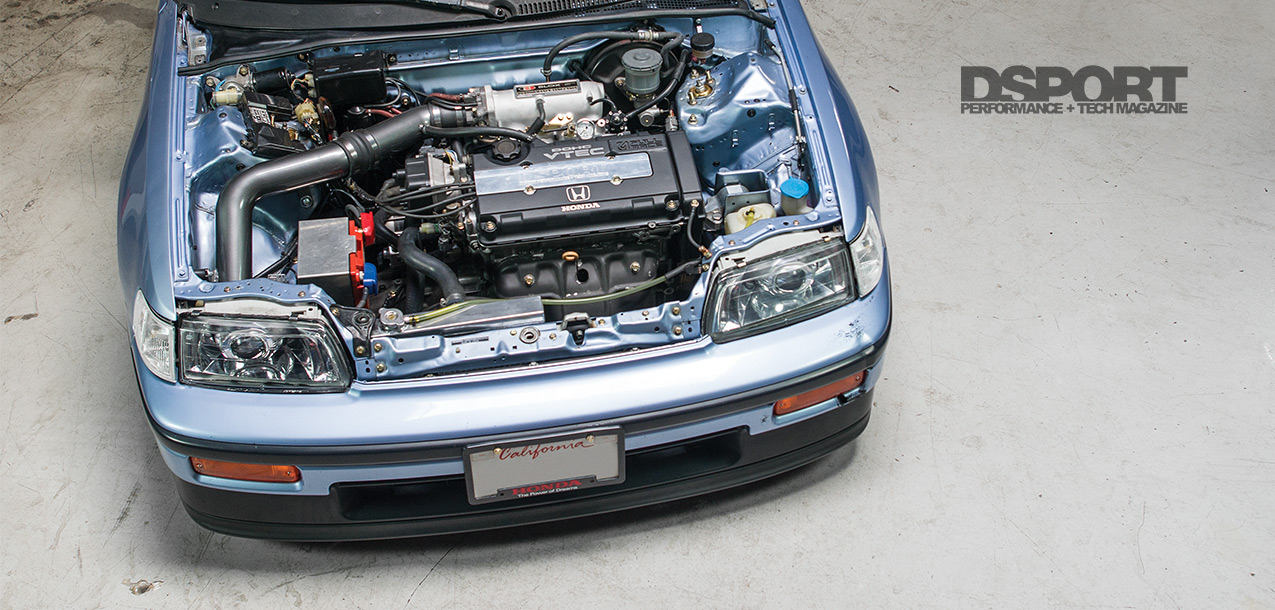 A lot has changed. We have two presidential candidates on deck that seem no better than each other and even Britain is following in our footsteps to secede from the motherland. While we haven't done the best job keeping our readers updated on D'GARAGE Project CR-X,rest assured that the project is alive and well. In fact, we pulled late nights for weeks to ensure that the vehicle stays running and doesn't fall into the trap of becoming a non-operational paperweight collecting dust in the garage (aka 99% of project cars). In short, we've got a lot of catching up to do.
Text by Jun Chen // Photos by Jun Chen and Sami Sharaf
---
The Catch Up
In our last installment of D'GARAGE: Project CR-X
(Issue #150, February 2015)
, we had finally swapped out the tired D15B6 HF engine and installed a fresh Club DSPORT-built B17A1. This new engine featured upgraded connecting rods with ARP hardware and bronze bushings, a set of Arias pistons and BLOX Racing valve springs and retainers. In addition, the transmission also received a similar overhaul with new carbon-coated synchros and a Quaife LSD. After completing the swap and ensuring that everything worked properly, we took Project CR-X to the nearest referee station for its first shot at becoming "legit". Unlike in many other states, an engine change in California requires the vehicle to pass an inspection test known as the BAR (Bureau of Automotive Repair) test. Passing the BAR, otherwise known as "BAR-ing" a car, is an exhaustive process to ensure that the swap has been done correctly and all emissions systems are in proper working order. This includes a visual inspection of the engine, vacuum system, intake system, exhaust system, ECU and all associated wiring. Furthermore, the BAR also requires a tailpipe sniffer test to ensure that the engine's emissions levels are within an acceptable range. Since we set out to BAR the swap as a B17A1 out of the 1992 Acura Integra GS-R (OBD1), this meant that the state would now treat the CR-X as a '92 Integra GS-R when it came to emissions testing.

No Easy Way Out
Under the scrutiny of the BAR referee and his apprentice, the CR-X unfortunately failed its first attempt to pass the test. The referee identified the culprit as the jumper harness. He recommended that we source an original engine harness specific to the '92 Integra GS-R. After scouring eBay to no avail and quickly recognizing the improbability of finding said harness, we decided to explore other solutions. Instead of replacing the entire harness, we instead decided to re-pin the existing OBD0 harness and VTEC sub-harness to accept OBD1 plugs. While this was a time-intensive task that required wire mapping and pin crimping, Delphi's Metri-Pack 20-14-gauge crimper (p/n 12166975) makes the job much easier than a lousy set of generic crimpers.
By Appointment Only

Making a trip to the BAR referee requires an appointment, often weeks (or even months) in advance. Our Project CR-X took months to test due to scheduling difficulties between our busy schedule and the limited availability of the referees. Be aware that passing on the first time is highly unlikely unless you've gone through the process before. Don't rush things, do it right the first time.
Smells About Right
With the wiring now sorted, we headed back to the BAR referee. On our second attempt, the car passed visual inspection with no issues, but failed the sniffer due to NOx levels that exceeded the allowed amount. In general, high NOx levels translate to a cylinder lean condition. Improper timing advance, poorly bled cooling system and other issues can cause the engine to run lean. In our case, we double checked our ignition timing and pressure-bled the cooling system for good measure. A Snap-on Air Powered Cooling System Pressure Tester (
p/n SVTS263A)
did the trick. To further lower cylinder temperatures, the cooling system received a Buddy Club Racing Spec fan switch and Mishimoto racing thermostat, both of which are designed to activate at lower temperatures than the factory units to keep the engine running even cooler. After our engine received a basic tune-up to try and bring the emissions down, we took another trip to the referee. Thankfully, this was our final time to the station. By a lot of hard work and some luck, our B17A1 swap squeezed by in the NOx test by just a few parts per million (ppm). With the inspection complete and all of the requirements met, the referee submitted all of the information to the state and printed out the elusive BAR label. Placed in the door jamb, this label signifies that our Project CR-X has a new engine and will be tested (per California's smog requirements) to meet the emission standards of the engine's original vehicle ('92 Integra GS-R).

Daily Driven Until Broken
At this point, you may be asking: what's the point of having a "BAR'd" vehicle in California? In short, to drive around worry-free. The CR-X now roamed the streets of Los Angeles with three times the power of its original D-series engine and didn't need to sweat being stopped by the authorities for illegal modifications. For about nine months, we drove the car like this. To media events, parts runs, commuting and everything in between, the CR-X racked up miles as a simple, no-frills-but- whole-lotta-fun car. As the odometer ticked away, the vehicle's shortcomings slowly became more obvious and pronounced. In particular, the clutch pedal. With a heavy-duty single plate clutch installed, the pedal doubled as a left leg press in LA traffic. In stop-and-go traffic where the clutch pedal was actuated frequently, we began having an issue where the clutch wouldn't disengage and the car wouldn't go into gear. Unfortunately, this left us stranded in the middle lane of the 405 Freeway during rush hour. Luckily, LA traffic is so bad that the stop-and-go speed allowed us to push the vehicle three lanes over to safety and take a look at the damage.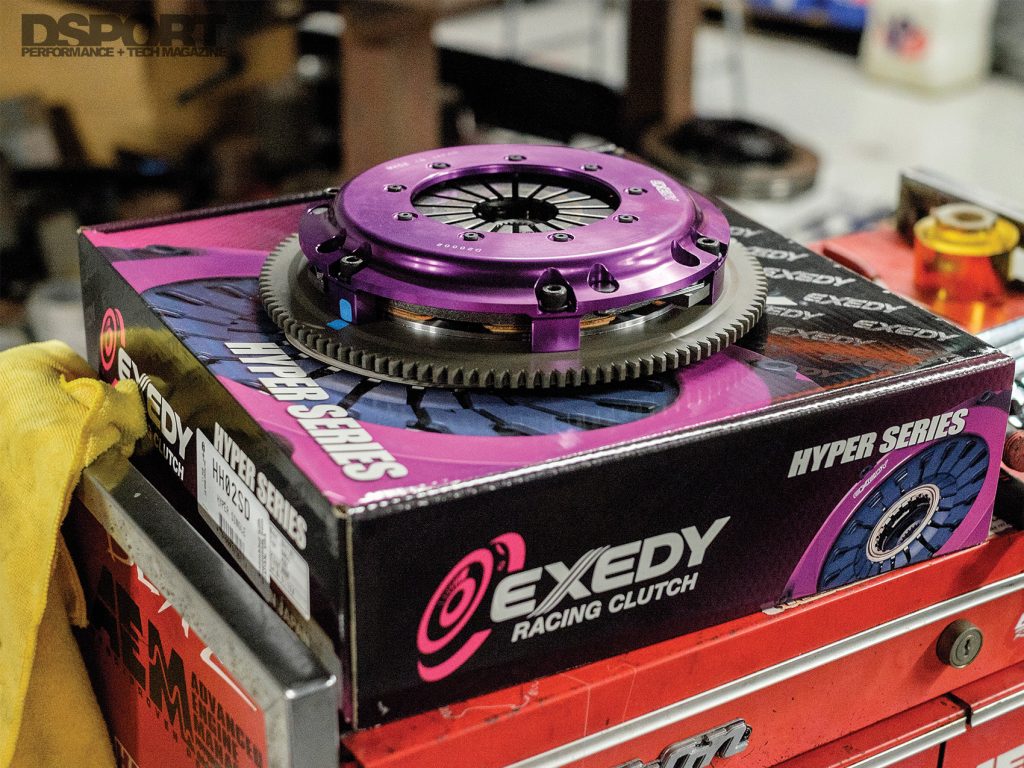 At a glance, we suspected that a loose clutch cable was the cause of our issues. As we tightened up the cable and went to start the car up, the clutch pedal snapped from the assembly. Unable to make things work on the side of the road, we towed the CR-X back to the D'GARAGE for further inspection. We realized that the pedal assembly was flexing laterally and causing the cable to not actuate (or pull) the release bearing. This was likely caused by two issues: the increased pedal pressure of the high performance clutch and a pedal assembly that ultimately could not handle the increased pedal pressure. To fix the problem and get back on the road, we had Chris at Wisecraft Fabrication weld the pedal assembly back together and add gussets to keep the clutch pedal from flexing under increased load. In addition, we decided to swap out the clutch with a milder EXEDY Stage 1 Organic Racing Clutch kit
(p/n 08800A)
so that our CR-X could return to street duty for the time being. Unlike many aftermarket Honda clutches that are actually designed for a hydraulic B-Series transmission and happen to be compatible with the YS1 cable transmission, Exedy designed this kit specifically for the 1992-1993 Acura Integra with a cable type clutch. This translates to minimal pedal pressure increases over the factory unit and good overall streetability.
Not Clutch Enough

While the Stage 1 clutch kit may be great for a B-Series swap and some bolt-ons, we recognize that many enthusiasts will want to reach power levels that may begin to test the torque capacity (187 ft -lbs) of the organic disc. Unfortunately, an organic disc exploding in the transmission can wreak havoc and turn the clutch and its surrounding elements into shrapnel. In an attempt to find the best solution for cable transmission owners, we will be testing Hush Performance's cable-to-hydro conversion kit paired with EXEDY's Racing Hyper Single clutch kit (p/n HH02SD). Look for this in an upcoming issue of DSPORT.
Time to Go Fast
So there it is. We've proved that BAR'ing a CR-X to meet California emissions requirements isn't as tough as some may believe. However, what about everyone else that lives outside of California? Well, that takes us to the next stage of Project CR-X, the track. Knowing that it wouldn't do street duty forever, we took the car over to Wisecraft Fabrication for a custom chromoly roll bar. A proper roll bar should be a requirement for all track events for vehicles equipped with aftermarket fixed-back racing seats. This bar also allows us to run the necessary six-point racing harness for maximum safety on the track.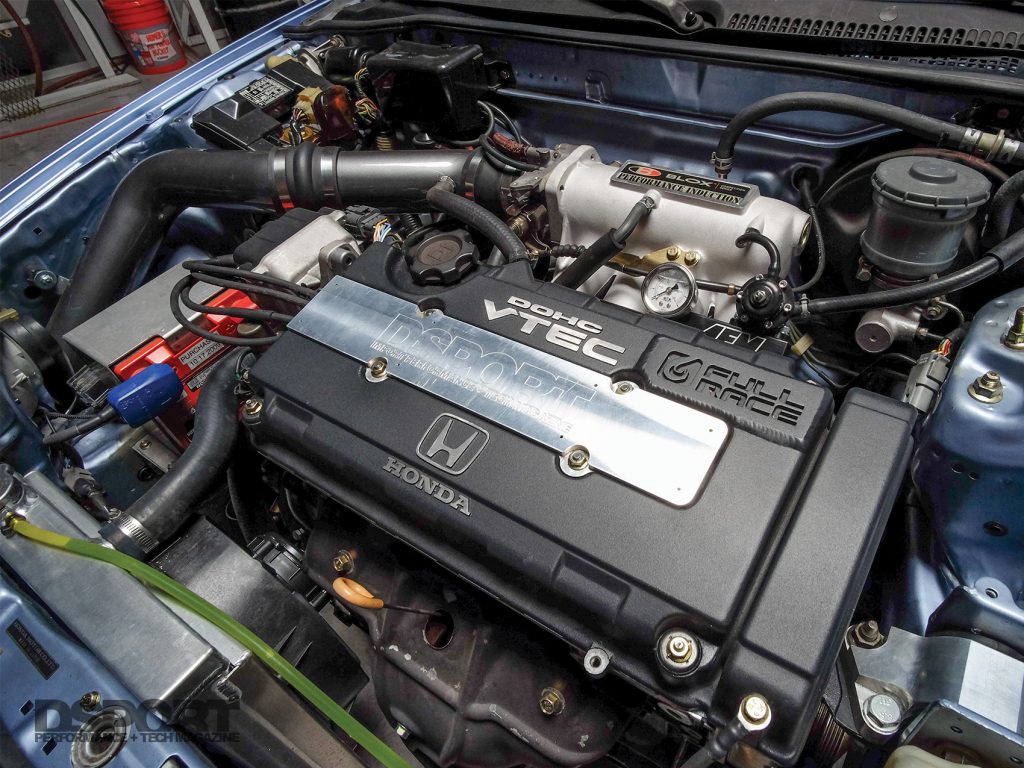 With the driver safety measures addressed, we turned to maximizing the output of our B17A1 engine with a selection of aftermarket bolt-ons. Proper planning warned us that swapping the full-size radiator for a half-size unit would be the only way to create adequate header clearance. Since our Project CR-X runs a FULL-RACE Motorsports traction bar, we opted for the direct-fit half-size radiator from FULL- RACE. However, finding a fan to move enough air to keep the engine temps down at the track required us to move past the OEM unit. Thus, we selected a SPAL 11-inch high performance puller fan
(p/n 30102800)
that moves 1604 cfm. As a result of the increased current draw from the fan, we wired in a HELLA mini relay box and wired up the fan accordingly to pull power directly from the battery. In addition to the relay box, we also replaced the factory wet cell (lead acid) battery for an absorbed glass mat (AGM) ODYSSEY PC925 unit and custom battery box. New quick release battery terminals, charge harness and ground wires were also installed to replace the worn factory pieces. With the battery box in place, we decided it was time to get the CR-X what it really wanted: more horsepower.
Bolt-on Basics

The relay box didn't leave much room for the factory intake box anymore, so we dropped in an AEM cold air intake system
(p/n 21-5001C)
to get the party started. We mated the intake to a BLOX Racing Power Intake Manifold
(p/n BXIM-20100-V3)
. Since the intake and manifold would allow the engine to breathe easier, we knew the next step would need to include a fuel system upgrade. For our Project CR-X, we sought to maximize the naturally-aspirated performance of the B17A1 with a potential to squeeze some nitrous later on. With the 200whp N/A target in mind, we chose our fuel system upgrades accordingly. Starting with the fuel pump, we selected an AEM Direct Fit 320lph In-tank Fuel Pump (p/n
50-1215
). For our CR-X's naturally-aspirated dreams, this pump will be plenty in the delivery department. To match the pump, we also selected AEM's high-volume fuel rail (
p/n 25-103BK)
, Honda/Acura fuel filter (
p/n 25-200BK)
, adjustable fuel pressure regulator (
25-303BK
) and BLOX Racing's liquid-filled fuel pressure gauge (p/n
BXGA-00111
). In between the billet fuel rail and the new intake manifold, we wedged in a set of Deatschwerks 550 cc/min fuel injectors (
p/n 22S-01-0550-4
) to handle all fuel atomization duties.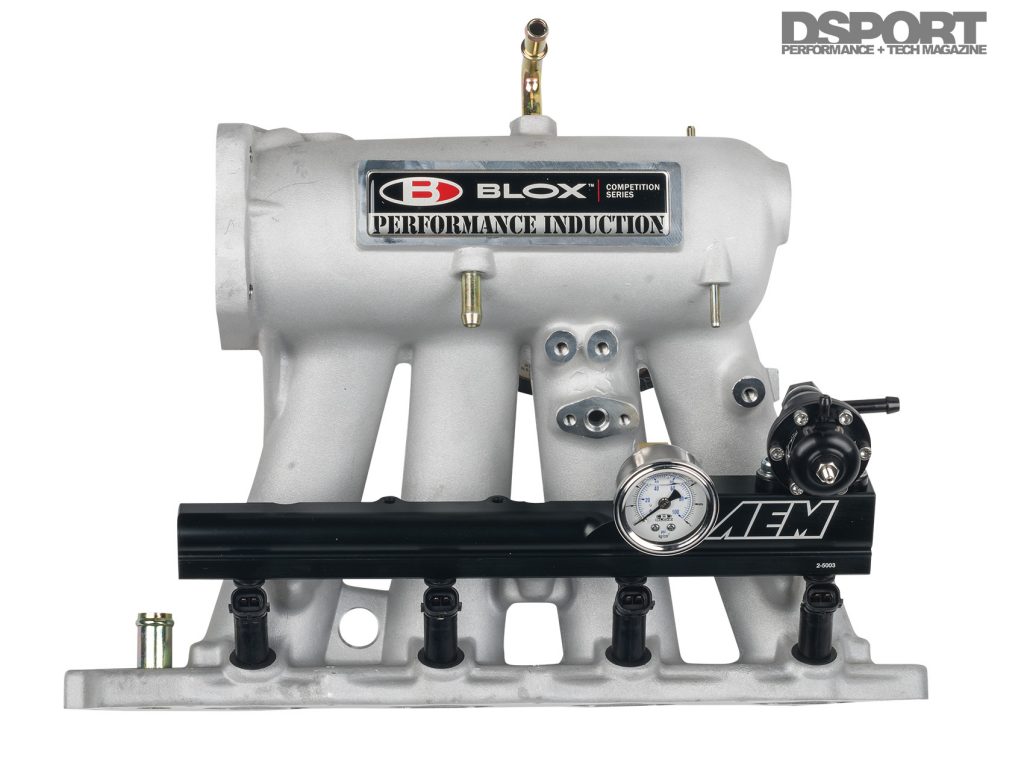 Plug-in Hybrid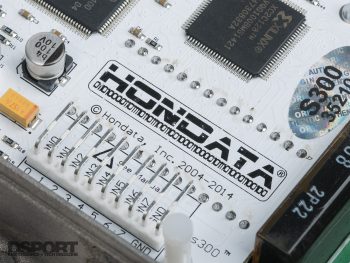 With the induction system and fuel delivery addressed, the next contingency that would allow us to begin making power would be an aftermarket ECU. To maintain maximum drivability while also offering the programmability that we need to make more power, we turned to Hondata for its S300 V3 plug-in module. The latest and greatest from Hondata now offers support for an ethanol content sensor, Bluetooth for datalogging on both a laptop and mobile device, CAN output and serial output for race dashes from AIM Sports and Racepak. Since we didn't want to modify the hard-to-find P61 ECU that makes our B17A1 swap complete, we acquired an unmolested P72 ECU and had Hondata install the S300 V3 onto it. Loading the P61 ECU basemap was as simple as downloading Hondata's SManager software to a laptop and uploading the P61 basemap file to the ECU.

Next Mission
The next installment of D'GARAGE of Project CR-X will focus on power adders for the B17A1. Fortunately, we haven't encountered any more whammies as of late to keep us from testing these power parts. We seriously hope that it stays that way.
Parts Price List
| | |
| --- | --- |
| AEM 320lph In-Tank Fuel Pump(50-1215) | $129.83 |
| AEM High-Flow Fuel Filter (25-200BK) | $129.41 |
| AEM Adjustable Fuel Pressure Regulator(25-303BK) | $153.49 |
| AEM High-Volume Fuel Rail(25-103BK) | $107.56 |
| AEM Cold Air Intake(21-5001c) | $341.29 |
| Blox Racing Fuel Pressure Gauge(BXGA-00111) | $50.00 |
| Blox Racing Power Intake Manifold (BXIM-20100-V3) | $240.00 |
| Deatschwerks 550cc Fuel Injectors (22S-01-0550-4) | $319.00 |
| EXEDY Stage-1 Organic Clutch Kit (08800A) | $442.78 |
| Full-Race Honda EF/ED Radiator | $399.00 |
| Hondata S300 Version 3 ECU | $495.00 |
| Odyssey Auto/LTV PC925 Battery (0765-2024) | $170.87 |
| SPAL Extreme Performance Puller Fan (30102800) | $214.50 |
| MSRP Total | $3,192.73 |
| DSPORT Street Price: | $2,713.82 – $2,873.46 |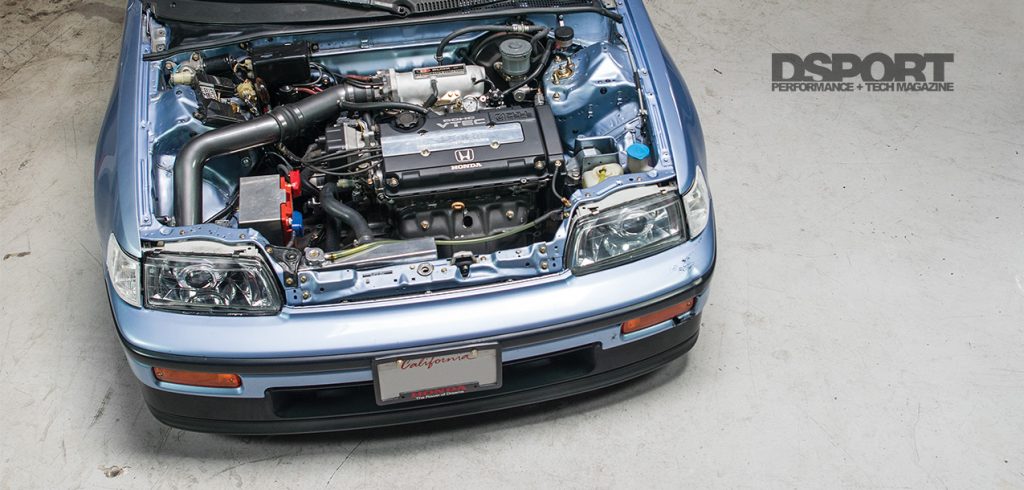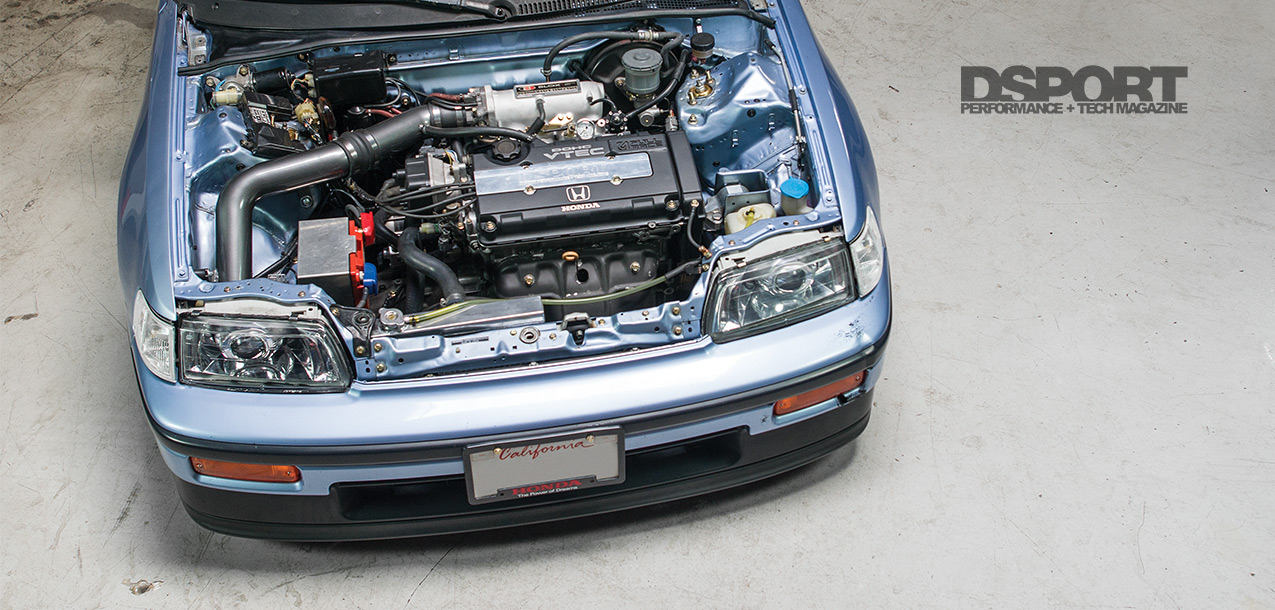 ---