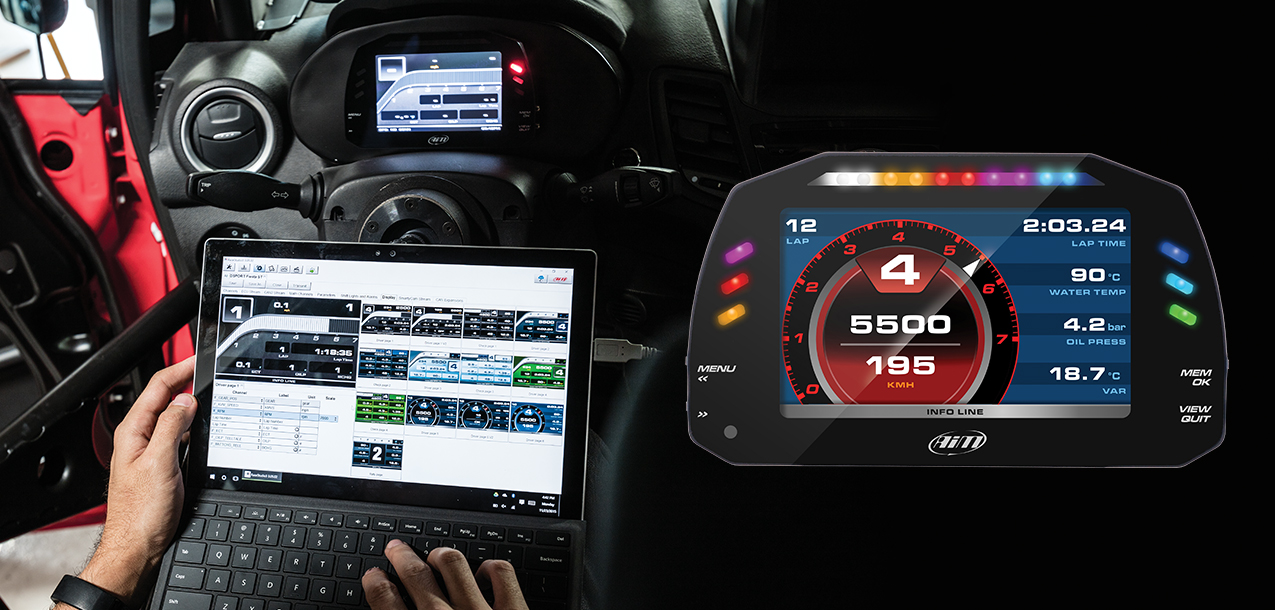 In the modern age of media where CGI and explosions in 3D dominate the silver screen, a younger audience would claw their eyes out during any black- and-white film of the old days.
From television, to photography, even to the Nintendo Gameboy, the transition from monochromatic presentations to full color was inevitable. Data logging and display systems in cars and racing recently have followed suit. Decades ago, data acquisition consisted of bulky hardware with low memory and slow capture rates. For many systems, instead of downloading the data to analyze on a computer, engineers printed out near-indecipherable data on long strips of paper. Now, data logging is relatively affordable and convenient, and AiM is taking the next evolutionary step for data displays with its full color MXG and MXS dashloggers.
Text by Cameron Parsons // Photos by Cameron Parsons and Richard Fong
DSPORT Issue #163
---
Options Galore
Data loggers and dash displays have come a long way over the past few decades, now allowing users to choose hardware based on exactly what data and functions they desire. AiM provides the Solo for drivers who only require a simple timing system and minimal accelerometer data, the Solo DL for those who need ECU data as well, the SmartyCam for those who want to utilize video, and other specific data system tools. Many other manufacturers offer specific sensors, alarms and displays to present vehicle information to drivers and engineers in different ways. Although these items bring huge functionality to the cockpit and to your laptop, sometimes you want to skip to the top tier for the device that just about does it all.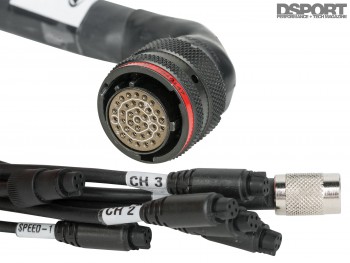 Wiring Harness
The unit comes packaged with a 37-pin standard Deutsch connector harness that simplifies the wiring process. The wires are already labeled for custom wiring and for AiM-compatible hardware.
Do-it-All Dashloggers
AiM introduced the MXL dashlogger more than ten years ago, helping pioneer dashloggers for hobbyists and professional racers alike. The unit brought plenty of features in a high quality package that would easily mount in nearly any racing application, from off-road to drag to road racing. The MXL2 introduced a high contrast, monochromatic LCD screen with more customization and greater vehicle and sensor compatibility. Now, much of the same functionality in the MXL2 transfers over into the MXS/MXG, but in an entirely new presentation with additional features.
MXG – 7 INCH DISPLAY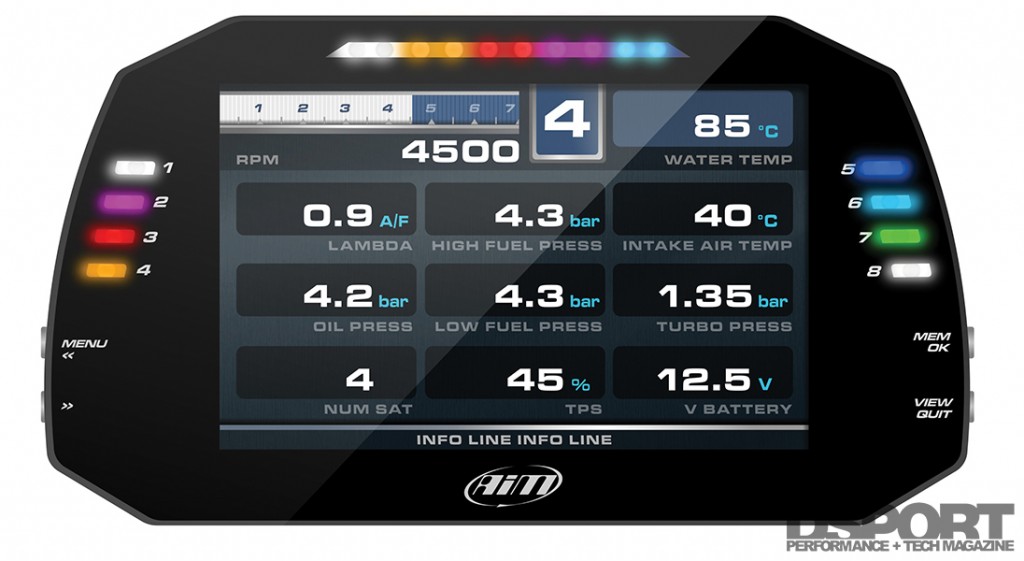 MXS – 5 INCH DISPLAY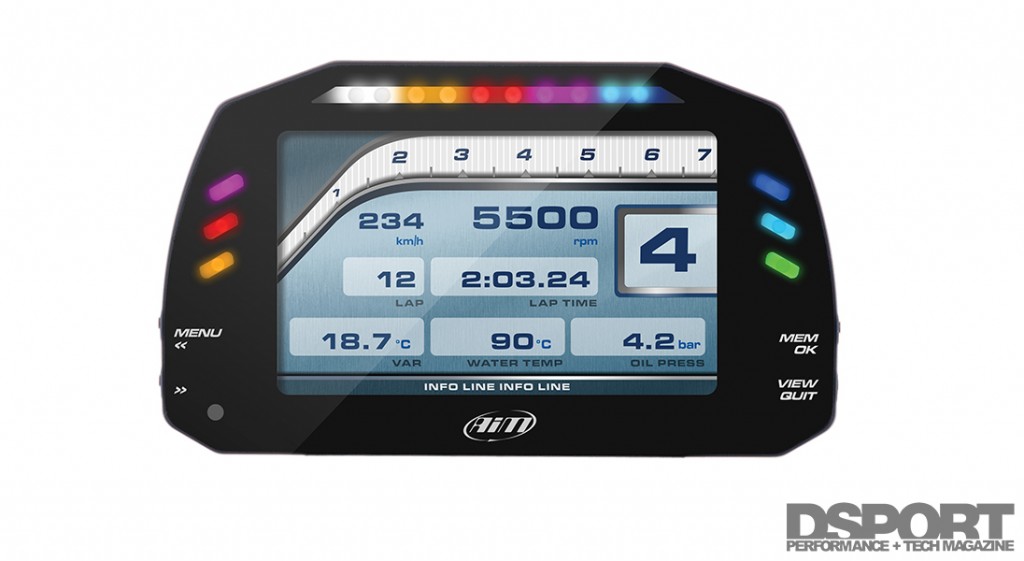 Large, legible fonts and the high-contrast, ultra bright display add up for an easy-to-read presentation. When driving around town or barrelling down a racetrack, essential information can be seen without taking your focus away from the road ahead.
MXS vs MXG
The new dashlogger comes in two configurations, the MXS and the MXG. Both versions house the same hardware and functionality, differing in display size, screen contrast and the number of notification lights. The MXS equips a five-inch 600:1 contrast display and weighs in at 530 grams, while the MXG goes bigger with a seven-inch 1000:1 contrast display in a 950 gram package. Utilizing a high-contrast, 1100-lumen TFT display, the dashlogger makes itself easily readable in low light and direct sunlight. The 10 LED shift lights and six (MXS) or eight (MXG) LED alarm lights shine brightly in any color set by the user. The sharp resolution and high contrast of the device enables more than enough information to show on screen, while maintaining easy readability for those quick-glance moments when on the track. With support for switching between multiple pages, including your own customized layouts, you can place as much data on-screen as you would ever need on the track. It doesn't hurt that the layouts, fonts and color schemes also look super sleek.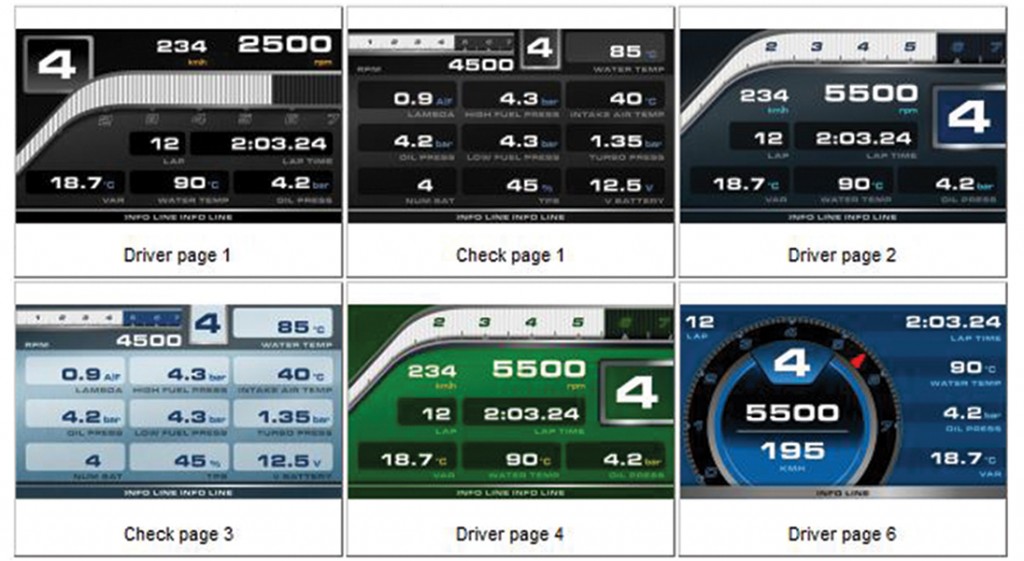 Want a different color background? Do you prefer a sweeping tachometer to a dial? Race Studio allows you to customize the display pages to your liking.
Make it Yours
One of the greatest strengths of modern dashloggers is the ability to make the device truly yours, thanks to the level of customization available. The Race Studio 3 software enables users to configure the input and output channels, alarms, shift lights and display pages to their liking. The MXS/MXG allows up to eight pages to flip through on the screen, each one set up however you choose. Do you only need the essentials for a quarter mile or short autocross? You can quickly switch to a page with a giant tachometer and gear indicator. Need to view all the engine data for diagnostics or tuning in the garage? You can pull up a page that displays more than ten sensor readings of your choice. The Race Studio 3 software made the display customization extremely simple, and the device itself requires nothing more than a push of a button on the side to change to the next page.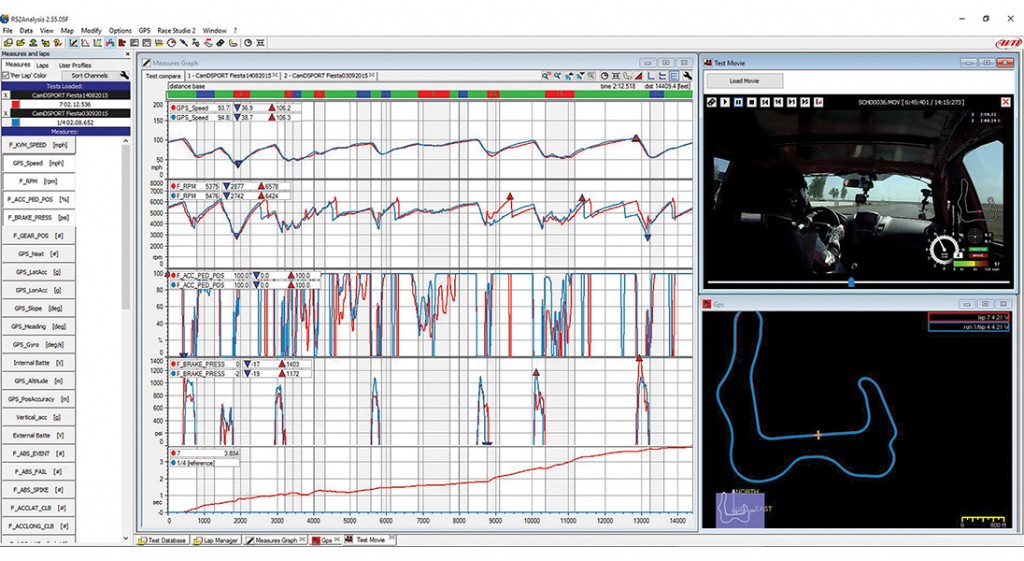 AiM's Race Studio Analysis software lets you analyze your driving and vehicle performance in extreme detail, helping you find ways to go faster.
Ins and Outs
The MXS/MXG brings a beautiful piece of gear to the data systems market, and packs internal hardware that lives up to the looks. The device accepts CAN, RS232 or K-line ECU connections, and natively supports more than 700 ECU models. Eight analog inputs at up to 1,000 Hz each allow for data from potentiometers, pressure sensors, thermocouples and zero- to five-volt signals. The digital inputs pull data from up to four individual speed sensors, a lap signal and coil RPM input. The device also features two digital outputs that can send out one amp at 12 volts, depending on input values set by the user. This permits external systems such as additional lights, cooling fans, pumps and more to turn on and off automatically, depending on the configuration. The MXS/MXG expands even further beyond ECU sensors and its built-in analog and digital inputs. Adding to the functionality of the device, an internal three-axis accelerometer and gyroscope capture data that can aid in improving your driving and dialing in your car setup. The analysis software uses these sensors to reveal cornering forces, yaw rates and roll. The built-in CAN bus enables the connection of expansion modules that include a GPS sensor, SmartyCam HD camera, lambda controller and hubs and channel expansions that expand the potential number of sensors used. This modular design allows users to purchase and work with only the sensors that they desire, leaving out any unneeded fluff.
Expansion Modules
(1) The SmartyCam HD provides onboard video with data overlay from the logger. (2) The LCU-One Lambda Controller, with Bosch LSU 4.9 probe, provides Air/Fuel data, lambda value and exhaust gas temperature. (3) The Channel Expansion permits four 0-5V analog channels for additional sensors, two of which can be configured for digital inputs. (4) The TC Hub adds four thermocouples for even more temperature readings.
In for Analysis
The MXS/MXG display shows off only a small portion of the dashlogger's capabilities. The free Race Studio Analysis software enables users to examine and pick apart every detail of their vehicle after a session of racing or tuning. This includes information like individual cylinder exhaust temperatures, individual wheel speeds, steering wheel angles, suspension travel, lateral forces and more. Understanding the different types of sensors available and how they work enable you to monitor and capture any type of data you choose. How the raw data is calculated and converted for analysis in the software is completely configurable by the user. With the help of the software, users can compare laps between sessions or other drivers to discover the best setups and driving techniques. Piecing this information together reveals theoretical best laps, showing what lap times are possible when utilizing your best-driven and best-tuned setups. The effectiveness of Race Studio Analysis is measured by how much time you're willing to put into it. The software may appear overwhelming at first, however learning the ins and outs of it will quickly help you toward your performance goals.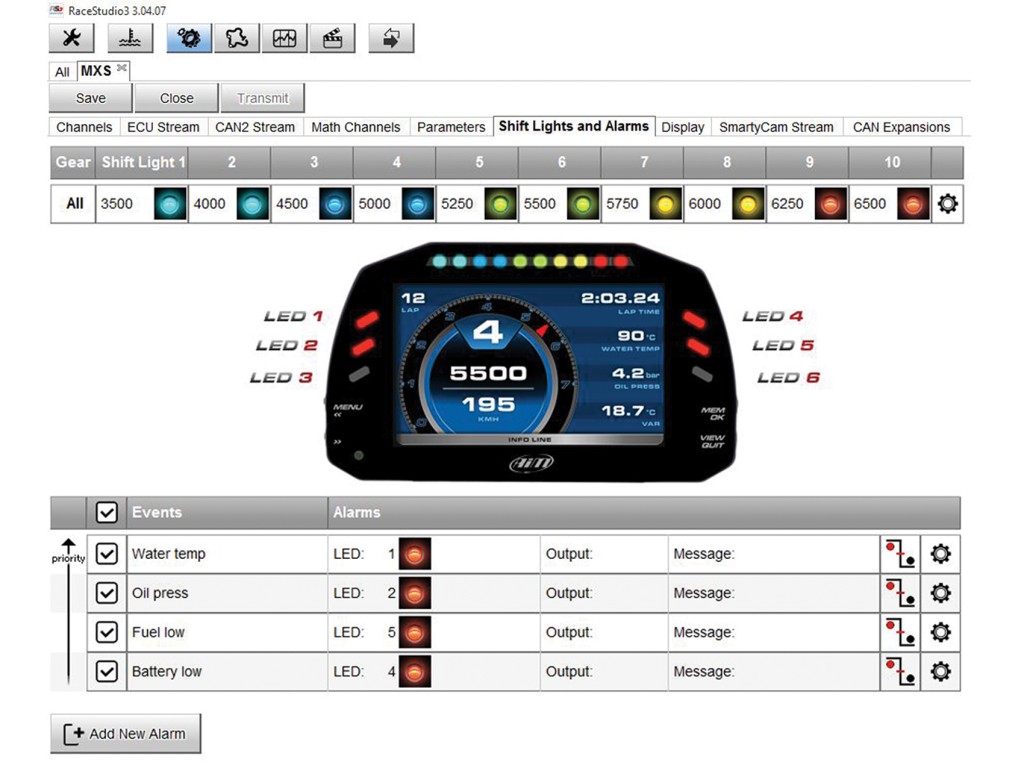 The Race Studio software lets users fully customize alarms and shift lights, from colors to conditional values.
Race Recap
AiM's new color dashloggers, the MXS and MXG, combine high-functionality with a look that turns heads at the track and impresses on the street. Its design allows users to customize and configure it, from display settings to countless sensors, making the device serve the exact purpose that's desired of it. Priced at $2,299 for the MXS and $2,599 for the MXG, some car owners may be counting pennies to get their hands on this dashlogger. However, the value is quickly realized the moment the unit powers on and shows what it's capable of. Automotive technology is always evolving, and AiM's MXS and MXG are taking part in moving dashes and data loggers to the next phase.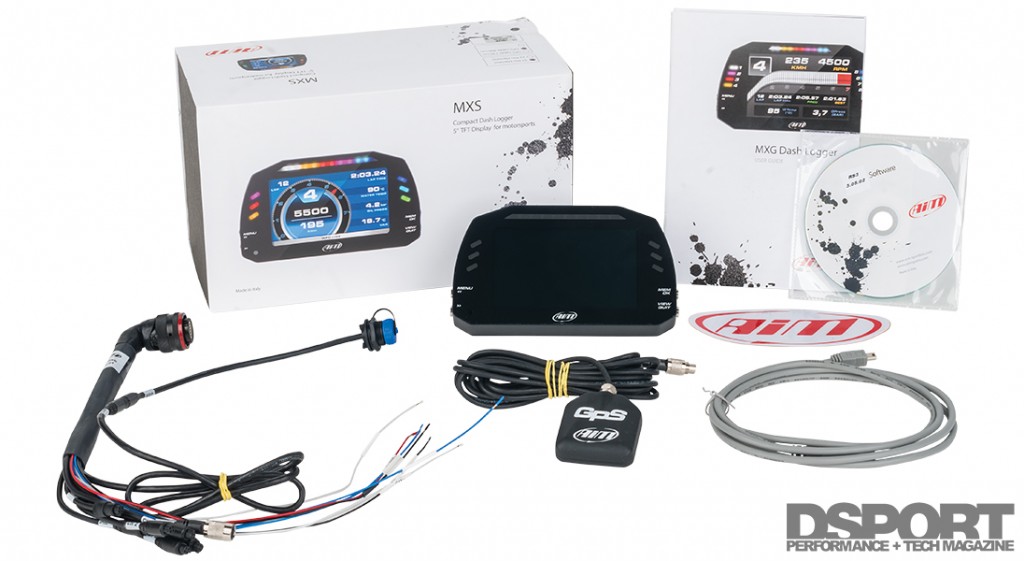 The unit includes everything needed to get started for setup and basic data display and logging. As for mounting, chances are you will need to fabricate the hardware necessary to fit it to your liking.