Kits Over $99

HeadlightRenewDoctor
Headlight Restoration Kit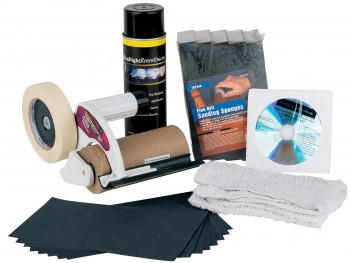 HeadlightRenewDoctor's (HRD) headlight restoration kit is based on proven techniques refined by automotive repair specialists. After sanding off the UV deterioration and buffing the lenses, a layer of HRD's UV Protection Sealant cures in approximately five minutes, renews and restores a lens to "like-new" condition that will last for 3-to-5 years. Without the UV sealant, the lenses will turn yellow in 3-6 months.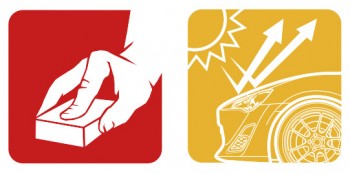 www.Headlightrenewdoctor.com
P/N: HRD 1010T
Kit Type: Consumer and Professional
Contents: Tape and Paper, Sanding Block, 600 and 1000 Grit Sand Papers,
Cloth Cleaning Wipe, UV Protective Sealant Can, Instruction Sheet
Durability: 36-60 Mos.
Freq. of Treatment: Once
# of Lens Treatments: 20
MSRP: $99.95
---
LensBright
UV Headlight Restorer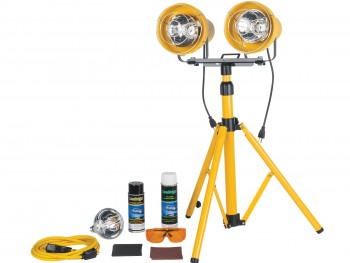 LensBright Headlight Restorer is a UV cure coating developed to restore a durable, factory look to plastic headlights. This specially formulated coating cures with direct sunlight or with LensBright's Handheld or Low intensity UVA Dual Lamp Tripod UV System. Restoring UV damaged headlights will increase light output and improving nighttime driving safety, while improving the appearance of your car. This coating has been observed to withstand three years of Florida's climate exposure with no deterioration.
www.cureuv.com

P/N: 191956
Kit Type: Professional
Contents: (1) LensBright UV Tripod Fixture with Dual UV-A Lamps, (1) LensBright Headlight Restorer 12oz. Aerosol – UV Curable Coating, (1) LensBright Headlight Foaming Cleaner 19oz. Aerosol, (1) Uvex Ultra Spec Orange Safety Glasses, (20) 600 Grit Wet/Dry Sandpaper, (20) 1500 Grit Wet/ Dry Sandpaper
Steps: 3
Durability: Permanent
Freq. of Treatment: None
# of Lens Treatments: 20
MSRP: $409.99
---
Symtech
Headlamp Restoration Kit Pro Series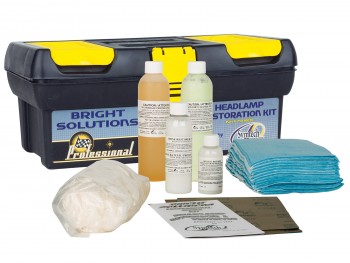 The Bright Solutions Headlamp Restoration Car Care Kit is a three-step headlamp restoration solution that will leave your headlamps looking like new, performing like new and shining up to 100% brighter than before the service, projecting up to 80% more light on the road. This process not only cleans but also seals the headlamp from the elements, providing years of clear nighttime driving visibility.
www.symtechcorp.net

P/N: 75010030
Kit Type: Professional
Contents: Pretreatment, Sand Paper, Polish and UV Protector
Steps: 5
Durability: 24 Mos.
Freq. of Treatment: 24 Mos.
# of Lens Treatments: 80
MSRP: $129.99
---
Home Remedies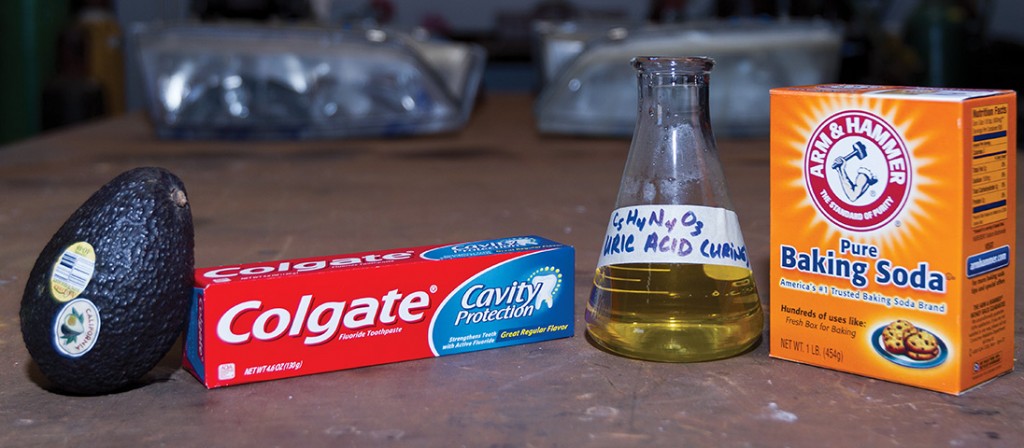 Avocado
The arguably delicious avocado serves better in salads, sandwiches, burgers and guacamole than it does on your headlight lens. It didn't really remove much of the oxidation and it ended up getting all over the place. Since it lacks any sort of abrasive properties, it would be useless against heavy oxidation or a heavily damaged factory UV finish. Plus, there is no UV coating so you'd end up treating your headlights regularly.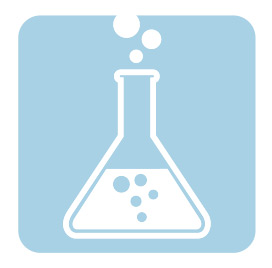 Kit Type: Home Remedy
Steps: 1
Durability: N/A
Freq. of Treatment: As Needed
# of Lens Treatments: 2-6
MSRP: $1.50 per unit
---
Baking Soda + Toothpaste
Baking Soda (sodium bicarbonate) serves as an ingredient in some food recipes and has proven an effective deodorizer for the refrigerator. When mixed with water, the resulting solution is sodium hydroxide and carbonic acid. The solution offered limited improvement, but the undisolved baking soda was abrasive enough to show some improved clarity. With toothpaste, the polishing properties outshined the chemical cleaning effects.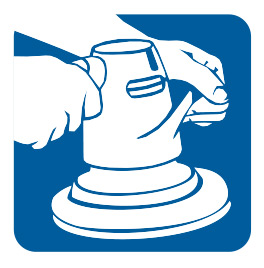 Kit Type: Home Remedy
Contents: Baking Soda, water, toothpaste
Steps: 1
Durability: N/A
Freq. of Treatment: As Needed
# of Lens Treatments: 2+
MSRP: $2-4
---
Urine + Toothpaste
Just because a substance is acidic doesn't necessarily mean that it is concentrated enough for chemical cleaning. The uric acid in urine was not a very effective solution for chemically cleaning the lens. We added some toothpaste to the urine and garnered better results, but the credit goes to the polishing abrasives in the toothpaste moreso than the acid in the urine.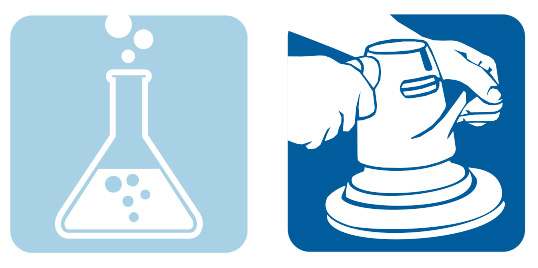 Kit Type: Home Remedy
Contents: Urine, Toothpaste
Steps: 1
Durability: N/A
Freq. of Treatment: As Needed
# of Lens Treatments: 2+
MSRP: $3
---
Page 3: Kits Under $30: Continued
Article: Clearing Up Your Headlight Restoration Concerns