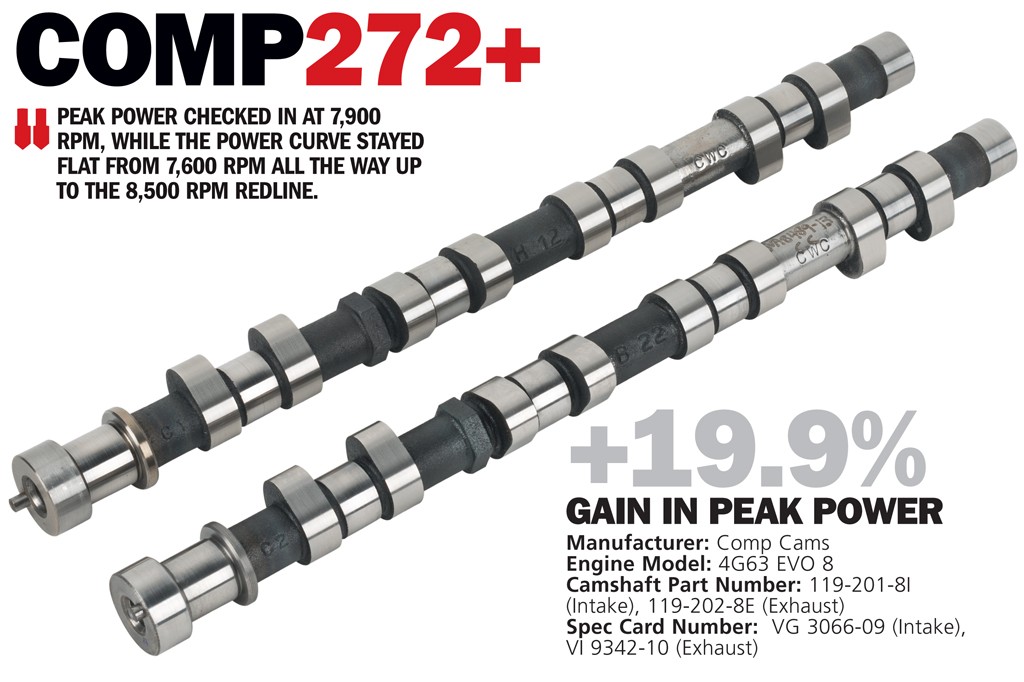 MANUFACTURER: Comp Cams
ENGINE MODEL: 4G63 EVO 8
CAMSHAFT PN# (INTAKE): 119-201-8I
CAMSHAFT PN# (EXHAUST): 119-202-8E
SPEC CARD# (INTAKE): VG3066-09
SPEC CARD# (EXHAUST): VI9342-10
INTAKE
EXHAUST
CAM TIMING EVENTS
Centerline
104°
112°
Valve Opening @ 1.0mm
1.8° ATDC
42.0° BBDC
Valve Opening @ 0.050″
5.1° ATDC
38.7° BBDC
Valve Closing @ 1.0mm
34.6° ABDC
9.9° BTDC
Valve Closing @ 0.050″
31.1° ABDC
13.3° BTDC
DURATION
Actual Duration @ 1.0mm
212.8°
212.1°
Actual Duration @ 0.050″
206.0°
205.3°
Claimed Duration @ 1.0mm
210.0°
210.0°
PEAK LIFT
Peak Valve Lift
11.2mm (0.441″)
10.5mm (0.413″)
Peak Cam Lift
6.5mm (0.255″)
6.1mm (0.239″)

Manufacturer's Pitch

272+, Works well on engines with upgraded turbos generating higher boost levels and features increased mid to upper RPM power.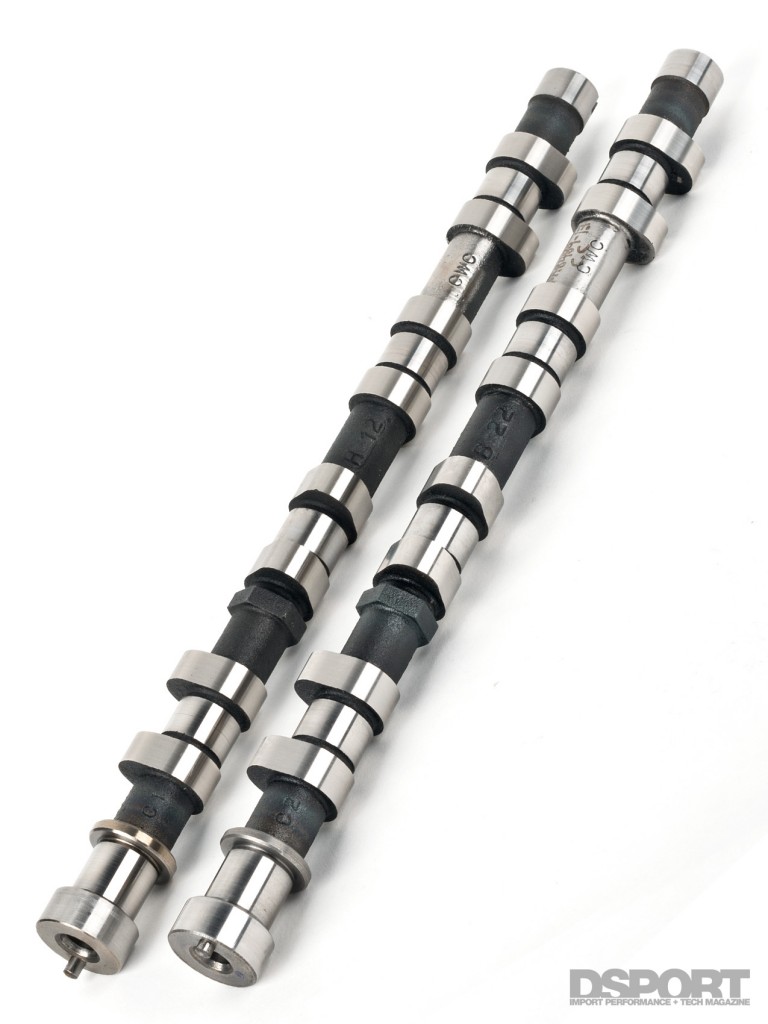 INFO
A power increase of nearly 90 horsepower can be realized with the Comp 272+ (256/257) camshaft set. While these camshafts delivered more power at the expense of a noticeably lopier idle, the additional 20 percent power at the peak means that significant gains can be realized with the Comp 272+ cams. While the Comp 272+ cams saw minimal power losses when compared to the 264+ cams under 4,500 RPM, the power bump from 5,000 RPM to redline demonstrated a strong powerband of the 272+ cams.
---
RUNDOWN
541.34 WHP @ 7,900 RPM
409.63 LB-FT @ 6,100 RPM
Peak power checked in at 7,900 RPM, while the power curve stayed flat from 7,600 RPM all the way up to the 8,500 RPM redline. Peak boost was reached at roughly 4,600 RPM. A flat torque curve from 5,000 to 6,250 RPM reaches a maximum just shy of 410 lb-ft at 6,100 RPM. The highest VE values of 99.9 were recorded at 6,500 RPM, and almost all the way from idle to redline (save for 3,500 RPM), Comp 272+ VE values topped the factory VE by a noticeable amount.
HORSEPOWER

RPM/WHP
FACTORY
COMP 272+
GAIN/(LOSS)
2500
49.66
57.70
8.04
3000
82.45
71.21
(11.24)
3500
112.31
109.49
(2.82)
4000
166.27
162.78
(3.49)
4500
281.42
301.67
20.25
5000
323.28
357.06
33.78
5500
371.95
412.55
40.60
6000
399.03
461.48
62.45
6500
415.72
482.19
66.47
7000
451.50
521.51
70.01
7500
N/A
511.37
N/A
8000
N/A
527.24
N/A
8500
N/A
515.9
N/A
VOLUMETRIC EFFICIENCY

RPM/%
FACTORY VE
COMP 264+
2500
80.5
89.4
3000
88.2
95.2
3500
98.6
96.3
4000
85.9
97.0
4500
85.0
97.0
5000
89.1
96.8
5500
92.1
97.8
6000
88.7
99.0
6500
88.8
99.9
7000
84.9
96.9
7500
N/A
92.0
8000
N/A
90.1
8500
N/A
84.0