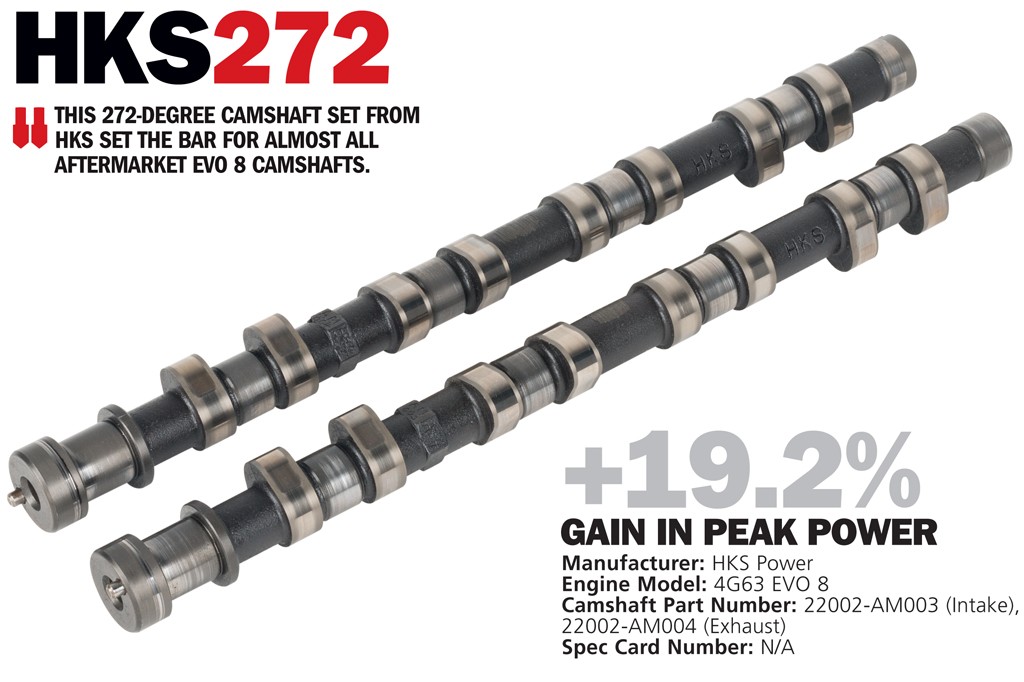 MANUFACTURER: HKS Power
ENGINE MODEL: 4G63 EVO 8
CAMSHAFT PN# (INTAKE): 2202-AM003
CAMSHAFT PN# (EXHAUST): 22002-AM004
SPEC CARD# (INTAKE): N/A
SPEC CARD# (EXHAUST): N/A
INTAKE
EXHAUST
CAM TIMING EVENTS
Centerline
110°
110°
Valve Opening @ 1.0mm
7.3° ATDC
38.9° BBDC
Valve Opening @ 0.050″
10.6° ATDC
35.6° BBDC
Valve Closing @ 1.0mm
39.4° ABDC
7.3° BTDC
Valve Closing @ 0.050″
35.8° ABDC
10.9° BTDC
DURATION
Actual Duration @ 1.0mm
212.1°
211.6°
Actual Duration @ 0.050″
205.1°
204.7°
Claimed Duration @ 1.0mm
214.0°
214.0°
PEAK LIFT
Peak Valve Lift
10.8mm (0.425″)
10.2mm (0.401″)
Peak Cam Lift
6.2mm (0.245″)
5.9mm (0.232″)

Manufacturer's Pitch

HKS high performance camshafts are CAD designed to optimize torque and horsepower over the widest possible power band. By manufacturing all camshafts from new cores, HKS is able to produce camshafts that equal or exceed the quality of the OEM units they are designed to replace. HKS camshafts are direct replacements and are designed to be compatible with the factory valve train components.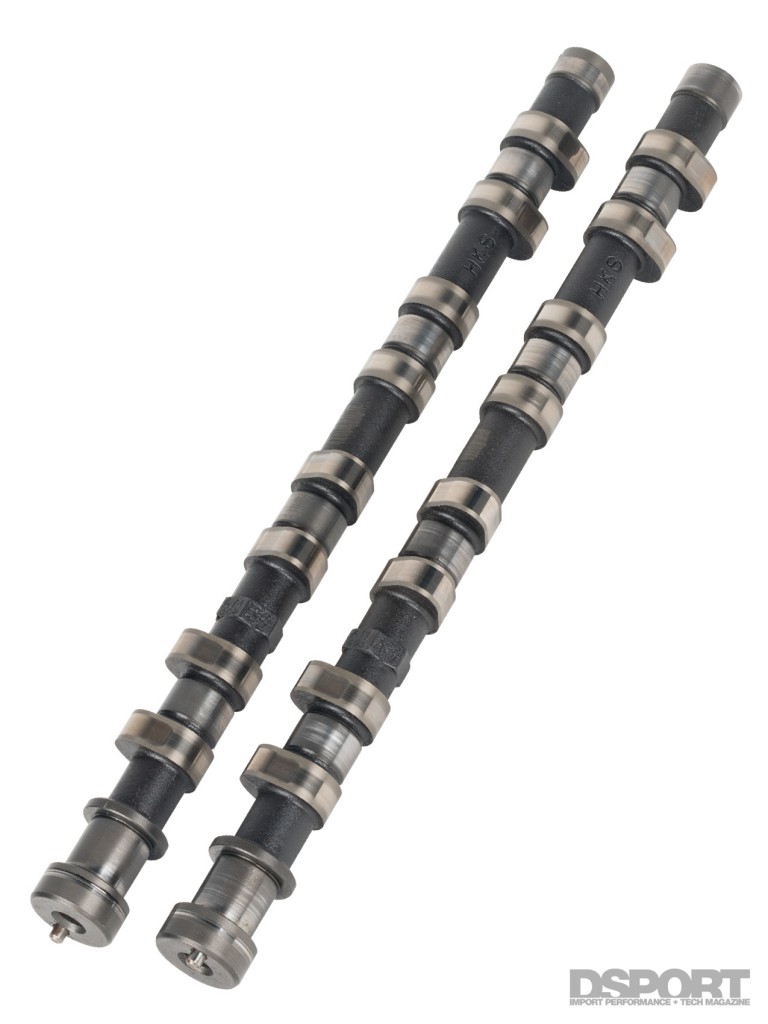 INFO
Since its inception, this 272-degree camshaft set from HKS set the bar for almost all aftermarket EVO 8 camshafts. A peak power increase on the order of nearly 20 percent meant that significant power gains could be had with a simple camshaft swap. A relatively mild lift meant that the HKS 272s maintained a smooth idle with little noticeable lope. Although the HKS 272s made less power than the factory units from 3,000 to 4,000 RPM, the power increases dramatically from 4,500 RPM to redline. Valve spring upgrade is not required by HKS, but we recommend it.
---
RUNDOWN
538.25 WHP @ 8,300 RPM
403.51 LB-FT @ 5,700 RPM
Peak power checked in at 8,300 RPM, as the power curve flattened out from 7,000 to 8,500 RPM. Peak boost was reached at roughly 4,900 RPM. The torque curve remains flat from 4,500 to 7,000 RPM and then drops off noticeably on the top end. Maximum torque of just over 400 lb-ft was reached at 5,700 RPM. Highest VE values were recorded at 6,500 RPM, cresting the 100.0 mark. Superior VE values over factory were recorded throughout the RPM range except for a slight drop at 3,500 RPM.
HORSEPOWER

RPM/WHP
FACTORY
HKS 272
GAIN/(LOSS)
2500
49.66
51.04
1.38
3000
82.45
68.89
(13.56)
3500
112.31
106.32
(5.99)
4000
166.27
158.63
(7.64)
4500
281.42
297.03
15.61
5000
323.28
355.60
32.32
5500
371.95
408.86
36.91
6000
399.03
455.70
56.67
6500
415.72
482.53
66.81
7000
451.50
505.11
53.61
7500
N/A
516.21
N/A
8000
N/A
513.62
N/A
8500
N/A
519.99
N/A
VOLUMETRIC EFFICIENCY

RPM/%
FACTORY VE
HKS 272
2500
80.5
88.7
3000
88.2
95.3
3500
98.6
96.4
4000
85.9
97.0
4500
85.0
96.8
5000
89.1
96.8
5500
92.1
97.8
6000
88.7
99.0
6500
88.8
100.0
7000
84.9
97.3
7500
N/A
92.1
8000
N/A
90.1
8500
N/A
84.2