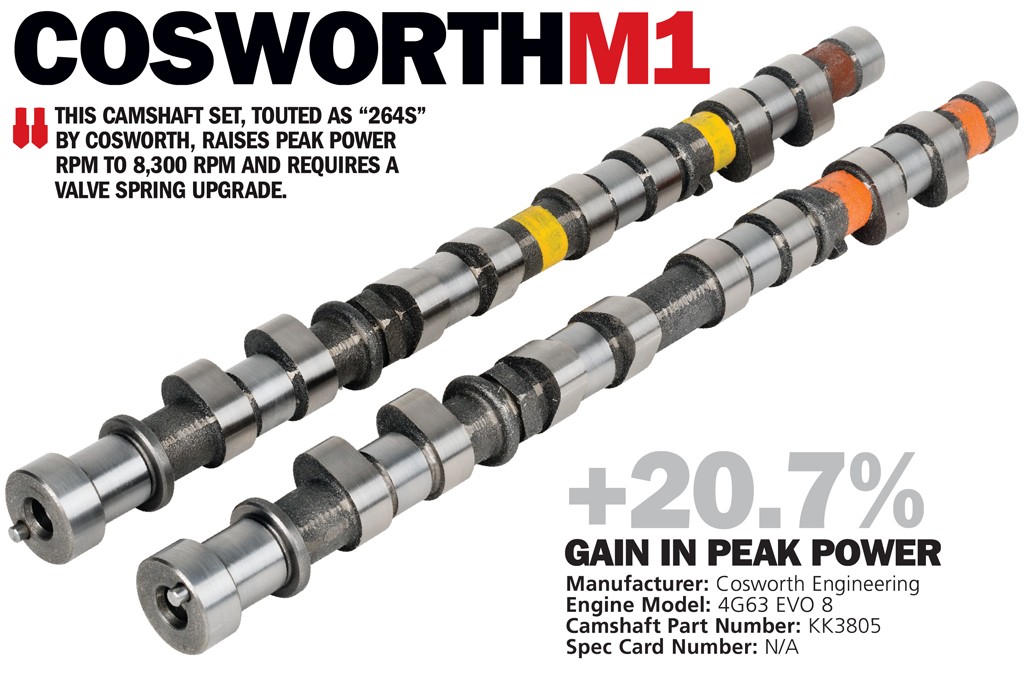 MANUFACTURER: Cosworth Engineering
ENGINE MODEL: 4G63 EVO 8
CAMSHAFT PN#: KK3805
SPEC CARD#: N/A
INTAKE
EXHAUST
CAM TIMING EVENTS
Centerline
107°
113°
Valve Opening @ 1.0mm
4.7° ATDC
49.2° BBDC
Valve Opening @ 0.050″
8.3° ATDC
45.3° BBDC
Valve Closing @ 1.0mm
38.7° ABDC
8.7° BTDC
Valve Closing @ 0.050″
34.7° ABDC
12.9° BTDC
DURATION
Actual Duration @ 1.0mm
214.0°
220.5°
Actual Duration @ 0.050″
206.4°
212.4°
Claimed Duration @ 1.0mm
214.5°
213.5°
PEAK LIFT
Peak Valve Lift
11.1mm (0.436″)
10.3mm (0.404″)
Peak Cam Lift
6.5mm (0.252″)
5.9mm (0.233″)

Manufacturer's Pitch

Cosworth has been engineering camshafts for nearly 50 years. That coupled with years of innovative multi valve cylinder head design ensures our camshaft designs are the most efficient in providing maximum usable power across the widest power band. Each cam is ground from a new billet and finished using the same procedures we use in our extreme level race engines. Cosworth camshafts are the perfect compliment to our CNC Ported Big Valve Cylinder heads. Our cams are profiled to increase boost response thereby increasing engine torque and power.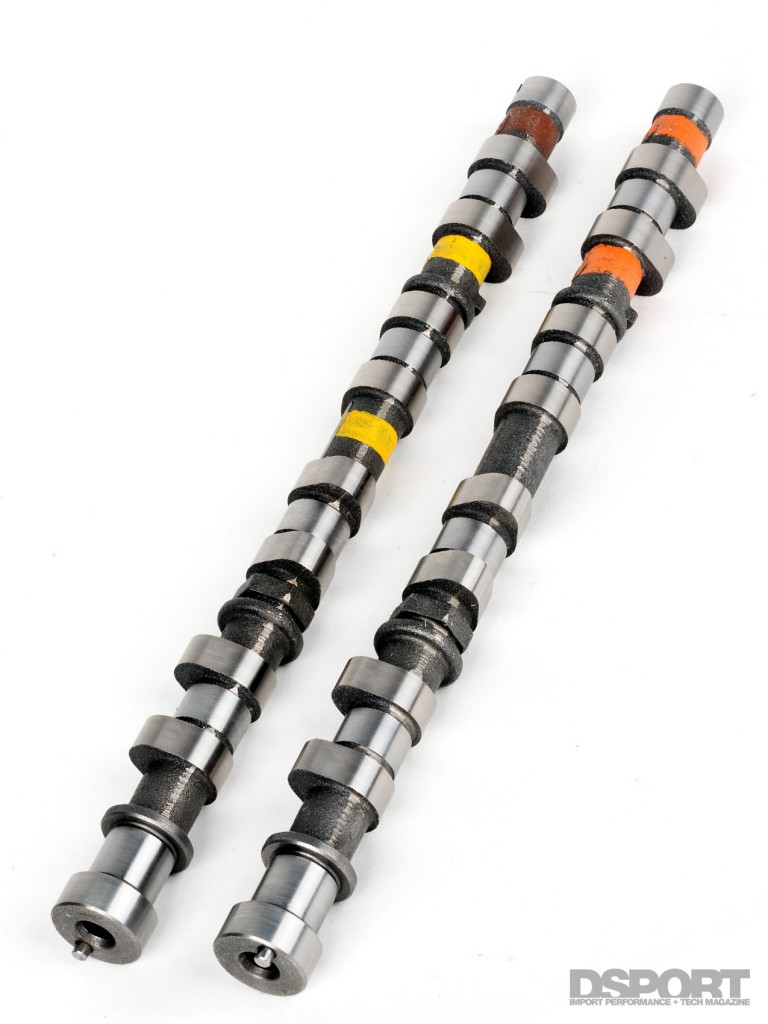 INFO
The milder of the two Cosworth offerings, the M1s from Cosworth delivered a 20 percent increase in peak power over the factory bumpsticks. This camshaft set, touted as "264s" by Cosworth, raises peak power RPM to 8,300 RPM and requires a valve spring upgrade. Despite a slightly lopey idle, streetability of the vehicle is hardly affected. Past 4,000 RPM, the Cosworth M1 camshaft set made significant power gains. The loss in power from 3,000 to 4,000 may be attributed to the larger-than-factory AMS intake manifold with big runners.
---
RUNDOWN
544.74 WHP @ 8,300 RPM
409.05 LB-FT @ 6,000 RPM
Peak power checked in at 8,300 RPM, as the power curve flattened out from 7,000 to 8,500 RPM. Peak boost was reached at roughly 4,400 RPM. The torque curve remains flat from 5,300 to 7,200 RPM and tapers off slightly higher in the power band. Maximum torque of nearly 410 lb-ft was reached at 6,000 RPM. Highest VE values were recorded at 6,500 RPM, just barely reaching the 100.0 mark. Superior VE figures superior to the factory camshafts were recorded from 4,000 to 8,500 RPM.
HORSEPOWER

RPM/WHP
FACTORY
COSWORTH M1
GAIN/(LOSS)
2500
49.66
53.02
3.36
3000
82.45
63.96
(18.49)
3500
112.31
100.38
(11.93)
4000
166.27
147.96
(18.31)
4500
281.42
288.02
6.60
5000
323.28
352.76
29.48
5500
371.95
411.55
39.60
6000
399.03
459.21
60.18
6500
415.72
490.04
74.32
7000
451.50
520.92
69.42
7500
N/A
525.30
N/A
8000
N/A
534.15
N/A
8500
N/A
533.94
N/A
VOLUMETRIC EFFICIENCY

RPM/%
FACTORY VE
COSWORTH M1
2500
80.5
89.3
3000
88.2
95.3
3500
98.6
96.5
4000
85.9
97.0
4500
85.0
96.8
5000
89.1
96.9
5500
92.1
97.7
6000
88.7
99.0
6500
88.8
100.0
7000
84.9
97.3
7500
N/A
92.0
8000
N/A
90.0
8500
N/A
84.0