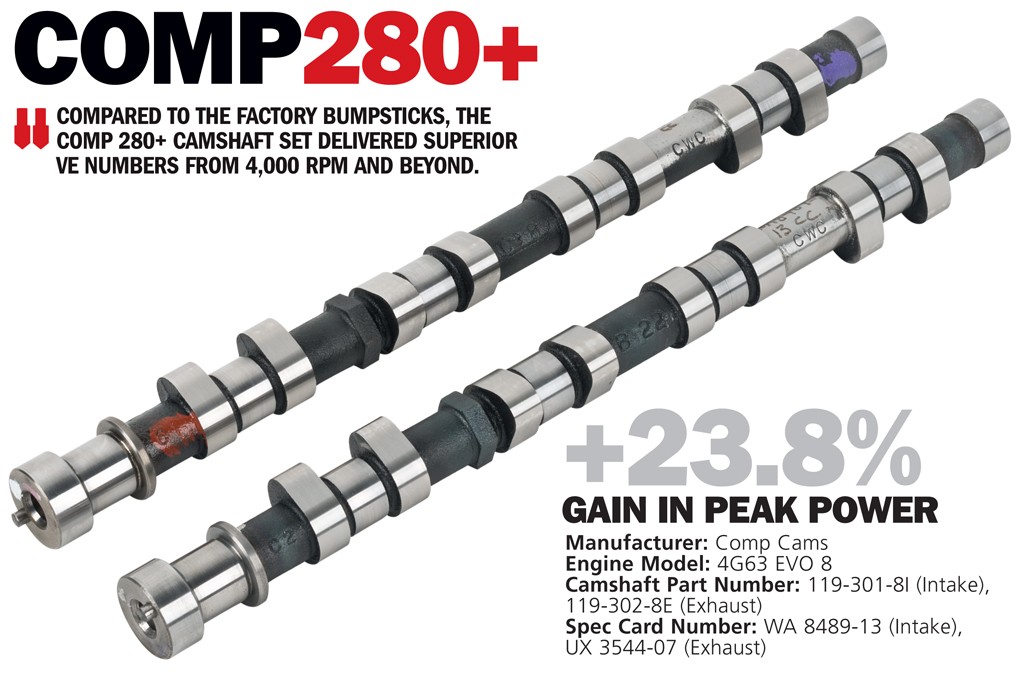 MANUFACTURER: Comp Cams
ENGINE MODEL: 4G63 EVO 8
CAMSHAFT PN# (INTAKE): 119-301-8I
CAMSHAFT PN# (EXHAUST): 119-302-8E
SPEC CARD# (INTAKE): WA8489-13
SPEC CARD# (EXHAUST): UX3544-07
INTAKE
EXHAUST
CAM TIMING EVENTS
Centerline
104°
112°
Valve Opening @ 1.0mm
0.8° ATDC
46.4° BBDC
Valve Opening @ 0.050″
2.6° ATDC
43.0° BBDC
Valve Closing @ 1.0mm
46.4° ABDC
5.7° BTDC
Valve Closing @ 0.050″
43.0° ABDC
9.2° BTDC
DURATION
Actual Duration @ 1.0mm
221.0°
220.6°
Actual Duration @ 0.050″
214.2°
213.8°
Claimed Duration @ 1.0mm
218.0°
218.0°
PEAK LIFT
Peak Valve Lift
11.2mm (0.442″)
10.5mm (0.414″)
Peak Cam Lift
6.5mm (0.255″)
6.1mm (0.239″)

Manufacturer's Pitch

280+, Excellent for big turbos with high boost levels and using ported heads. Designed to deliver maximum power in higher RPM range.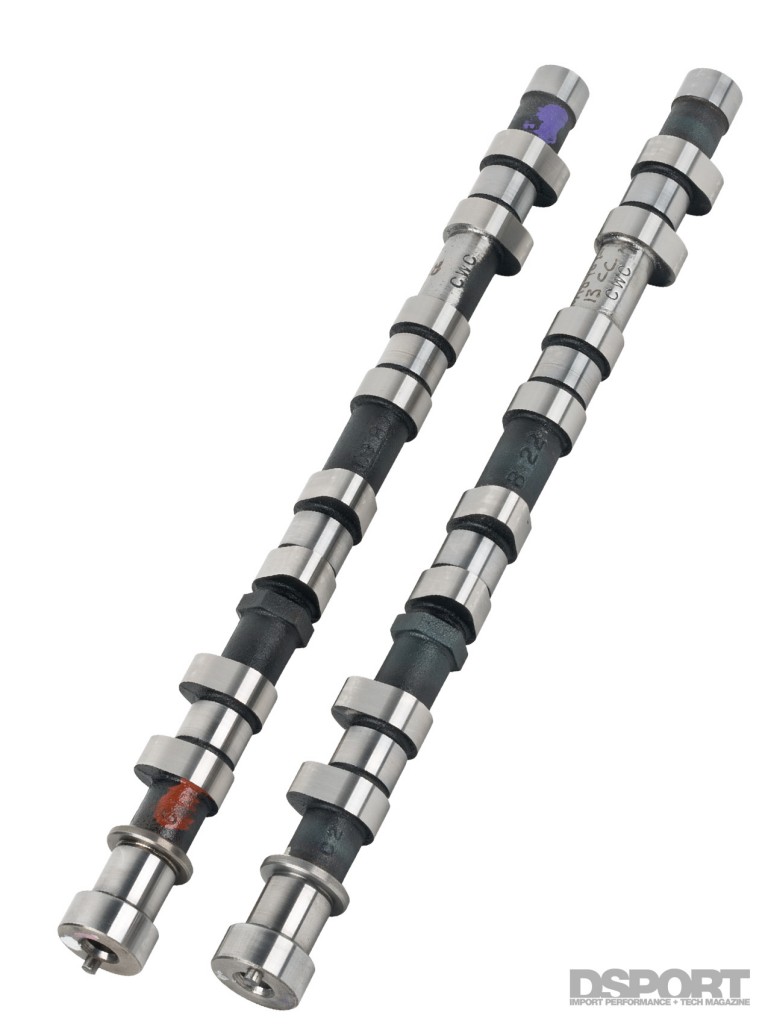 INFO
The biggest and baddest offering from Comp Cams, the 280+, offers 100 additional horsepower over the factory camshafts. Peak power rose to 559.09 whp at 7,900 RPM. The Comp 280+ camshaft set delivers a strong powerband above 4,500 RPM at the expense of a lopey idle. Valve spring upgrades are required with these camshafts. Not only did the Comp 280s perform exceptionally on the top end, they also made more power than any other grind at 2,500 and 4,500 RPM.
---
RUNDOWN
559.08 WHP @ 7,900 RPM
408.65 LB-FT @ 6,200 RPM
Peak power checked in at 7,900 RPM, as the power curve remained virtually flat from 7,900 to 8,500 RPM. Peak boost was reached at just under 5,000 RPM. The torque curve stayed steady from 5,300 to 7,000 RPM. Maximum torque registering just over 400 lb-ft was reached at 6,200 RPM. The highest VE values were recorded at 6,500 RPM. Compared to the factory bumpsticks, the Comp 280+ camshaft set delivered superior VE numbers from 4,000 RPM and beyond.
HORSEPOWER

RPM/WHP
FACTORY
COMP 280+
GAIN/(LOSS)
2500
49.66
54.27
4.61
3000
82.45
65.22
(17.23)
3500
112.31
101.31
(11.00)
4000
166.27
149.86
(16.41)
4500
281.42
295.44
14.02
5000
323.28
352.95
29.67
5500
371.95
414.95
43.00
6000
399.03
463.17
64.14
6500
415.72
494.20
78.48
7000
451.50
525.10
73.60
7500
N/A
536.59
N/A
8000
N/A
544.80
N/A
8500
N/A
540.37
N/A
VOLUMETRIC EFFICIENCY

RPM/%
FACTORY VE
COMP 264+
2500
80.5
89.3
3000
88.2
95.3
3500
98.6
96.4
4000
85.9
97.0
4500
85.0
97.0
5000
89.1
96.8
5500
92.1
97.7
6000
88.7
99.0
6500
88.8
100.0
7000
84.9
97.0
7500
N/A
92.0
8000
N/A
90.0
8500
N/A
83.9