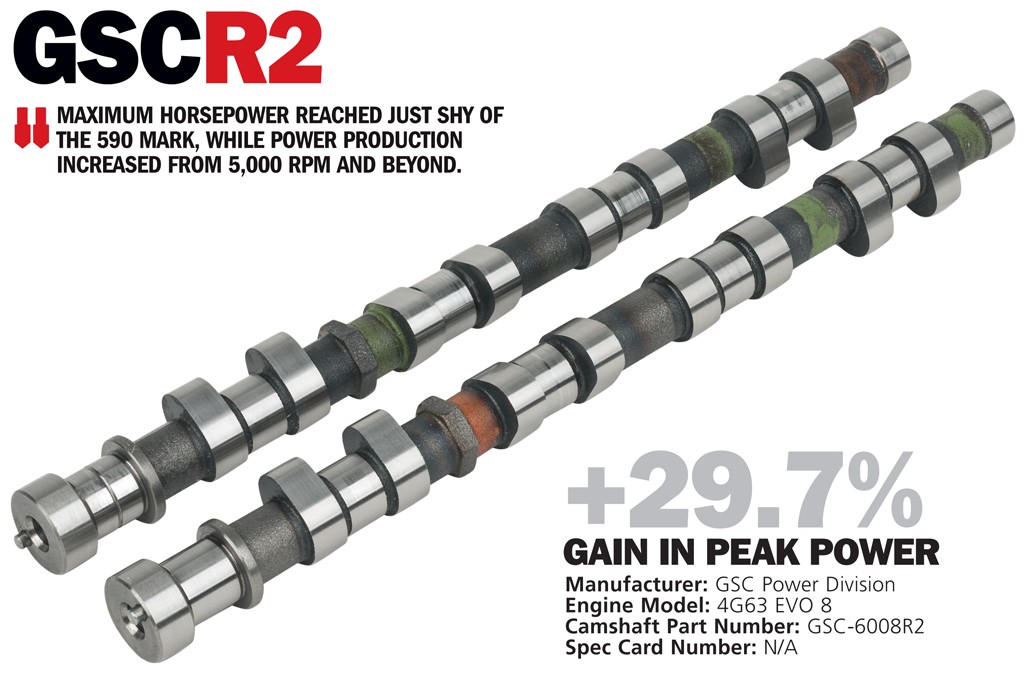 MANUFACTURER: GSC Power Division
ENGINE MODEL: 4G63 EVO 8
CAMSHAFT PN#: GSC-6008R2
SPEC CARD#: N/A
INTAKE
EXHAUST
CAM TIMING EVENTS
Centerline
109°
115°
Valve Opening @ 1.0mm
2.46° ATDC
56.94° BBDC
Valve Opening @ 0.050″
0.97° ATDC
52.96° BBDC
Valve Closing @ 1.0mm
50.19° ABDC
4.38° BTDC
Valve Closing @ 0.050″
46.17° ABDC
7.88° BTDC
DURATION
Actual Duration @ 1.0mm
232.7°
232.6°
Actual Duration @ 0.050″
225.2°
225.1°
Claimed Duration @ 1.0mm
236.0°
236.0°
PEAK LIFT
Peak Valve Lift
12.1mm (0.475″)
12.0mm (0.474″)
Peak Cam Lift
7.0mm (0.275″)
7.0mm (0.274″)

Manufacturer's Pitch

The 6008R2 is a high lift, very aggressive profile with a short overall duration to keep a lower usable RPM band. The 6008R2 is designed to rev between 4000-8500 RPM and should be used with a stroked engine or added displacement engine.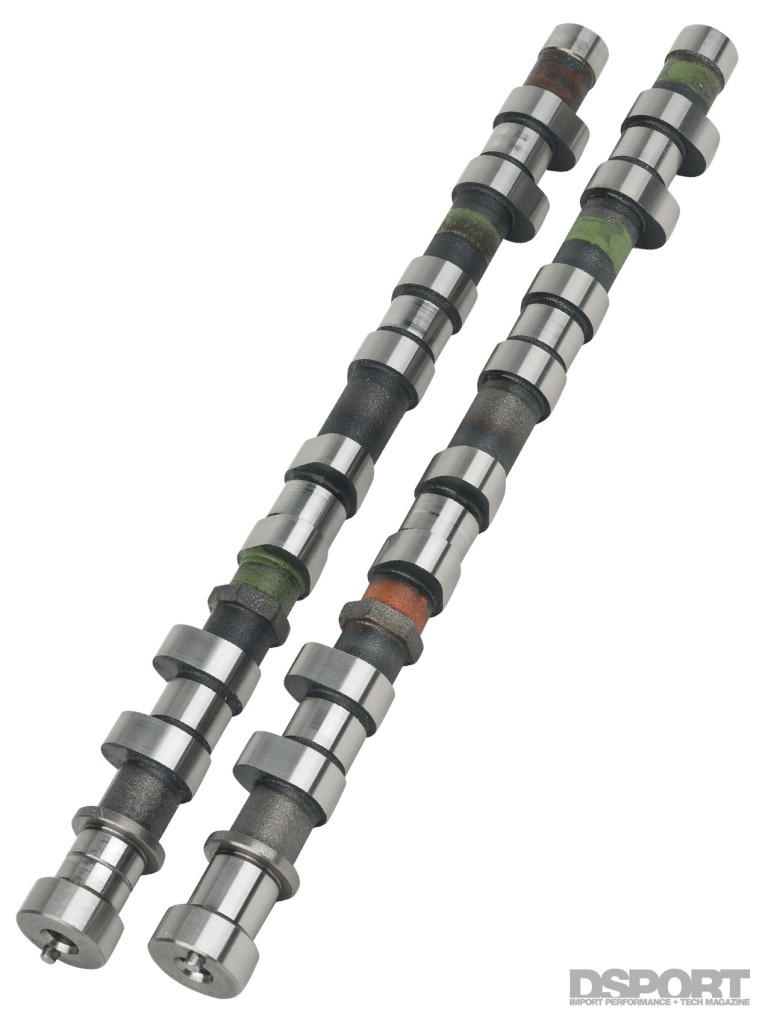 INFO
Designed for a stroker engine, the GSC R2 camshaft set delivers extremely high lift of over 12.0mm and a shorter duration than the GSC S3s. While very different in profile to the S3s, the R2s delivered a similar power curve on our EVO test vehicle. Maximum horsepower reached just shy of the 590 mark, while power production increased from 5,000 RPM and beyond. These camshafts gave the 4G63 a very lopey, race-car-like idle. Upgraded valve springs are required for the GSC R2s.
---
RUNDOWN
585.57 WHP @ 8,500 RPM
415.09 LB-FT @ 6,000 RPM
Peak power checked in at the 8,500 RPM redline, while peak boost was reached at about 5,000 RPM. A relatively consistent torque band from 5,200 to 7,200 RPM delivered a peak torque figure of just above 415 lb-ft at 6,000 RPM. The highest VE values of 99.0 and higher were recorded between 6,000 and 6,500 RPM. Aside from the 3500-RPM mark, VE figures increased significantly from 2,500 to 8,500 RPM.
HORSEPOWER

RPM/WHP
FACTORY
GSC R2
GAIN/(LOSS)
2500
49.66
43.26
(6.40)
3000
82.45
59.11
(23.34)
3500
112.31
83.66
(28.65)
4000
166.27
126.00
(40.27)
4500
281.42
230.94
(50.48)
5000
323.28
346.55
23.27
5500
371.95
421.73
49.78
6000
399.03
470.18
71.15
6500
415.72
507.09
91.37
7000
451.50
541.20
89.70
7500
N/A
566.98
N/A
8000
N/A
572.55
N/A
8500
N/A
585.57
N/A
VOLUMETRIC EFFICIENCY

RPM/%
FACTORY VE
GSC R2
2500
80.5
87.4
3000
88.2
93.1
3500
98.6
96.6
4000
85.9
96.0
4500
85.0
97.8
5000
89.1
97.1
5500
92.1
97.8
6000
88.7
99.0
6500
88.8
99.9
7000
84.9
97.0
7500
N/A
92.3
8000
N/A
90.0
8500
N/A
84.6