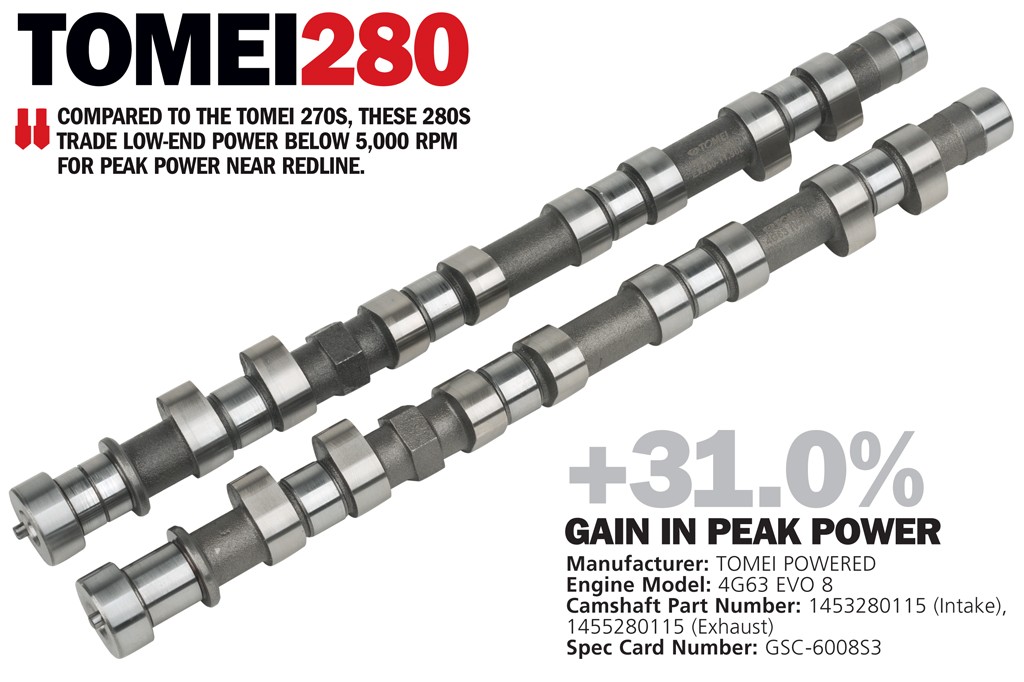 MANUFACTURER: TOMEI POWERED
ENGINE MODEL: 4G63 EVO 8
CAMSHAFT PN# (INTAKE): 1453280115
CAMSHAFT PN# (EXHAUST):1455280115
SPEC CARD# : GSC-6008S3
INTAKE
EXHAUST
CAM TIMING EVENTS
Centerline
110°
115°
Valve Opening @ 1.0mm
1.0° ATDC
56.4° BBDC
Valve Opening @ 0.050″
2.5° ATDC
52.6° BBDC
Valve Closing @ 1.0mm
51.4° ABDC
4.0° BTDC
Valve Closing @ 0.050″
47.5° ABDC
7.6° BTDC
DURATION
Actual Duration @ 1.0mm
232.4°
232.4°
Actual Duration @ 0.050″
225.0°
225.1°
Claimed Duration @ 1.0mm
233.5°
232.5°
PEAK LIFT
Peak Valve Lift
11.5mm (0.454″)
11.5mm (0.451″)
Peak Cam Lift
6.7mm (0.263″)
6.6mm (0.261″)

Manufacturer's Pitch

TOMEI has released a wide range of camshafts for the 4G63 to suit various users' needs. The PROCAM 280-11.5 is for the serious users who need results when every milli-second counts. These will deliver the added power and are made for increased performance from mid to high end RPM. Not for the faint hearted and will require professional setup and installation.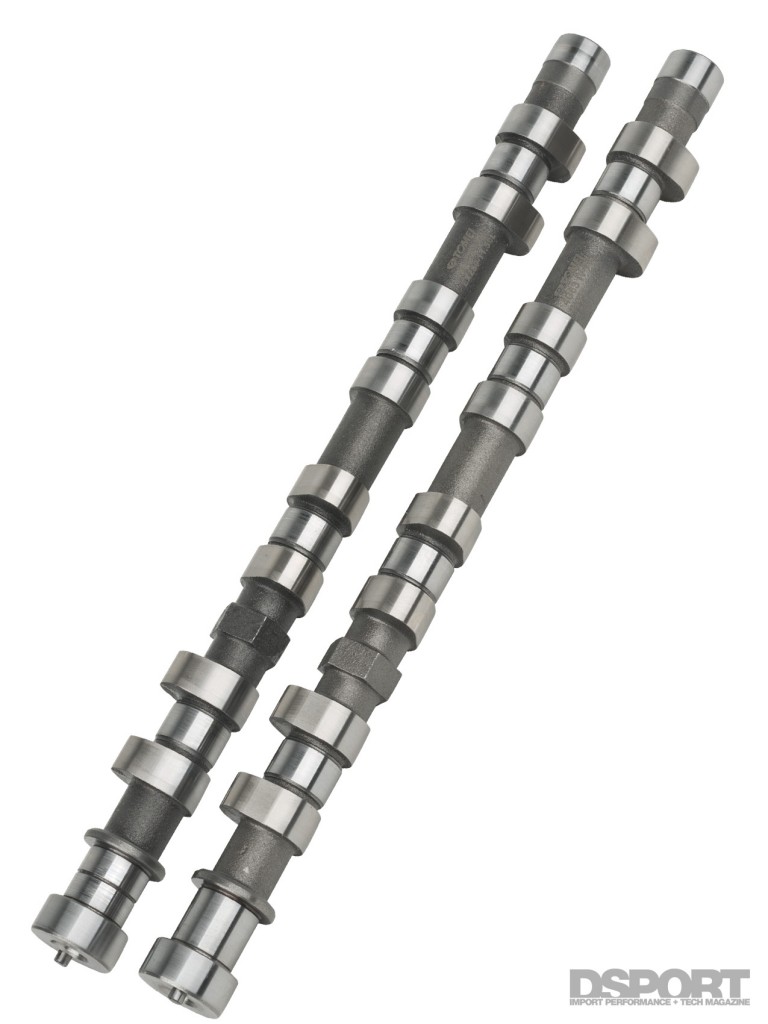 INFO
Stepping up from the 272 pack, the TOMEI 280 camshaft set offers an extremely high lift of 11.5mm and peak power at 8,400 RPM. Maximum horsepower checked in right above the 590 figure, resulting in a 30 percent increase over the factory cams. This set of high-duration, high-lift camshafts also induced a very lopey idle. From 5,000 to 8,500 RPM, the TOMEI 280s delivered a significant increase in power. Compared to the TOMEI 270s, these 280s trade low-end power below 5,000 RPM for peak power near redline. This set of Tomei camshafts requires upgraded valve springs.
---
RUNDOWN
591.60 WHP @ 8,400 RPM
417.13 LB-FT @ 6,600 RPM
Peak power checked in at 8,400 RPM, with the power curve remaining flat all the way to redline. Peak boost was reached at about 4,600 RPM. A flat torque band from 5,000 to 8,000 RPM delivered a peak torque figure of just over 415 lb-ft. Peak torque was achieved at 6,600 RPM. The highest VE values were recorded between 6,000 and 6,500 RPM. VE figures registered higher than the factory units from 4,000 RPM to the top.
HORSEPOWER

RPM/WHP
FACTORY
TOMEI 280
GAIN/(LOSS)
2500
49.66
46.36
(3.30)
3000
82.45
60.34
(22.11)
3500
112.31
85.96
(26.35)
4000
166.27
132.14
(34.13)
4500
281.42
236.23
(45.19)
5000
323.28
350.85
27.57
5500
371.95
421.84
49.89
6000
399.03
470.43
71.40
6500
415.72
504.75
89.03
7000
451.50
546.13
94.63
7500
N/A
574.69
N/A
8000
N/A
576.29
N/A
8500
N/A
590.45
N/A
VOLUMETRIC EFFICIENCY

RPM/%
FACTORY VE
TOMEI 280
2500
80.5
87.6
3000
88.2
93.0
3500
98.6
96.7
4000
85.9
96.0
4500
85.0
97.8
5000
89.1
97.2
5500
92.1
97.8
6000
88.7
99.0
6500
88.8
99.8
7000
84.9
96.8
7500
N/A
92.2
8000
N/A
90.2
8500
N/A
84.4