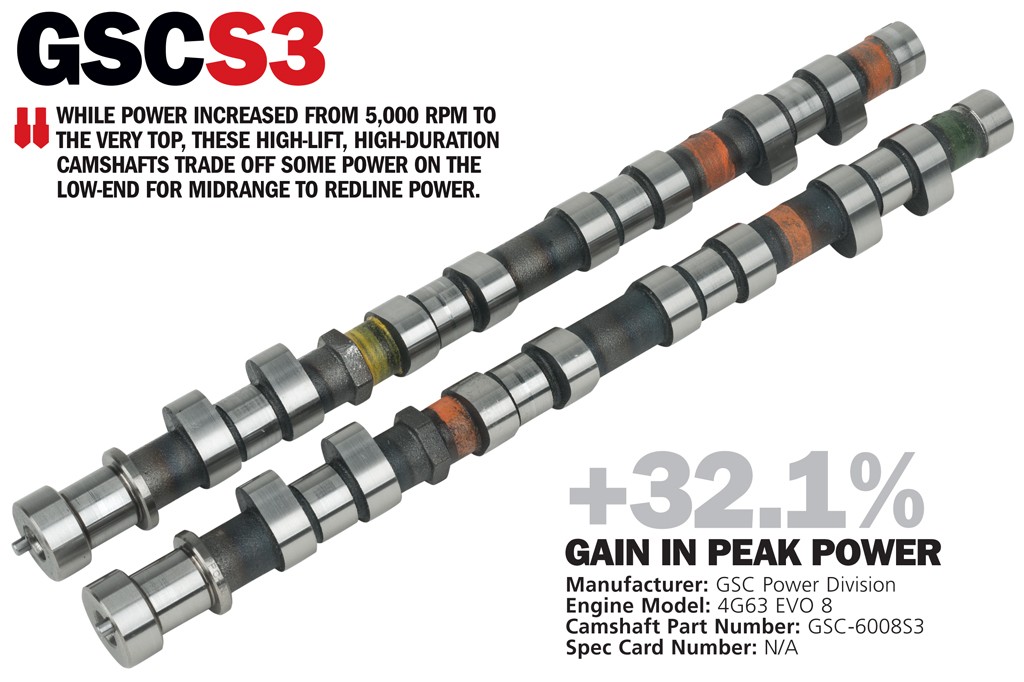 MANUFACTURER: GSC Power Division
ENGINE MODEL: 4G63 EVO 8
CAMSHAFT PN#: GSC-6008S3
SPEC CARD#: N/A
INTAKE
EXHAUST
CAM TIMING EVENTS
Centerline
109°
115°
Valve Opening @ 1.0mm
3.8° BTDC
53.8° BBDC
Valve Opening @ 0.050″
0.4° BTDC
50.2° BBDC
Valve Closing @ 1.0mm
51.5° ABDC
4.8° BTDC
Valve Closing @ 0.050″
47.5° ABDC
8.1° BTDC
DURATION
Actual Duration @ 1.0mm
235.3°
229.0°
Actual Duration @ 0.050″
227.8°
222.1°
Claimed Duration @ 1.0mm
238.0°
238.0°
PEAK LIFT
Peak Valve Lift
11.7mm (0.460″)
11.5mm (0.451″)
Peak Cam Lift
6.8mm (0.266″)
6.6mm (0.261″)

Manufacturer's Pitch

The S3 Cams are available in a solid lifter cam and a hydraulic lifter Cam for the Evo 4-8 4G63. These cams are intended for the 800+ WHP to take advantage of a very large turbo. These are NOT suggested for anyone running smaller than the 67mm to GT42R turbo.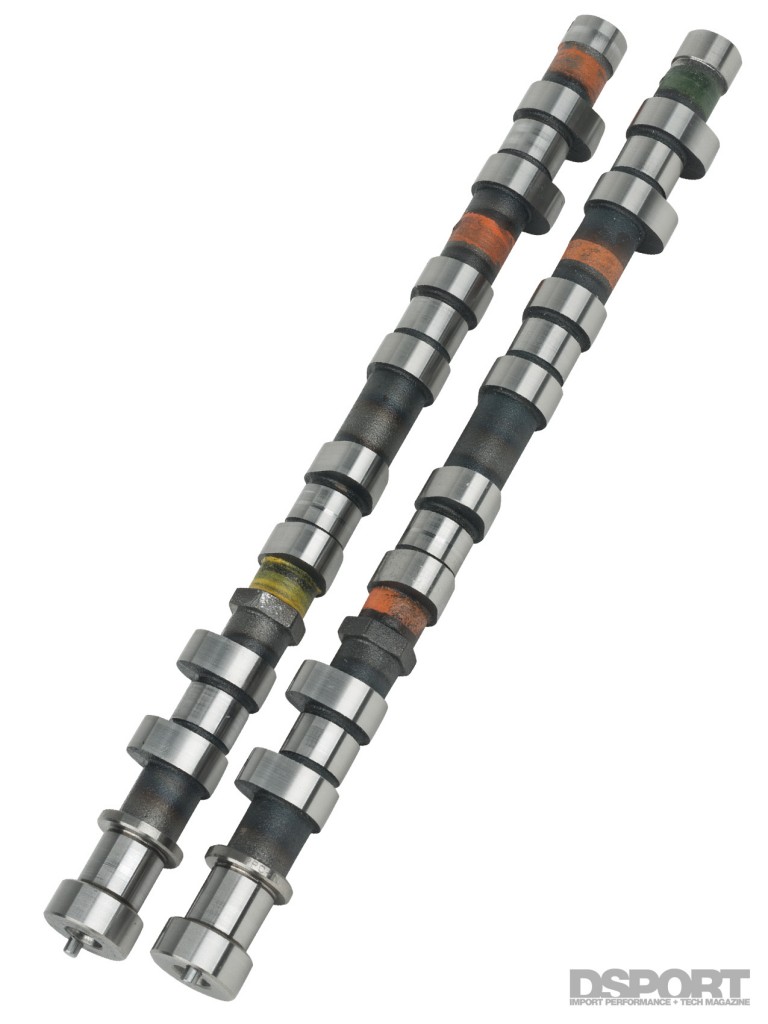 INFO
For EVO 8 owners looking to realize even more power potential from their 4G63, GSC offers its S3 camshafts. Maximum power peaked right below 600 wheel horsepower. With an over 30 percent increase in power, the valve springs definitely need upgrading. Not surprisingly, the idle with the S3s become very rough due to camshaft loping. While power increased from 5,000 RPM to the very top, these high-lift, high-duration camshafts trade off some power on the low-end for midrange to redline power.
---
RUNDOWN
596.93 WHP @ 8,400 RPM
417.22 LB-FT @ 6,600 RPM
Peak power checked in just before redline at 8,400 RPM. Peak boost was reached at about 4,700 RPM. A flat torque band from 5,000 to 7,500 RPM delivered a peak torque figure of just above 415 lb-ft at 6,600 RPM. The highest VE values were recorded at 6,500 RPM. VE figures registered higher across the RPM range except for a small loss around 3500 RPM.
HORSEPOWER

RPM/WHP
FACTORY
GSC S3
GAIN/(LOSS)
2500
49.66
43.37
(6.29)
3000
82.45
60.53
(21.92)
3500
112.31
83.53
(28.78)
4000
166.27
131.75
(34.52)
4500
281.42
239.97
(41.45)
5000
323.28
359.24
35.96
5500
371.95
427.24
55.29
6000
399.03
471.04
72.01
6500
415.72
508.46
92.74
7000
451.50
549.31
97.81
7500
N/A
579.21
N/A
8000
N/A
577.79
N/A
8500
N/A
589.84
N/A
VOLUMETRIC EFFICIENCY

RPM/%
FACTORY VE
GSC S3
2500
80.5
87.6
3000
88.2
92.9
3500
98.6
96.4
4000
85.9
96.0
4500
85.0
97.8
5000
89.1
97.1
5500
92.1
97.8
6000
88.7
99.1
6500
88.8
99.9
7000
84.9
97.1
7500
N/A
92.0
8000
N/A
90.0
8500
N/A
84.6