What's better… Subaru STi or EVO VIII? Both are great cars with tremendous potential for additional power and performance. Over the next year or two, we hope to provide some additional insight to this question by showing the performance potential of each vehicle.
Text by Michael Ferrara // Photos by Michael Ferrara and Phil Lam
DSPORT Issue #16
---
Our buildups will attempt to achieve peak reliable performance in three different configurations. Our first level will involve the parts and tuning that will help us achieve maximum performance from the stock engine and turbo combination. Our next level will attempt to achieve peak performance with the stock engine and internals. Finally, we will see how much reliable and streetable performance can be obtained by improving the engine itself. Along the way we hope to show the highs and lows of our experience. In that way, our readers can share with our successes and avoid the costly mistakes which may inadvertently encounter along the way.
The Good, the Bad, & the Ugly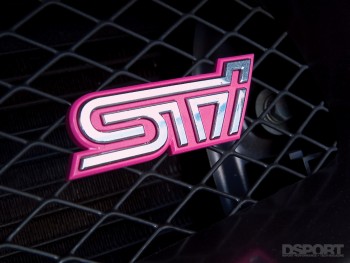 First, the Good. The EJ25 engine has a half-liter displacement advantage on the Mitsubishi 4G63. As a result, the available torque is roughly 25-percent greater at the same RPM and boost level.
Now, the Bad. We have next to zero prior experience in building up Subarus. We hope to rely on the expertise of some of the top Subaru tuners in the country for some direction. Additionally, the drive-by-wire throttle system in the STi has caused an obstacle for manufacturers of stand-alone, plugand- play engine management systems.
Finally, the Ugly. The flat-four arrangement of the EJ25 results in a unique exhaust note that many have referred to as "Sounding like its running on three cylinders." In our buildup, we'll explore some parts that help to alter the character of the exhaust note.
The Parts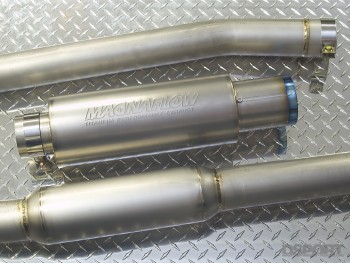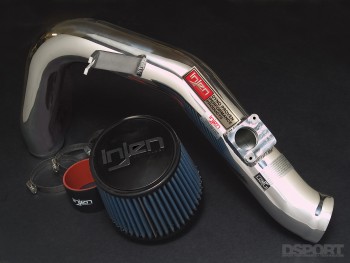 Easing into our buildup slowly, we decided on sticking to the basics: intake and exhaust. As for the intake, we opted for an Injen Technologies intake system. During the development process, Injen relies heavily on dyno testing to end up with a product that delivers exceptional power output while maintaining safe air/fuel ratios. With this particular intake system, the intake is part of the integral mass-air-sensor system. In designing these intake systems, Injen optimized the mass-airsensor calibration to maximize power output. For the exhaust, we decided on selecting a unique exhaust that matches the character and quality of the STi. To this end, we selected a MagnaFlow Titanium performance exhaust system. Manufactured in Japan, the exhaust systems are not only ultra-lightweight, but they also feature a large 80mm diameter for maximum performance. Available with or without an integrated resonator, we opted for the non-resonator edition.