MEET THE ELITE. DSPORT HAS ASSEMBLED THE TEN BEST CARS TO GRACE THE COVER OF DSPORT MAGAZINE. BY WAY OF ACHIEVEMENT, TECHNOLOGY, INNOVATION AND BUILD QUALITY, THESE MACHINES REPRESENT THE EPITOME OF IMPORT PERFORMANCE. HORSEPOWER OUTPUT, COMPREHENSIVE CHASSIS DEVELOPMENT, TRACK RECORDS, ONE-OFF FABRICATION AND ATTENTION TO DETAIL WERE JUST A FEW OF THE CRITERIA REQUIRED TO MAKE THE LIST. AT THEIR PRIME AND EVEN TODAY, THESE MACHINES COMMAND RESPECT AND HONOR. SO HERE IS OUR SALUTE TO THE TOP TEN COVER CARS OF THE FIRST 99 ISSUES OF DSPORT MAGAZINE.
01| VeilSide Skyline GT-R Project R-1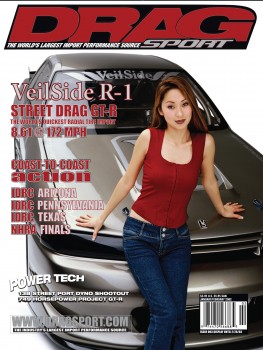 Street/Drag
Peak Horsepower: 1,360 @ 9,200 RPM (Bosch Dyno)
Issue: 03 / January/February 2003
Published Times: 8.612@172.5 MPH (Radials)
8.450@168 MPH (Slicks)
0-300 KMH – 13.00 seconds
VeilSide's president Hironao Yokomaku built this R32 GT-R to the extreme. Known as the VeilSide Project R-1, this Skyline was built with one goal in mind, to be the quickest import on radial tires. Without bumping up the displacement, the reinforced RB26DETT mill generated nearly 1400 horsepower and has achieved RH8 (Record Holder, 8-second quarter mile) status. How many cars can sprint the 1320 in 8.612 on radial tires and go from 0-300 KM/H in 13- seconds? And that was back in 2002. Even by today's standards, these are high bars to clear foremost performance builds. To hold the title of "Worlds Quickest Radial Tire Import" is a paramount achievement. To be DSPORT Magazine's number one cover car to date adds one more accolade to VeilSide's long list of accomplishments.
UPDATE
Once this Skyline had finished its tour in the USA, it returned to Japan and retired at VeilSide headquarters. VeilSide then built its top-speed R34 Skyline GT-R.