Aircraft pilots live for thrills on a different level. Some individuals like Bob Fahnestock enjoy flight both on and off the ground. Fahnestock has logged numerous hours in the air and has taken his passion for flying to another level. He's been involved with aviation for over three decades, establishing Helicopter Services of Nevada in addition to a flight school. His pride and joy in the sky is a vintage World War II T6 trainer that he flies at exhibitions and for personal enjoyment. On the ground, his daily commuter couldn't provide similar thrills, so Fahnestock decided it was time to find a car that was just as much fun as flying the T6.
There were several candidates on his list, but Fahnestock could not resist the timeless allure of the Acura NSX. He states, "I had a difficult time deciding on a car, since I really wanted to modify whichever platform I would end up choosing. I thought the NSX would be a great choice for a well balanced, daily drivable and enjoyable car that offered a tremendous value for the money." Fahnestock continues, "The excellent handling, smooth gearbox and linear power delivery combined make for a true driver's car. You always get a sense that you are driving a beautiful, precision machine."
Text and Photos by Richard Fong
---
Taking The NSX Higher
Initially, the plan was to work with Insane Speed of Las Vegas to install a Passport laser/radar detector, some gauges and a competition-quality stereo system. After consulting with Insane Speed's Todd Allen, the project became much more elaborate. Allen convinced Fahnestock to embrace forced induction to improve the performance of the NSX. While he couldn't imagine the NSX needing anything more to be fun and eye catching, Fahnestock agreed and the NSX began its performance ascent.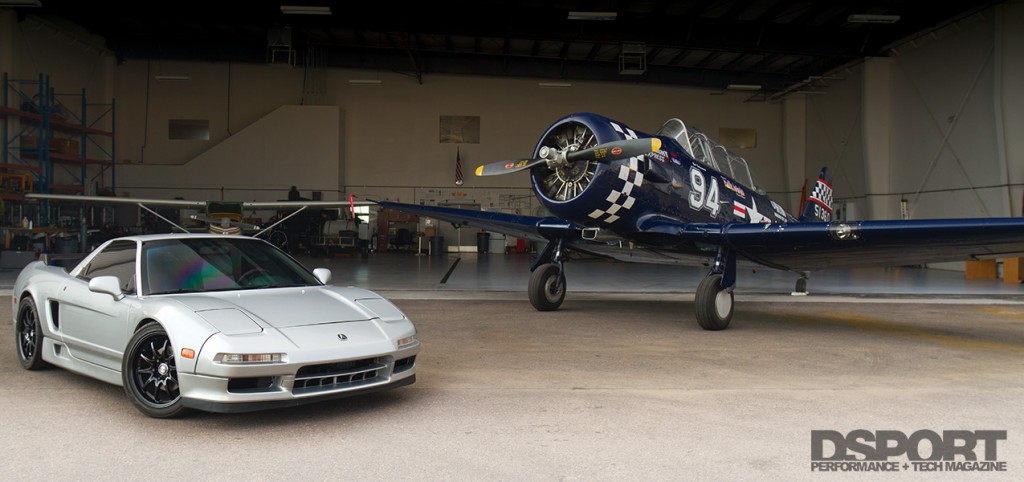 Give It A Boost
Insane Speed is no stranger to high performance. With a resume packed with 1,000-plus horsepower cars to its credit, extracting the maximum from the factory 3-liter V6 engine would be child's play. Given its mid- engine layout, work began underneath the NSX chassis. Custom stainless-steel manifolds were fabricated to direct rapidly- expanding gasses into the turbine inlet of a Precision Turbo & Engine 6265 turbocharger. Even though the horsepower target is little more than 400 horsepower, the dual-ball bearing, billet-wheel 6265 turbocharger is capable of supporting up to 700 horsepower, leaving room for future modifications and increases in power. Once the gasses spin the turbine wheel, they are directed into a Magnaflow muffler equipped with dual exhaust outlets.
Compact Intercooling
Given the mid-engine layout of the NSX, intercooling posed an interesting challenge. Since the compression of ambient air heats the charge and reduces its density, adding an intercooler helps to cool the air charge and increase its density. An air- to-water intercooler solution was chosen to simplify the charge-pipe plumbing while efficiently cooling the intake charge before it enters the factory throttle body.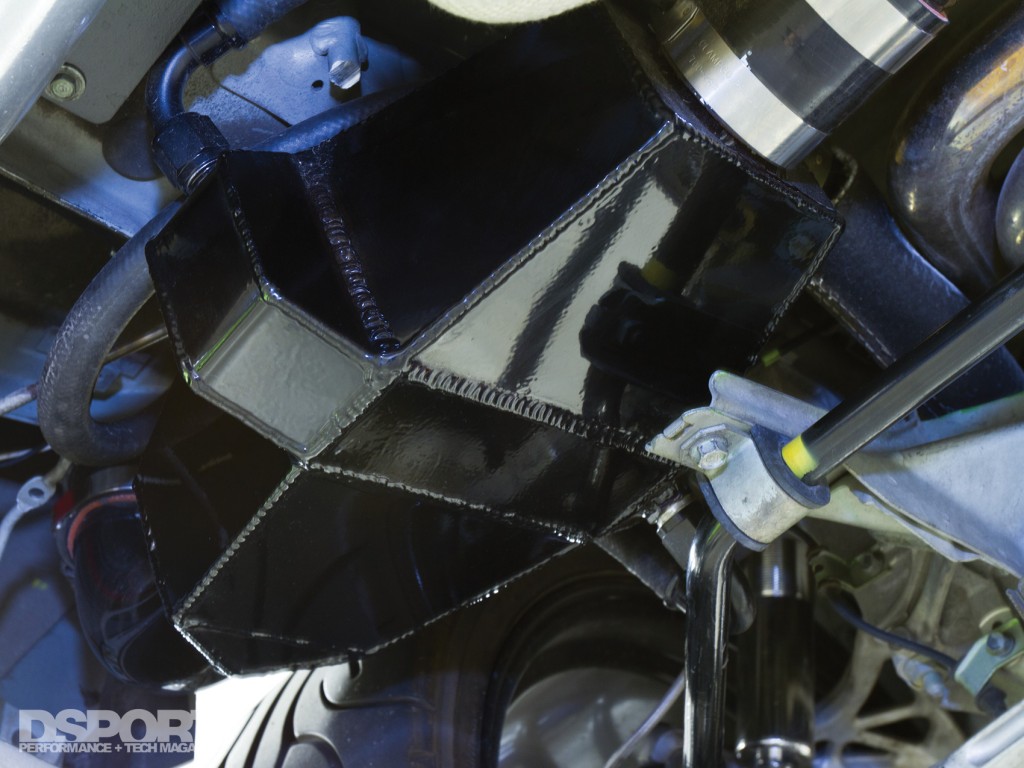 Air And Water Do Mix
Intercooling involves transferring heat away from the charge air in order to increase the air density, which in turn helps to reduce the chances of detonation at higher boost levels. In the case of the NSX, the mid-engine configuration leaves few options for intercooling and no direct flow of air (as is the case with a front engine car) to employ a front- mount intercooler without long and complex plumbing. An air-to-water intercooling solution uses water as a heat exchange medium which eliminates the need for direct airflow over the core. Due to the efficiency of air-to-water heat transfer, the core requires less surface area to accomplish the same goal.