HOW MUCH WOULD IT TAKE TO GET QUICKER AND GO faster? $5,000? $10,000? For Chris Young, crunching the numbers to ensure a balance of budget to performance started with his first car, a 1991 Eagle Talon. Chris said, "My first Talon ran a 12.8-second pass at 106 MPH with only an A'PEXi VAFC, an open downpipe and a ported stock turbocharger. After that I was hooked on 4G63 power." Since then, Chris' addiction took him through three more Talons, the last of which was to serve as his full race platform. In 2006, he purchased a new Civic for daily driving. After making payments for a year and crunching the numbers, he concluded that he'd be better off consolidating his build effort into a street drivable racecar instead. He sold the Talon and traded in the Civic for a new 2006 Mitsubishi EVO IX. With a brand new platform and his favorite engine to build upon, he researched his options for quicker e.t.s, faster traps and daily drivability.
Text by Richard Fong // Photos by Michael Ferrara and Richard Fong
---

Progressive Process
Chris set attainable goals each year with a set budget to make reaching the goal possible. His 2007 objective was to run mid 11-second passes with a stock turbocharger and premium unleaded fuel. He successfully hit his target with an 11.56-second pass at 118.8 MPH. For the next several years, he progressively raised the bar and set new budgets, making changes as parts reached or exceeded their performance limits. One method for keeping costs in check included performing much of the wrench work in his garage. He said, "Making the best out of what I have has worked well. I'm proud that I did all of the work under the hood (with the exception of the engine and transmission builds). Many people do too much at once and never spend enough time dialing in to achieve the optimal setup. I take pride in being able to beat guys that have more power and modifications with my simple setup."
Year: 2007

Turbo, Output, Fuel: Factory Turbocharger,

345 WHP, 344 lb-ft TQ, 93 Octane

Target: Mid 11s at 120 MPH

Results: 11.56 seconds at 119.23 MPH

Modifications: Buschur Racing 3-inch turbo-back exhaust, test pipe,

tubular O2 housing, ported exhaust manifold, intake, racing frontmount

intercooler w/ complete hard pipes, Forge manual boost

controller, Walbro 255-lph pump, Cosworth cams, Exedy twin-plate

clutch, Bushwacker transmission, DynoFlash/Buschur Racing custom tune

Cost: $6,900

Year: 2008

Turbo, Output, Fuel: FP Green, 410 WHP, 422 lb-ft TQ, 93 Octane

Target: Break into 10s at 125 MPH

Results: 10.9090 seconds at 126.06 MPH

Modifications: Buschur Racing 65mm throttle body and ported

intake manifold, 680cc/min Injectors, FP Green turbocharger,

DynoFlash/Buschur Racing custom tune

Cost: $2,390
Stepping Up The Power
In 2011, after running progressively larger "stock framed" turbochargers, Chris decided it was time to move into a T3-framed turbocharger. "I maxed out the stock turbocharger and an FP Green on the stock engine. I then upgraded to a Buschur Stage III block and maxed out an FP Red and an FP Black. The FP Black helped me dip into the 9s and break 600 horsepower, but I could not improve on my 9.79 pass at 145 MPH." To get to the next level, he selected a Forced Performance ball-bearing HTA GT3586R turbocharger. This turbo bolted to a Buschur Racing small-runner forward facing manifold.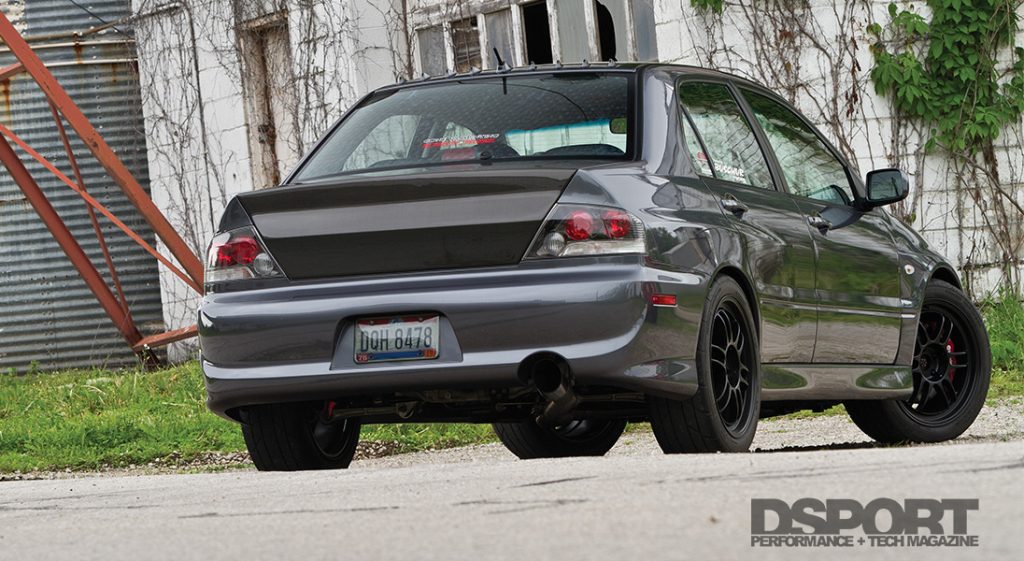 Year: 2009

Turbo, Output, Fuel: FP Red, 494WHP, 507 lb-ft TQ, E85

Target: 10.3 seconds at 135 MPH

Results: 10.5080 seconds at 131.51 MPH

Modifications: Buschur Racing Stage 3 shortblock & Stage 3 cylinder

head, EGR block-off plate, shifter bushings, Double Pumper fuel system,

1,200cc/min injectors, mini battery kit, inline manual boost controller,

JUN Auto 272 cams, FP Red turbocharger & high pressure oil line, Exedy

triple-plate clutch, DynoFlash/Buschur Racing custom tune

Cost: $10,290
Year: 2010

Turbo, Output, Fuel: FP Black, 619 WHP, 512 lb-ft TQ, E98

Target: Break into 9s

Results: 9.79 seconds at 145 MPH

Modifications: GRP aluminum rods & 10:1 JE pistons, Buschur

Racing 3-inch muffler delete, Injector Dynamics ID2000 injectors, FP

Black turbocharger, AEM digital wideband, AEM EMS tuned by David

Buschur, A'PEXi EXV coil-over suspension, Girodisc and Wilwood rotors

Cost: $8,000
The setup positions the compressor inlet just behind the bumper grill, necessitating the switch to a half-width Fluidyne radiator. With the tank full of E98, the EVO returned to Buschur Racing for tuning. David Buschur adjusted the fuel and ignition tables on the Mustang AWD dynamometer. At 42psi of boost pressure, the EVO put down 723.7 whp and 569 lb-ft of torque to the wheels. Compared to his journal bearing FP Black, the GT3586R offered a power curve that was only 100 RPM slower but offered over 100 additional horsepower and 57 lb-ft additional torque. With the additional horsepower and torque, Chris went back to the track and improved upon his personal best with a 9.4204-second pass at 151.07 MPH.

723 WHP @ 8,438 RPM
Year: 2011

Turbo, Output, Fuel: FP HTA GT3586,

723 WHP, 569 lb-ft TQ, E98

Target: Break into 8s at over 160 MPH

Results: 9.4204 seconds at 151.07 MPH

Modifications: Buschur Racing forward-facing exhaust manifold,

sheet-metal intake manifold, billet fuel rail, half-width radiator and

fan, coil-on-plug ignition, Bushwacker non-ACD transfer case w/

Quaife LSD, FP HTA GT3586 turbo and GSC S3 Power Division cams,

AMS/Wilwood drag brake kit, Buschur Racing lightweight parts

Cost: $11,015

Projections
Chris set a goal to reach the 8-second mark and to drop his 60-foot times down to 1.3 seconds. "I've always gained motivation from others who've set records. With my latest round of modifications and overall weight reduction (the car weighs in at 2,597 lbs.), I am aiming for 8s," Chris said. To be sure that his setup runs at peak performance, Chris brought his EVO back to David Buschur for another round of fine tuning. Only time will tell if his next report is a positive one.