Fans of drivelines are just as dedicated as fans of brands. Whether it's front-wheel drive, rear-wheel drive or all-wheel drive, each offers a compelling argument. Our own Jeren Walker may own a 550hp 240SX, but his eyes light up when the conversation migrates to front-wheel drive and drag racing; he really lives for the rush of torque steer. Similarly, for Joey Vittorio, the enthusiasm and passion lies with all-wheel drive. "I've always loved all-wheel drive cars and forced induction, especially Mitsubishi's Evolution. The 4G63 engines are legendary. To me, there is no other four-cylinder engine capable of performing as well as these do. With this engine powering the EVO IX, I get the benefit of the all-wheel driveline too," stated Vittorio.
Text and Photos by Richard Fong
---
Fan of Traction
Although Vittorio's first ride was a BMW E46 M3, he first fell in love with all- wheel drive when he purchased his first EVO IX in 2006. He enjoyed the turbocharged four-cylinder engine and the traction. After some upgrades with tuning, he was able to record 11-second passes, respectable times for 2008. Having invested all that he could afford to at the time, Vittorio made the tough decision to let the EVO go, as his desire for more power led him to purchase a Ford Mustang Cobra. This relationship was short lived though, as Vittorio returned to his all-wheel drive roots in 2009 with the purchase of another 2006 EVO IX. One night, while hanging out with some friends and making plans to modifying the car, Vittorio casually referred to his EVO IX as just a "junk box." The name stuck with the car ever since.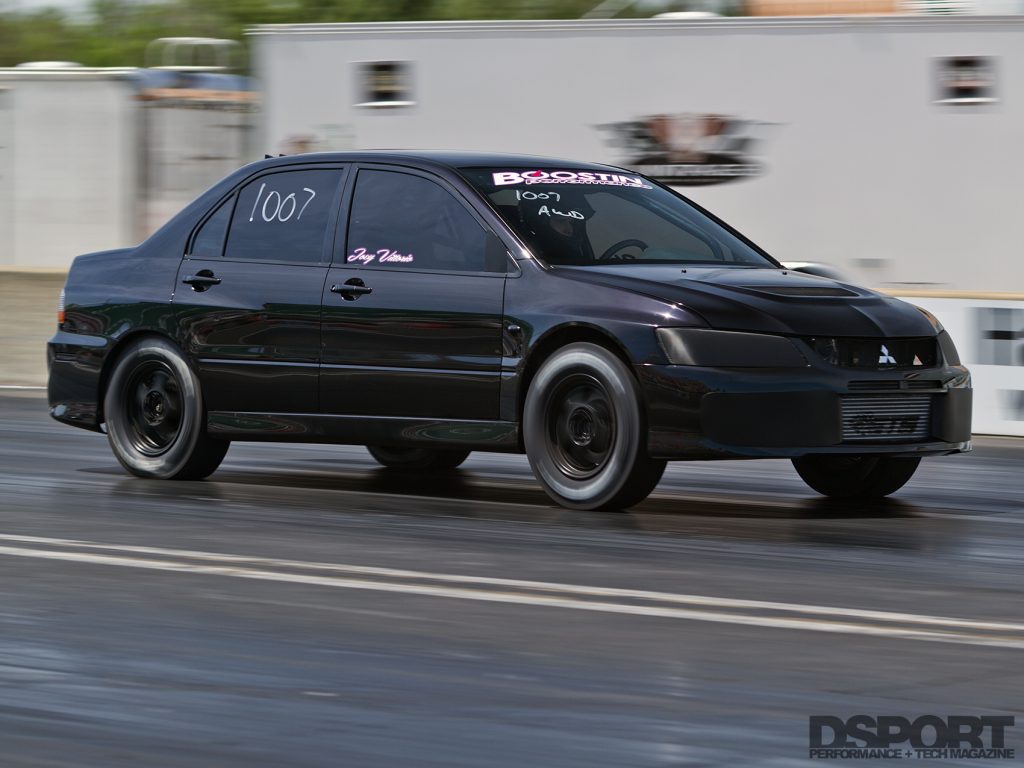 Goal Getter
Already having experienced the EVO, Vittorio was confident in his objectives and the car's capabilities. He started the project with the intent of besting his previous efforts by building a 10-second streetcar with the comforts and amenities of a daily driver. Working with Boostin Performance, he achieved these goals quickly, and soon began looking at loftier targets: the 8-second realm. While this effort would require a significant investment on his part, Vittorio's resolve to reach these goals did little to deter him, as he pulled out all the stops to pursue quicker passes.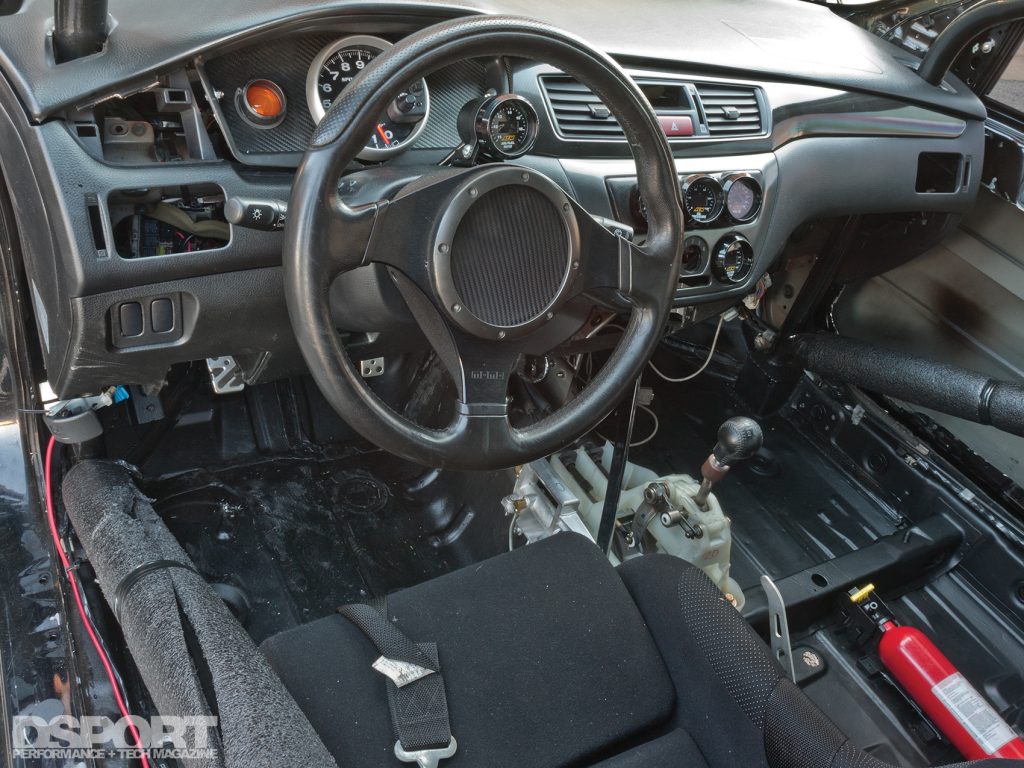 Making the "Junk Box" Better
No longer fixated on streetability, it was time for the "Junk Box" EVO IX to become a dedicated track car. To reach the 8-second realm, it was necessary to remove practically every amenity and most of the interior to improve the power-to-weight ratio. With only the dash and column remaining, High Speed Welding fabricated a 12-point cage to reinforce the chassis and provide a safe and NHRA-compliant barrier of protection. An NRG carbon-fiber race bucket seat and RCI 5-point harness keep him positioned firmly behind the steering wheel. In place of the factory gauge cluster sits an Auto Meter tachometer and shift light mounted to a carbon fiber panel, while an array of AEM gauges adorn the center panel of the dash. With weight reduced to 2,700 lbs. (including Vittorio) and reinforcement completed, the "Junk Box" gained a superior power-to- weight advantage compared to its street trim weight of over 3,200 lbs.
Two-Liter Terror
Rather than increasing the displacement of the EVO IX with a 4G64 block or some combination of stroker kit and pistons, Vittorio decided to simply overbore the block to 85.5mm and use Hard Blok filler on half of the water jacket for strength. Once assembled with Manley Turbo Tuff I-beam rods and 10.5:1 compression-rated Wiseco pistons, the ported cylinder head, with Supertech dual valve springs and titanium retainers, took its place atop the block. Secured with ARP L19 head studs, the longblock assembly was installed.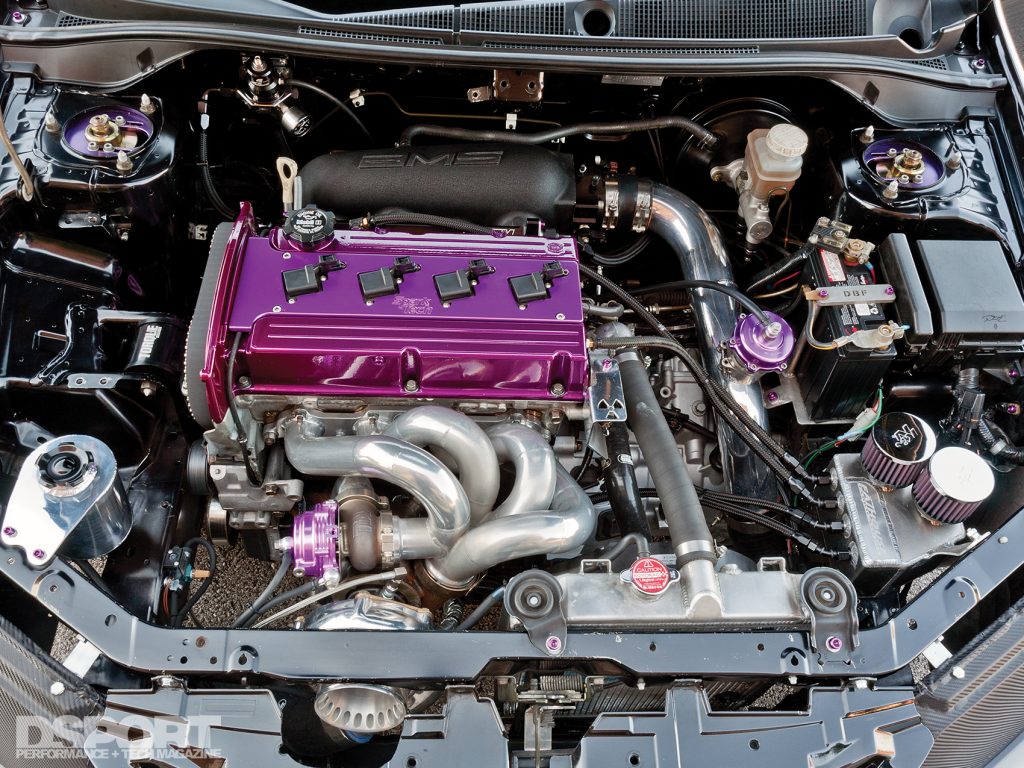 EVO IX Equipped for E85
Adopting E85 as the fuel of choice has become commonplace, and the aftermarket has answered with a variety of solutions to accommodate the increased fuel demands. The Junk Box's two-liter 4G63 received a quartet of Injector Dynamics ID2000 injectors to spray the ethanol blend into the intake ports. With AEM's EMS V1 engine management system regulating the engine, Boostin Performance's Devin Schultz worked his magic on the laptop. Building its way up to a peak boost pressure of 48psi, the EVO put down 886 horsepower and 617 lb-ft torque to the rollers of a Mustang dynamometer. In comparison to a stock EVO, this is an improvement of 302 percent.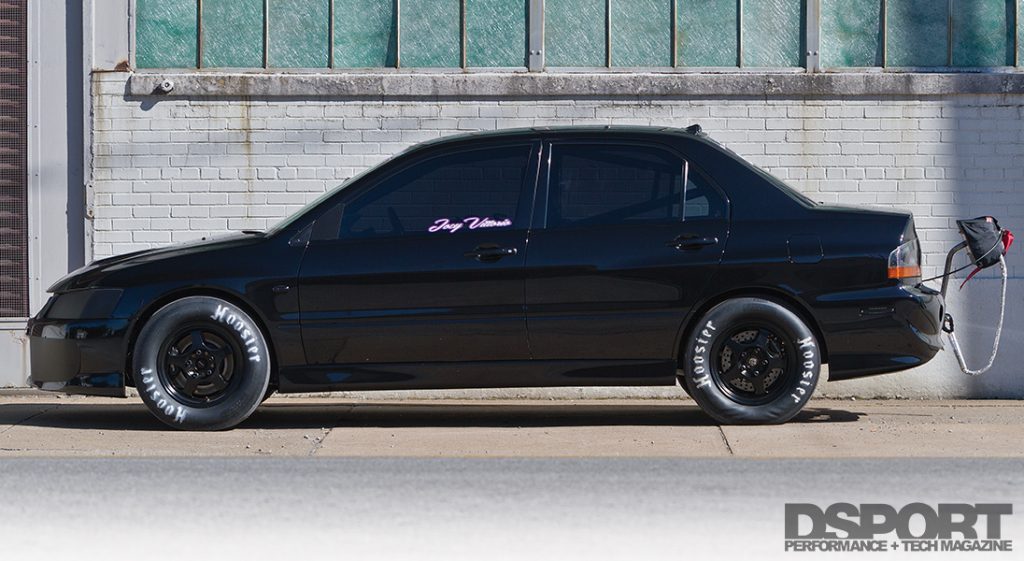 Draggin' Toothed
Generating almost 900hp to the wheels would destroy a factory EVO driveline in short order. In preparation for drag launches and slicks, the gearbox went to Shepherd Transmissions to be equipped with a Pfitzner Performance four-speed dog engagement gear set, while Boostin Performance completed its own surgery on the transfer case. Sheptrans upgraded the factory rear differential to deliver a more positive lock. Finally, a Quarter Master eight-leg, twin-disc clutch and flywheel were installed to transfer power from the crank to the input shaft.
For the Love of Racing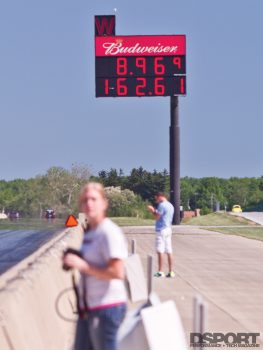 The time and money invested to build a racecar can be quantified on the track. As a privateer, the reward is competition and achievement. Vittorio remarked, "Learning to get the best performance out of the car takes time, but the result is valuable experience. To me, driving is a big part of the success as well. I'm glad and proud to say that I drive my own car. I took second place at the 2012 Buschur Racing DSM/EVO Shootout in the Quick 16 Class and qualified second at the IDRC Sport Compact Nationals with an 8.969 second pass. My best trap speed is 167.97 mph. But the greatest reward so far was improving my personal best pass with an elapsed time of 8.772 seconds at 163.42 mph on August 20, 2013, at Great Lakes Dragway in Union Grove, Wisconsin." But he also reminds us, "I am not a shop owner, or a mechanic. I spend money to race for the love of the sport. I hope my car inspires others to build their cars to go racing and become a part of the EVO community. Now I have a new objective: to become the quickest EVO down the 1320 in the USA." With all-wheel-drive-like traction and a few more improvements on his to-do list, Vittorio takes aim at quicker time slips in 2014.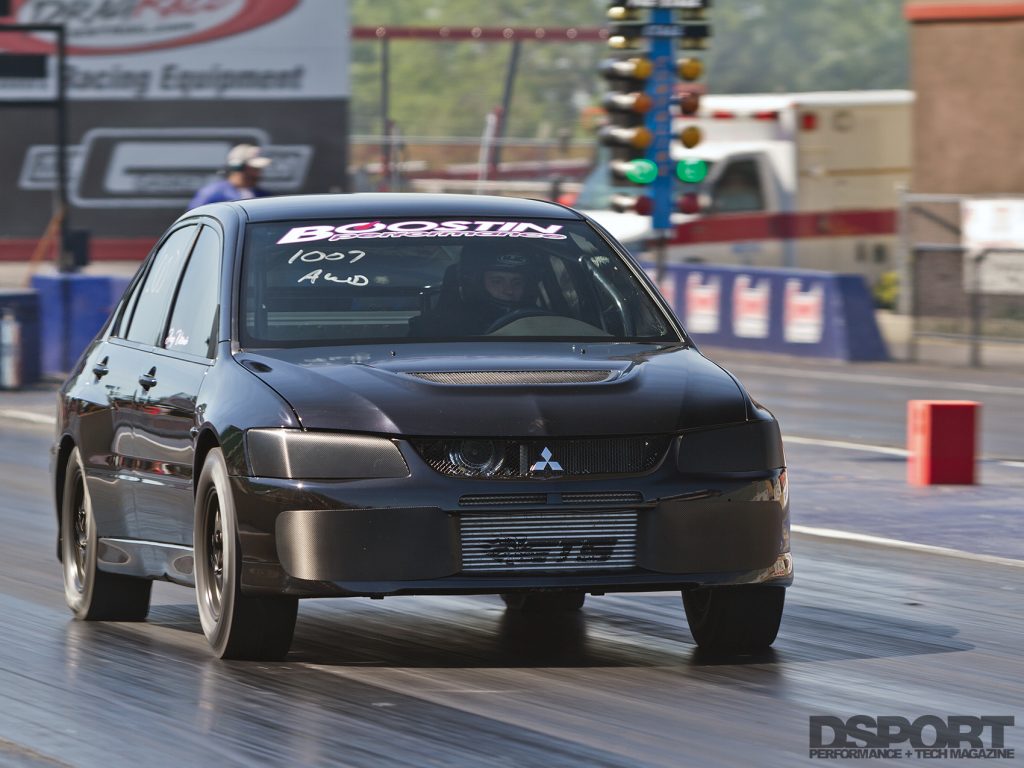 Joey would like to thank Boostin Performance for building and tuning the car. He'd also like to recognize Chicago Motor Cars and Angry Aero for their friendship and assistance along the way. Finally, a special thank you to his family and friends for their support and encouragement in his pursuit of the record.
SPEC SHEET
| VEHICLE | |
| --- | --- |
| Year / Make / Model: | 2006 Mitsubishi Evolution IX |
| Chassis Code: | CT9A |
| Competition Class: | Quick 16 |
| Vehicle Weight: | 2,510 lbs, 2700 lbs w/driver |
| Launch RPM: | 7,300 RPM |
| Shift RPM: | 9,100 RPM |
| Redline RPM: | 9,500 RPM |
| Peak Boost: | 48 psi |
| Fuel: | E85 |
| ENGINE | |
| --- | --- |
| Engine Code: | 4G63 |
| Displacement (cc): | 2,021cc |
| Bore & Stroke (mm): | 85.5mm x 88mm |
| Peak Horsepower (@ RPM): | 886 whp @ 7,700 RPM |
| Peak Torque (@ RPM): | 617 lb-ft @ 7,400 RPM |
| Dyno Type: | Mustang AWD Dynamometer |
| Engine Builder: | Boostin Performance |
| Block Modifications: | Half Hard Blok |
| Pistons/Compression Ratio: | Wiseco 10.5:1 Compression Pistons |
| Connecting Rods / Crank: | Manley Turbo Tuff I-beam Connecting Rods |
| | Boostin Performance Race Balance Shaft |
| Camshafts: | STM 650 Camshafts |
| Valves/Springs/Retainers: | Supertech Dual Valve Springs & Titanium Retainers |
| Cylinder Head Modifications: | Ported |
| Head/Main Studs: | ARP L19 Head Studs, ARP Main Studs |
| Intake Manifold/Throttle Body: | AMS F1 Intake Manifold |
| | Boomba Racing Throttle Body |
| Fuel Injectors: | Injector Dynamics ID2000 Injectors (x4) |
| Fuel Delivery System: | Aeromotive Pro Series |
| Ignition System: | SparkTech Sequential Ignition |
| Engine Management System: | AEM EMS V1 |
| Engine Management Tuner: | Devin Schultz |
| Boost Controller: | AEM Boost Control Solenoid |
| Spark Plugs: | NGK-R |
| Exhaust Manifold: | Toxic Fabrications Manifold |
| Exhaust System / Downpipe: | Boostin Performance Custom Turn Down Exhaust |
| Wastegate: | TiAL Sport |
| Blow-Off Valve: | TiAL Sport Q Blow Off Valve |
| Intercooler: | Extreme Turbo Systems 5-inch Intercooler |
| Cooling System: | Fluidyne Half Radiator |
| Oil System: | Kiggly Racing HLA |
| Fuel Cell: | Custom 5-Gallon Fuel Cell |
| TURBOCHARGER | |
| --- | --- |
| Turbocharger: | Precision Turbo & Engine 6466 |
| Frame: | T3 |
| Compressor Wheel Specs: | 64mm |
| Turbine Wheel Specs: | 66mm |
| Turbine Housing: | .82 A/R |
| CHASSIS/DRIVELINE | |
| --- | --- |
| Springs, F&R (Make & Rate): | D2 Drag Springs |
| Shocks, F&R (Make & Rate): | D2 Drag Dampers |
| Transmission: | ShepTrans Dog Box |
| | PPG 4-Speed Gear Set |
| | Boostin Performance Transfer Case |
| Clutch / Flywheel: | Quarter Master 8 Leg Twin Disc |
| Differential(s) (Make & Type): | ShepTrans Rear Differential |
| Axles / Driveshaft: | Driveshaft Shop Driveshaft & Stage 5 Axles (R) |
| Wheels (Make, Size & Offset): | Rota Slip Stream 15×7-inch +40 |
| Tires (Make & Size): | Mickey Thompson 26×8.5×15-inch Slicks |
| Brake Calipers (F&R): | Wilwood 4-Piston Calipers (F) |
| Brake Rotors (Diameter, F&R): | Wilwood Cross Drilled Rotors |
| Brake Pads (Front & Rear): | Wilwood Street Pads |
| Brake Lines: | Wilwood Stainless-steel Braided Brake Lines |
| INTERIOR | |
| --- | --- |
| Roll Bar / Cage: | High Speed Welding 12-point Cage |
| Seats: | NRG Carbon fiber Seat |
| Harnesses: | RCI 5-point Harness |
| Gauges: | AEM Digital Gauges (Wideband O2, |
| | Water Temp, Oil Pressure and Voltage) |
| | Autometer Tachometer |
| Etc: | Simpson Parachute |
| EXTERIOR | |
| --- | --- |
| Headlights: | AngryAero Carbon Fiber Headlights |
| Taillights: | JDM EVO IX |
| Trunk Lid: | Seibon Carbon Fiber Trunk Lid |
| Mirrors: | Angry Aero Mirror Block Off Plates |
| Etc.: | Angry Aero Bumper Shutters |