Imagine if you moved to a high-altitude location where it took five breaths to get the air that your body can normally ingest in three. You'd be breathing pretty rapidly just walking around. Now, imagine if you had to make a quarter-mile sprint at a mile-high altitude. At best, you'd struggle. At worst, you'd pull a Jeren and lose your lunch. A car's engine faces this same challenge at altitude. Thus, any accomplishments or achievements in the thin air are even more impressive.
Text & Photos by by Richard Fong
---
Colorado native and lifelong resident Brad Twiss has never let thin air deter his project builds. After going for a ride in a friend's turbocharged Toyota Supra, he was immediately drawn to its raw accelerating capability and top-speed potential. He recalled, "The Supra was the first fast turbo car I experienced. I loved that it drove like a normal car off boost, but was thrilled by the power it made on boost." In 2007, Twiss purchased this 1994 JZA80 Supra and set a personal goal to run 10-second elapsed times at Bandimere Speedway in Morrison, Colorado. Twiss explained, "These cars are amazing as they can hold 800 horsepower before ever getting into the motor. Running a ten-second quarter mile time at sea level is impressive. At a mile high, few streetcars can make this claim, making it even better."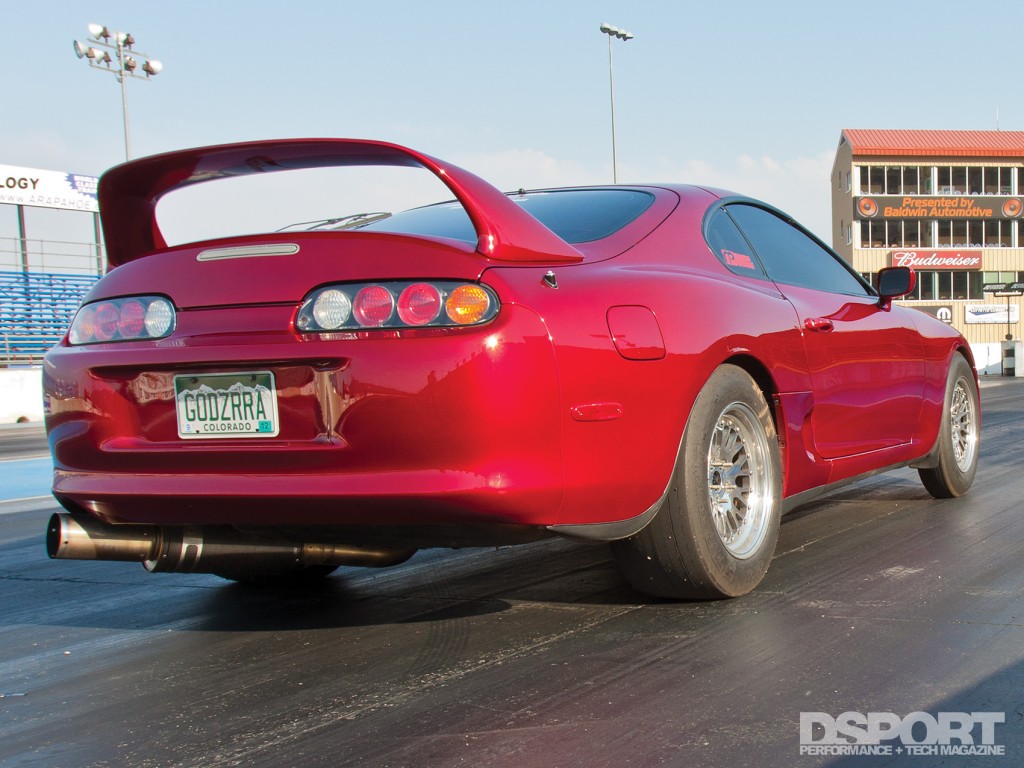 First Swing
Since Twiss wanted the same high-boost performance both on and off the track, he could not simply pour race gas in the tank on track days. Twiss had to overhaul the entire fuel delivery system to work with an affordable and renewable race-fuel alternative, E85. While capable of delivering power levels comparable to high-octane leaded racing fuels, E85 requires about 40- percent more fuel delivery to produce the desired results. To meet this requirement, Twiss' Supra now employs a pair of Walbro 255-lph in-tank fuel pumps. These pumps feed a sextet of Injector Dynamics ID2200 injectors with E85. With fueling demands met, a fortified engine and upgraded forced induction solution was in order.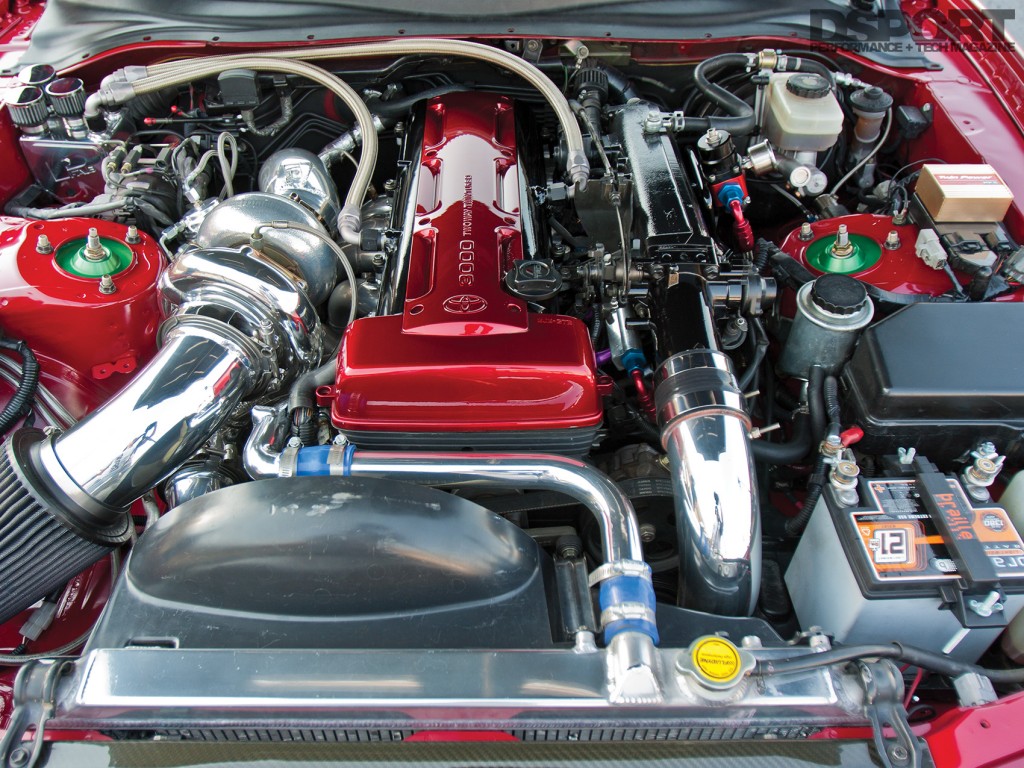 Sliding Head First
Any plan to increase boost pressure and produce more power results in higher cylinder pressures. Originally, Twiss pulled the cylinder head simply to replace the head gasket and install upgraded head studs to eliminate head lifting under the expected higher pressures. Unfortunately, upon inspection of the cylinders, he discovered a broken ring in cylinder three. This warranted a rebuild of the bottom end. Greeley Automotive Machine overbored the iron block and filled the enlarged cylinders with a set of higher compression CP Pistons. Eagle rods now connect the aluminum slugs to the factory crankshaft, completing the rotating assembly and bottom-end rebuild.
While the cylinder head was off, Twiss installed a pair of HKS 264-degree camshafts to orchestrate intake and exhaust valve events. BC Brian Crower valve springs and titanium retainers offer support for the extended-duration bumpsticks and help prevent valvetrain damage at elevated engine RPMs. A new factory head gasket and a set of ARP head studs seal the deal.