MAKING THE 2JZ MIGHTIER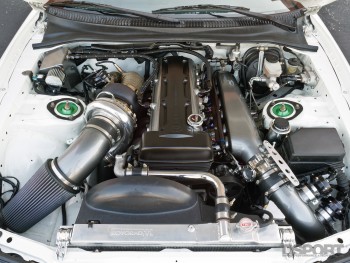 For its third iteration, Bob took the 2JZ block to APEX machine shop to be overbored 0.020-inches before bringing it home and embarking on the build. While a stock 2JZ engine has proven to hold anywhere from 700-800 horsepower comfortably, a fortified rotating assembly would be essential for operation at and above 1,000 horsepower. To this end, Bob selected Wiseco pistons and Carrillo rods for the duty. With the bottom end completed, attention shifted to helping the engine breathe easier. The cylinder head received a 3-angle valve job before upgrading to BC Brian Crower valve springs and titanium retainers. The longblock assembly was then secured together by way of ARP L19 head studs.
EMPLOYING NEW SKILLS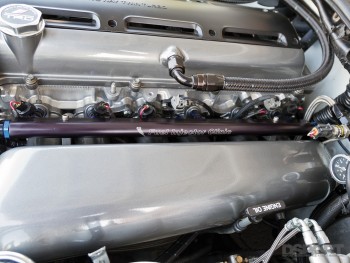 Bob takes a lot of pride in his work, and doing as much of his own fabrication as possible enabled him to leave his own custom touch on the Supra's engine bay. John also contributed to the project, welding up the turbo manifold that feeds the turbine inlet of a Precision Turbo & Engine GT42 turbocharger. Bob welded up the intercooler pipe and the intercooler core and end tanks that join the turbocharger's compressor outlet with the ProEFI 90mm throttle body and Virtual Works Racing intake manifold. Once the engine bay was completed, it bore a not-so-coincidental resemblance to John's engine bay, since they both contributed input into each other's builds. John added several of his "Shark-Fab" components to complete the work under the hood.
A LITTLE HELP, A LOTTA HORSEPOWER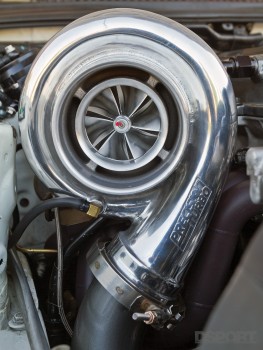 With the engine assembled and installed, it was time for tuning. A ProEFI 128 engine management system was wired in to command and monitor all engine functions. With the expertise of Larry Prebis at Sound Performance being applied to the fuel and ignition tables, the boost was gradually increased with each pull. At a peak boost of 46 psi, Prebis adjusted the tables as the 2JZ-GTE engine put down 1,174 horsepower to the rollers of a Mustang dynamometer. This exceeded Bob's goal and surpassed his performance expectations.