Is this a Ferrari? When Acura introduced their NSX in 1989, enthusiasts were taken by surprise. Some called it the Ferrari of Honda, others just didn't believe it was a Japanese vehicle. Gas stations around the United States witnessed conversations between NSX drivers and bypassers asking what supercar this crazy-looking thing was. Despite not having the power many supercars had, the all-aluminum chassis and mid-engine configuration on this NSX made it super in its own way. Ever since the Acura NSX ceased in production, its value has been sky-rocketing. While you may not see too many of it on the road today, true enthusiasts like Marby Enriquez would do anything to own one – against all odds.
Text by Bassem Girgis // Photos by Alex Trentch
DSPORT Issue #216
---

What Makes it Special
While not the most powerful, the Acura NSX features an all-aluminum chassis, body, and suspension. Powered by a 3.0-liter (initially) V6 aluminum block, it featured cast-in iron cylinder liners, forged pistons, and a forged steel crankshaft with titanium alloy connecting rods. The six-cylinder engine came with dual-overhead cams with a valve-timing system, Variable Valve Timing, and Lift Electronic Control, which you may know as VTEC. Out of the box, the Acura NSX produced 270 horsepower and 210 lb-ft of torque. This Acura's handling allowed it to be a direct competitor to Porsches and Ferraris, and its exotic looks justified this comparison. Today, finding an affordable NSX is nearly impossible, but impossible didn't stop Marby from finding a way, then going all out with his NSX.
How it Started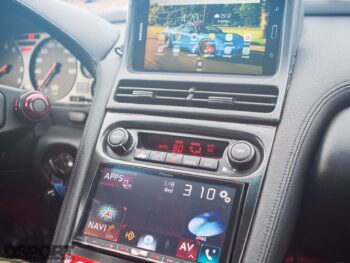 Buying an NSX is no easy task. After all, you are buying a 30-year-old car for the price of a brand-new luxury vehicle. Where there is a will, there is a way, however. Marby Enriquez was not interested in a luxury car, he simply wanted an NSX more than anything. "I'm not the richest guy, but if you really want something, you have to make it happen," said Marby. In 2014, Marby took a drive to a North New Jersey dealership after months of searching around for an NSX. After test driving this NSX, he fell in love with it. The only problem was the high $48,000 price tag. This didn't stop Marby. He traded in his Subaru WRX Wagon, and found a way to finance the remaining $25,000. "The NSX was my dream car, and dreams can come true," said Marby. Marby took home his 1992 Acura NSX and started planning its fate.

Calm Before the Storm
Before jumping into the modification path, Marby took the time to appreciate what the engineers had perfected years ago when they made this car. Marby loved the feeling in the driver seat, the handling around turns, the reward that the VTEC engine gives when you step on it, and he enjoyed these driving pleasures every single day. After driving the NSX for a while, Marby started feeling the lack of power that the C30A engine offers. Coming from a drag racing background, the acceleration this NSX provided was not satisfying. It was time Marby addressed the engine, suspension, and brakes to bring this NSX up to par and start tackling the tracks.
The Goal
"My goal for the car was to build it to track on the road course," said Marby. "I didn't want to drift it or drag race it – grip not slip." While Marby was planning to track his car, he was also looking forward to meeting people and dive into the scene deeper – what better car to do it in than an NSX? "As far as power, I wanted to achieve 450whp, which I'm almost there. Just a few more upgrades and I am right there," said Marby. As far as handling, Marby wanted to do it right. So he started going to the track and timing himself so he can get a baseline that he can start from, then continue improving using solid data. All of the upgrades and testing were happening as he collected trophies at car shows. However, this interest would soon change for the better.

Super Powers
With plans to one day compete in Global Time Attack or Super Lap Battle, Marby needed to take his NSX to new heights. He augmented the C30A engine with a Comptech Whipple supercharger. To support the forced induction, he installed a Walbro 255 fuel pump feeding 1,000cc injectors. Managed by an AEM Series 2, Marby's Acura NSX put down 380whp at 8,000 RPM and 270 lb-ft of torque at 6,000 RPM. This was accomplished on 93-octane fuel when running on 9 psi of boost. With Marby's career being a technician at Toyota, he was able to do all of the upgrades himself. This helped him learn about his Acura more and save a small fortunate on labor cost. With power around where he wants before he gets more seat time on the track, it was time to address the suspension and brakes.
Grippin' Not Slippin'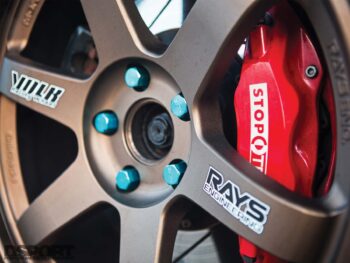 To accompany the added power, Marby opted for KW Clubsport coilovers, and strengthened the chassis with some custom titanium bracing to keep the weight light and chassis stiff. Running on OG TE37 wheels, Marby wrapped them in Toyo Proxes R888R tires with 275s in the rear. Stoptech calipers and rotors, with the help of Hawk brake pads, ensure the NSX can stop as quickly as it can go. We asked Marby what makes his NSX stand out from the crowd, and he replied, "The snorkel and custom aero definitely make the car unique. There aren't too many NSXs on the road these days either since they're extremely expensive, otherwise you'd see a lot more out there." Marby didn't leave too many stones unturned on his Acura NSX, but the future is far from over for this vehicle.

Love Story
Reflecting back on the journey, Marby's NSX was the sole reason he met his wife, which in turn gave him his son. In a time when Marby was hitting the car shows, he met his now wife. Since then, Marby's interest switched from chasing trophies to taking care of his family and cherishing these moments, then running away every chance he gets to work on the NSX, track it, or simply take it for a drive. Would he have done anything differently? Marby responded, "Maybe save up more money and get an NA2 or a Porsche. I also would've considered going the turbocharged route or even individual throttle bodies on this NSX." Marby's next move will be to powder coat his valve covers and introduce an aftercooler system to the engine to help with the supercharger on the track and avoid heat soak. As of right now, Marby is living his best life with his son, wife, and NSX, proving that you don't need money to chase your dreams, you just need to find a way – and the dream will bring the fortune.