W
hen you finally make the decision to turn your vehicle
into a dedicated race car, one of the best ways to shave some time off your slip is to start reducing weight. Some racers change their stock seats with aftermarket ones, other drivers replace their hoods with lighter carbon fiber, while many start tearing down any unnecessary interior parts. Kasey Harris decided to take it to the next level and completely strip his EVO down to almost nothing. Here's how this go-kart-looking EVO does on the drag strip.
Text by Bassem Girgis // Photos by Bassem Girgis and Killboy.com
DSPORT Issue #219
---

Rally to Drag
The Mitsubishi Lancer Evolution was originally designed for rally racing. Its all-wheel drive system made it a tough competition for the Subaru WRX and just about any other AWD platform, quickly proving itself as a force to be reckoned with. It took years for drag racers to realize the potential of the Lancer Evolution. The all-wheel drive system seizes every millisecond on the strip and maximizes traction, while the legendary 4G63 engine accepts more power with no signs of giving up. The block is made of strong cast iron and can handle a tremendous amount of power. The block worked together with high-flowing cylinder heads, and the entire combination made this engine one of the best import engines of all time, even making the DSPORT list of Best Engines to build. If you've been to The Shootout event in Ohio every August, you would know the true capabilities of this platform.
EVO Love
When Kasey was asked why he purchased this particular platform, his answer was simple: "I love EVOs." What's not to love? The EVO has become a legendary vehicle for drag racing with sturdy parts and more than enough capability to push the envelope and have a blast along the way. Decide to build the engine, and the sky is the limit. On November of 2018, Kasey purchased his 2003 Mitsubishi Lancer Evolution, but unlike most owners, he had other plans. "I love EVOs in general, but I wanted something different," Kasey said. While you may think that adding a unique spoiler or rare side skirts from Japan could qualify as different, Kasey's definition of "different" was truly over the top.

AEM boost, air/fuel ratio, and oil pressure gauges fit perfectly to display critical engine data on the track and on the streets.
The Goal
"The first goal was to have fun and to show what an EVO would be like in a go-kart state," Kasey explained. While the average go-kart delivers anywhere between 5-13 horsepower, this EVO would completely change the outlook on that world. "I knew this would be the first EXO EVO, so I had to do it right and make it very fast, and very streetable." If you're a fan of go-karts, EVOs, convertibles, or racing, you may want to give Kasey a shout, because this EVO combines the best of all worlds and bring a new meaning to creativity. The idea for the EXO EVO was to combine the capabilities of the EVO with a significant weight loss and an unmatched driving experience. "You can see everything, even the tires spinning," Kasey said.

With the entire body stripped off the EVO, custom cage and chassis bracing were done by Dyno Time Speed Works to allow the car to handle the streets and the strip.
The Strip Show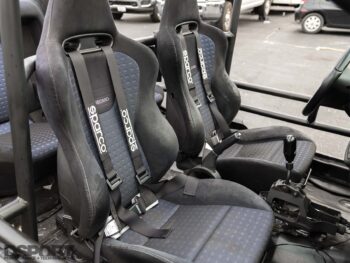 With the plans set in place, it was time parts came off the EVO for good. Kasey wanted to keep as many OEM parts as he could, like the taillights, headlights, seats, and dash. However, the stock headlights just couldn't find a home on the torn-apart EVO. Instead, custom 7-inch lights were attached to the bars to light his path. When you completely tear apart a car and plan to race it, you have to strengthen its structure properly. Kasey had to change the cage several times to make it stronger, but in the end, he was able to find the proper balance between light weight and sturdy construction. With the EXO EVO sporting no doors, hood, roof, trunk, or fenders; it was time to turn the attention to the engine to get it ready for The Shootout event in Ohio.

Making Power
Built by none other than Buschur Racing, the 4G63 block kept its stock specifications, but with all aftermarket internals to reliably handle the added power. The stock crankshaft was replaced with a Callies billet 88mm crank, working together with Manley custom pistons and Manley TurboTuff rods. The stock turbocharger was swapped with a Garrett GTX3076R to reach the next level of power. The added air is matched in fuel using a Walbro 525 pump feeding Fuel Injector Clinic 1,200cc injectors with E85 fuel. This combination along with the supporting upgrades allowed Kasey's Mitsubishi EVO to deliver 582whp at 7,200 RPM and 479 lb-ft of torque at 5,800 RPM to all four of its wheels when running at 32 psi of boost.

Track Time
The EVO's journey was a constant battle against the clock. The goal was to get it done in time for The Shootout, but the team was starting to get worried they wouldn't make it in time. With some magic and a whole lot of work, the car was finally ready for its first crank. "When we first started the car, it looked so weird sitting there all torn apart," said Kasey. Kasey was finally able to get the EVO to The Shootout. Right off the trailer, Kasey launched his EXO EVO and ran 10.10 seconds at 139 mph without any preparations. The second run resulted in a 9.96 seconds at 140 mph. The sight of the car shooting down the track at 140 mph without any doors, roof, hood, trunk, or fenders is truly a unique sight for the audience.
Since The Shootout
Kasey built this car to have fun, and he doesn't waste an opportunity to do just that. He drives his EXO EVO all the time and has taken it to the tail of the dragon twice. So, how does this car drive on the road? "It drives as good as a normal EVO, except you get a lot more puzzled faces and looks," said Kasey. To maximize the fun and the ability to go far with the car, Kasey switched to pump gas, making the cruise a combination of Mitsubishi Evolution mixed with a motorcycle ride, except you can comfortably go a lot further with this car. Kasey plans on continuing to have fun with this car while building another race car, but in the process, he will capture every eye that is laid on his EXO.

Until Next Time
With a 9-second EXO EVO stripped to the bone, we asked Kasey what he would've done differently during his journey. "I would definitely build it the same way, and just perfect the engine and turbocharger combination from the start for more power," said Kasey. So, what does the future hold for this EVO? While things are constantly changing, Kasey is sure about one thing, he wants at least 200 horsepower more out of his EVO before his next visit to The Shootout in August. With this engine, the car is ready for the power increase and much more. "I am really proud to run a Buschur Racing engine and Extreme Turbo Systems parts," Kasey concluded. If you've ever wanted to be different, Kasey's story is a good place to start for inspiration. "EXO cars remind me of riding a motorcycle. You're in the wind all of the time with different smells all the way to your destination." Of course, smell doesn't matter that much when your destination is a quarter-mile away and you only have 9-seconds to get there, but no matter how quick the journey is, Kasey is doing it best.