Not one, not two, but three EVOs prove that this platform is the perfect foundation for the quarter-mile. David Bruzewski has been building and racing Mitsubishi Lancer Evolutions for years. The all-wheel drive configuration and the cast-iron engine have proven to be his best companion when going down the strip. As the AWD configuration allow him to seize every potential millisecond upon launch, the engine lets him push the limits and force as much power as possible out of just four-cylinders. Bruzewski was able to build yet another successful EVO. This one came with a hefty list of obstacles, but an even bigger list of accomplishments.
Text by Bassem Girgis // Photos by Tyler Witt and Bassem Girgis
DSPORT Issue #213
---

Third Time's a Charm
For David Bruzewski, building EVOs has become a second nature. After building a 900whp EVO (once featured in DSPORT) and running low 9-seconds with it, David built a Voltex widebody EVO to drive around town with and explore some road courses. While road courses were fun, David had to return to his drag racing roots, so he started shopping for his third EVO. He was finally able to locate a clean roller with a roll cage in North Carolina after months of searching around. Bruzewski quickly purchased his new roller and gave himself two months to build and race it. With the clock ticking, it was time to dive in and get the car on the track as quickly as possible.

The Good, The Bad, The Ugly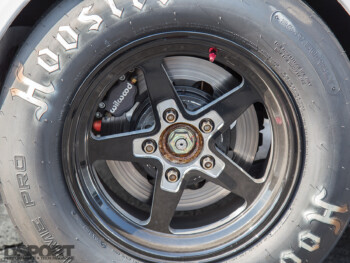 David lucked out with locating this car. It was exactly what he was looking for, sporting the roll cage and all of the safety equipment he needed to make it an NHRA legal drag car. This provided him with the foundation he needed to build the race car he wanted without having to cut-up the black EVO he has, as he wanted to keep it a street car. While everything seemed to align perfectly for Bruzewski, there was a mountain of work that needed to be done to get this car on the track, all in a very short amount of time. David gave himself and the two friends helping him, Billy and Tyler, two months to finish the car. With the help of Slowmotion Motorsports, the team got to work to see if it's even possible to fully-build an EVO in just two months.

The Goal
"Like any racer, the goal is to win every time I go out on the track," said David Bruzewski. "However, this year, I had a very specific goal. I wanted to come out here with this car that I built in two months and win the Import Face-off National Championship for the third time." After having a rough year prior, David felt that this car is his ticket to redemption. Beyond winning the race, David wanted to get into the eight-seconds with his new build. "This has been a huge personal goal of mine for a few years, and I think this car has what it takes to get me there," said David. With the goal set, it was time to get the car running.

Making Power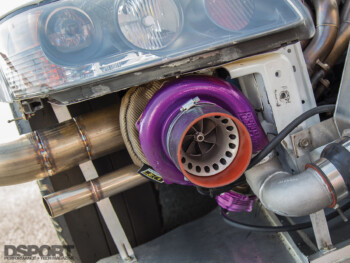 With a 4G64 serving as the heart of the EVO, David de-stroked the engine to a 94mm stroke. This would allow him to rev the engine higher on the drag strip. With the help of Slowmotion Motorsports, the engine received all new internals that will allow it to deliver the type of power he desires. A Precision Turbo 6466 turbocharger graced the 4G64 engine, and a 2345 Weldon fuel pump was installed to match the air with enough fuel. With the AEM V2 managing the engine, David and the team were able to put down 935whp at 8,000 RPM and 725 lb-ft of torque at 6,300 RPM. This was accomplished when running at 45 psi of boost on E85 fuel. With this engine powering a 2,800-pound car, David was set to run the type of numbers he desired. David had run out of time, so they couldn't get any testing done before racing. This meant that any issues will end up happening on the track during the actual races.

Put to the Test
The team had issues with the undertray mounting and the parachute. The issues were all sorted out by the second race. "We also had some issues with the electrical system, but they were taken care of," said David. "As problems creeped up, we tried our best to troubleshoot them, diagnose them, fix them, and improve." David, Billy, and Tyler were able to address all obstacles between races. While it was clearly experience and skills, David insists it was luck that allowed them to go through these races. "We definitely had luck on our side a number of times. Some things just fell into place the way they need to. We can't really take credit for that, so we'll just call it luck." The best moments throughout the project was hearing the EVO start up, the first 9-second pass, the first event win, then continuing to win after and proving the quality of the EVO build. 

Call it Luck
While David believes luck played the biggest role in getting this car on the track in just two months, we don't think luck is that skilled. Since then, the car has been to 10 events, with a record of eight and one (an event was rained out before they could get any racing in). With this brand new build and just a few months of racing, David's EVO is currently in the top three for the IFO National Championship, now sitting in first place. We asked Bruzewski if he would do it all over again, and he replied, "I would have definitely given myself more time. Two months to build a car from a bare shell is pretty insane." Pretty insane it is, but seeing the results and being able to consistently run low 9-seconds at numerous events back to back makes the insanity feel that much saner. As of right now, the car is set to lose some more weight and make a little more power to reach the desired 8-second goal. With good friends and a supportive wife named Ann, David Bruzewski has proved that the world is your oyster when you want something bad enough, even on a two-month notice.