"I love it when a plan comes together!" Hannibal Smith states it best and Brian Nguyen couldn't agree more. Brian, a UCR accounting graduate, analyzes every angle before embarking on his projects. When he purchased his second EVO IX, this 2006 SE, he had several objectives in mind. He wanted four-door practicality, streetable performance and aggressive looks that would set his EVO apart from the rest. Deliberate and analytical, he put together a spreadsheet with his master plan.
Text and Photos by Richard Fong
---
Guiding Light
The spreadsheet that paved the path of this project contained lists of the parts he wanted to add, the budget allocated and a procedure to minimize the amount of anticipated downtime, since he still needed to commute 70 miles round trip for work. As time progressed, new innovations and products would be released, prompting changes to the game plan and the parts list. As Brian describes it, "Everything (on the spreadsheet) was color coordinated. Certain colored cells would mean that I didn't buy a part yet, while others indicated that a part had been sold. I even made a separate sheet that shows the price I paid for parts, the price I sold them for and the losses I sustained. Amazingly, I haven't lost that much from selling parts."
The interior remains largely unchanged, with exception of the Recaro SPG Profi race buckets and the DEFI boost gauge mounted to the steering column.
Blueprint Revisited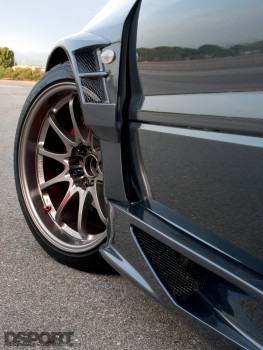 Brian's original vision was for a strictly bolt-on build. A JDM ARC intercooler, Cusco Zero 2R coilovers, Volk Racing RE30 wheels and a Mine's VX-Silence Pro Titan 80mm exhaust were first on the budget and outfitted the EVO early on. The build really picked up pace when Voltex Racing unveiled its new wide-body kit, the Cyber edition. This kit prompted a revisit to the spreadsheet along with an increase and rebalance of the budget.
The Cyber edition wide-body kit really stood out, as it featured additional fender flares at each corner. Unfortunately, it also required extensive modification to mount properly. Once committed, Brian pulled out all the stops on his project. To fill the widened wheel wells, Brian sold the RE30s to fund the purchase of 18×10.5-inch Volk Racing CE28 Genesis wheels mounted with Nitto NT05 tires.

Power For The Profile
Now that the CT9A chassis featured a more aggressive appearance, increased horsepower through engine work became the focus of the build. The shortblock remained untouched, but the cylinder head received a set of Supertech valve springs and titanium retainers to support the factory valves. Kelford 272-degree camshafts increase valve lift and duration, permitting additional airflow in and out of the cylinders. To take advantage of the engine's improved volumetric efficiency, a TOMEI POWERED equal length stainless-steel exhaust manifold channels burnt gasses to the inlet of an HKS GTII 7460R turbocharger.
The TOMEI POWERED manifold (left) features a divided outlet to work with the factory twin scroll turbocharger or any other bolt-on after- market twin-scroll turbocharger. (right) HKS's GTII 7460R turbocharger is a bolt-on unit that fits perfectly where the stock unit used to reside.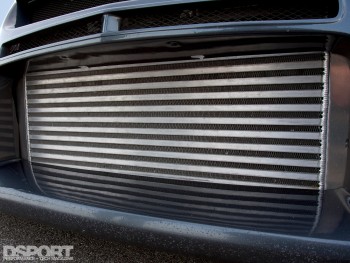 At Road Race Engineering (RRE), Brian encountered power production issues during tuning which were traced back to the ARC intercooler. To remedy the situation, an Extreme Turbo Systems 3.8-inch intercooler replaced the ARC unit behind the bumper cover to more efficiently exchange heat from the air incoming charge. With E85 in the tank and RC Engineering 1,200cc/min injectors spraying fuel, RRE tuned the EVO on its Dynapack chassis dyno. At 27 psi with more aggressive ignition timing, the EVO spun the hubs to 451 horsepower and 407 lb-ft torque. Compared to the 240 horsepower baseline pull, the 4G63 made an 88- percent increase in power over stock.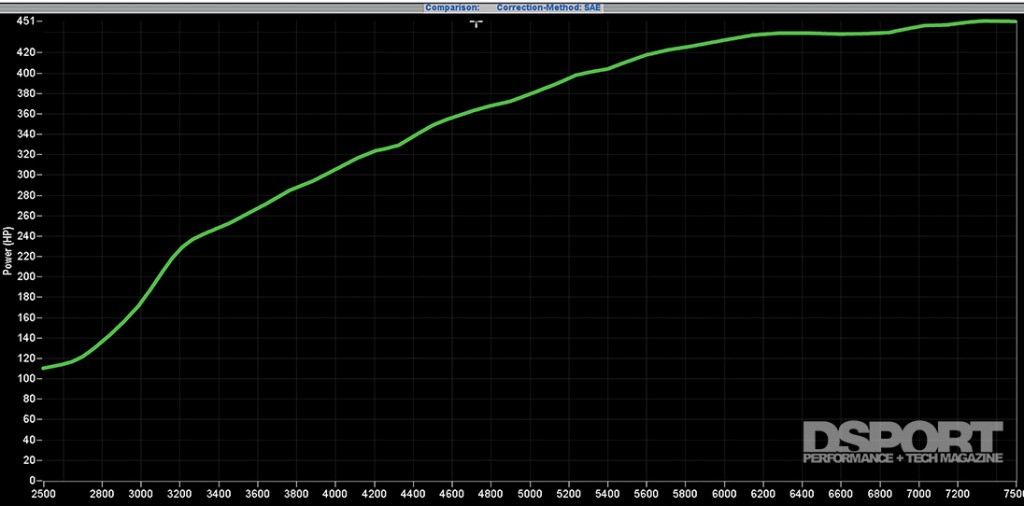 Dual Tune: 91 and E85 in Harmony

On 91-octane pump gas at 23 psi boost pressure, the EVO delivered 374 horsepower and 325 lb-ft torque as measured on RRE's Dynapack dynamometer. While the engine produced decent power on pump gas, Brian wanted more. RRE used an ECU hack by TephraMod which allows toggling between two different fuel and ignition tables. A second map was designed to take advantage of E85 fuel. With the key in the "II" position, a press of the gas pedal would swap between maps, allowing Brian to choose between fuels without having the ECU retuned.
Project: Completed
Satisfied with his build, Brian considers his EVO a finished project. He comments, "Over the course of the build, I would sell parts and upgrade to better components as my research uncovered better alternatives. But most everything was on that spreadsheet, which enabled me to plan my finances accordingly and save up for the parts I wanted. In the long run, this saved me money and down time. Now that my project is complete, there isn't much left to do except drive it even more." Brian's project is the perfect example of exercising discipline and planning. Closely monitoring his money and time allowed him to meet his objectives and to see the project to fruition.
Brian would like to thank Driveline Motoring, Evasive Motorsports and M.O.B. Works body shop for their help in making the project a reality. He'd also like to thank his mom for her interest and support of the build.