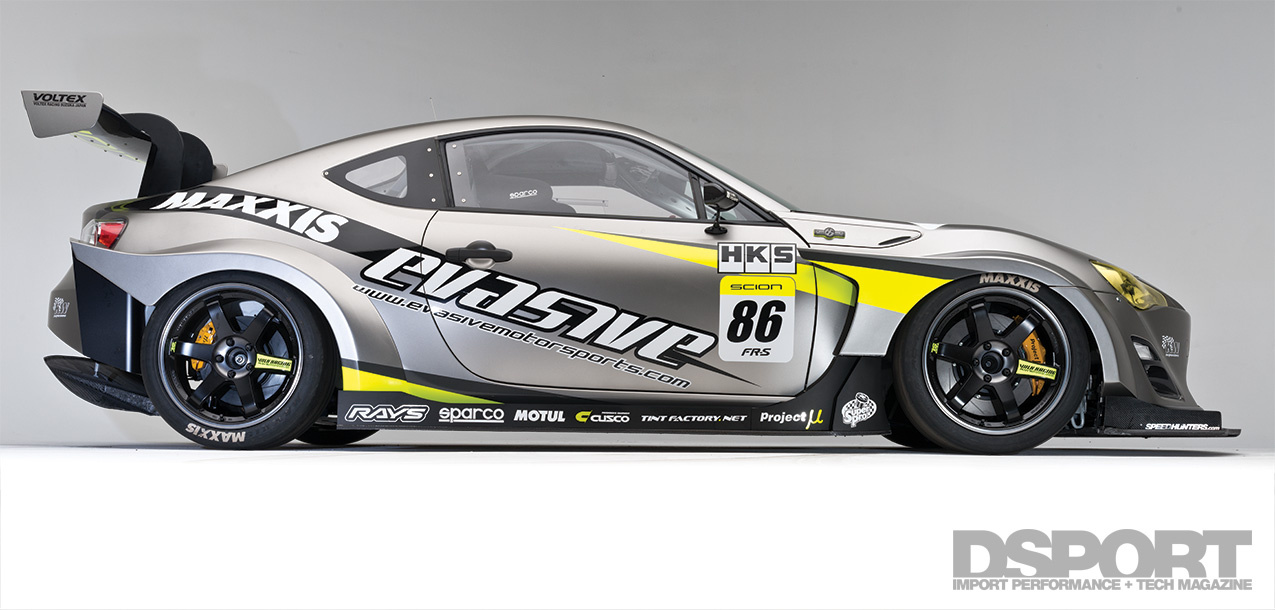 No guard rails, no run offs, rock walls and 1,000-foot drop offs.
These factors make the Pikes Peak International Hill Climb a global draw. With their sights set on the 2013 "Race to the Clouds" Pikes Peak event, the road-racing specialists at Evasive Motorsports put together a proposal to Scion Racing. According to Evasive Motorsports' Tony Kwan, "Our ten years in business have revolved around road racing and street performance. We wanted to build a hill climb car and Scion's FR-S looked like the perfect platform to attack the mountain." Scion Racing approved the project and Evasive Motorsports received its FR-S just eight weeks before the SEMA Show.
Text by Richard Fong // Photos by Michael Ferrara
---
Rolling Forced Induction
To conquer the mountain, Evasive Motorsports sought a forced induction solution. The relatively new 4U-GSE engine's limited aftermarket development presented few options for making additional power. Fortunately, HKS was in the process of releasing its GT Supercharger for the new boxer engine. The HKS design employs a traction drive system with two fixed ball-bearing rollers and one movable roller. According to HKS, this system operates more quietly and efficiently than a gear driven system. [pullquote]THE FR-S TURNED THE ROLLERS TO THE TUNE OF 225 HORSEPOWER AND 185 LB-FT OF TORQUE[/pullquote]The original GT supercharger systems were designed with the pulley facing forward and rotating clockwise with the crankshaft. The HKS GTS7040L supercharger for the 4U-GSE features a reverse rotation drive system since the compressor faces forward and the pulley faces aft. The supercharger kit comes complete with GT Supercharger, 7-psi pulley, HKS F-CON IS piggyback engine management computer, bracket, belt, traction fluid reservoir, intake plumbing, intercooler and piping. For a stock engine/fuel system application, a 43mm intake air restrictor comes preinstalled on the system. HKS does not recommend removing the restrictor unless the engine has been fortified with rods and pistons.
Without the restrictor in place, the GTS7040L can generate airflow to support power figures on the order of 400 horsepower when a smaller pulley is used on the supercharger. At Evasive's shop, HKS' R&D engineer Keisuke Morita installed the supercharger kit and prepared the stock-block FR-S for tuning. On Evasive Motorsports' Mustang Dynamometer, the FR-S spun the rollers to the tune of 225 horsepower and 185 lb-ft torque. Compared to the baseline pull of 157 horsepower, this represented a 43-percent increase in peak power. This is admirable for a bolt-on kit.
JDM Aerostyle
Evasive Motorsports proclaims that it embraces the Japanese tuning philosophy, focusing on a balance of power, aerodynamics and suspension tuning, rather than heavy modifications in any one area. As hardcore fans of Japanese racing, the styling cues for this FR-S derived from Super GT cars and knowledge gained from Akihiro Nakajima at Voltex Racing. Kwan explained, "We visited Nakajima several years ago at his shop in Suzuka. He shared knowledge gained from his Formula 1 experience. We also attended a Super GT race, where we looked at how the Japanese race teams design their aero kits." Inspired by this experience, Kwan, Mike Chang, Kelvin Yong and vehicle designer Ken Chang combined their ideas into a series of sketches. Kwan pointed out that a prevalent theme in the design is the "tear drop" shape, which is aerodynamically efficient. After three different renderings, work began on the FR-S bodywork.