"That's a crazy idea. Nobody would do that. Why would you do that?" Despite the latest trend, car modification will always yield some unique results. From swapping domestic engines into imports to grafting Supra taillights onto a CRX, the automotive lifestyle embodies personalization. The choice of customization is an extension of the enthusiast. When enjoyed by the enthusiast, these modifications become a worthwhile effort.
---
Text and Photos by Richard Fong
MONEY MATTERS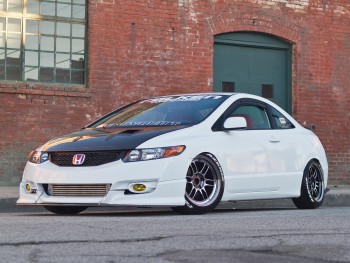 As a 19-year-old working a parttime job at $6.75 an hour, Jon Oregon had limited resources to work with when he started looking for a new car. Although he had been eyeing a Honda Civic Si, his budget could only support this 2006 FG1 Civic LX. "I knew I couldn't afford the Si payment at that time, he said, "So I figured that I would enjoy the power of a bigger K-series i-VTEC engine later on." Undaunted, but still hampered by a tight budget, Jon upgraded the Civic with accessories and basic bolt-ons, little by little. But despite his best efforts, the LX just wasn't an Si. The FG1's 1.8-liter R18A1 engine simply lacked the output of its K-series big brother. Tired of pouring money into the Civic and not getting the performance return he was hoping, Jon stepped back to rethink his plan. Several years later, with a better income at his disposal, he not only wanted more displacement and i-VTEC, he also wanted forced induction added to the mix. A plan that would prove that good things come to those that wait.
THE UNLIKELY CANDIDATE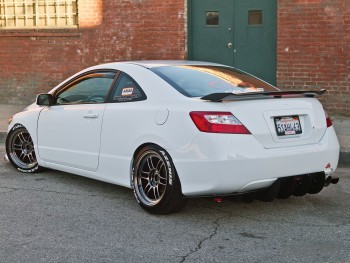 Some projects offer taller hurdles to clear than others, and swapping a K-series engine into a Civic LX was not a common practice. Jon stated, "Originally, I planned to leave the LX alone and build a K-series engine to put into an EK hatch for drag racing, but since I already owned the FG1, I decided to use it for the swap. In addition, not as many people had built a turbocharged K-series for the FG1 Civic LX, so I figured it would be something different. Of course, many people hated on my project, saying 'Why would you waste a built motor on an LX?' or 'That's too much motor for that car.' But this was my car, and I was going to do whatever I wanted, regardless of the critics' comments." Upgrading the Civic without a clear idea of what he wanted to do continued to prove a costly folly for Jon. By that time, he had already invested in a complete K24 shortblock and a K20 i-VTEC cylinder head. However, the horsepower levels he targeted would require stronger internals and a comprehensive engine build. After consulting Jerry Guzman of JerryBuilt Racing in Los Angeles, the reality of his goals set in, and he decided to pull the stops and build the engine right. Jerry sent the block to RS Machine to be sleeved. Once the block returned from the machine shop, he dropped in a set of Arias pistons that make the connection to the crankshaft by way of Pauter rods. As work progressed on the block, the cylinder head was sent to Port Flow Design to be ported and polished by Tom Fujita. Tom finished the headwork with the installation of a complete Supertech valvetrain. Once the head and block were reunited, Golden Eagle head studs provided the clamping force to ensure a good seal, completing the longblock assembly.