Toyota's JZA80 Supra Turbo was only available in the United States from 1993 through 1998, but to this day, it continues to be one of the most desired Japanese sportscars. Some fanatics waited for years to finally acquire one, while some waited even longer to get a second one. Unfortunately, some never get the chance.
Text by Richard Fong // Photos by Victor Benyi Photography
---
LIGHTNING STRIKES TWICE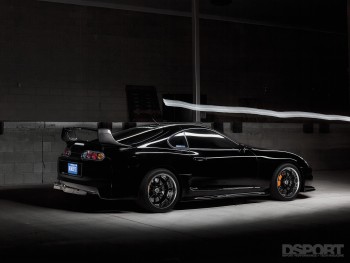 When owners let their cars go, their motivations for selling can be anything from financial hardship to getting a good market value to fund a new project. Some have to make hard decisions that can't be av oided, as was especially the case for Hawaii resident Brian Okawa. Circumstances left him with little options. He first fell in love with the JZA80 Toyota Supra when it was introduced in 1993, and since there were significant dealer markups that made the $39,000 sticker price grow to over $47,000, it was also an expensive car. For someone earning $18,000 a year at the time, this was beyond reasonable means. However, a decade later, when his income had improved, he was finally able to buy his Supra. Okawa built it up to supercar stature with a large single turbocharger and a built engine that produced 968 hp. This Supra caught the eye of DSPORT publisher Michael Ferrara, who featured the car in DSPORT's March 2006 Issue #39. Unfortunately, Okawa was unable to keep his Supra for very long, as an unexpected family medical emergency created a financial obligation that forced him to let the Supra go.
[pullquote]ALTHOUGH THIS MACHINE HAD BEEN TRANSFERRED FROM OWNER TO OWNER… NO ONE HAD EVER FINISHED THE BUILD[/pullquote]In 2013, a decade after he purchased his first Supra, a second opportunity to own a Supra presented itself. Okawa's friend, Kai Piscusa, informed him of a Supra project for sale at Insane Speed in Las Vegas. Although this machine had been transferred from owner to owner several times, no one had ever finished the build. It was a large turbo, TH400 automatic-equipped Supra, geared for quarter-mile drag racing. After some negotiation with Insane Speed's Todd Allen and the vehicle's owner, Okawa was once again the proud owner of a Supra.
COURSE CORRECTION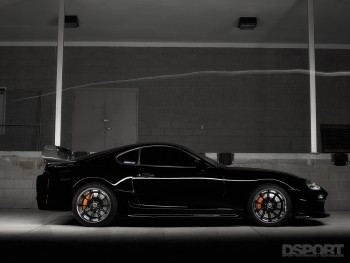 Coming into a partially finished build is not always ideal when the existing plan doesn't align with the new owner's vision. For Okawa, there were a number of issues with the build plan. He explained, "When I first agreed to purchase the car, I initially prepared to continue the build the way the previous owner had planned to proceed. However, after much thought and deliberation, I decided that I didn't want to go with that plan. I jotted down my goals for the build, and fortunately, the car had been taken apart and was not yet put back together. So there was still time to implement changes. Since my last Supra had a large framed turbo that was fun on the highway but lacked the response to be fun on the street, I wanted to be sure that responsiveness and streetability were top priorities for the build."
"The GT4580R turbo was a lot larger than my last turbocharger, which was a Precision Turbo and Engine PTE76. Combined with an automatic transmission, the Supra would have been an ideal drag setup. Unfortunately, it would have been terrible to drive on the street. No low-end torque and limited top-end speed due to lack of gearing definitely not a good combination."