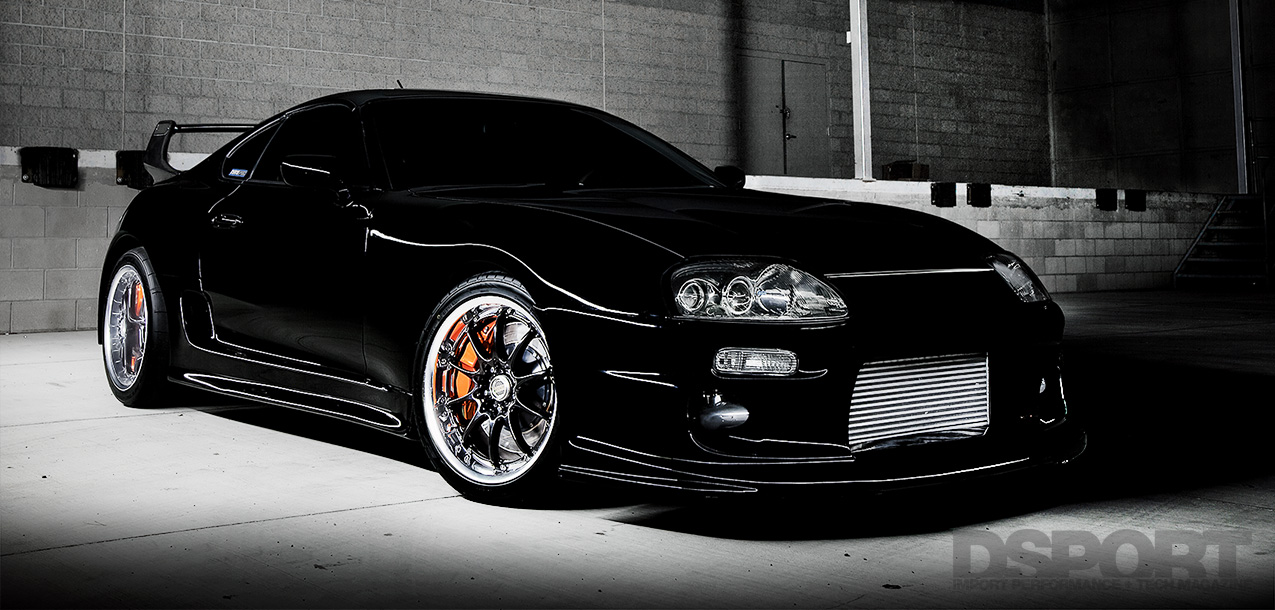 SAVVY TRADES
Todd Allen at Insane Speed understood Okawa's concerns and helped him negotiate a trade with another Supra owner. An owner of a six-speed, who wanted to build an automatic drag car traded transmissions with Okawa, and Insane Speed swapped out the GT4580R turbo and five-row intercooler for a quicker spooling PTE6768 turbo and a four-row ETS intercooler. With these issues addressed, focus shifted back to building the Supra.
ENHANCED 2JZ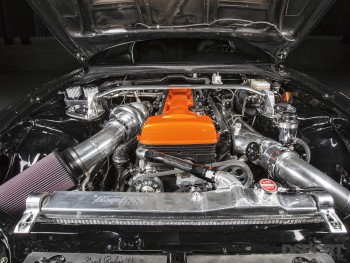 Okawa's previous Supra had a built three-liter 2JZ-GTE. With more displacement comes more torque and improved turbo response. For Okawa's new project, the block was overbored 1mm to 87mm. The bores were filled with a set of 9.5-to-1 compression CP pistons. The pistons make the connection to the 94mm BC Brian Crower stroker crankshaft by way of Carrillo rods, increasing the displacement of the engine to 3,353cc. This is an increase of 10 percent compared to his first Supra and 11 percent over stock. Up top, the cylinder head received an Insane Power Race Port and a complete Ferrea valvetrain. GSC Power Division Stage 2 camshafts provide valve lift and orchestrate valve-timing events.
QUICK SPOOLING SNAIL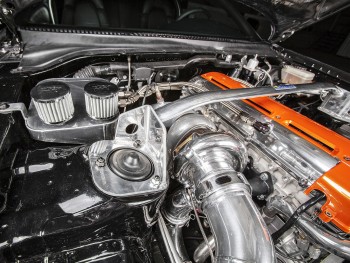 With more displacement comes a greater volume of high enthalpy gasses. To channel the gasses to the inlet of the PTE6768 turbocharger, an HKS tubular manifold was chosen for the duty. The boost generated by the turbocharger flows through an Extreme Turbo Systems intercooler on the way to the Hypertune 105mm throttle body and sheet metal intake manifold. Okawa commented, "I've always wanted a Hypertune intake manifold like DSPORT's Project RH8 Skyline GT-R. Todd was able to acquire one, and he added a custom touch by anodizing the runners in black, which makes the manifold look like its floating in the engine bay."
REVISED SUPPLY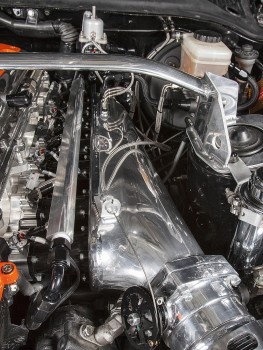 Okawa's first Supra was set up for VP Racing C16 race fuel and produced 968 hp at 42 psi boost pressure. But instead of running a triple-pump setup, a dual Bosch 044 in-tank unit was adopted to deliver E85 to the fuel rail. With Injector Dynamics ID2000 injectors spraying fuel into the combustion chambers, the duty cycle and ignition timing needed to be adjusted accordingly. An HKS F-CON VPro engine management system tuned by Mike Angel of Insane Speed regulates and monitors the engine, ensuring proper fuel delivery and spark timing. With boost dialed in at 31psi, the Supra put down 905.7 hp and 777.1 lb-ft torque to the rollers of a Dynojet dynamometer.