Some might recognize top fuel for its iconic DC2 and EK builds of the late 90s and early 2000s, others might remember its crazy rear engine, rear-wheel drive Del Sol conversion unveiled at the 2001 Tokyo Auto Salon. More recently, Top Fuel has garnered recognition competing its extreme S2000 in World Time Attack Challenge's Unlimited class. No matter what the case, many remember Top Fuel as a predominantly Honda tuning shop. They could not be more wrong.
Text by Richard Fong and Toshi Hayama // Photos by Richard Fong
---
 
Three Decades of Tuning
Top Fuel has enjoyed a heritage of more than thirty years that separates it from many of the newer tuning shops. For Yasuji Hirano, the founder of Top Fuel, racing and performance aren't just his business; they're a way of life. And while the company's focus has evolved to encompass all motorsports, Top Fuel (as its name implies) finds its roots in drag racing. In 1984, Hirano established the first Top Fuel tuning facility. It was located in the middle of a rural farming area in Mie Prefecture, his hometown.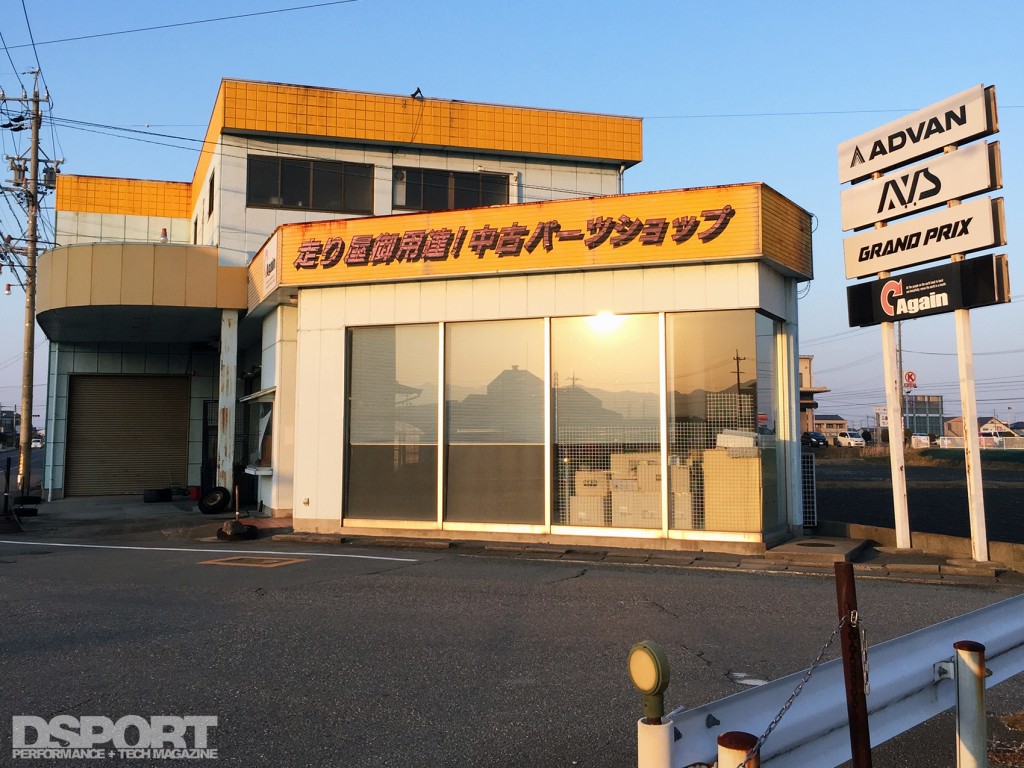 This is the building where it all began. Located next door to the current Top Fuel tuning facility, the old structure remains intact and currently serves as storage. It also houses some of Top Fuel's retired racecars.
Innovation and Invention
Shortly after opening up shop, Hirano began making parts, which led to his 0-1000 product line. One of Top Fuel's first 0-1000 products was its Power Chamber intake system. Designed by Hirano and made in Nagoya, these carbon-fiber intakes with cone filters were among the early bolt-on products available to consumers. These products have evolved and now include electronic components, like an HID light conversion that has a compact ballast built into the bulb base.
RH9, Redefined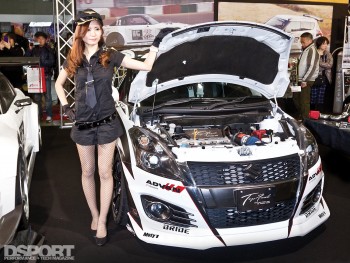 In the heyday of drag racing, a group of tuners established an unofficial standard that gained notoriety and recognition among the tuning community. This standard, known as Record Holder 9, was an honor earned by running a nine-second 0-to-400 meter pass on street legal tires. Hirano soon earned his membership in the RH9 group. These pioneers went on to take RH9 to another level, with membership limited to reputable performance shops. Hirano became a key player in the RH9 organization. There are a total of eight RH9 directors covering various regions of Japan. With a total of 35 companies and 36 shops spread throughout the country, Hirano is the director of the mid Japan region.
Starting from a Dig
In 1996, Hirano made a great impact with the Top Fuel name when he drove an RB26- powered Z32 drag car down the 0-400m in eight seconds. Shortly after, they had another groundbreaking build, a 10-second CRX. In addition, Hirano has put together numerous other racecars for the strip, including GT-Rs, Supras and Silvias.
Despite his passion for drag racing, the 0-400m market has slowed in Japan. The recent closure of the Sendai Hi-Land drag strip on September 15, 2014 also struck a terrible blow to Japan's drag racing scene. The track opened in 1986 and was Japan's eighth FIA approved drag strip. With one less venue to race at, Hirano and Top Fuel evolved to keep up with market interest, which then included time attack. It was for this reason that they began building a turbocharged S2000 for the road course in 2006. The AP1 racecar was also a test vehicle for Top Fuel's S2000 turbo kit development project. In 2012, with a new widebody aero kit designed by Voltex Racing, the S2000 began its World Time Attack Challenge campaign with Nobuteru Taniguchi behind the wheel. The experience gained from time attack competition has provided the company with real world experience that enables them to give substantiated advice to customers.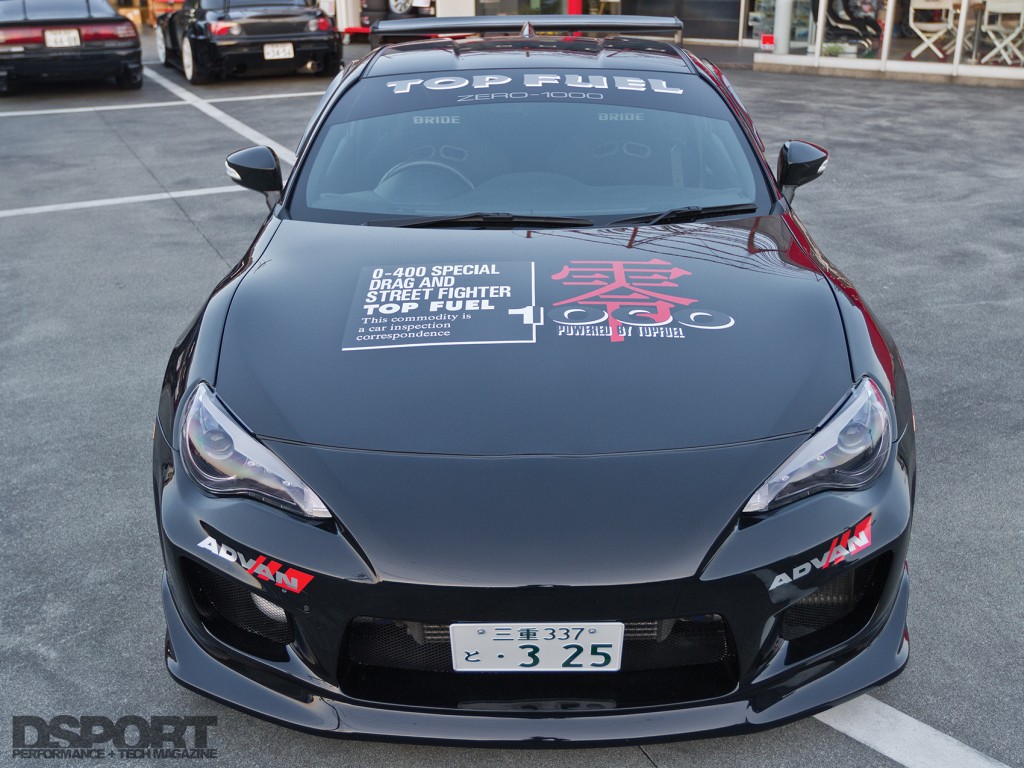 Evolving with the Market
Not one to be pigeonholed by brand association, Hirano didn't hesitate to make a move when the collaboration project between Toyota/Subaru, the FT-86/BRZ, was first released. The media gave shining reviews of the new coupe, and the engineering and thought that went into the design showed performance potential. Add to this, the aftermarket's embrace of the platform and the popularity of the entry-level sport coupe could not be denied. There certainly was value in exploring the well-received platform.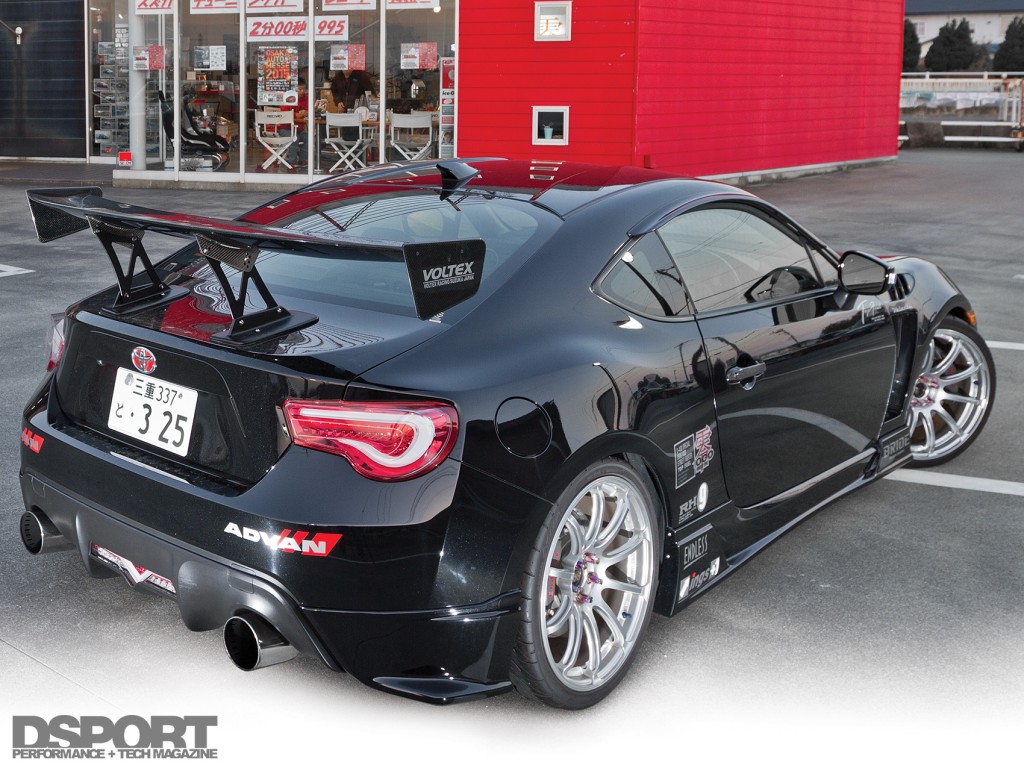 Customer Friendly Coupe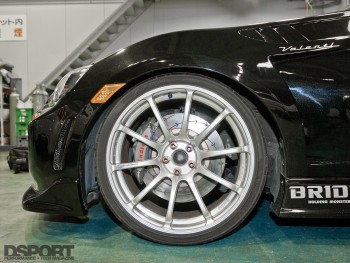 Hirano didn't want to go too far over the top with this demo car, as he wanted to show consumers that it was a tuner friendly car that should not intimidate them. He began with the obvious footwork upgrades, swapping out the factory suspension with a set of Top Fuel adjustable dampers with 10kgf/mm springs. While inside the wheel wells, the brakes also received an upgrade, replacing the factory calipers and rotors with Endless four-piston, forged monoblock racing calipers and larger two-piece rotors (345mm and 330mm, front and rear, respectively). Endless MX72 brake pads provide the friction to shave speed. With the larger stoppers in place, larger wheels were needed to clear the calipers. A set of Advan RSII wheels in a staggered, 19-inch diameter offers the necessary clearance for the big brake kit.
Mass Appeal
In support of the massive wheel/tire and brake combination, the FT-86 bodylines were enhanced by way of an Ings+1 N-Spec body kit. To complement the new aero, a Voltex Racing carbon-fiber wing sits atop the trunk lid and provides additional downforce over the drive wheels. Valenti headlights, taillights and mirrors round out the exterior modifications, working together to give the FT-86 a more aggressive appearance without going overboard.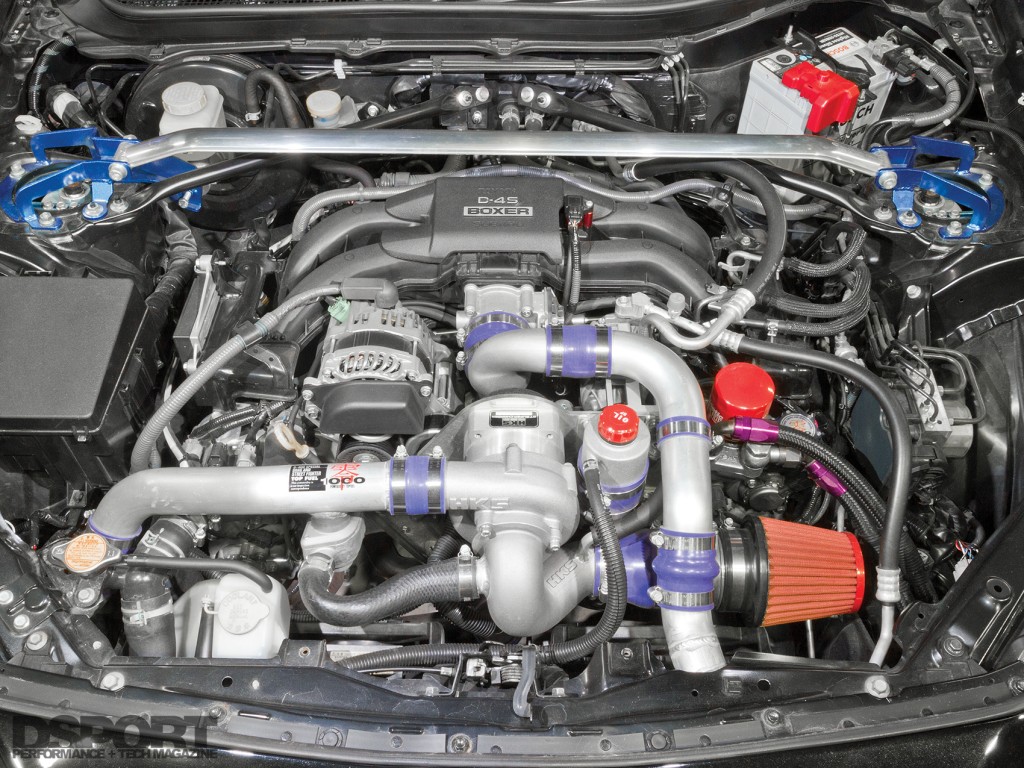 Bolt On Some Fun
Choosing forced induction to provide a measurable improvement proved a wise decision, as Hirano turned to HKS for its FA20 solutions. To generate boost pressure, an HKS GT Supercharger kit was affixed to the engine. A serpentine belt joined the crankshaft to the compressor pulley of the GTS7040L supercharger. With the compressor generating boost pressure, the compressor feeds into a front mount intercooler to exchange heat before channeling the air charge into the throttle body. At a modest 10-psi boost pressure, the FT-86 produced 266 horsepower and 197 lb-ft torque on Top Fuel's Sakura Dynamometer.
Chapter Ends, Chapter Begins
The popularity of Hondas seems to have steadied throughout the years. However, the "H" badge has taken a developmental back seat compared to the newer and more numerous other platforms that have risen in the eyes of the enthusiasts. Top Fuel plans to stay on that cutting edge, embracing promising new platforms and exploring their capabilities. It will also continue to apply proven knowledge and experience to familiar chassis, applying its experiences from drag and circuit racing to its future projects and customer builds.
Top Fuel Shop Tour
SPEC SHEET
| VEHICLE | |
| --- | --- |
| Year / Make / Model: | 2013 Toyota FT-86 |
| Chassis Code: | ZN6 |
| Vehicle Weight: | 2,989 lbs. |
| Weight Bias (F/R): | 53/47 |
| Redline RPM: | 7,500 RPM |
| Peak Boost: | 9 psi |
| Fuel: | 100 Octane Pump |
| ENGINE | |
| --- | --- |
| Engine Code: | FA20 |
| Displacement (cc): | 1,998cc |
| Bore & Stroke (mm): | 86mm x 86mm |
| Peak Horsepower (@ RPM): | 266 whp @ 6,800 RPM |
| Peak Torque (@ RPM): | 197 lb-ft @ 6,000 RPM |
| Dyno Type: | Sakura Dyno |
| Engine Management System: | HKS F-CON iS |
| Engine Management Tuner: | Top Fuel |
| Spark Plugs: | HKS |
| Exhaust Manifold: | HKS Super Manifold w/Catalyzer GT-Spec |
| Exhaust System: | Top Fuel Custom Exhaust |
| Intercooler: | HKS Front Mount |
| Oil System: | HKS |
| SUPERCHARGER | |
| Supercharger: | HKS GTS7040L |
| Max Impeller Speed: | 110,000 RPM |
| Drive Ratio: | 9.444:1 |
| Max Pressure Ratio: | 2.5 |
| Max Flow: | 22 M3/min |
| Compressor Wheel Specs: | 82mm Major, 61mm Inducer |
| Compressor Housing: | 61mm Inducer Port, 44mm Discharge |
| CHASSIS/DRIVELINE | |
| Springs, F&R (Make & Rate): | Top Fuel Spec Springs 10kgf/mm (F&R) |
| Shocks, F&R (Make & Rate): | Top Fuel Adjustable Dampers |
| Clutch / Flywheel: | ATS |
| Differential(s) (Make & Type): | ATS |
| Wheels (Make, Size & Offset): | Advan RSII 19×9.5-inch, 19×10.5-inch |
| Tires (Make & Size): | Yokohama Advan Neova |
| | 225/35R19, 255/30R19 |
| Brake Calipers: | Endless Forged Monoblock 4-piston (F&R) |
| Brake Rotors: | Endless 2-piece Rotors, 345mm (F), 330mm (R) |
| Brake Pads: | Endless MX72 Pads |
| Brake Lines: | Endless Stainless-steel Braided Lines |
| Seats: | BRIDE |
| Gauges: | DEFI |
| EXTERIOR | |
| Bumper (F), Diffuser, Fenders (F), Skirts: | INGS+1 N-Spec Body Kit |
| Spoiler / Wing: | Voltex Racing |
| Headlights, Taillights, Mirrors: | Valenti |