OVER THE TOP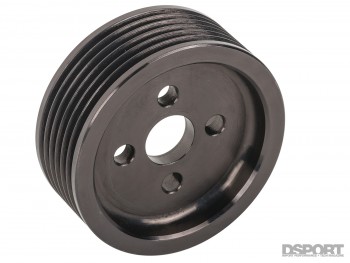 After pulling out all of the stops with the exhaust system and bumping up the boost with a 69mm pulley, Knose flashed the ECU with the EcuTek software again. After starting the car, the non-catted exhaust system greeted us with 90 decibels at idle. Once we began making pulls on the dyno, 90 decibels became an unbearable 123 decibels at redline. Knose then spent time on a custom tune to fully exploit the cat-less, free-flowing exhaust, increased boost and flex-fuel. With adjustments made to optimize for this setup, the FR-S delivered 306.20 peak wheel horsepower and 237.48 lb-ft of torque. Compared to the CARB-legal setup on 91-octane gasoline, the "off-road/race-only" setup generated 75.76 more wheel horsepower and 53.2 lb-ft of torque.
FR-S/BRZ
OEM Weight
TOMEI Weight
OEM Pipe Dia.
TOMEI Pipe Dia.
Manifold
20.3 lbs
14.2 lbs
42.7mm
42.7mm
Port exit – 1st juncture
45.0mm
45.0mm
1st juncture – 2nd juncture
51.2mm
60.5mm
2nd juncture – joint pipe
Joint Pipe
4.4 lbs
3.3 lbs
54.0mm
60.5mm
Straight Pipe
12.1 lbs
3.1 lbs
60.5mm
60.5mm
Cat Back
38.3 lbs
16.1 lbs
54.0mm
80.0mm
Total Weight
75.1 lbs
36.7 lbs
Total Savings 38.4 lbs
FINALLY CONTENT
As the FR-S' injectors reached nearly 90-percent duty cycle and the supercharger maxed out on boost, the next step will be a built engine and turbo kit to produce even more power. For now though, we plan to enjoy the 33-percent increase in power and the scream of the TOMEI Powered exhaust. With over 300 wheel horsepower on tap, the limiting factor of Project FR-S now shifts from power back to grip and traction. Thankfully, the Delicious Tuning flash also includes custom traction control to keep the car from spinning. As long as the check driver light stays off, we're hoping to see improved lap times from the FR-S. Stay tuned.