Since its release in 2012, the FR-S/BRZ has received an enormous amount of praise for its excellent chassis, abundance of aftermarket support and entry-level price point. Yet, both the press and enthusiasts unanimously agree that the power output of an unmodified FA20 engine leaves much to be desired. Instead of simply showing how to make the car look fast, DSPORT will show you how we put together a reliable, daily-driven combination to produce over 300 wheel horsepower.
Text by Jun Chen // Photos by Jun Chen and Richard Fong
STOCK BLOCK & BOOST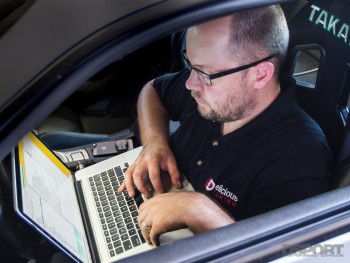 From what we've seen from TOMEI Powered's teardown and analysis of the FA20 engine, Toyobaru's naturally-aspirated boxer engine operates very efficiently from the factory. At 1,998 cc and producing an advertised 200 horsepower at just 7,000 RPM, the FA20 measures up to the golden ratio of 100 horsepower-per-liter. However, it's no secret that the platform could use more power. After testing numerous exhaust, intake, supercharger, nitrous and other power adders for the FR-S, we turned to the E85 to further increase power output. E85, an 85-percent ethanol and 15-percent gasoline blend, is an alternative at the pump to standard gasoline in many parts of the U.S. While politicians continue to argue whether or not this corn-based fuel will make us any less dependent on oil from the Middle East, there is absolutely no debate when it comes to the power potential of E85. Since E85 has an effective octane rating of 105, it blows California's "premium" pump 91 out of the water. Moreover, E85's cooling properties, oxygen content and pump availability in many areas make it a popular high-performance fuel. Thus, it only made sense for us to put Project FR-S on this high-octane corn syrup.
FLEX ZONE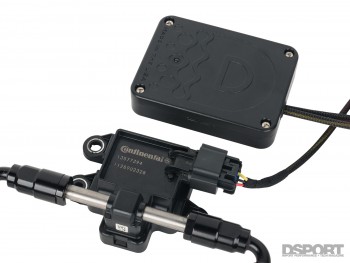 Although we knew that E85 would be our fuel of choice, not every station in California carries E85. In fact, there are fewer than 10 stations within a 35-mile radius of DSPORT Headquarters that offer the biofuel. Fortunately, a flex-fuel solution exists for our FR-S. Flex-fuel is a vehicle's ability to run on more than one fuel, in this case, a varying blend of E85 and gasoline. On most flex-fuel vehicles, a flex-fuel sensor is plumbed into the fuel lines. This sensor outputs a signal that describes the ratio of ethanol to gasoline in the mixture. This signal is then interpreted by the ECU. By determining the ethanol content in the fuel blend, the ECU can adjust parameters such as fuel delivery, timing or boost (on turbocharged vehicles) according for mixtures ranging from E10 (pump gas) to E98.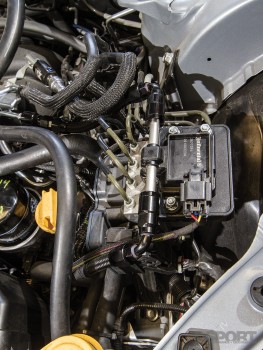 For Project FR-S, we chose a flex-fuel kit from Delicious Tuning that consists of a GM/Continental flex fuel sensor, digital to analog conversion module, plug-and-play harness and all of the necessary lines and fittings to plumb directly into the factory fuel system. We hooked up the ethanol content analyzer output to the secondary O2 sensor plug to feed this signal to the ECU. If we were running a speed-density tune in the ECUTEK, we could have alternatively sent the signal through the unused MAF signal wire. After installation, we re-flashed the ECU with Delicious Tuning's flex-fuel specific ROM to allow the computer to properly interpret the newly added flex-fuel input. As Project FR-S already features the Innovate Motorsports intercooled supercharger, we were eager to see the power gains of E85.