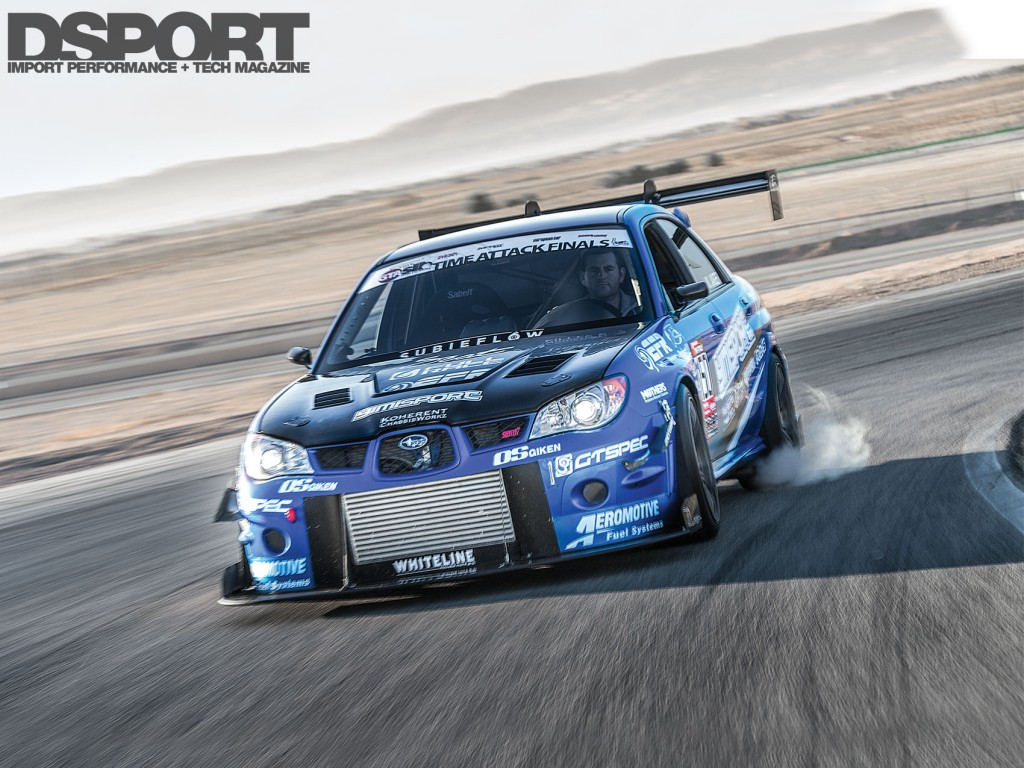 Track closures have been a problem in California, as the dwindling number of drag strips has left enthusiasts with only a handful of places to legally and safely go racing. While the drag racing faithful will go out of their way to find a functioning quarter mile strip, others have moved on to discover new outlets to satisfy their need for speed.
Text by Richard Fong // Photos by Rob Shaw / BackFromLeave Photography
---
 Automotive Playground
The original plans restricted him to just bolt-on modifications and light tuning. With a modest 300 horsepower to the wheels and some lowering springs, Jager was soon making great use of his local racetrack, the Los Angeles County Raceway (LACR) in Palmdale, California. His longterm goal was to break into the ten-second range while being able to drive to and from the track with the reliability of a typical streetcar. Then, like many other tracks, LACR closed down in 2007 and reduced Jager's drag strip options. Fortunately, the Antelope Valley had more than one venue for driving enthusiasts and the choice was soon clear as Jager shifted from the drag strip to a road course. He noted, "LACR was conveniently located, especially since I live in the Antelope Valley. When they shut down the drag strip, I had to find a new venue to satisfy my need for speed. Fortunately, Willow Springs International Raceway was also located nearby."
Traction Addict
For Mark Jager, the 1,320 feet of straight, flat drag strip pavement was his first love, and the raw acceleration had been his passion since he could drive. However watching peg-legged launches and spinning tires got him thinking about traction and how he could make the shortest work of the quarter mile. This turned him onto all-wheel drive platforms, of which there were few that fit his desire at that time. He stated, "I wanted a brand new AWD car, but many of the cars that performed and looked good were not offered any more. This guided me toward one of the last makers that suited my wants, Subaru. I think the fact that Subaru is still producing AWD turbocharged cars sets it apart from its next closest competitor. I selected a 2006 GDB STI as my platform of choice."
Learning Turning
Jager started looking into HPDE and open track days at the Streets of Willow and Willow Springs International Raceway. He attended a few events held by Redline Track Events and Extreme Speed Track Events, which whetted his appetite for more. Soon after, his fiancé (now wife) sent him to driving school, and he became hooked on the road course. Jager spent more time getting used to the STI in the turns before placing emphasis on more modifications. He found himself going to the racetrack almost every week. Without any formal training other than the one trip to driving school, he honed most of his skills with track day seat time. "I got to know the guys at Redline Time Attack and Extreme Speed Track Events quite well, attending just about every event they had on the calendar. I would either be driving, driving with an instructor or riding with an instructor in practically every session throughout each day. I could not learn enough from the people that went to the track with such regularity. They taught me volumes about driving, and no matter how much I absorbed from each instructor, I came to realize that I had a lot to learn each time. Cars are amazingly capable from the factory, and many people modify them before they've fully explored the car's capabilities. This ends up slowing their development as drivers," Jager stated.
Getting Serious About Time Attack
After attending close to 70 track events over the course of two years, Jager's confidence grew and he was encouraged to compete in the local time attack events in 2013. After driving at the same 300 horsepower level with only lowering springs for several years, he decided to step up with a bolt on turbo upgrade in the form of a BorgWarner 6258 turbocharger, which complied with Redline Time Attack's 2013 Street Class maximum inducer diameter of 50mm. On E85, this bumped up the STI's output to 417 horsepower. To add adjustment to his suspension setup, absorb the bumps and keep the tires planted, a set of Race Comp Engineering dampers with Swift springs replaced the stock dampers and lowering springs at each corner. Under the chassis, GTSPEC sub frame and chassis braces add to stiffness, further reducing the effect of the fifth spring for improved retention of suspension geometry. Although 2013 was considered a "build up" year for the STI, with different modifications and changes being implemented throughout the season, Jager set the record in his class at Big Willow, Chuckwalla and on Auto Club Speedway's Roval configuration. The season could have finished even better, but the stock engine that had served so well for six years suffered a blown head gasket at the Global Time Attack Finals. This was the catalyst that pushed him to build the bottom end for even greater output.
Elevating the EJ
Although the stock EJ257 Boxer engine survived numerous track days along with quite a few races before the head gasket blew, the stock rotating assembly was a limiting factor when it came to increasing the power output of the engine. To prepare for 2014, Jager turned to Yimi Sport Tuning to get the STI back on its wheels. Yimi Sport's Paul Leung started the engine reconstruction with an Outfront Motorsports' CNC closed deck block. The cylinder liners were overbored 0.75mm by Eddings Machine Shop before being filled with a set of JE Pistons. SCAT connecting rods make the connection to the SCAT stock stroke crankshaft. For improved volumetric efficiency, the cylinder heads went to SoCal Porting to be reworked. Once the heads were ported and fitted with a complete Supertech valvetrain, the stock bump sticks were replaced by a set of GSC Power Division S2 camshafts to provide greater lift and duration to the valves. With the engine back together again, the team decided to upgrade to a BorgWarner 7163 turbocharger, which features a larger, 2014 street class permissible 57mm inducer. Driven by exhaust gasses supplied by a Full-Race Motorsports manifold, the larger snail delivered improved performance, as peak power increased to 544 horsepower and 500 lb-ft torque, as measured on a Dynojet dyno.