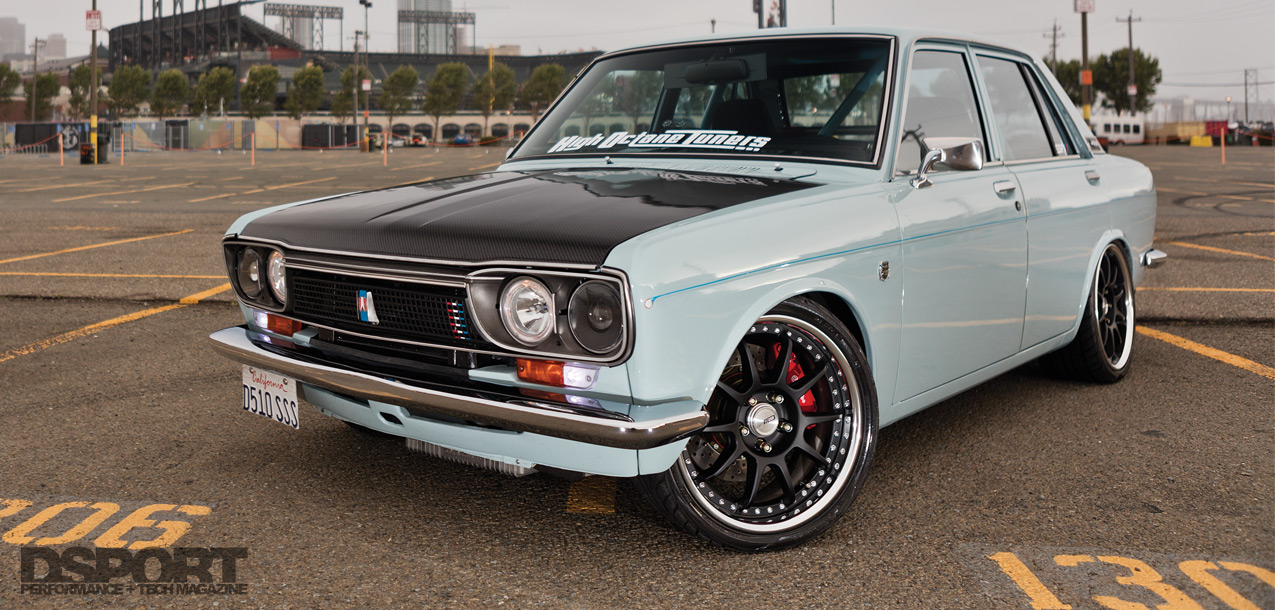 WHAT HAPPENS WHEN AMBITIONS SURPASS expectations and completely derail the original plan? That's what we call overachievement. It's hard to fault ambition though. Afterall, it's a driving force, motivating the human spirit to aspire and achieve. However, overshooting an objective can sometime force a change of direction that was not anticipated.
Text and Photos by Richard Fong
---
A 510 in the 415
Bay area resident Jose Paredes can relate to this experience. Paredes, a long time fan and former owner of two Datsun 510 coupes, purchased this 1971 four-door model to accommodate his growing family. With two young children to shuttle around, a four-door chassis made practical sense. Once his family outgrew the 510, it became Paredes' dedicated project car. As his third 510, Paredes had accrued a lot of experience and knowledge of the chassis. What made the 510 a fantastic platform to build upon was its relative light weight and its independent suspension. Also, due to its age, its smog exempt status opened the door to a variety of engine choices while maintaining street legal status. Paredes focused on building the chassis for the track, which provided structure and direction for his project.

Nimble in the Turns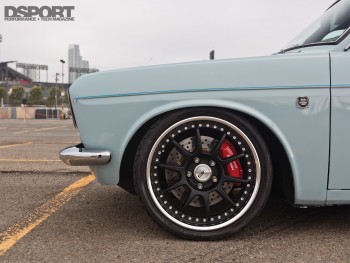 [pullquote]BREMBO GT4 4-PISTONS CALIPERS AND CROSS DRILLED ROTORS PROVIDE AMPLE STOPPING POWER TO THE LIGHTWEIGHT 510[/pullquote].The Datsun's MacPherson strut front suspension and multi-link trailing arm rear suspension provided a decent foundation for the 510's handling package. To add adjustability to the ride height, Paredes installed a set of Ground Control springs with threaded spring perches to a set of Tokico Illumina adjustable dampers up front and Techno Tuning dampers at the rear. The suspension drops the 510 over a set of 17-inch SSR Professor SP3 wheels mounted with Yokohama S.drive rubber at each corner. Behind the spokes of the three-piece wheels is a Brembo GT big brake kit, composed of fourpiston front calipers and two piston rear calipers putting the squeeze on larger diameter, cross-drilled rotors. Finally, a set of custom sway bars round out the Datsun's handling upgrades.
A More Powerful Four
Moving on from the wheel wells, Paredes focused his efforts in the engine bay. The 510's carbureted L16 engine produced a claimed 96 horsepower, but time and technology offered Paredes myriad choices to step up to. Keeping true to its roots, he chose a turbocharged SR20DET engine sourced from an S13 Silvia to provide motility for his sedan. The engine went to Rebello Racing to be refreshed. The shortblock remained unchanged, as the rotating assembly was inspected and reassembled with ARP main studs. Up top,the high-port SR20 cylinder head received mild porting and polishing along with a valve job. TOMEI Powered valve springs and titanium retainers ensure the valves don't float, while TOMEI Powered rocker arms and 256-degree camshafts provide lift for the valves. To secure the longblock components, ARP head studs clamped the head to the block, while a TOMEI Powered head gasket ensured a proper seal.