When are you going to put your car on the cover? I've been asked that question since we started the magazine 13 years ago. Our venerable Project RH8 that started life as Project RH9 has served as a regular project vehicle since the launch of DSPORT. In fact, the vehicle or its engine have been featured in over 25 articles. Since we started, Project RH8 racked up about 100 passes at the strip along with nearly 40,000 miles on the street. While a book could be written about what we learned with Project RH8, our pages are limited. Instead, we decided to allow you to review the past articles online at dsportmag.com. We'll use these pages to explain the motivation behind the project before going into the plans to go even quicker and faster.
Text by Michael Ferrara // Interview by Sami Sharaf // Phots by Staff
---
Q: Over the years, you've owned/raced several cars, tell us about your very first car.
A: My first car was a 1969 Camaro Super Sport, which had a little 327 small-block engine. It was highly modified with a roller cam and some other bolt-on parts and it made over 600 horsepower at 8,000 RPM. That car ran high 10s/low 11s, but traction was always an issue.
Q: Is that why you eventually went to an all-wheel drive platform?
A: I felt plagued by traction issues with the Camaro. Around 1996, I purchased a 1990 Eagle Talon TSi, which was my first all-wheel drive car. I quickly gained a liking to the all-wheel drive system. At stock power levels, that little four cylinder couldn't break the tires loose, so it started off with a lot of traction. That all changed when we started upgrading it though.
Q: Nowadays, tuners are having great results with the DSM platform. What was it like back in the day when aftermarket support for this vehicle was being pioneered?
A: A lot of insight on modifying these cars came from the performance parts manufacturers in Japan. That's why I started off by showcasing different HKS parts for the Talon, which was a pretty cool process. As I went through the different stages, the car went from being a 14-second car to a 13-second car, and eventually a low 12-second car. I ended up wanting to go beyond that power level, so I ported the cylinder head and installed a slightly larger turbocharger. That was the turning point. The car generated enough power to slip the Centerforce clutches I was using and had to upgrade to something more aggressive. As soon as I did go to something more aggressive, driveline parts starting breaking.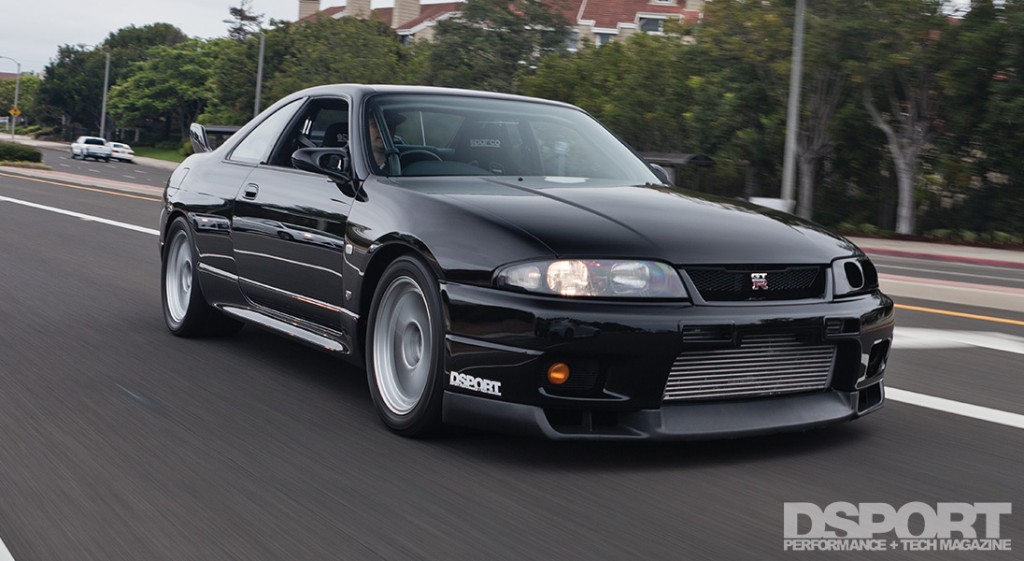 Q: What was the first drivetrain component to let go? How did you address those issues?
A: First, the transfer case melted, then the transmission let go. I started to figure it out slowly but kept breaking transmissions in process. At the time, it was my only car, so if something broke, I had to get it running again right away. I ended up buying up all the used transmissions in Southern California before buying brand-new second-generation transmissions from the dealers.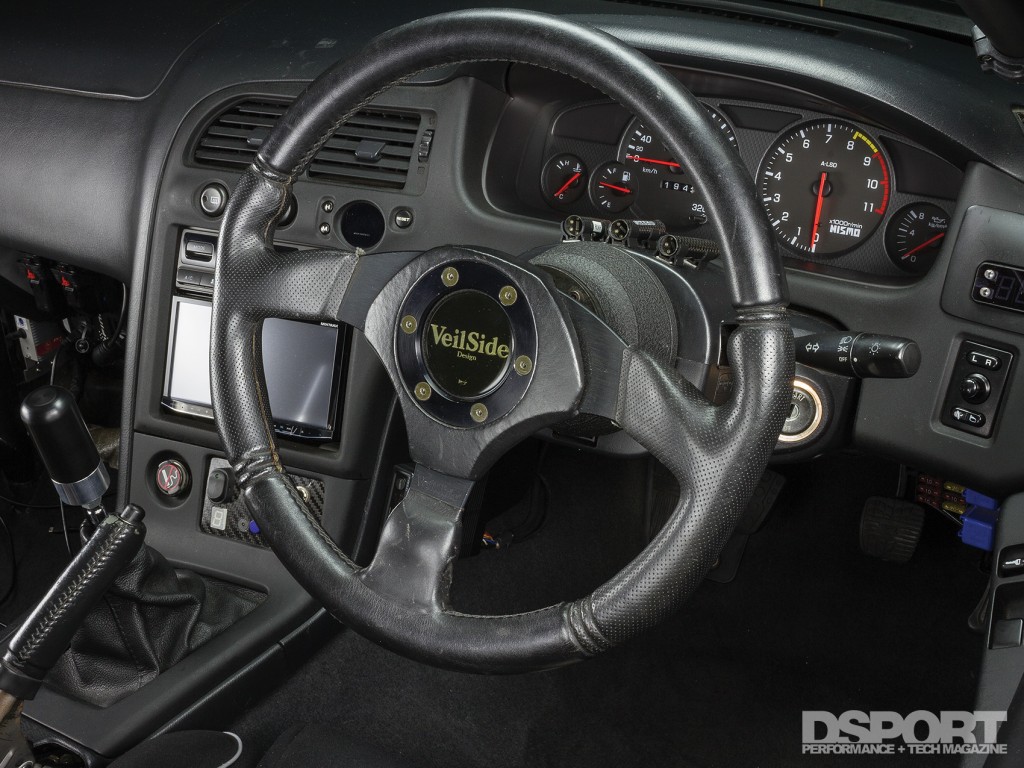 Q: It seems like most projects are limited by power production, but you were experiencing something different with this build. Is that when you knew it was time to move on from Project Talon?
A: At that point, the car could make as much power as I wanted, power was not the limiting factor. The limiting factor was the driveline and I learned a great deal from that experience. Needless to say, if there's one lesson I learned from Project Talon is that it's not fun when the driveline doesn't hold up. I started looking at other all-wheel drive options and started researching the Skyline GT-R.
Q: How did you hear about the GT-R? And how'd that compare to what you had already experienced?
A: At that time, the R32/R33/R34 GT-Rs already gained a lot of mystique and the performance they were capable of intrigued me. The GT-R sounded pretty cool and was intermediate to the cars I had already owned. The inline-six RB26 engine was greater in displacement than the 4G63 but about half the size of the Camaro's 327-cubic inch engine. The all-wheel drive system and twin turbochargers sounded good though. I scraped together every penny I had and purchased the car and made sure it was federalized to be 50-state legal.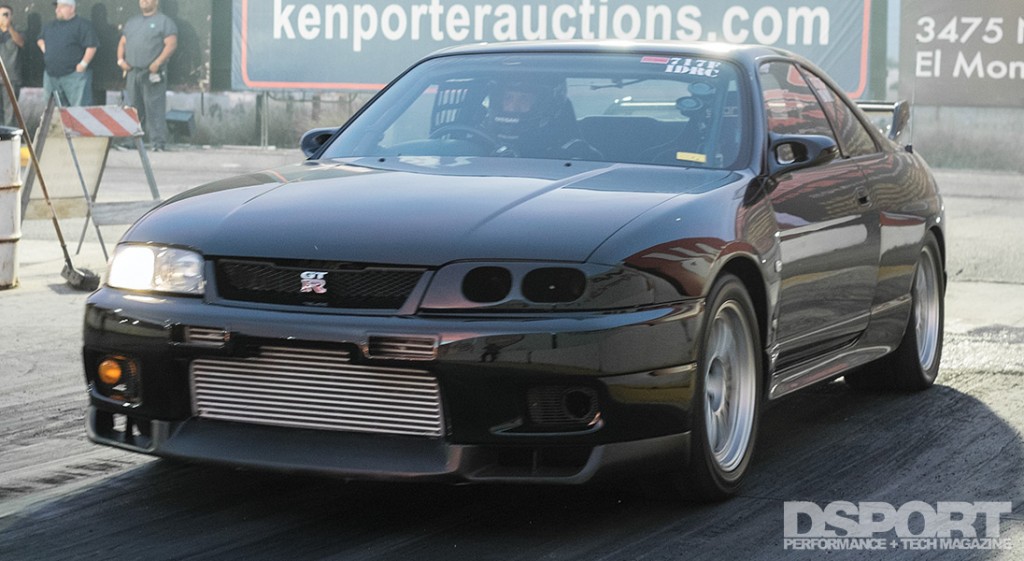 Q: After you purchased the GT-R, what were your first impressions?
A: I quickly discovered that a bone stock R33 GT-R isn't very impressive. The RB26 engine is kind of like a Honda B16, you have to rev it high and drive it hard to get it to run strong. Naturally, I started off with some basic bolt-on parts, freeing up the intake and exhaust systems. All of a sudden, the car livened up and became pretty fun to drive.
At an NHRA-sanctioned drag strip, a roll-cage, helmet, driving suit, gloves and neck restraint are all required safety gear. On the street, factory seat belts are used.
Q: At what point did you start setting goals for the project and what were those goal?
A: During my visits to Japan with what is now the DSPORT Magazine Tokyo Auto Salon Tour, I observed many tuners that were running 11-, 10- and even 9-second quarter mile times in the R33 GT-R, back in 2000. It got me thinking that it would be pretty cool to have a legitimate streetcar that could do that.
Q: What motivated you to keep it streetable?
A: In researching my options, I came across RH9, a Japanese organization that represents a group of tuners that were members of the Record Holder 9-second Club. Entry into the club consisted of building a car to run a 9-second quarter mile on radial tires. At that time, the majority of the cars accomplishing this feat were GT-Rs because that was the only car capable of it. I decided that I wanted to do just that and maintain streetability while achieving serious performance.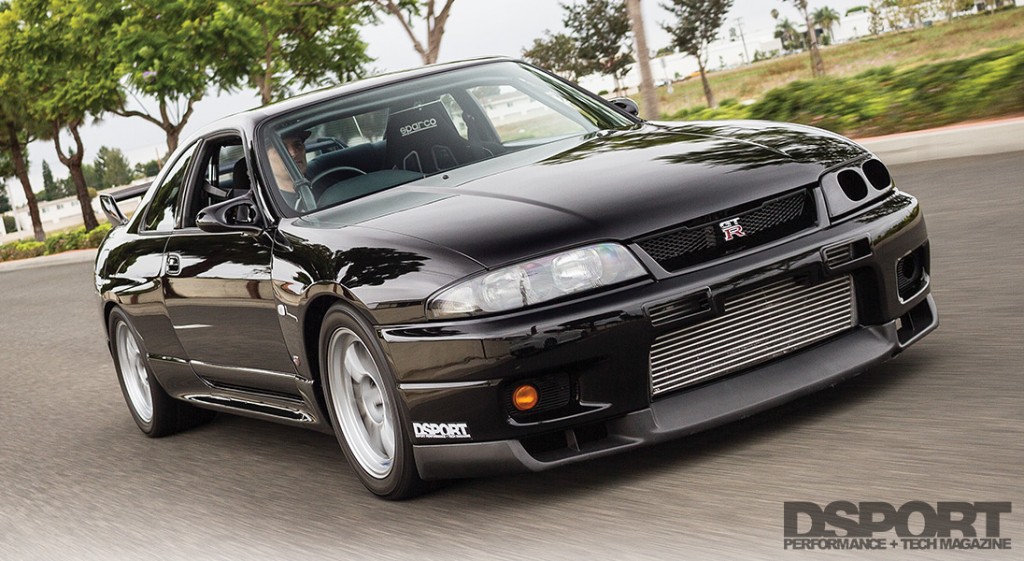 Q: So how did you plan to go from bolt-on mods to 9-second quarter mile times?
A: I really wanted to minimize the number of parts I needed to purchase, so the mindset was that everything I purchased should be 9-second capable. With that in mind, I started off with a massive turbo kit, the APEXi Twin RX6 system and installed it on a stock engine. To give you an idea, that kit makes over 1,150 wheel horsepower today, but it was put on the original engine and ran at much lower boost levels until the supporting components were in place.
Q: How did that first round of upgrades fair? Was it enough to get to your goal?
A: Light tuning went well. When the car reached the 500-600 horsepower range, I started having flashbacks of Project Talon. That's about the power level that the factory R33 GT-R front differential and transmission could break. The factory transmission eventually let go, so I began looking at different options including improved gearsets. I finally decided to bite the bullet and buy a Holinger sequential gearbox. I didn't want to deal with the same nightmare as Project Talon on the GT-R and this upgrade addressed concerns of durability and reliability needed to get to the RH9 goal. Once again, I was broke for sometime after the purchase.
Q: What type of feedback were you getting on the project? And was it in line with your ambitions?
A: In the process of building this car, I've been asked a million times about stripping down the car to make it lighter and faster. People weren't shy about informing me that I could get to my goal much easier if I sacrificed some utility or streetability. This project has never been about making it a racecar, so even though it made the goals more challenging to achieve, I kept the car as streetable as possible. In my opinion, this car is 100-percent streetable, the only things that make it a little less streetable are needed to keep it safe when its on the track.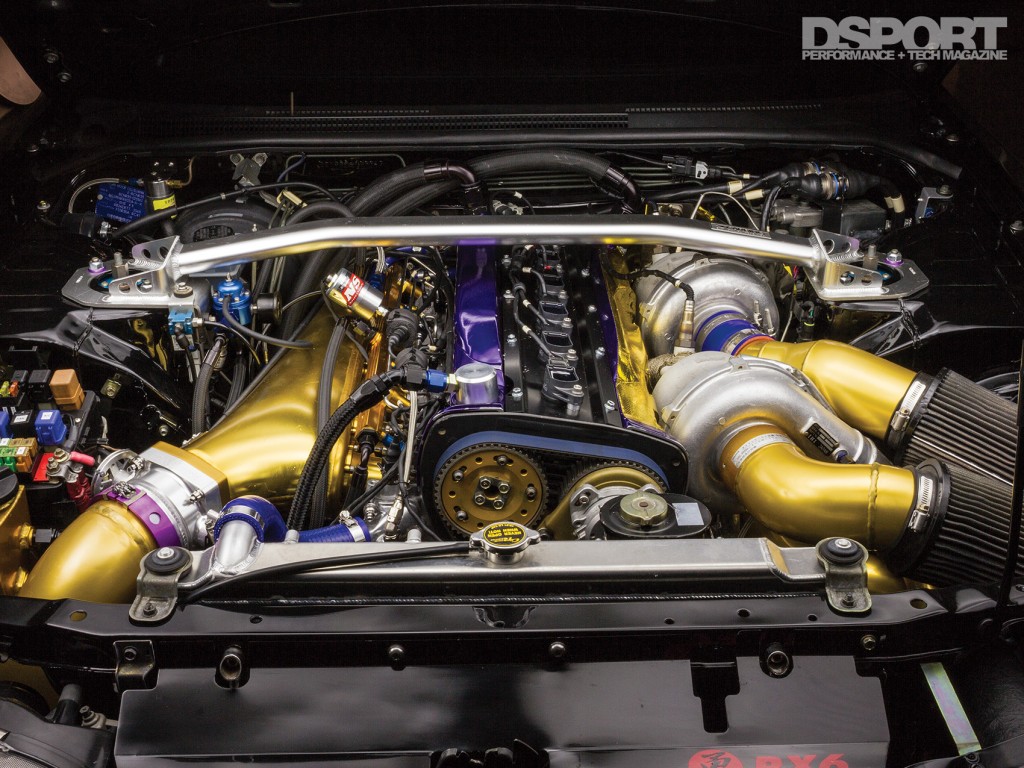 Q: How was reaching the 9-second goal different than the 8-second goal?
A: It was 10 times the challenge, so that's why it took nine years. Since the weight of the car hasn't changed, the only way to go from 9s to 8s was to make more power and improve traction. Breaking into the 8-second realm required power management strategies unavailable on earlier engine management systems. Logging data was also key. While you may not always get to the answers at the track looking at logs, you'll get to the answer with more study. Overall, I would say the most effective tactic was to approach the goal using my experience from past projects and applying my engineering background. Anybody can build an 8-second GT-R with enough time and money, but using an engineering approach teamed with experience will save both.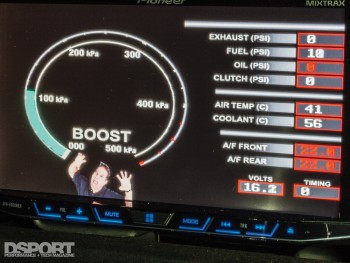 Q: Having achieved RH8 status, where does this car stand relative to other GT-Rs?
A: This car could arguably be the quickest and fastest streetable R33 GT-R out there. The challenge with this title is figuring out where to draw the line on streetability. But what we do know is that there are only two or three cars that have gone quicker on DOT-approved tires. Our data indicates that there is more time to be shaved off with the DSPORT RH8 R33 GT-R. That's where the project stands now, because there should be a half-second left in the car. Reason being, those runs were at altitude, the car didn't have good traction and I didn't have the LSD activated on the launch. So these are all variables that could contribute to the Skyline's performance and it would only be fair to the car if I took it out there again to see what it could do at 100-percent. So we're going to keep with the goal of reaching a 8.50-second time in full street trim. With that said, this car runs on the same pump fuel on the street and on the track. I don't have a different program or boost setting for the street. Whether it's on the street or track, the car is always set to kill.
1,257 WHP @ 9,000 RPM
The 8.50 Plan
Aren't 8.90s enough? That's what I originally thought. If we could make our flagship project vehicle run in the 8s in streetable trim, then it would be mission accomplished. Then we did it. It was an amazing sense of accomplishment. However, after reviewing the weather conditions, track conditions and datalogs, we came to the conclusion that retiring Project RH8 at this junction wouldn't be fair. Without changing the setup, the car should run in the 8.6s with simply better track and weather conditions. That's arguably the quickest ever time for any RB-powered GT-R on radial tires. Changing to larger turbine housings (if the unicorns could be found) and upgrading to a "push" nitrous system would likely add another 100 horsepower which could get the car into the 8.4s. Putting the driver on a diet, improving the aero and swapping to ceramic wheel bearings might also knock off a tenth or two. Add everything together and our Project RH8, on the right day with the proper fine-tuning, might run 8.30s. As much as we'd like to retire her, we've decided to give her a chance to see how quick she can really go.
These exclusive and elusive IHI RX6 TCW77-P18 turbochargers are part of the original A'PEXi Integration ISAMU turbo upgrade kit installed on DSPORT's Project RH8 GT-R. These ball- bearing, lightweight turbos are representative of Formula One technology in the late 80s.
Better Conditions (up to 0.23 second improvement)
When we made the quickest pass to date, air temperatures, humidity and air pressure resulted in creating an air density you'd normally find at 4,799 feet (Las Vegas Motor Speedway is actually at 2,028 feet above sea level). Had the density of the air been similar to what would be found at sea level, calculators determine that we would have likely gone an 8.70@165.7 MPH. Essentially, the conditions featured reduced air densities that reduced the power output of the vehicle.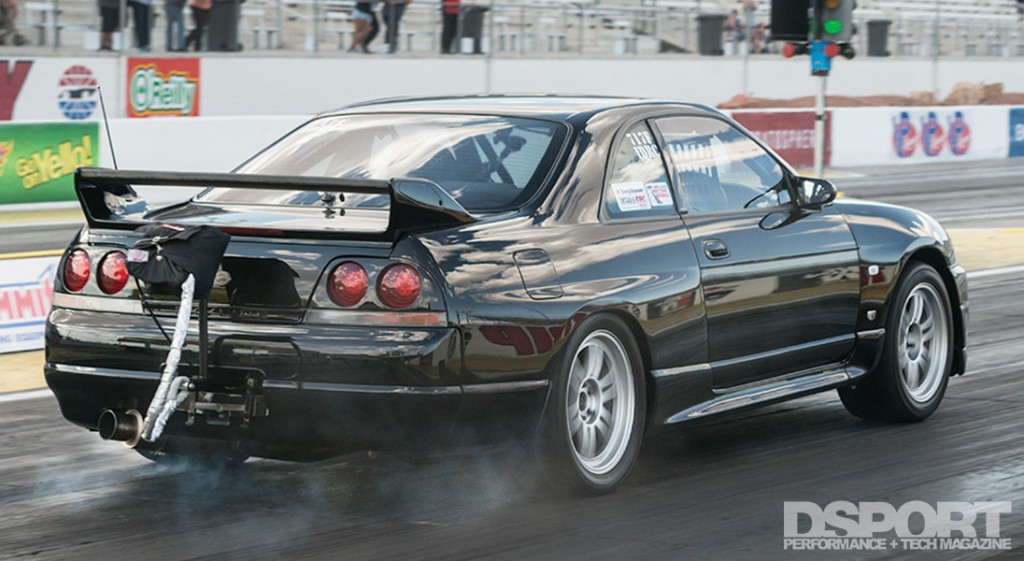 Better Traction (up to a 0.30 second improvement)
Our best 60-foot time to date was 1.39-seconds, which we recorded at Irwindale. This was under less than ideal track conditions, but at least the engine was at full power as the density altitude was under 1,000 feet. On our personal best run, the 60-foot time was a lackluster 1.50-seconds with all four wheels exhibiting massive wheelspin.
Based on the data we have, we believe it's entirely possible to get a 1.35-second or better 60-foot time. We learned that Project RH8, being a V-SPEC edition, has always launched in a "3-wheel drive mode". The active LSD in the rear differential doesn't activate until the ATTESSA-PRO computer tells it to. The ATTESSA-PRO computer needs to see some g-force and speed sensed before it locks the rear differential. From a dead stop, the rear LSD is open (perhaps the reason why everyone in Japan that drag raced the R32/R33/R34 switched to a non V-SPEC clutch-type rear differential). Fortunately, we believe that we found an easy fix where we can electronically lock the LSD on drag launches in the future.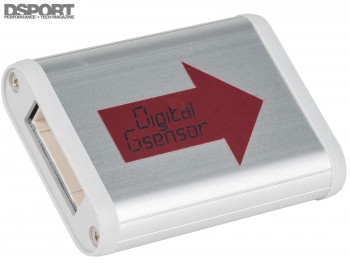 We also have a strategy to improve the center differential activation to allow power to be applied to the front wheels for a longer amount of the run. A Do Luck Digital G-Sensor will be replacing the OEM G-sensor. The Do Luck Digital G-Sensor, using a fast-acting digital G sensor, had its response curve optimized to make the ATTESSA-PRO computer increase the center and rear differential activation for high-performance driving. While originally programmed to improve street and circuit driving, the optimization of the curve should also improve straight-line acceleration.
While getting more wheels in the fight for a longer amount of time will improve traction, having a better system in place to limit the amount of time wasted during wheelspin will also help. This will be accomplished by fine-tuning the 3-step rev limiter in the AEM Infinity-10 EMS. This system sets multiple RPM limits based on time after launch and the gear to make sure the tires are not significantly overpowered.
More Power (up to a 0.20 second improvement)
According to our logs, exhaust backpressure is through the roof with our current turbine housings. We need to move from our current P18s to a set of P20s or P22s. This alone would likely free up 50 to 80 horsepower above 8,200 RPM. Unfortunately, we currently just have one P20 and one P22 housing. If you have a spare P20 or P22 you want to sell, we want to buy. In addition to freeing up power being wasted pumping out the exhaust against serious backpressure, we expect our custom push nitrous system will add about 15-percent more power without a jet change, while also significantly improving consistency due to the constant 1,100psi bottle pressure.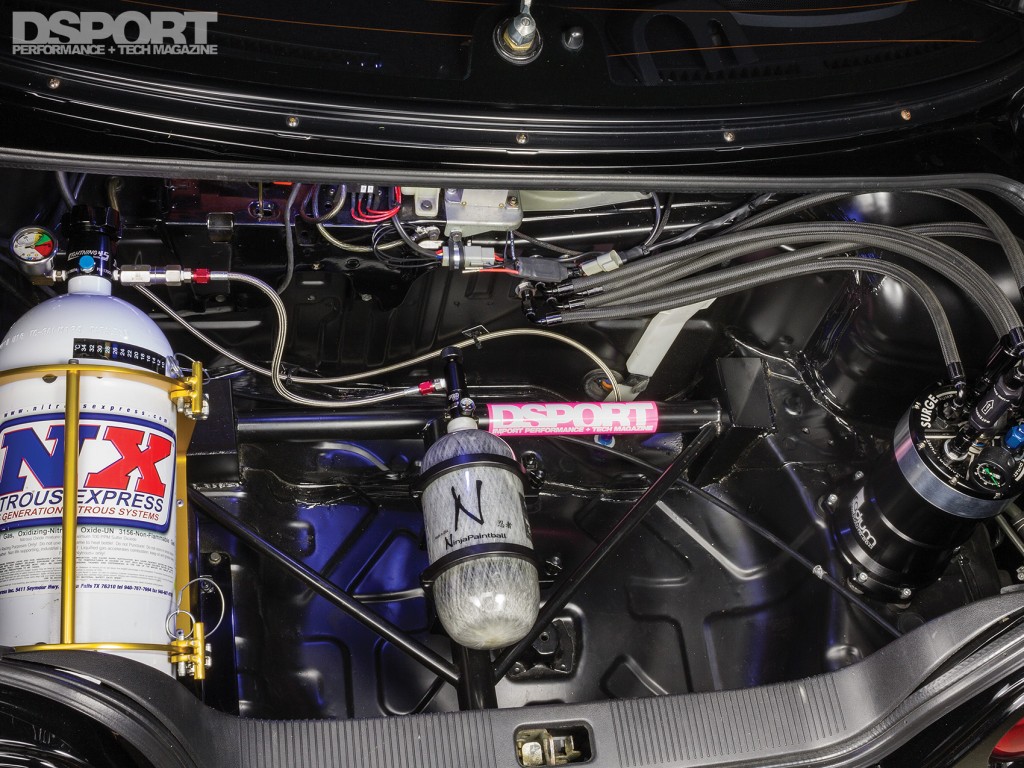 Fight Friction (up to a 0.20 second improvement)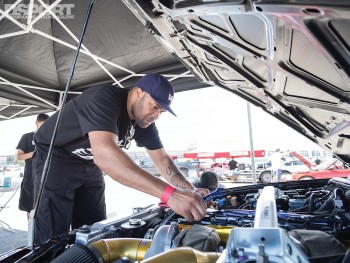 Power, power management and traction are obviously the major players in the quarter-mile battle. Take a step back and apply some physics and you can see some other factors at work. There's a percentage of power generated by the engine that's being used to overcome the friction present in the driveline. Recently, ceramic wheel bearing upgrades have become more and more popular. We'll soon be exploring this technology and sharing our test results. If the results are half as good as some of the claims, the substantial investment may prove well worth it. In addition to power lost to friction in the drivetrain, there is also power wasted overcoming the effects of aerodynamic drag. While the effects of aerodynamic drag are more pronounced at speeds above 60 mph, consider that our Project RH8 GT-R does 0-60 mph in 1.4 seconds. That means aerodynamic drag is a legitimate factor for 80-percent of the run where speeds ramp from 60 to 165 mph. We'll hope to reduce drag with the addition of a rear diffuser and possibly some flat bottom panels. Will it work? We're going to find out.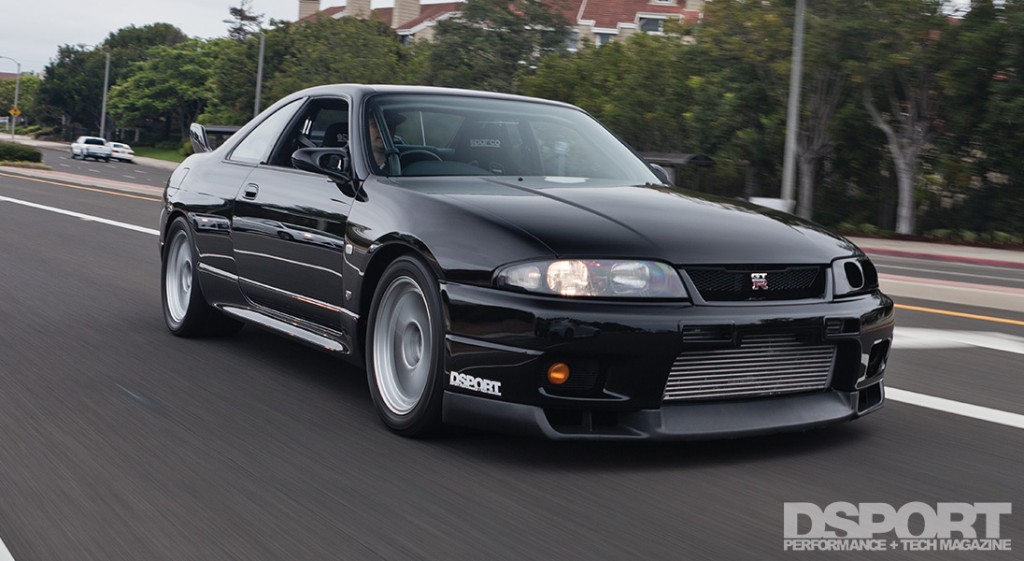 SPEC SHEET
| VEHICLE | |
| --- | --- |
| Year / Make / Model: | 1996 Nissan Skyline GT-R V-spec |
| Chassis Code: | BCNR33 |
| Vehicle Weight: | 3,560 lbs. (w/driver) |
| Weight Bias (F/R): | 57/43 |
| Launch RPM: | 7,200 RPM |
| Shift RPM: | 9,600 RPM |
| Redline RPM: | 10,000 RPM |
| Peak Boost: | 40 psi |
| Fuel: | Pump E85 |
| ENGINE | |
| --- | --- |
| Engine Code: | RB26DETT |
| Displacement (cc): | 2,599cc |
| Bore & Stroke (mm): | 86.5 mm (+0.5mm) x 73.7mm |
| Peak Horsepower (@ RPM): | 1,170whp @ 8,900 RPM (w/o Nitrous Oxide) |
| | 1,257+whp @ 8,900 RPM (w/ Nitrous Oxide) |
| Peak Torque (@ RPM): | 750 lb-ft @ 7,800 RPM (w/o Nitrous Oxide) |
| | 850 lb-ft @ 7,600 RPM (w/ Nitrous Oxide) |
| Dyno Type: | Dynojet 424xLC2 AWD Dynamometer |
| Engine Builder: | Magnus Ohlaker, Club DSPORT |
| Block Modifications: | NISMO N1 Block |
| Machine Work: | Full Machine & Assembly at Club DSPORT |
| Pistons/Compression Ratio: | CP Pistons 8.5:1 |
| Connecting Rods / Crank: | Carrillo Pro-H Forged Steel Connecting Rods |
| Camshafts: | TOMEI Powered 290/280 |
| Cam Gears: | A'PEXi Integration Adjustable |
| Valves / Springs / Retainers: | Ferrea Valves/Springs/Retainers |
| Cylinder Head Mods: | Portflow Ported and Polished |
| | |
| Head/Main Studs: | ARP CA625+, ARP 2000 |
| Cylinder Head Gasket: | TOMEI Powered MLS |
| Intake Manifold / Throttle Body: | Hypertune w/100mm TB |
| Air Induction System: | Custom w/K&N Filters |
| Fuel Injectors: | Injector Dynamics ID2000 (x6) |
| Fuel Delivery System: | Walbro F9000267 lift pump in-tank |
| | TI Automotive Brushless Veyron Pump (Main) |
| | Walbro F9000267 Booster Pump |
| | Modified Radium Engineering MPFST |
| | AEM Fuel Pressure Regulator |
| Engine Management System: | AEM Infinity-10 EMS |
| Engine Management Tuner: | Michael Ferrara |
| Boost Controller: | 4-port Solenoid |
| Ignition: | SplitFire R34 Ignition Coils |
| Spark Plugs: | NGK Racing #10 |
| Exhaust Manifold: | A'PEX Integration ISAMU RX-6 45mm |
| Exhaust System: | Burns Stainless Collector, 70mm (x2) to 90mm |
| Downpipe: | Modified ISAMU Down Pipes |
| Wastegate: | Turbosmart 45mm HyperGate (x2) |
| Blow-Off Valve: | Synapse Synchronic Blow Off Valve |
| Intercooler: | GReddy 5-row Tube & Fin Racing Cooler |
| Nitrous Oxide: | Nitrous Supply Custom Direct Port w/ Solenoid |
| | DSPORT Custom Push System 4500psi/1100psi |
| Cooling System: | C&R Radiator |
| | SPAL Fan |
| Oil System: | GReddy/TRUST Oil Pan Extension |
| Fuel Cell: | Stock Fuel Tank w/Custom Hat |
| Performance Electronics: | Ignition Projects Plasma Lift |
| TURBOCHARGER | |
| Turbocharger: | IHI RX6B TCW77L-P18 (x2) |
| Frame: | RX6B |
| Compressor Wheel Specs: | 82mm Major, 61mm Inducer |
| Turbine Wheel Specs: | 63mm Major, 52mm Exducer |
| Turbine Housing: | IHI P18 Housing (0.71 A/R) |
| CHASSIS/DRIVELINE | |
| Springs, F&R (Make & Rate): | Veilside Pro DRAG SPL by HKS |
| Shocks, F&R (Make & Rate): | Veilside Pro DRAG SPL by HKS |
| Additional Suspension Components: | NHRA-certifiedRoll-Cage |
| | Whiteline Sway Bars, Whiteline Bushings |
| | Nagisa Auto Suspension Links |
| Transmission: | Holinger 6-speed Sequential |
| Transmission Gearing: | 2.870 / 2.155 / 1.595 / 1.233 / 1.000 / 0.875 |
| Final Drive: | 4.11:1 |
| Clutch / Flywheel: | Custom Tilton Quad-Carbon |
| Differential(s) (Make & Type): | OS Giken Super Lock LSD(F) |
| | Factory Center Diff, Modified |
| Axles / Driveshaft: | The Driveshaft Shop Axles and Driveshaft |
| Wheels (Make, Size & Offset): | Enkei RPF1 17×9-inch (F), 17×10-inch (R) |
| Tires (Make & Size): | Nitto NT05R 315/35R17 (R) |
| | Nitto NT05R 275/40R17 (F) |
| Brake Calipers (F&R): | Factory Brembo |
| Brake Rotors: | Performance Friction Rotors, Two-Piece (F) |
| | DBA Rotors (R) |
| Brake Pads: | EBC Pads |
| Roll Bar / Cage: | Custom NHRA-certified 8-point Roll Cage |
| Seats: | Sparco EVO fiberglass |
| Harnesses: | Sparco 3-inch, 6-point SFI legal |
| Steering Wheel / Quick Release: | Veilside |
| Gauges: | GaugeArt |
| EXTERIOR | |
| Front Bumper: | NISMO N1 Bumper Ducts |
| Front Lip Spoiler: | Factory 1998 Spec |
| Spoiler: | NISMO Carbon-Fiber Blade |
| Mirrors: | Ganador CF |
| Paint: | Glasurit Super Black |