Mitsubishi's EVO-VIII is arguably the hottest-performance car on the planet priced around $30,000. All-wheel-drive combines with the classic 4G63 turbocharged power plant to deliver the ultimate tag team. In stock form, the EVO performs well. However, the EVO truly shines in the hands of a capable tuner.
Text and Photos by Michael Ferrara // Published on 6/28/04 in DSPORT
---
Turbotrix: DSM Tuning
Turbotrix has proven itself once again as an extremely capable tuner thanks to the company flagship which graces this month's cover. This metallic-orange EVO not only became the first EVO into the 10s on U.S. soil, it also became the only EVO to break into the 9s. However, Turbotrix and the partners behind the company are no strangers to DSM performance. One of the partners, Jeff Hill, was an avid racer that had raced a first-generation DSM on numerous 9-second passes back when less than five such cars existed.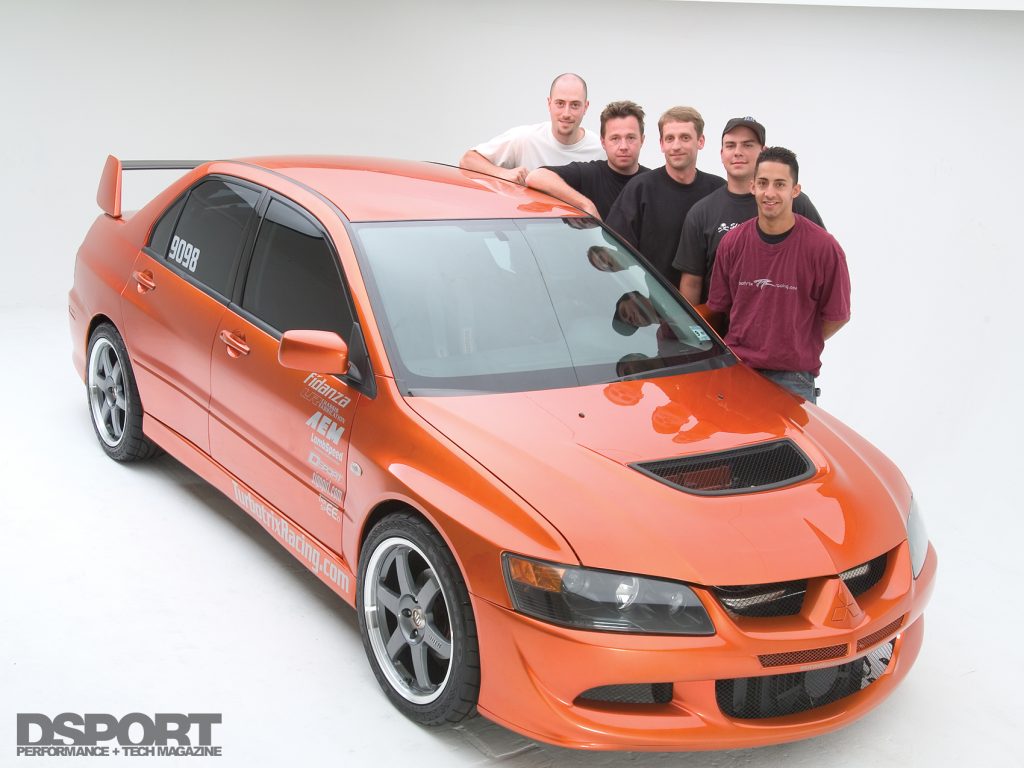 The Project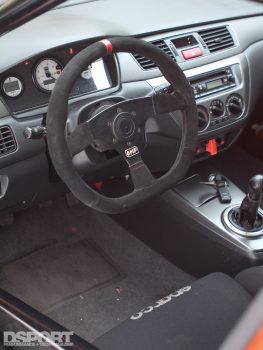 According to Jeff, "We've been building DSM's since 1992 and we believed that the EVO would once again ignite the passion for all-wheel-drive, turbocharger Mitsubishi performance. All three partners bought an EVO and these cars serve as our testers to develop product and evaluate all of the products that we sell. Since an EVO is such a nice daily-driver, no one wanted to get too crazy with their own EVO. A legal cage for 9-second passes isn't fun to climb around every day. Driving every day is also made harder when cars are pushed to the limit and driveline parts let loose. After all, swapping a transmission or transfer case isn't a fun job." With no one wanting to sacrifice their own EVO, the decision was made to locate a clean, low-mileage EVO. Less than a week later, one of the partners accidentally bid on an EVO that was up for auction on EBAY and the rest is history. They won the auction and we were on a jet to Chicago the next day. As soon as they got it back, – they pulled the EVO apart. The car was sent out for the required cage and a paint job that would reflect the personality of a potential record setter. In just three weeks, the car was ready for its first pass on the strip. This trip would prove to be worthwhile as the EVO became the first U.S.-built EVO into the 10s with a 10.9 @ 132mph.
Later the project would get some more track time and the engine management system along with the suspension would receive some more dial-in time. The result  was that shortly thereafter, the EVO broke into the 9s. Any and all disbelievers of the performance were silenced when the EVO ran back-to-back 9-second passes at the IDRC All-Star Nationals in Atco, New Jersey on June 20th. We had the opportunity for a location shoot at the event. However, the effort and expense that Turbotrix invested to bring the car cross-country to our photo studio for the cover shoot says a great deal about the passion of this tuner. We appreciate Turbotrix effort and we hope you do too.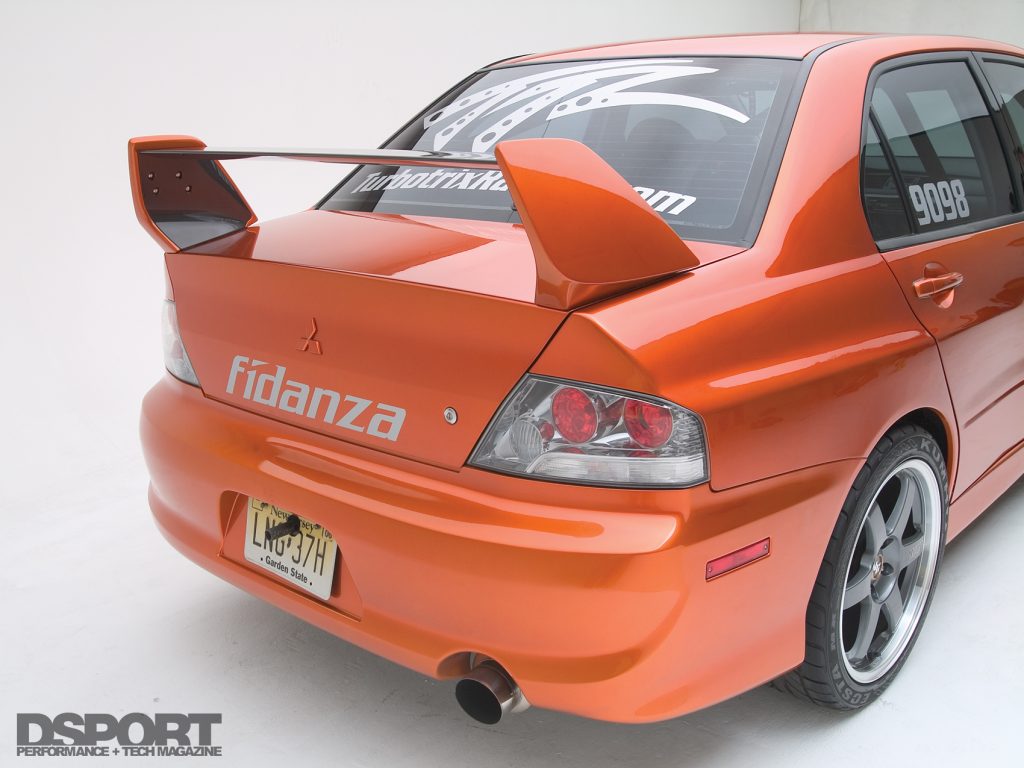 The Combination
An all-wheel-drive vehicle with a built 4G63 with a capable turbo, a nitrous oxide system and a quality stand-alone engine management system will generally make either enough power to go fast or to get in trouble. Fortunately, Mitsubishi made a bit stronger platform with the EVO compared to the previous first- and second-generation DSMs.
The foundation for reliable power production starts with the cylinder block. In the case of the 4G63, its cast-iron, closed-deck design provides for a solid base to build upon. Turbotrix treated the original 4G63 block to a work over by Jack Gilbert of Thule Machine. Cylinders were precision honed to accept the 9.0- to-1 compression ratio Ross forged- aluminum pistons. The pistons were hung on Crower forged-steel connecting rods that mate to the stock crankshaft. Both the pistons and rods use superior materials to survive the rigors of the high-horsepower output from the modified engine.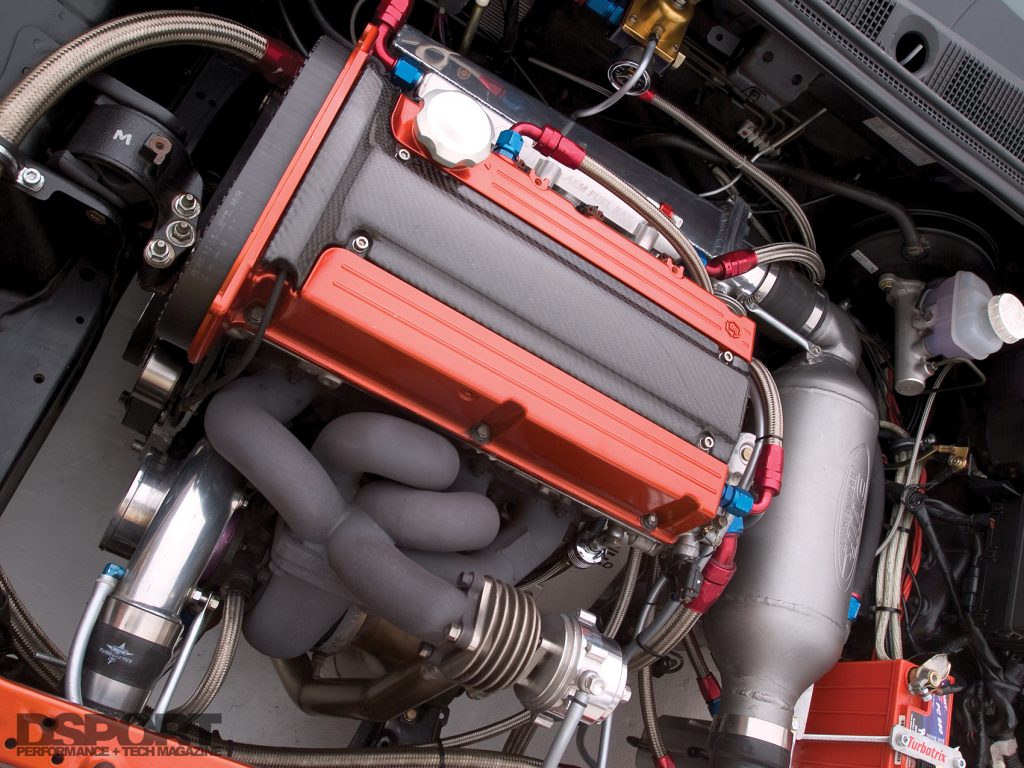 On the top-end of the end of the engine, attention turned to improving the efficiency of the cylinder head and valvetrain. Turbotrix would work over the head with its Stage-5 preparation. This process would involve porting and polishing along with complementing Inconel exhaust valves, stainless-steel intake valves, titanium valve retainers and stiffer valve springs. These parts are not only stronger and tougher than the OEM pieces, but the lighter weight of some of these components actually improves high-rpm performance. Since even the best-flowing cylinder head in the world is of no use without a good set of camshafts, Turbotrix opted for a pair of HKS 272 camshafts. These bumpsticks were installed with a pair of Fidanza adjustable cam gears. Using adjustable timing gears on a double-over-head-cam (DOHC) engine allows the tuner to advance of retard the valve events to either improve low-end or top-end performance.
While a capable engine is an obvious and important consideration on the road to big power, one can never overlook the importance of the fuel, engine management, turbocharger and intercooler systems. A deficiency in any one of these areas will hinder performance or may even result in catastrophic engine damages.
To be sure that there was plenty of fuel on tap, a pair of Walbro 255 liter- per-hour, high-pressure in-tank fuel pumps were installed in place of the factory pump. These pumps would work with a Weldon fuel pressure regulator to provide the necessary volume of fuel to the quartet of MSD 96 lb/hr injectors. At an 85 percent duty-cycle with race gas, the injectors can flow enough fuel for 650-700 flywheel horsepower.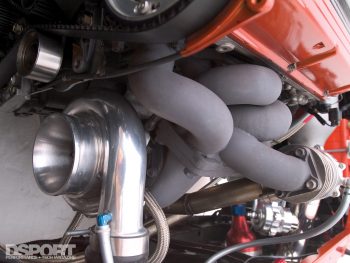 With fuel demands addressed, attention was turned to fuel and spark delivery via an engine management system. Turbotrix opted for an AEM EMS plug&play engine management system. To be sure that there was always plenty of spark on tap, a Turbotrix individual coil-on plug system and an AEM CDI system were paired.
To address the forced-induction demands of an engine generating nearly 600 horsepower to the wheels, a capable turbocharger was in order. Turbotrix sought the expertise of Innovative Turbo Systems (ITS) for twin ball-bearing T4 snail that would be mounted to a VRP equal- length header. A TiAL 46mm wastegate and Hallman PRO boost controller would be on boost pressure watch.
As for the intercooler system, Turbotrix wanted to play with a liquid-to-air setup to make dyno tuning and track performance less dependent on outside temperatures. A JAZ cell now carries ice water to the PWR liquid-to-air intercooler.
The Driveline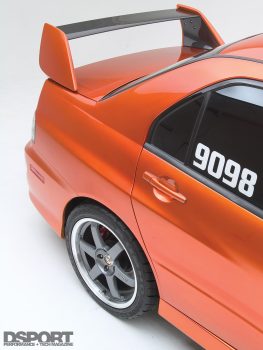 All-wheel-drive vehicles have a bog traction advantage over rear-wheel or front-wheel-drive counterparts. All four tires use their contact patch to help motivate the vehicle from a stop to top speed. That's the good news. The downside to all-wheel-drive is that you have twice as much tire putting load on the drivetrain. As a result, drivetrain failures usually happen on all-wheel-drive vehicles long before engine failures.
To extend the life of this EVOs drivetrain, Turbotrix beefed up the factory transmission and installed a limited-slip differential. An ACT single-disc, six-puck clutch working with a lightened Fidanza flywheel provides the proper balance between slip and grip. As for tire-to- asphalt contact, maximum traction is on tap thanks to 16-inch Hoosier tires wrapped around SSR 16x 7" wheels. For the street, 18×8-inch Volk LE-37 wheels are teamed with 245/45ZR Kuhmo MX tires.
Congratulations
Turbotrix has built the first 9-second EVO, but you can be sure that this EVO won't be the only 9-second EVO for long. However, no one will ever be able to say that they were first with an EVO. The barrier has been broken and the crew at Turbotrix deserves credit for their accomplishment. Whether you are building a 9-second car for the strip or a 14- second car for the street, setting your ultimate performance goal from the start will allow you to keep your focus and accomplish your mission.